Prestashop Themes are an essential component of any successful online store built on the Prestashop platform. These themes are pre-designed templates that determine the overall look and feel of an e-commerce website. They play a crucial role in attracting customers, enhancing user experience, and driving conversions.
Prestashop offers a wide range of themes that cater to diverse industries and business types. These themes are designed with responsive layouts, ensuring seamless functionality across various devices and screen sizes. They also come with customizable options, allowing businesses to tailor their online stores to match their branding guidelines and unique requirements.
By using Prestashop Themes, merchants can effortlessly create visually appealing storefronts without the need for extensive coding knowledge or design skills. The availability of different layouts, color schemes, typography options, and navigation styles empowers businesses to create a captivating online presence that aligns with their brand identity.
Furthermore, Prestashop Themes offer additional features such as product sliders, promotional banners, customer reviews integration, social media integration, and more. These features enhance the overall shopping experience for customers while providing merchants with valuable tools to showcase their products effectively.
In conclusion, Prestashop Themes are indispensable tools for businesses looking to establish a professional and visually engaging online store on the Prestashop platform. With their versatility and customization options, these themes enable merchants to create compelling e-commerce websites that drive traffic, engage customers, and boost sales.
Ecolife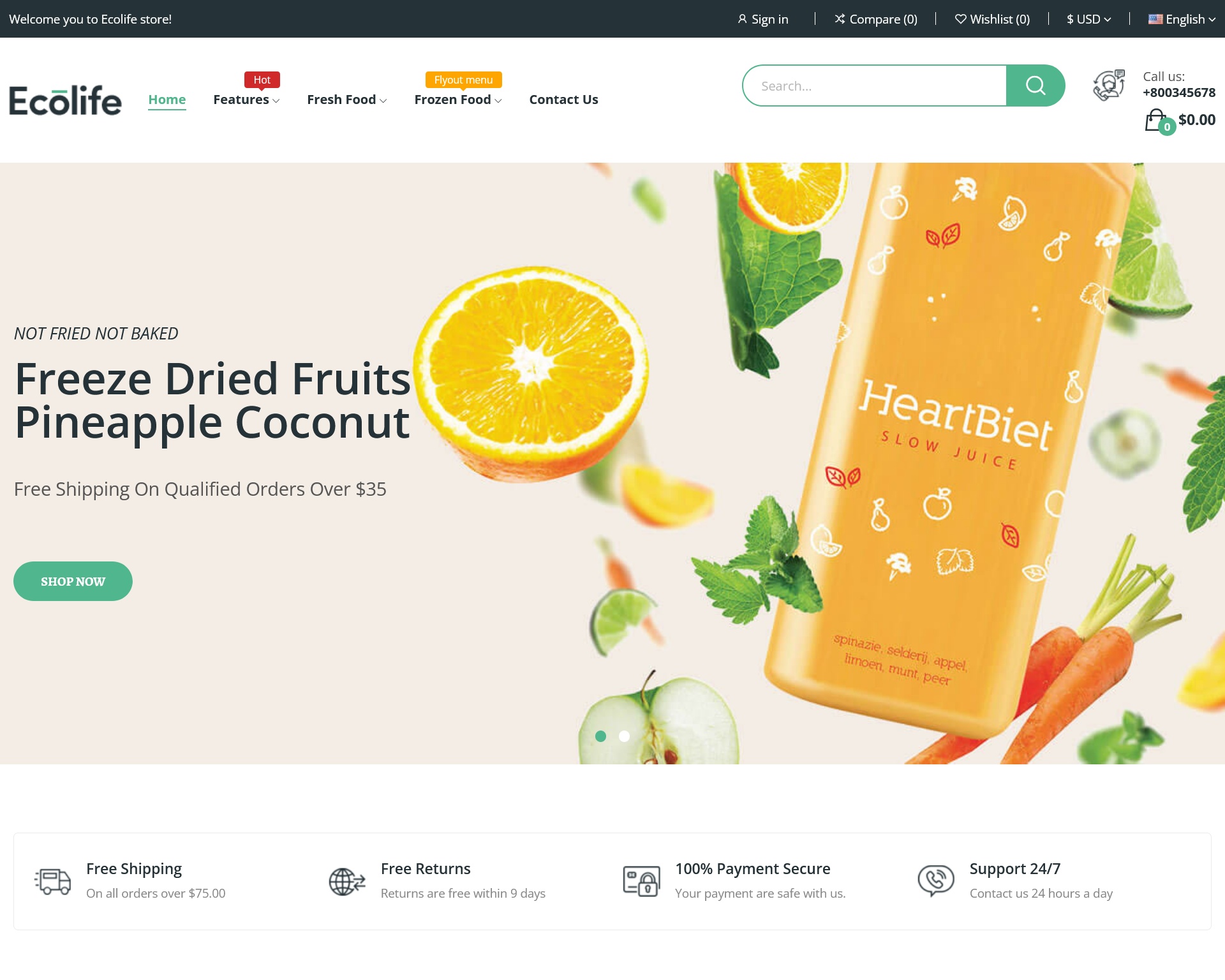 Ecolife Elementor theme Organic Food & Multipurpose Responsive is an amazing theme. It is beautifully designed and suitable for any supermarket, online store, food and drink store, fresh food, organic food, and vegetable store. The Ecolife theme is customizable and flexible, making it easy and simple to set and change any elements within minutes through Theme Options. It provides a lot of features, such as Search by Categories, Back To Top Button, Products Sliders, Slideshows, Daily Deal Module, Blog & Testimonials Module, and Social Media Integration.
Flavoro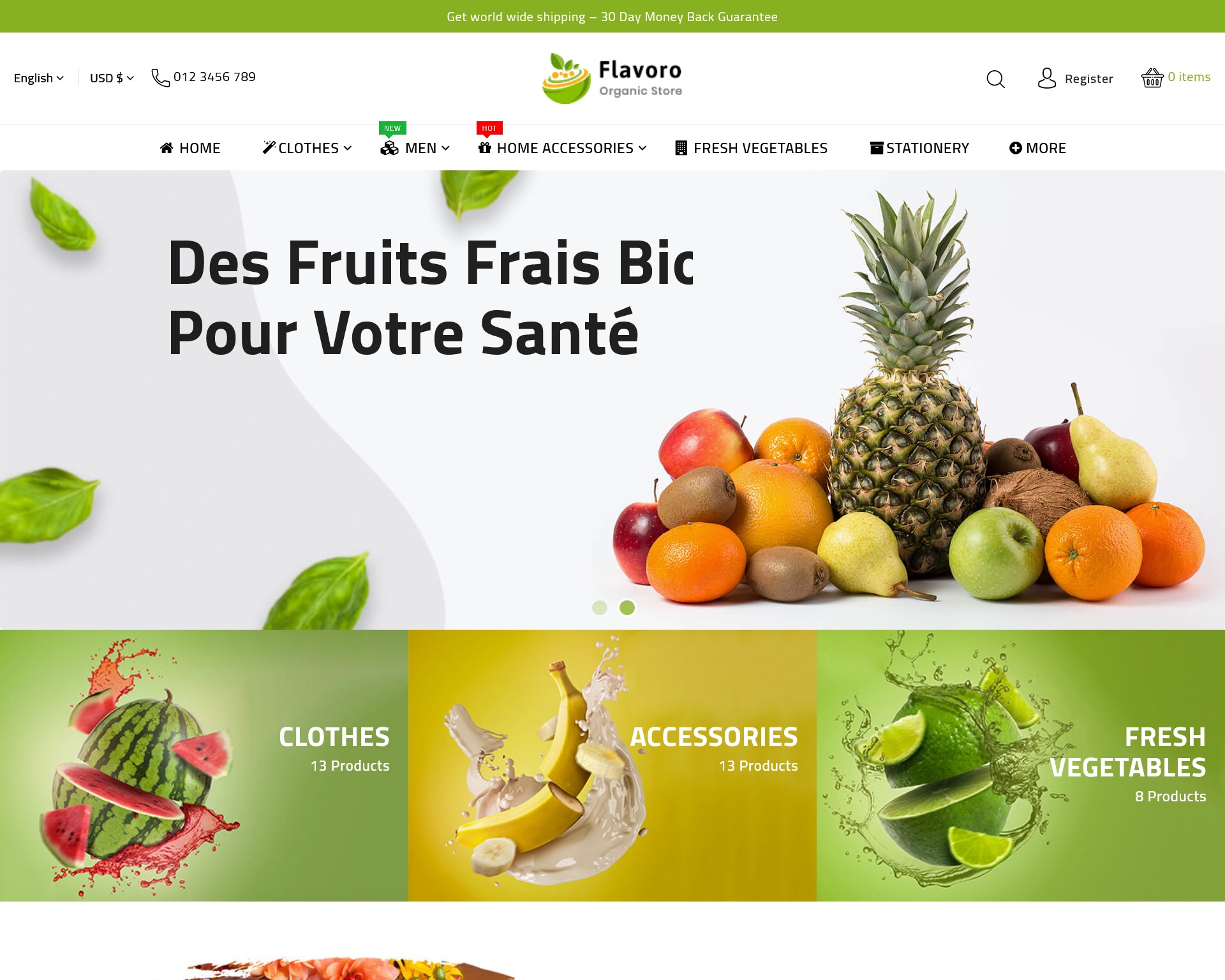 The Flavoro Best Organic Food Store theme is a Prestashop theme that is responsive and can be used for organic food templates, restaurant Prestashop themes, drink Prestashop templates, bakery, grocery, and other types of stores. Flavoro PrestaShop offers top-notch products that include features, the latest, and best-selling items. By using a single banner with customer testimonials, company brand logos, and blogs, you can boost website traffic and sell specific organic food.
Akira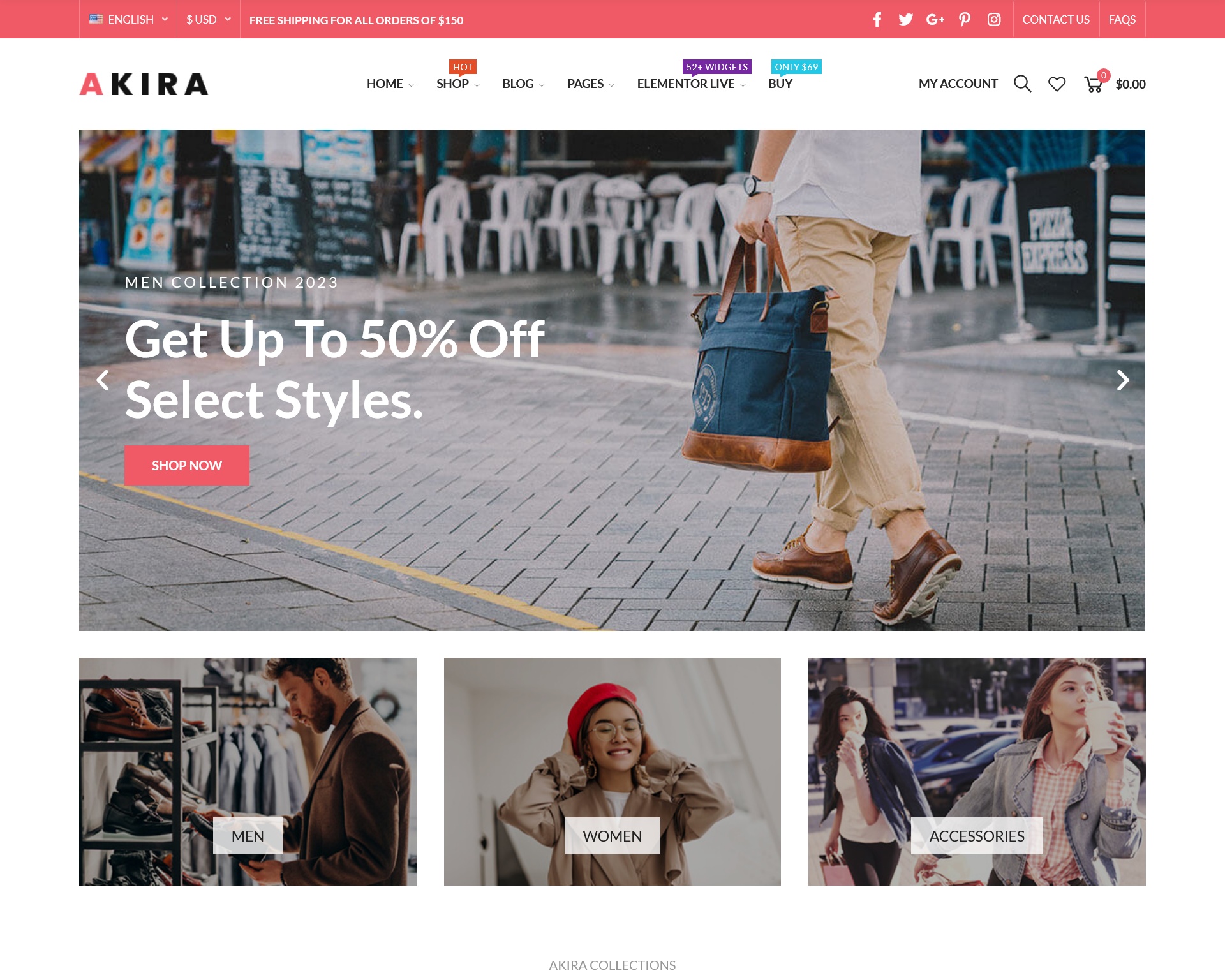 Akira is a Prestashop theme that is fast, clean, highly customizable, and responsive, suitable for all types of shops, including fashion, electronics, furniture, accessories, or any other Prestashop website. There are many features and variations available :Responsive Layout, Mega Menu, Page Builder, Elementor, Awesome Slider Revolution, RTL, Product Quick View, Ajax Search, Ajax Cart, Ajax product filter, Easy One Click To Install… and so much more.
MegaShop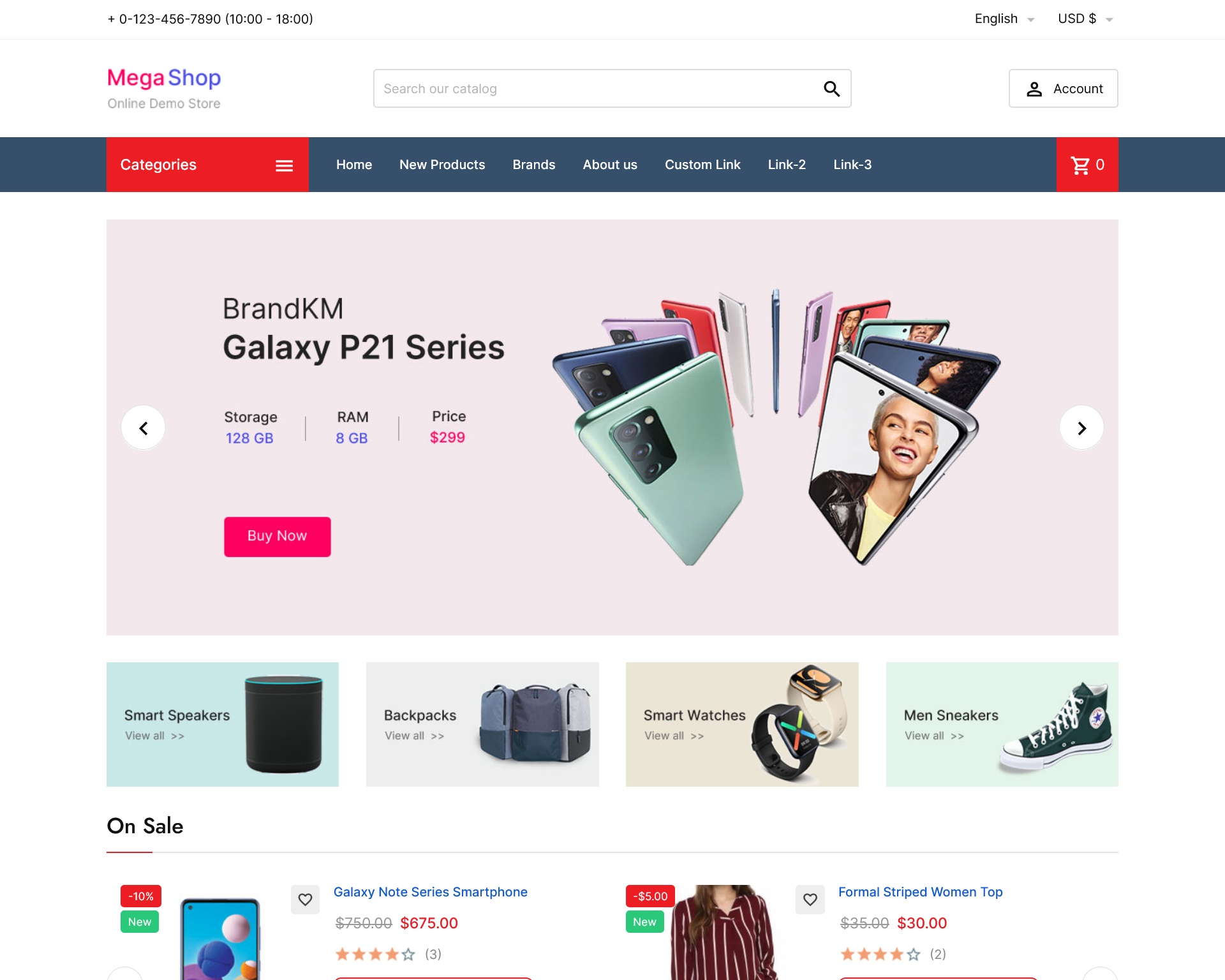 MegaShop is a theme that is both modern and responsive, and is perfect for any online store. Features are Built on Bootstrap framework, Supports Google rich snippets, Fully Multi-language, including banners and other custom texts, Vertical Mega Menu for Categories and more.
Optima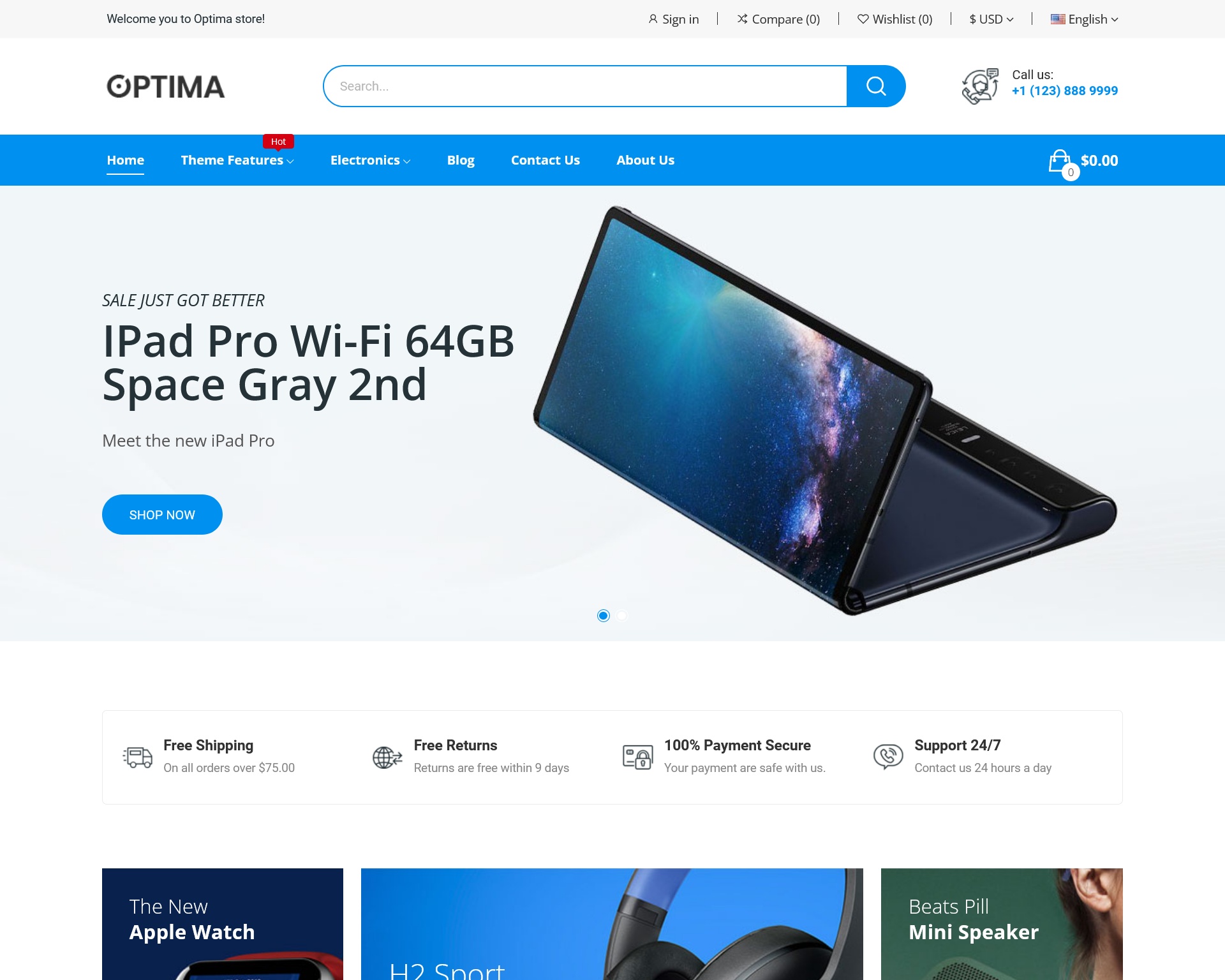 Optima Elementor is an all-in-one Prestashop theme that is designed to be perfect for any online store :furniture store, digital store, accessories store, jewelry store, organic store, fashion store, tool store, handmade store, autopart store, plant store,… The Admin panel theme can be used to quickly customize the website's interface and layout. Search by Categories, Products Sliders, Slideshows, Daily Deal module, Blog & Testimonials, and Social Media Integration are just a few of the features available in the Optima Prestashop theme
Strative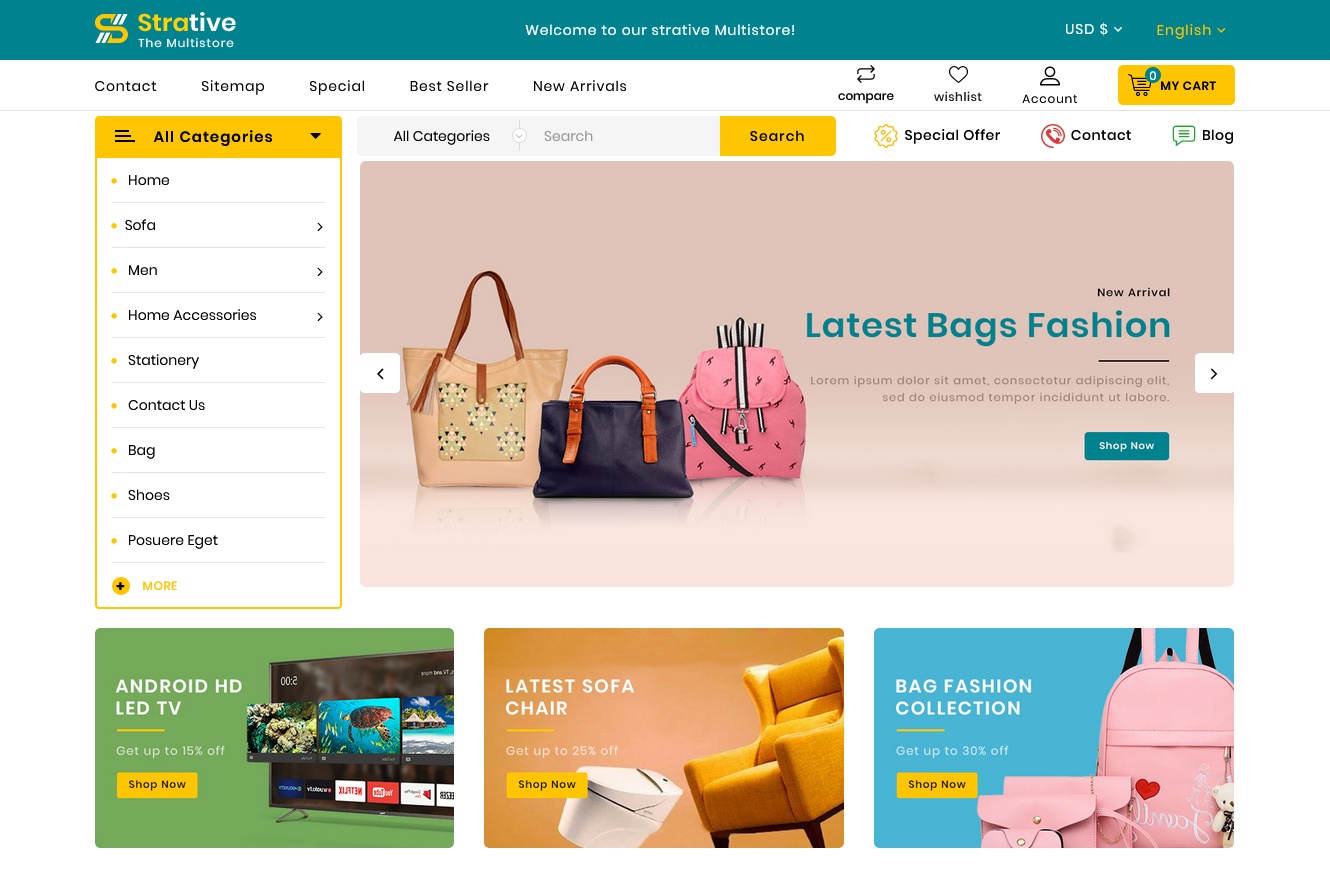 Strative – The MultiStore PrestaShop theme includes electronics, computer themes, phone themes, camera themes, digital gadgets themes, and digital templates. The Streamcart Prestashop theme has a variety of unique templates, including Beauty Product Store, Jewelry, Drug Store, Furniture template, Sexy Lingerie Template, Pet Store, Organic Store, and For Game Lover, which includes Game Store. Customers can use it to checkout faster at PrestaShop stores. You can also offer a social network service for customers to track discounts and other activities like promotions.
Freshio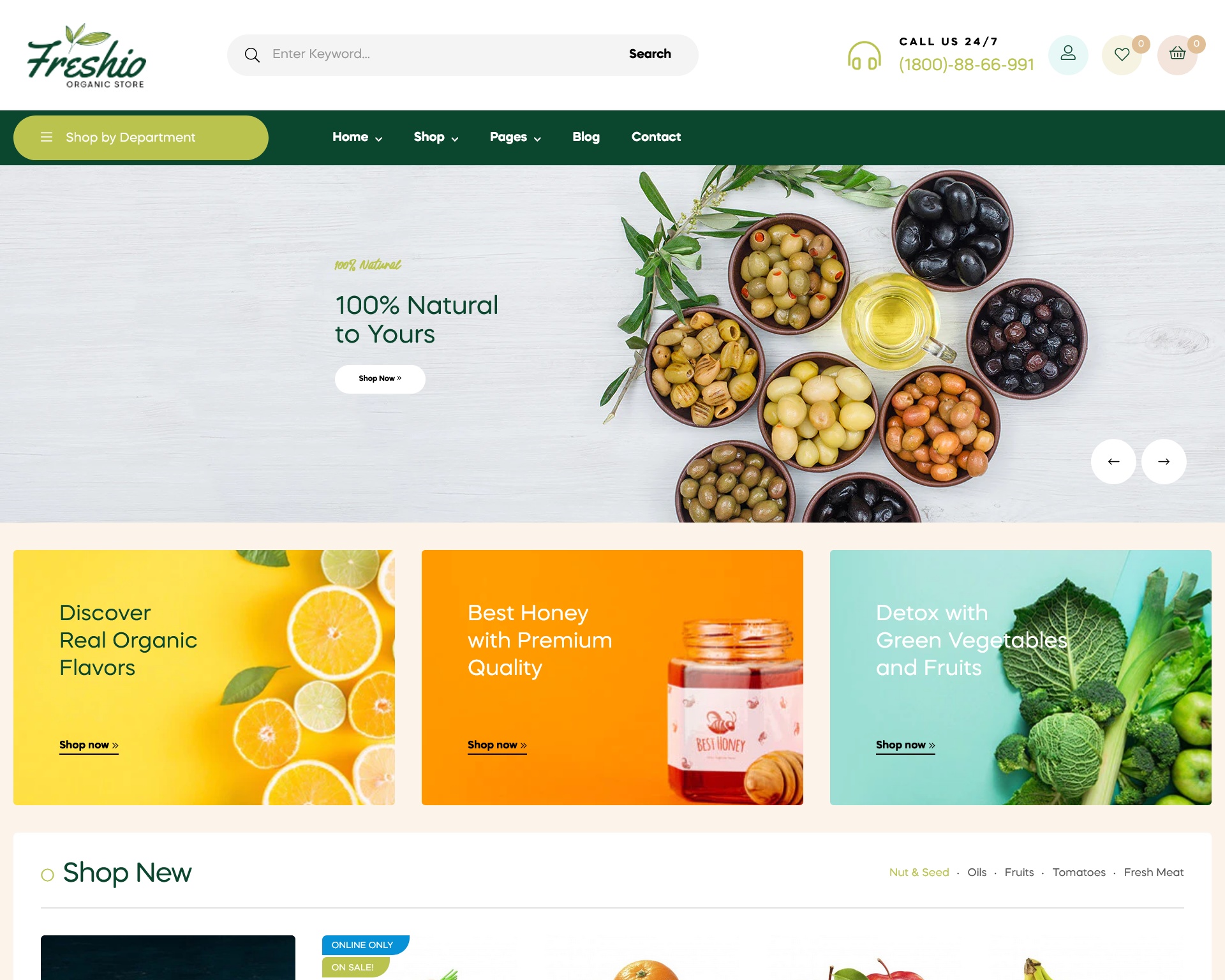 Freshio is an amazing Prestashop Food Theme. It is creatively designed with top-notch theme features, which is perfectly suitable for food & drink, organic products, fresh food, online supermarkets, or any eCommerce website for diversified products. To start your online business right away, it's important to make your online store professional and quickly make a profit. Freshio Organic & Supermarket Prestashop's theme is much more wonderful and will surprise you.
Autumn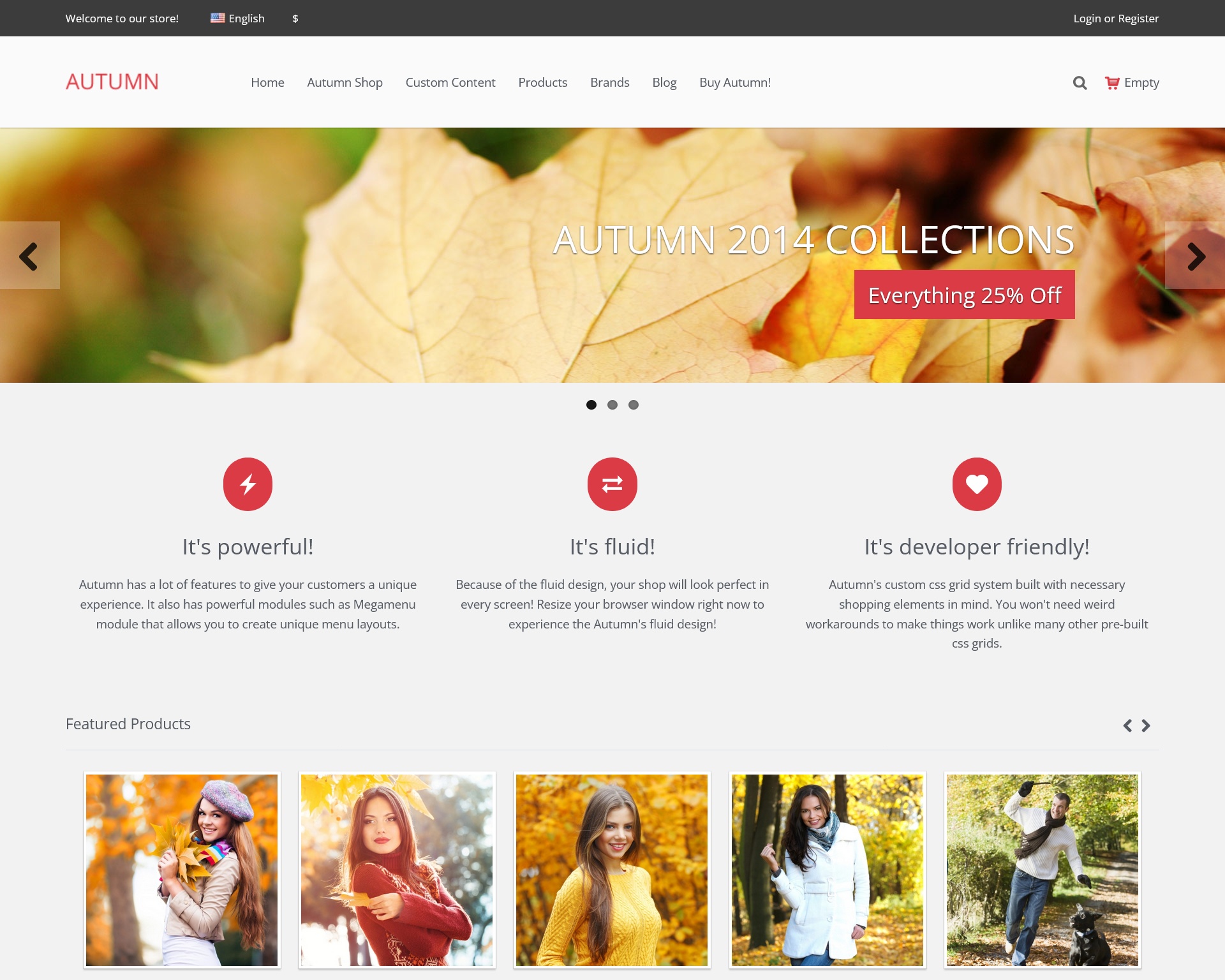 Autumn is a Responsive Prestashop 1.6 Theme with Megamenu, Image Slider, Isotope Tabs, Frontpage Blocks, Product Carousels, Ajax Search, Social Links, and much more.
NewYork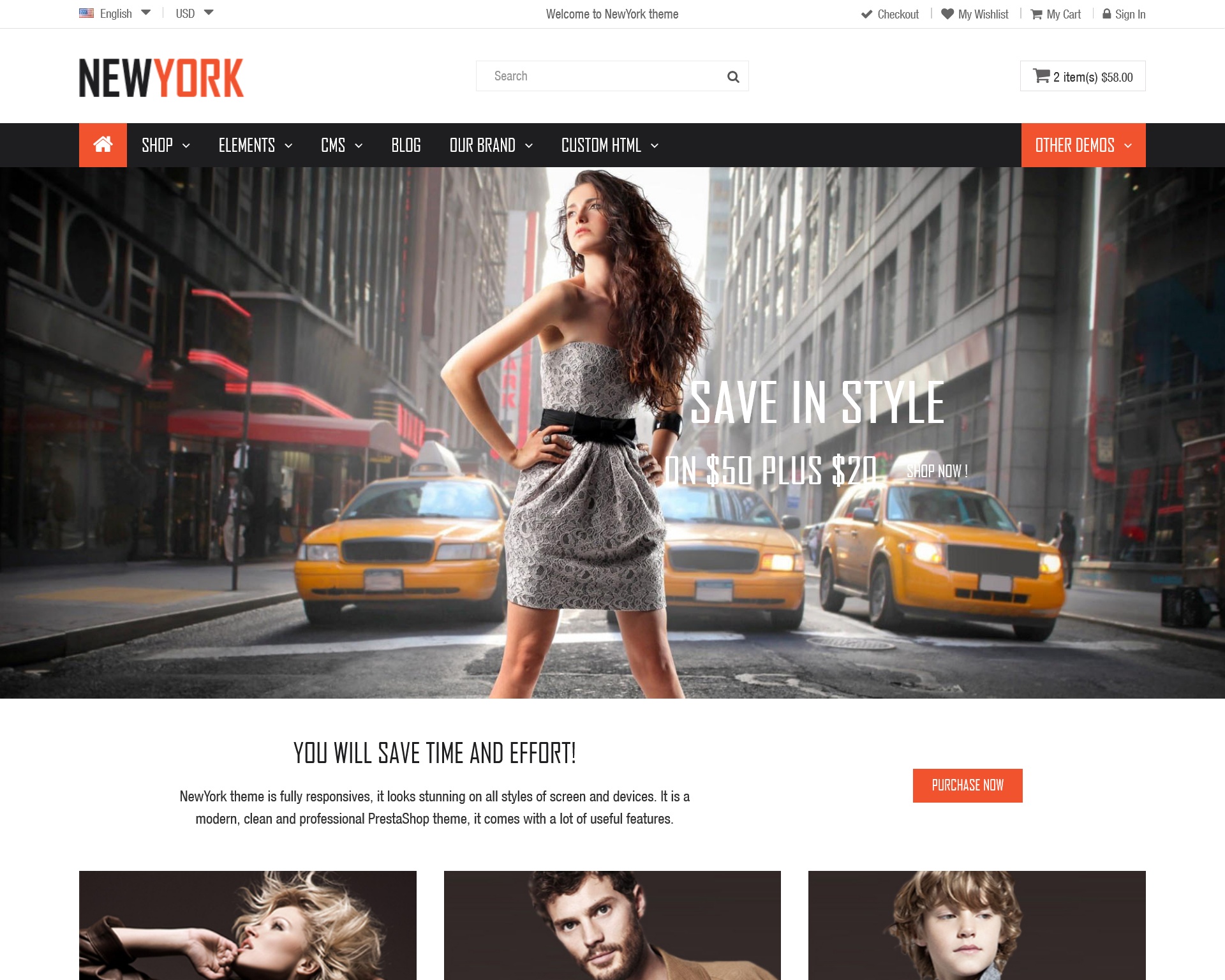 NewYork's design is both creative and modern, with plenty of options for your shop. The theme was created by it and is suitable for any type of store. Designers of all levels can use the powerful PrestaShop module to display their websites in an attractive way to visitors and clients. It was designed to reduce the amount of time and hours you spend on every project.
At Auros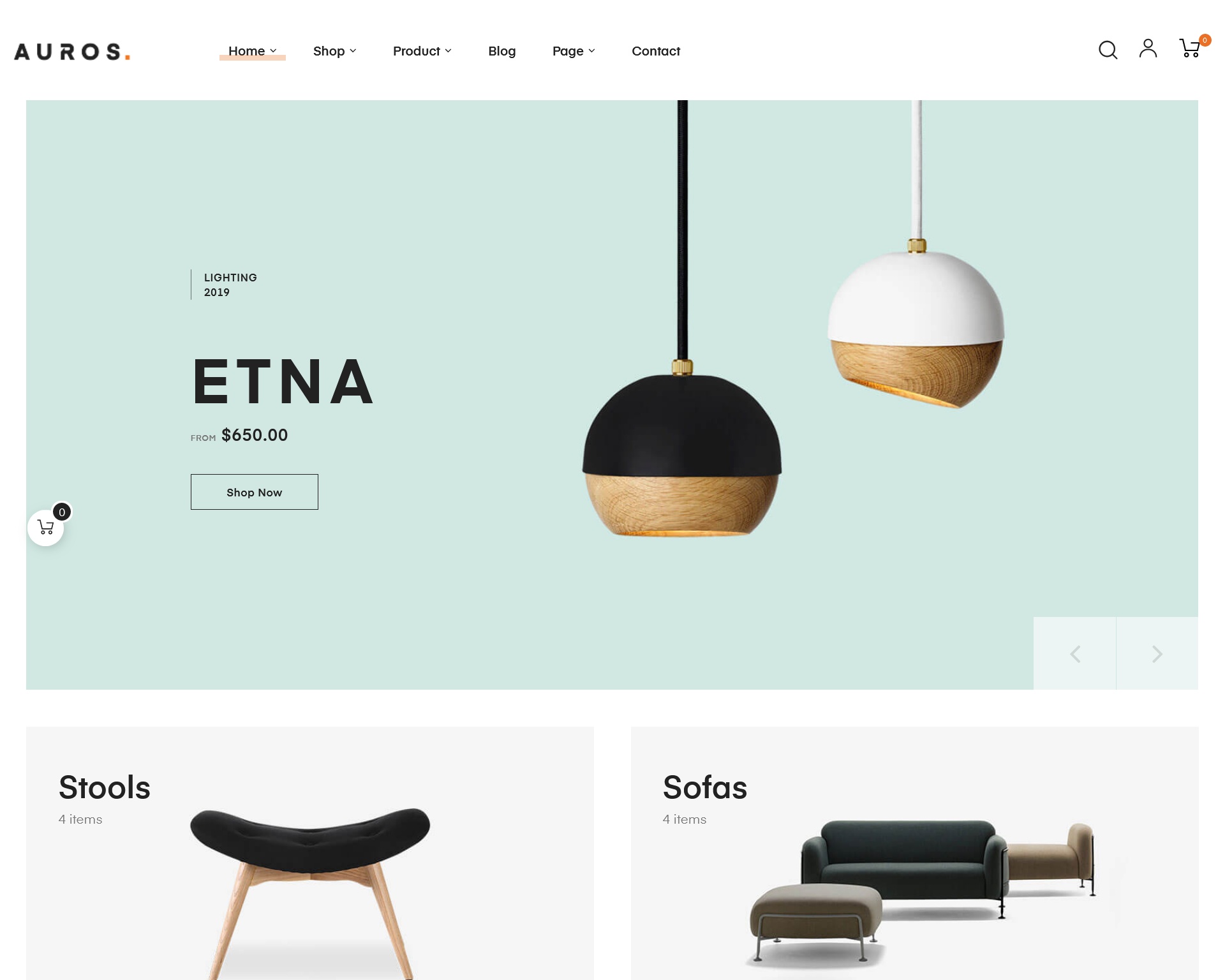 At the moment, Auros, a furniture and home decor store, has a multiple Responsive Prestashop theme with all the features of an online store. It was intended to have a range of goods, including a furniture store, a home decor store, an interior store, and multiple stores. It can be adjusted to fit any device and is highly customizable. The prestashop theme has a lot of customization options available.
Modez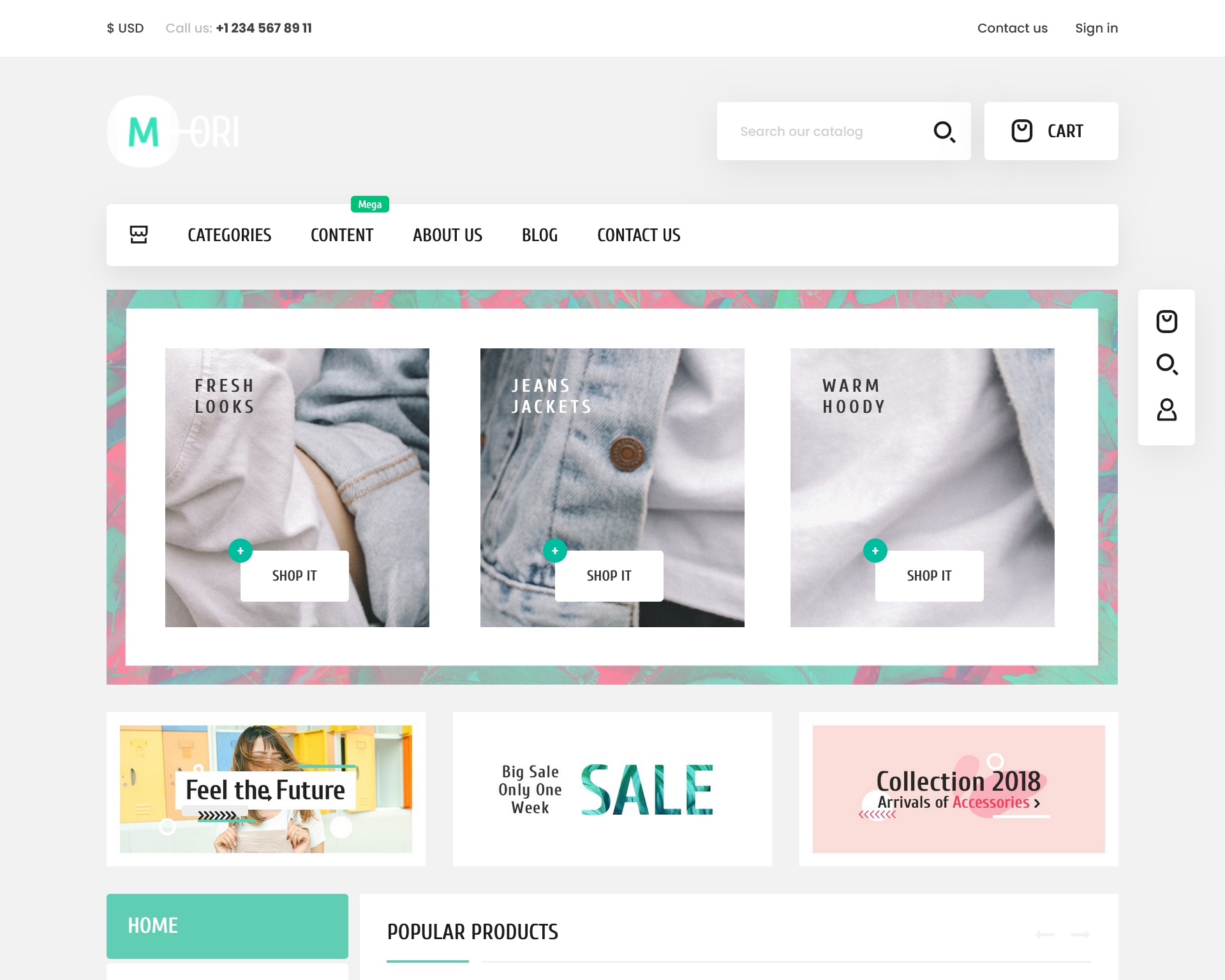 MODEZ is a premium Responsive Prestashop theme that features Crazy Elements Visual Page Builder, Mega Menu Pro, Revolution Slider 6, Blog, and Design Customizer Module. It has everything you need to launch a successful online shopping business. It is suitable for use as a digital shop, fashion shop, games shop, cosmetics shop, jewelry shop, device shop, food shop, or any other category.
Eveprest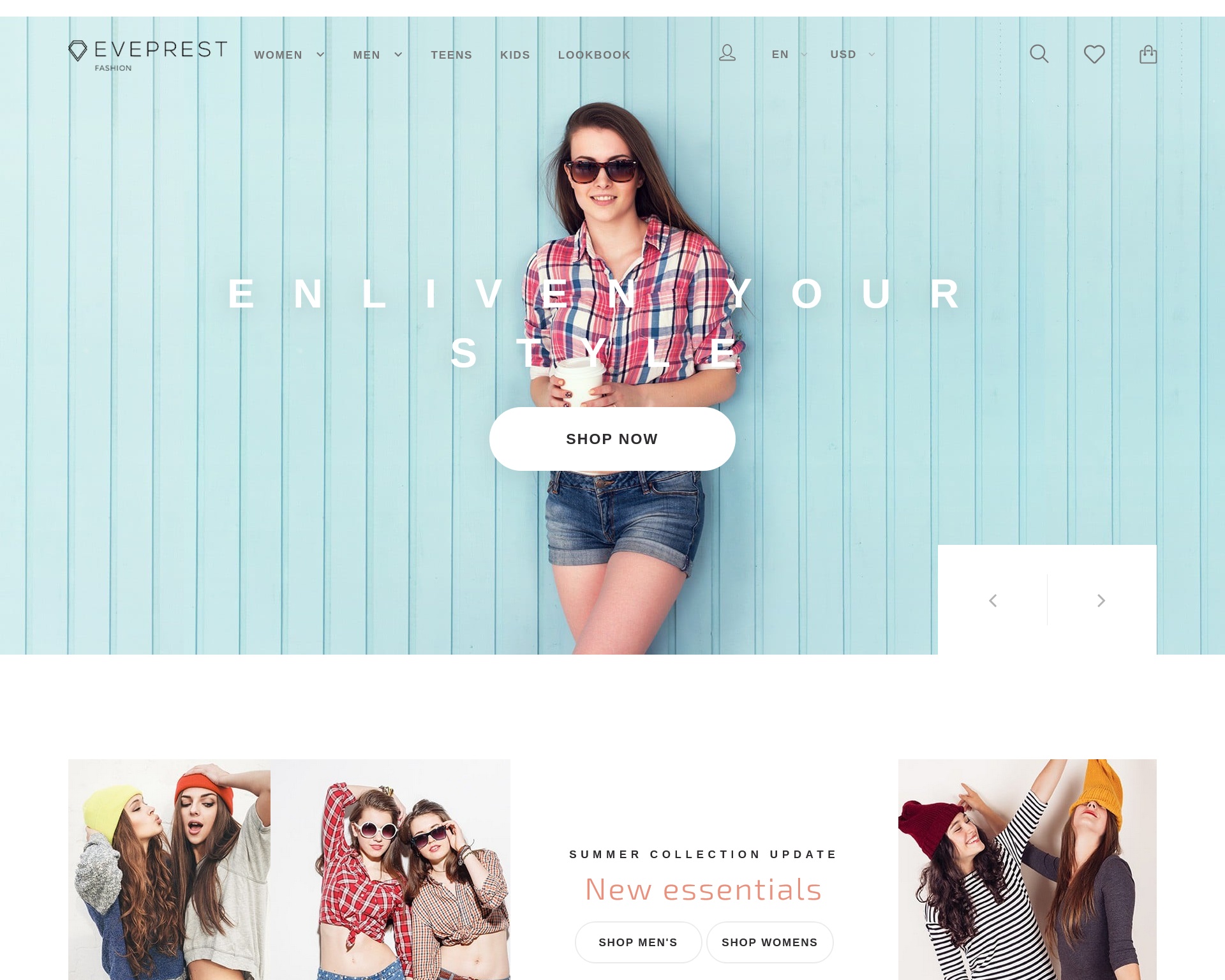 Eveprest is an eCommerce PrestaShop theme template that can be used as a great website solution for any business purpose. It's possible for each of you to find a theme that meets your needs and desires. Our goal is to combine minimalist but stylish designs with innovative and productive features.
Fashion Store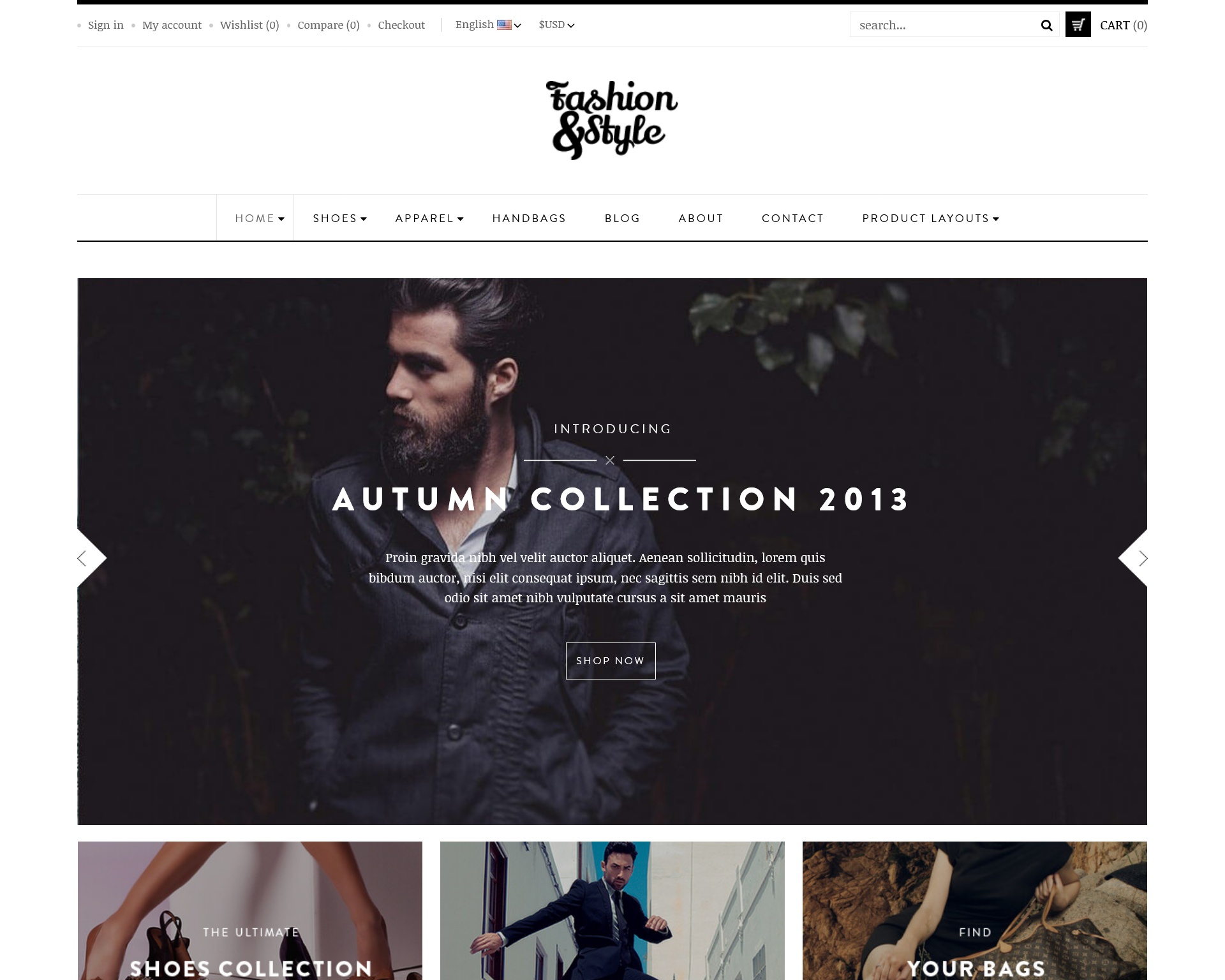 Fashion PrestaShop Theme – eCommerce is designed for Fashion Ecommerce Websites, Flower Shops, Underwear Shops, and other types of businesses. The importance of having a good appearance, glamor, an exotic display, and a rich fashion lifestyle cannot be overstated. There are numerous other features that customers can experience on this.
SP Market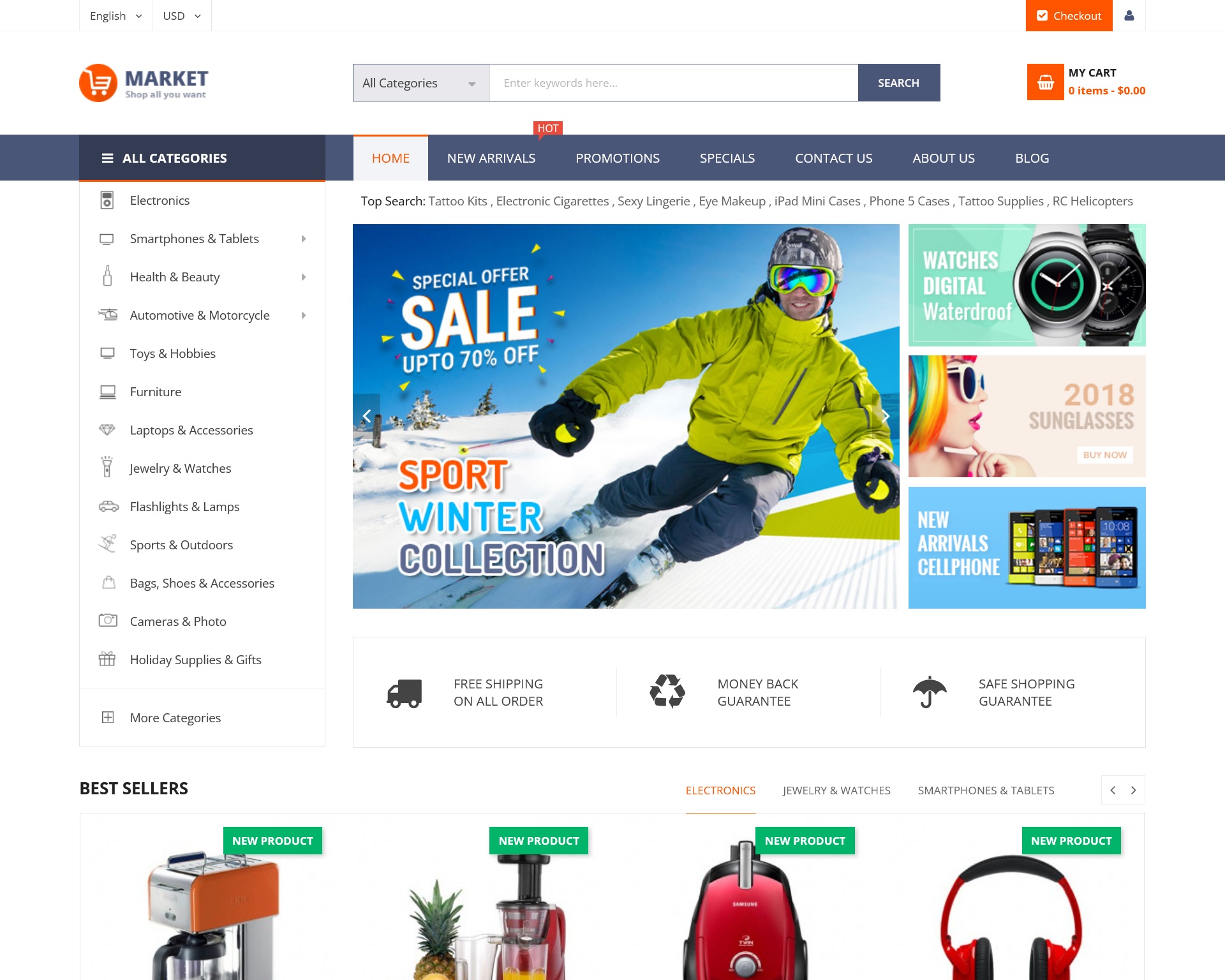 Market is a fantastic theme that features a modern, clean, and fully responsive layout that renders it flawless on any device and screen resolution. This theme is suitable for online fashion stores, clothing stores, apparel stores, mall shops, or any Prestashop store that requires an easy customization theme. The interface is fun and easy to work with, and the time it takes to design is reduced.
Nextprest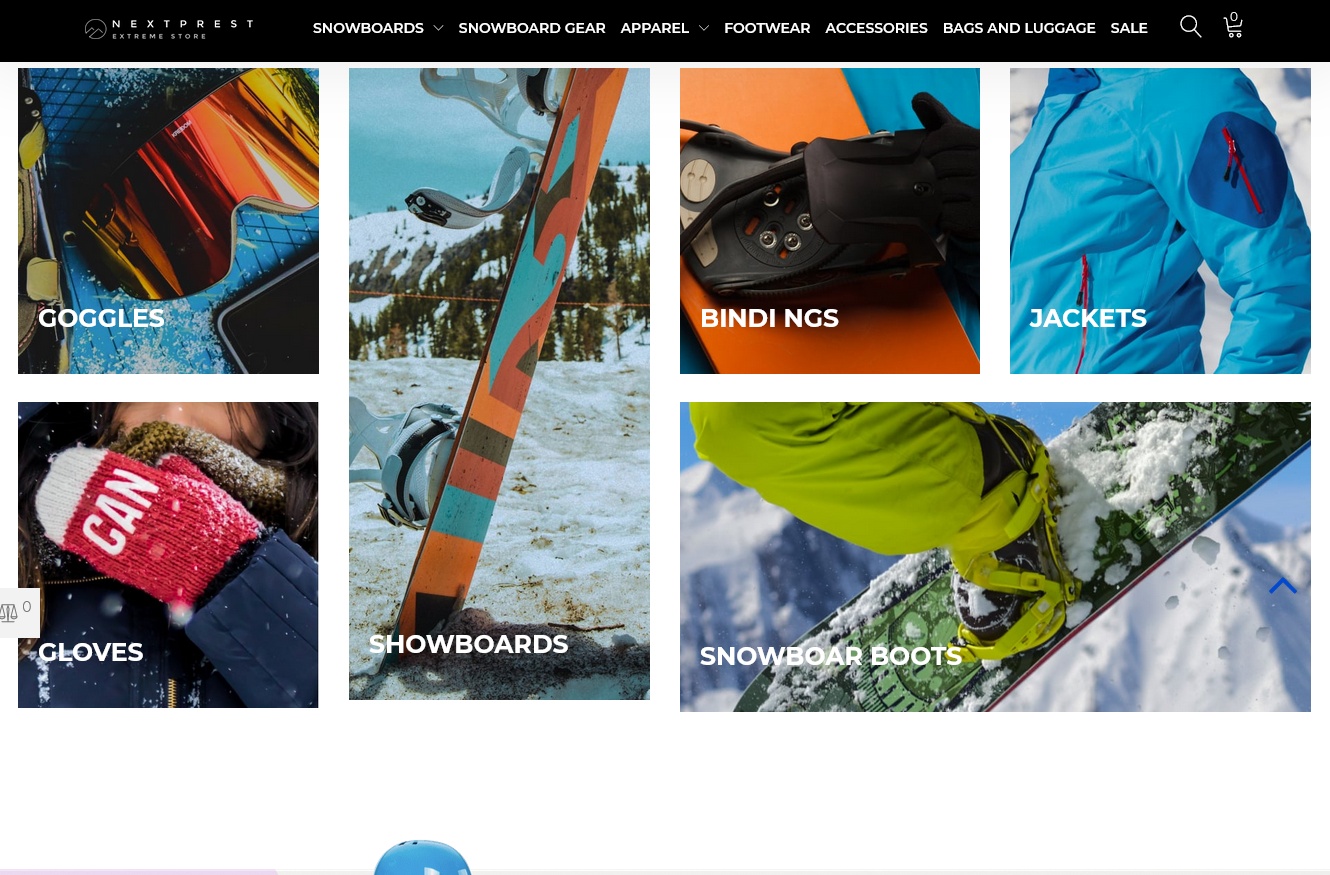 Nextprest is a Multipurpose Sports PrestaShop Theme. The theme includes 1.6 and 1.7 versions. Features are 3 ready-made layouts of the Home, Product, and Category Pages, 3 additional variations of the Quick View, Updated JX Mega Layout module, Newsletter Subscription Pop-up and more.