In the digital age, having a strong online presence is crucial for political campaigns, government organizations, and political bloggers. One effective way to showcase the values and messages of these entities is through the use of Political WordPress Themes. These specialized themes offer a range of features and functionalities tailored specifically for political purposes.
WordPress Themes provide a user-friendly platform that allows individuals and organizations to easily create and manage their websites without extensive coding knowledge. Political WordPress Themes take this a step further by offering pre-designed templates and layouts that are optimized for political campaigns, government websites, or political blogs.
Whether you are running for office or advocating for specific policies, Political WordPress Themes can help you establish an impactful online presence. These themes often include features such as donation integrations, event management systems, social media integration, and customizable design options to reflect your unique branding.
For political campaigns looking to engage with supporters and raise funds online, these themes offer seamless integration with popular payment gateways and donation plugins. Additionally, event management systems enable campaign organizers to promote rallies, town hall meetings, or fundraisers directly on their website.
Government websites can benefit from Political WordPress Themes by providing easy access to important information such as policies, regulations, news updates or contact details for elected officials. The themes typically offer responsive designs that ensure optimal viewing experiences across various devices.
Political bloggers can also leverage these specialized themes to create visually appealing platforms where they can share their insights on current events or advocate for specific causes. With customizable design options and various post formats available in these themes; bloggers can effectively convey their messages while maintaining a professional appearance.
Political WordPress Themes provide an efficient solution for creating visually appealing websites tailored specifically for political campaigns,government organizations,and political bloggers.These themes offer a range of features including donation integrations,event management systems,social media integration,and customizable design options.With easy-to-use interfaces,individuals and organizations can establish a strong online presence to effectively engage with supporters and communicate their messages.
Campaign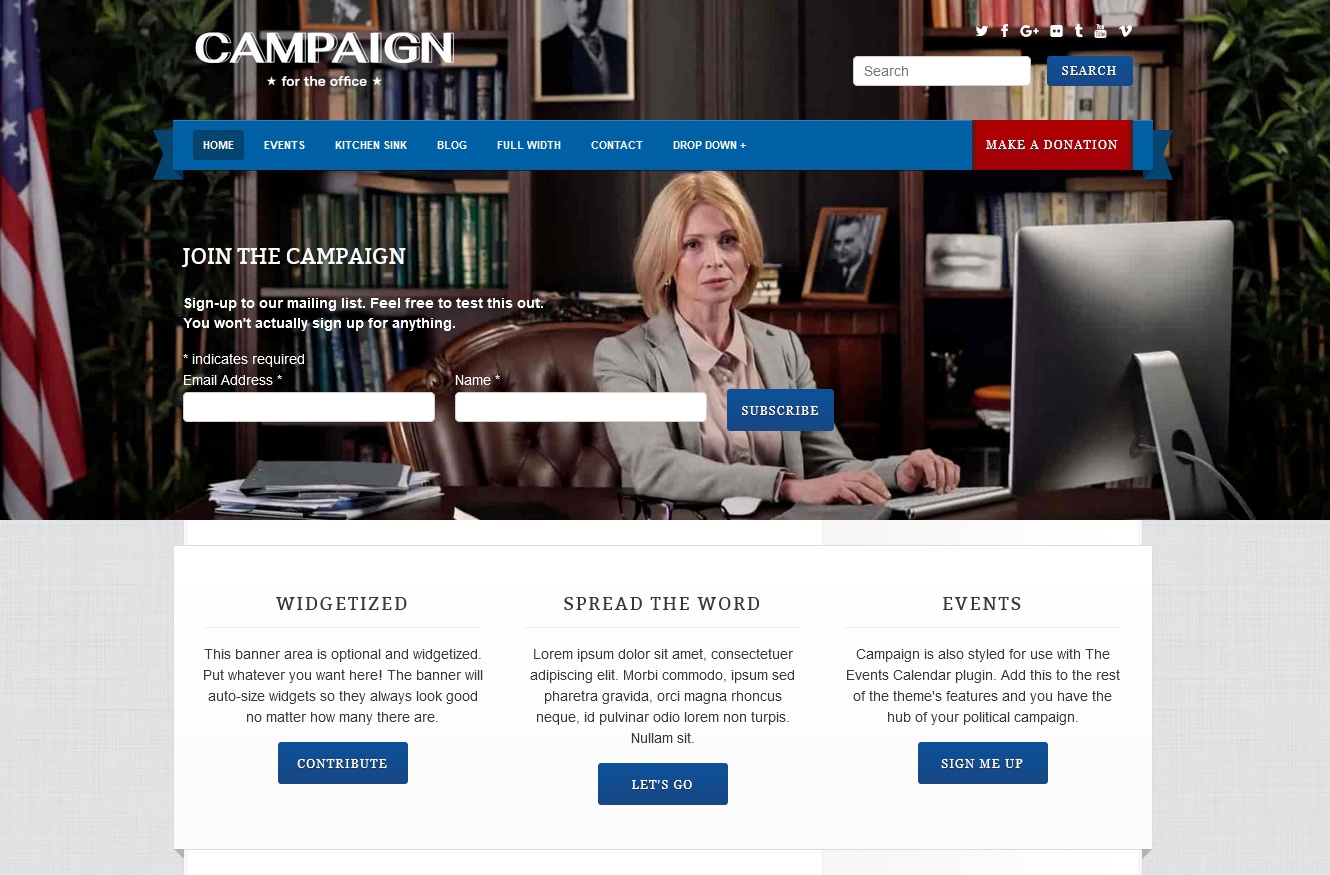 The campaign theme is designed to help you win your political race and be the focal point of your campaign. The Mind plugin collects names and emails from constituents, and the Events Calendar displays all of your upcoming events. Additionally, there is an easy-to-set up donation button in the header. This theme can be applied to any politician or cause.
Candidate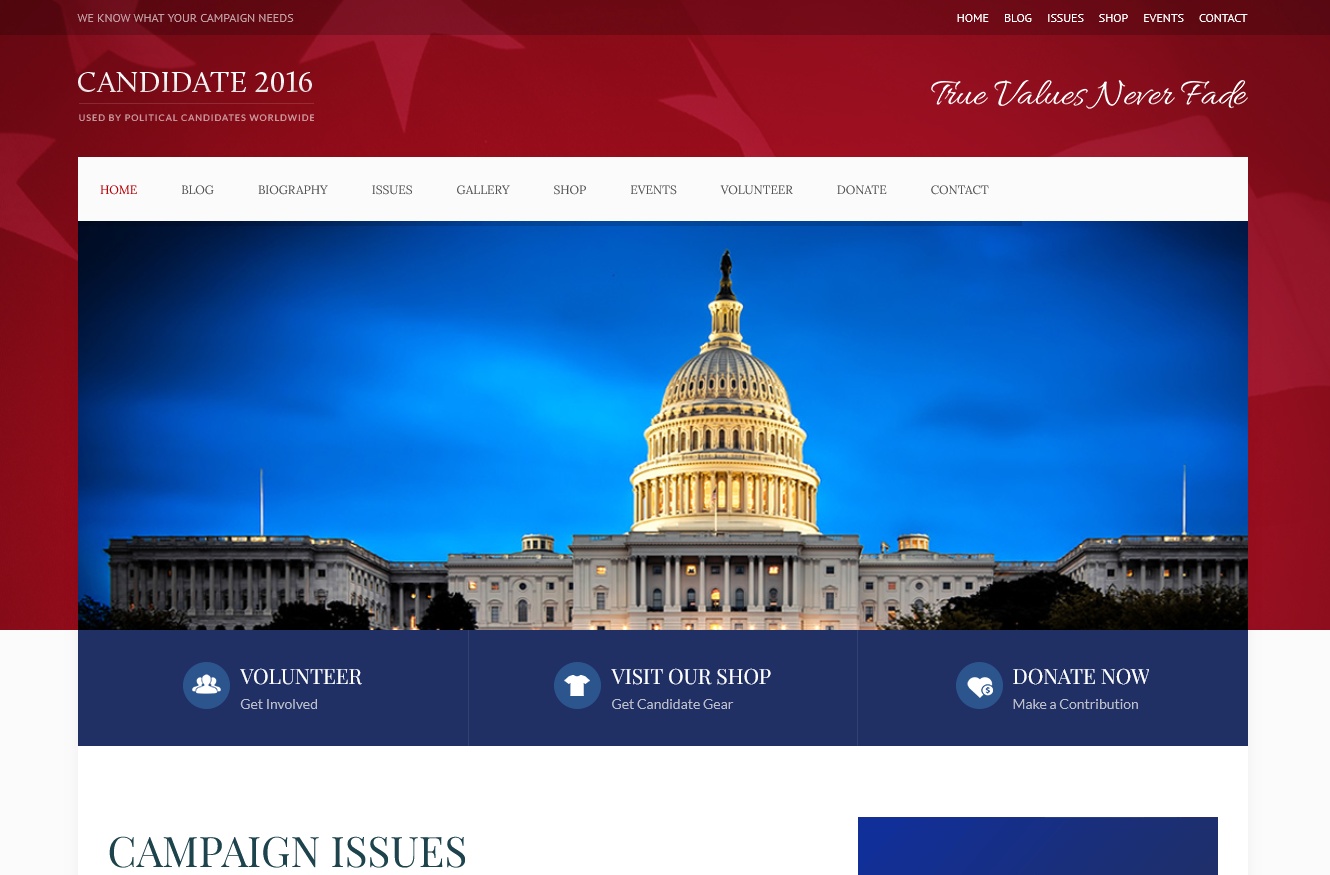 Candidate is a WordPress theme that is specifically designed for political and public figures. Using political models and my experience in building political websites, this design can be applied to any political option or social issue. Reaching out to your supporters is a breeze when you work on everything you need.
Nominee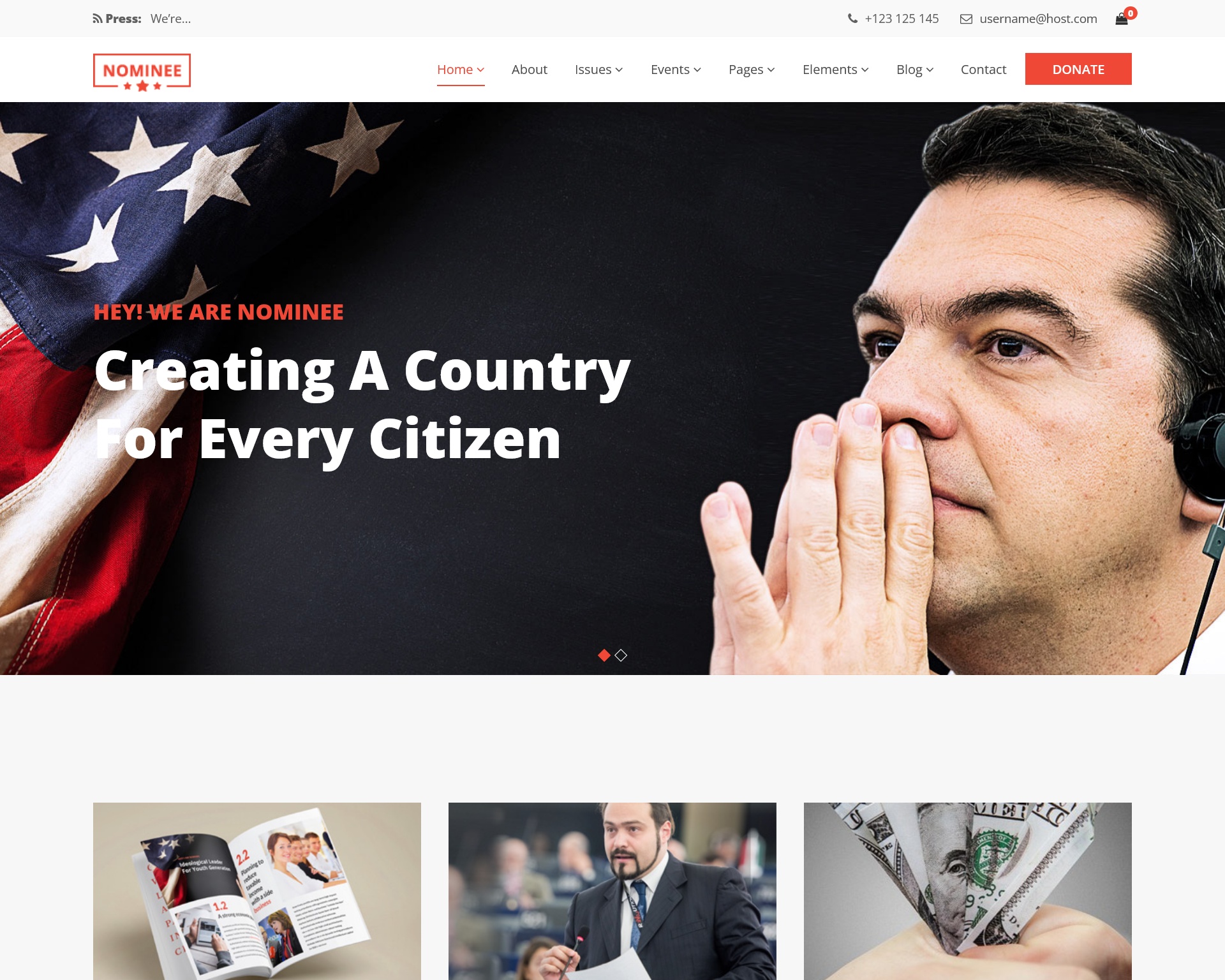 Choose a political WordPress theme to connect political leaders, political campaigns, candidates, organizations, and political parties with the people who matter. Nominee is a modern, advanced, and designed tool that assists you in reaching a wider audience, connecting with potential supporters, and showcasing yourself and your campaign in your own unique way. Stay connected and relevant, and watch for the results to come.
United League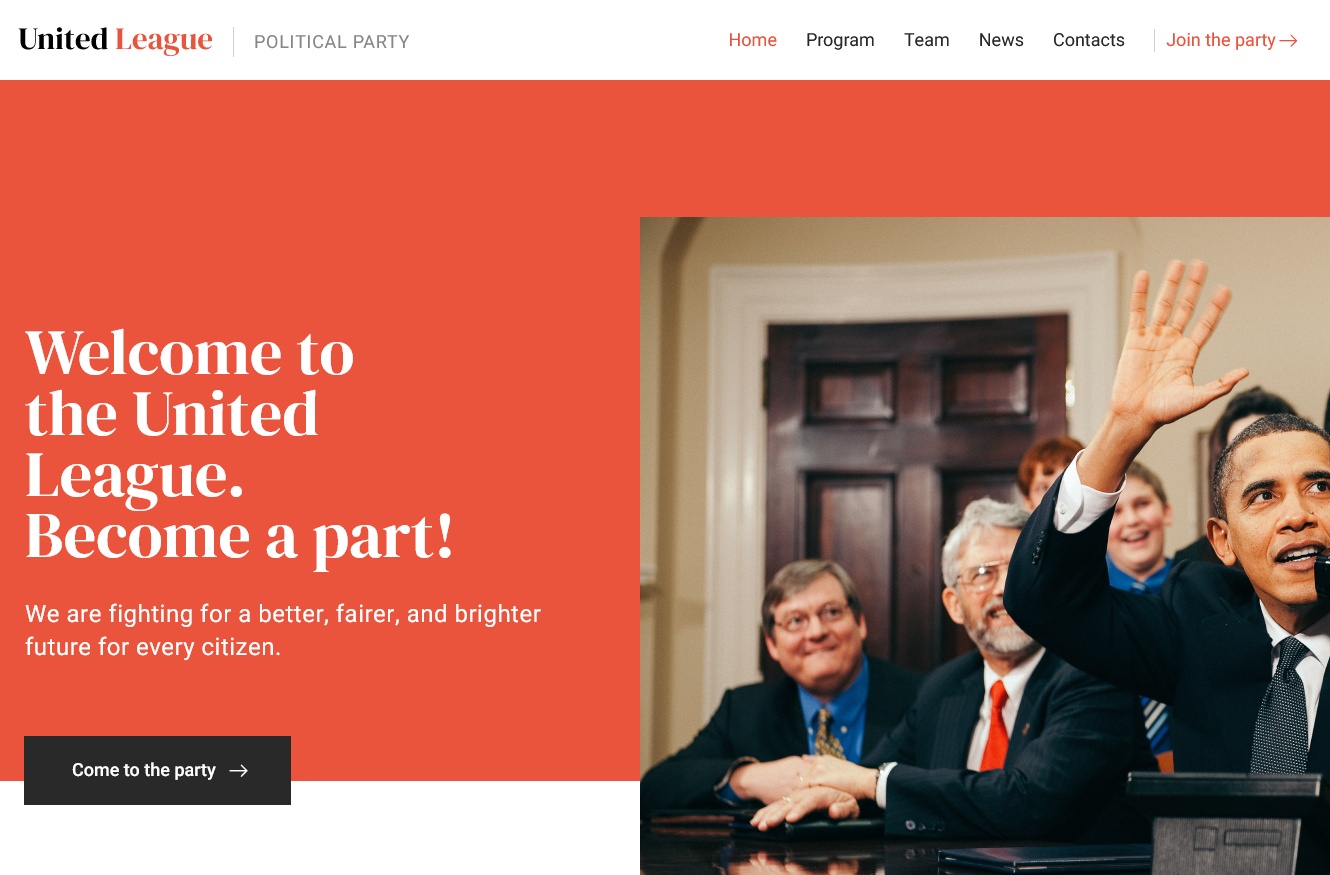 Use a new political campaign template designed by Elemento and powered by WordPress to promote your political party. The minimalistic and eye-catching design allows people to concentrate only on the important information. The theme's starter pack of pages gives you the chance to express your individuality.
CityGov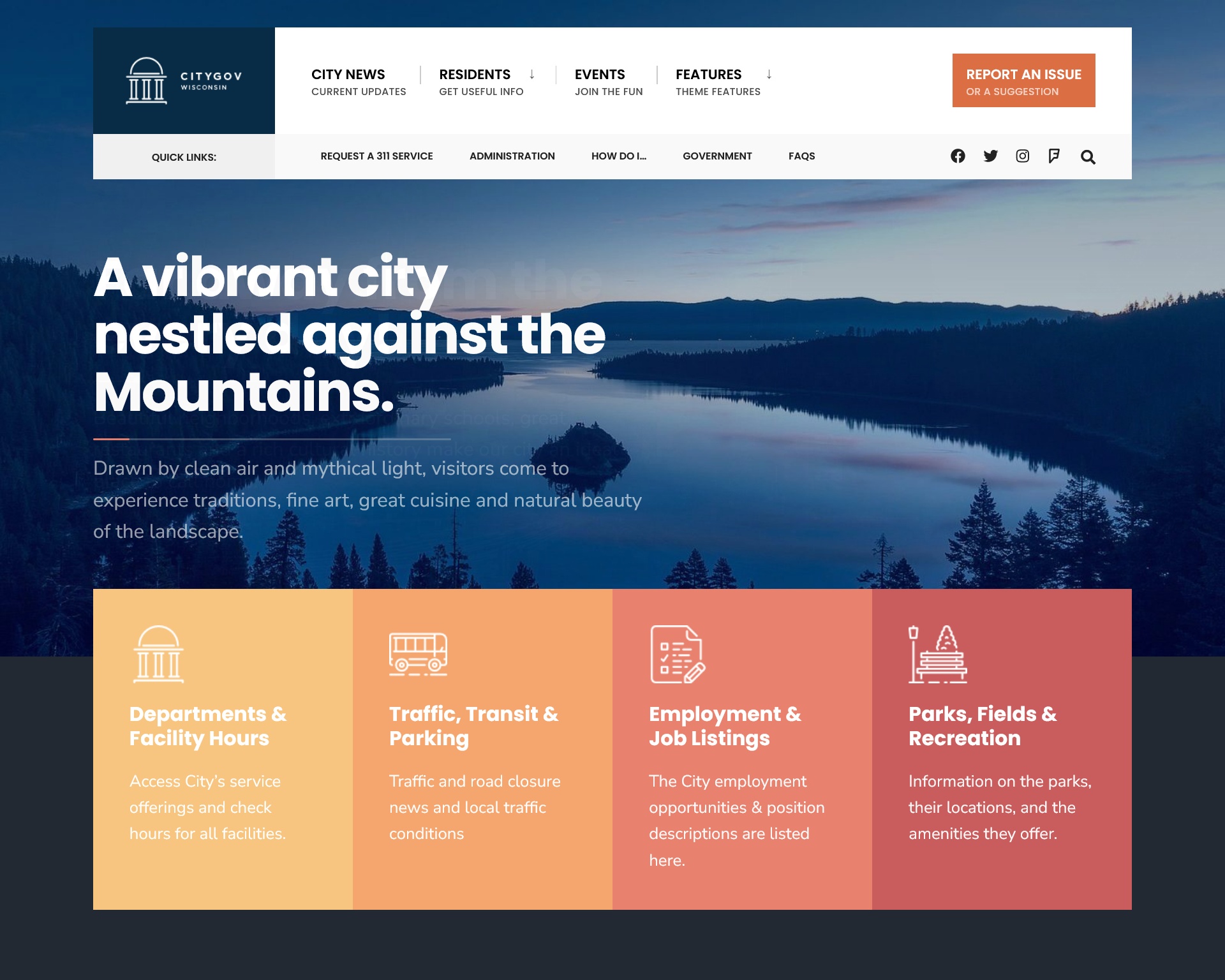 A new demo called 'Old Town' is now available for the CityGov theme, along with other awesome features such as support for RTL languages, an improved menu for a better mobile experience, and improved accessibility. CityGov is a meticulously designed municipal theme that can be used on small town websites. The theme features customizable features and functions to showcase all the basic needs of a modern municipality. The CityGov theme has brand new pages and sections that are suitable for the properly accessible local government website.
RightWay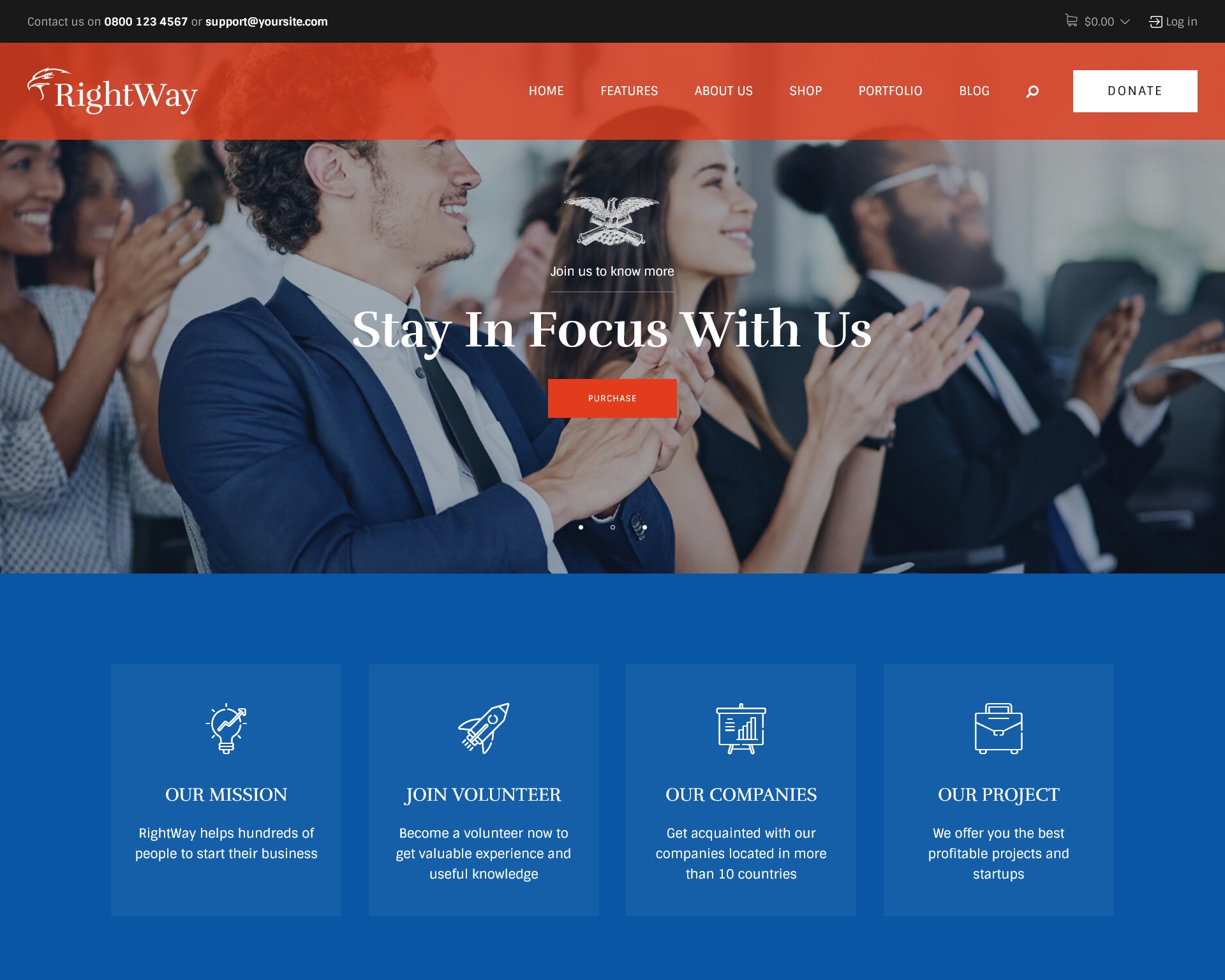 Designed for politicians, political leaders, activists, and election campaigns, Right Way is a multi-purpose, modern, and fresh political WordPress theme. There are websites for political and social movements, political party or individual candidate websites, political reviews, and any non-profit organization websites. Human rights, charities, volunteers, presidents, parliaments, governments, fundraising, policy, events, conferences, voter testimonials, politics, political tasks, missions, and priorities are all covered.
EGovt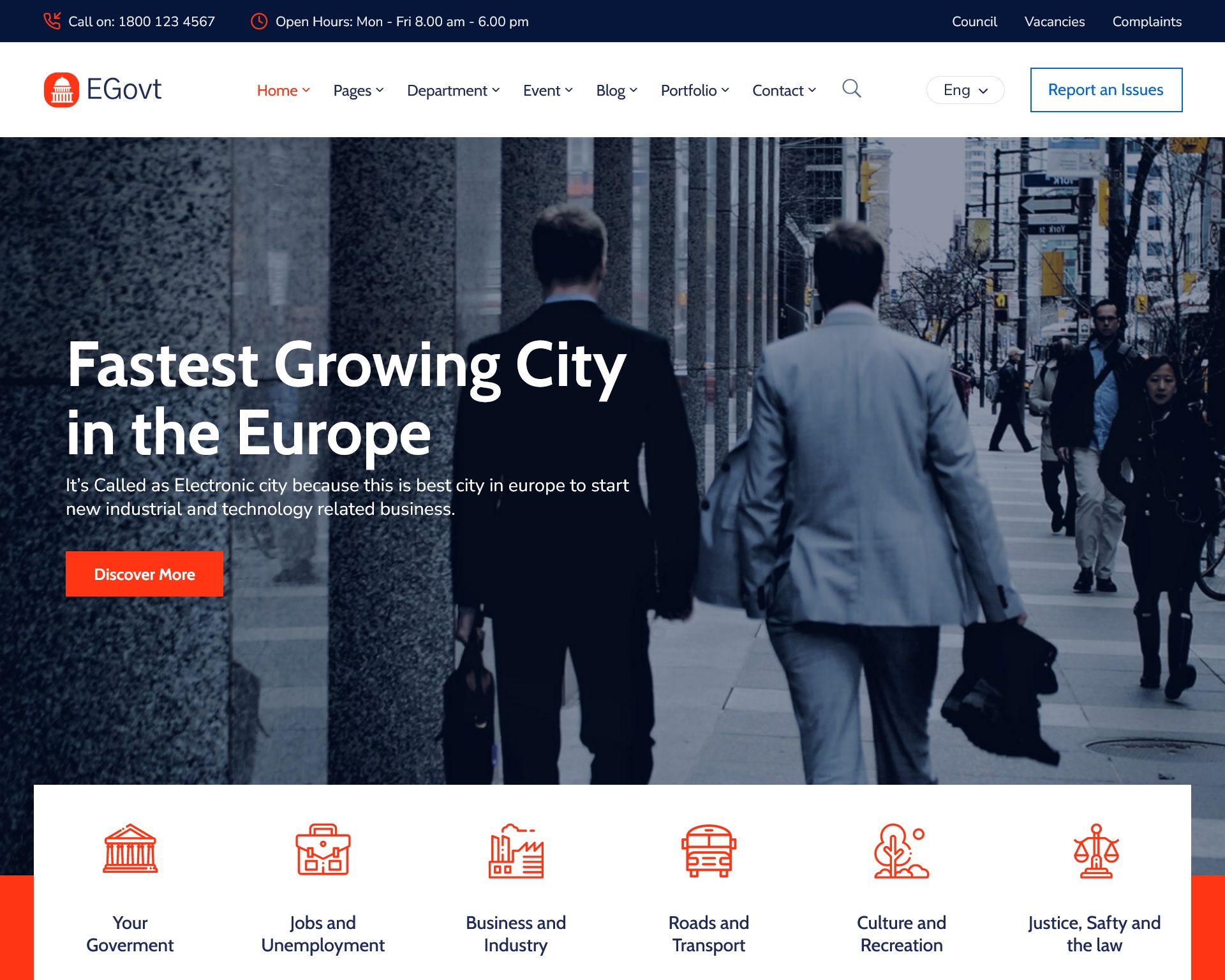 Municipal websites, government departments, agencies, local government sites, and town or city portals are the focus of EGovt, a WordPress theme dedicated to them. Introduce your policies, work, history of foundation and development, post important events, and engage the public in problem-solving. The theme is the ideal choice for you to reach a wider audience. Provide updates and allow the audience to report issues on the fly without having to be a technology wizard or have experience with coding.
The Ballot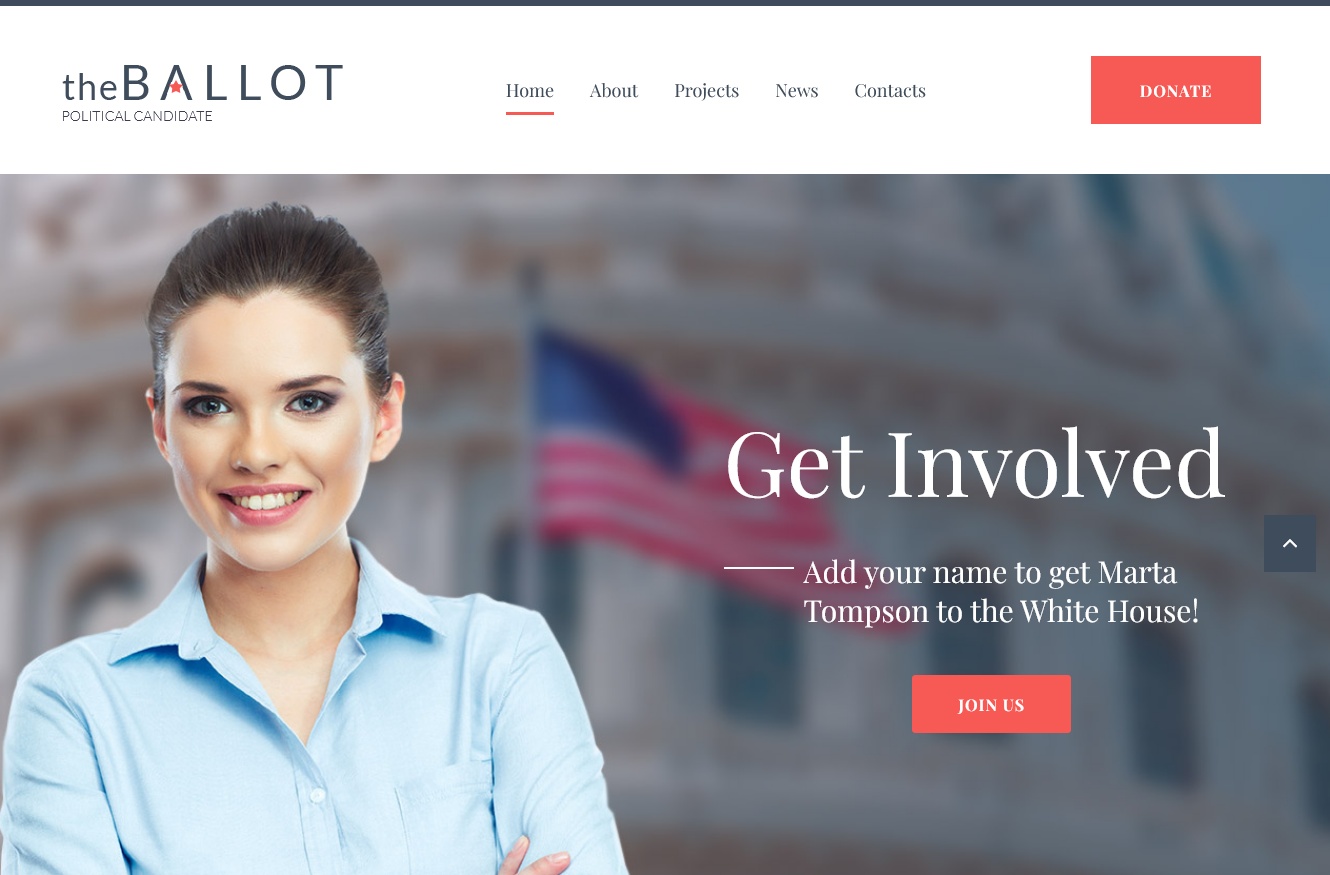 The election campaign must be available online because the majority of citizens spend a lot of time surfing the web. The political candidate WordPress theme's pages can be enhanced with a variety of features using Elementor widgets. The purpose of this theme is to reach out to people and keep them informed of the latest news and events. Feel the atmosphere of patriotism and pride with the political candidate's WordPress theme, which was created carefully and completed. You have the freedom to use any element you like in your own project.
Vox Populi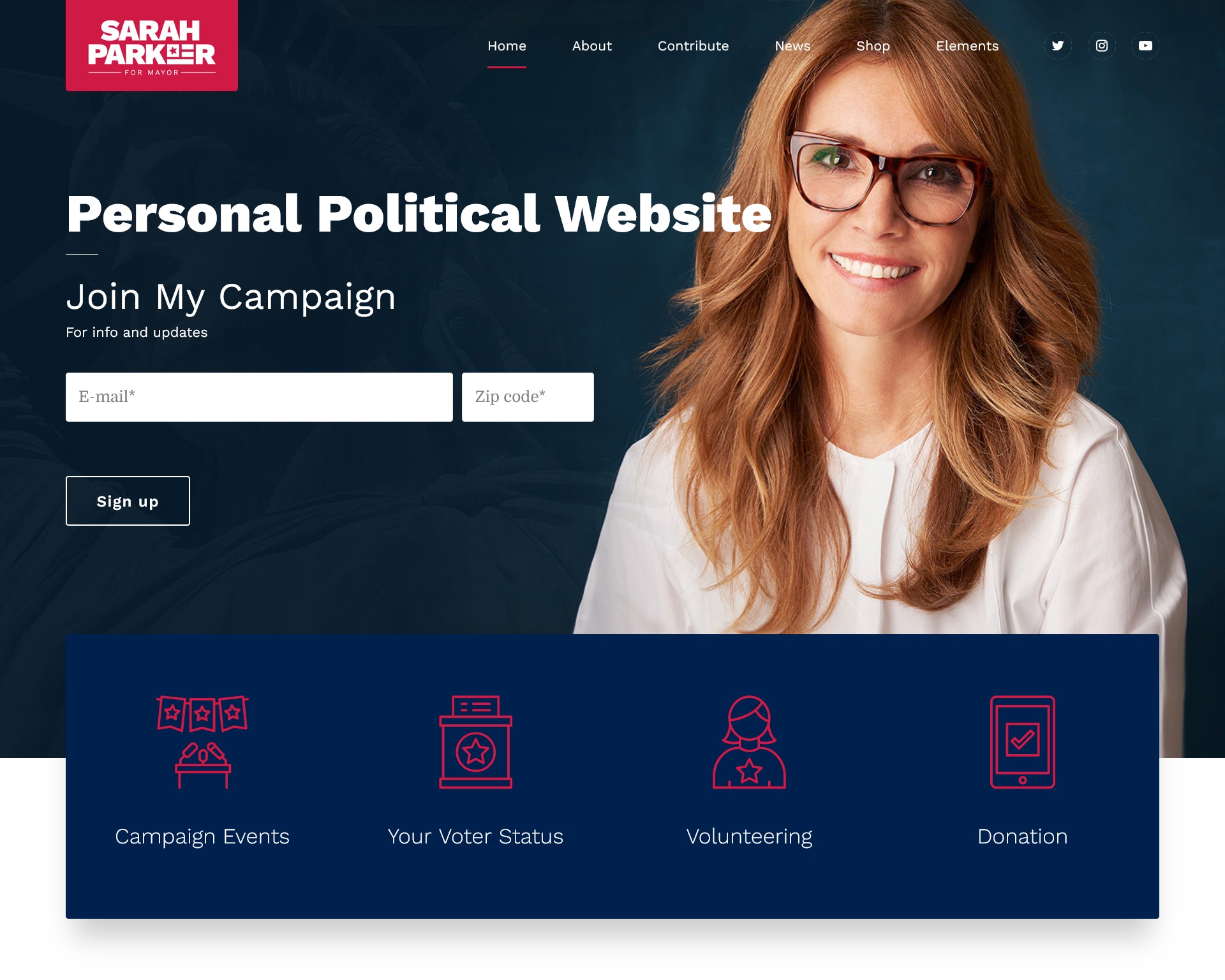 VoxPopuli is a WordPress theme that caters to political parties, campaigns, politicians, political and office candidates, grassroots initiatives, and movements. The WP theme has a unique design and meticulously designed inner pages. This theme's free Cost Calculator plugin features a drag-and-drop Bold page builder that is easy to use and fast. Get started by personalizing your WordPress website by using the theme options control panel and replacing the demo content with your own content.
TheGov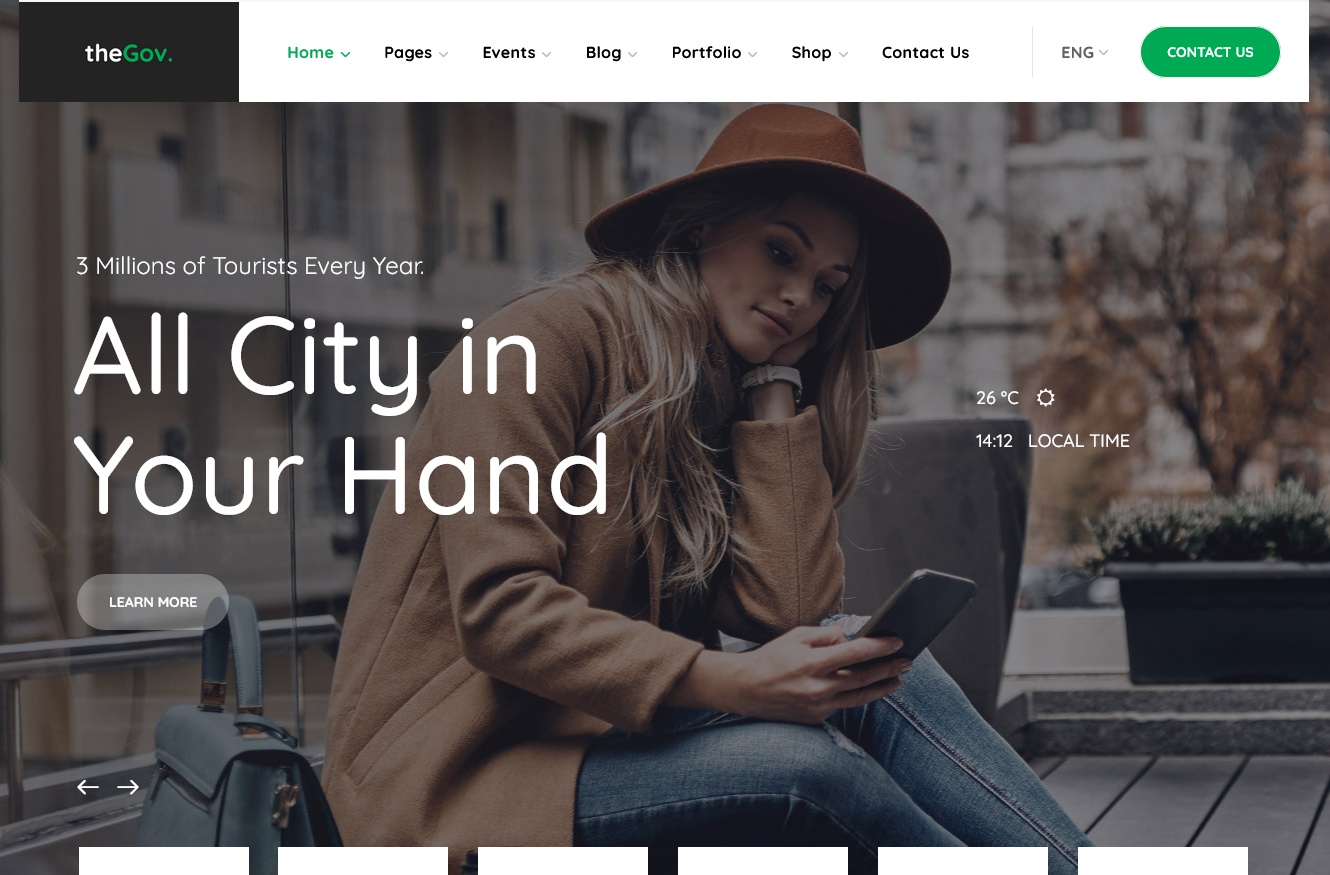 TheGov is a WordPress theme designed for government and municipal events that has functionality that will make you stand out from other similar events, government, and municipal themes. The basic needs of a modern municipality can be met with customized elements and options. You've been dreaming of it before, and one of our unique demos is specifically designed for all your needs. Events Manager is a full-featured event registration plugin for WordPress that is included in TheGov.
LiderShip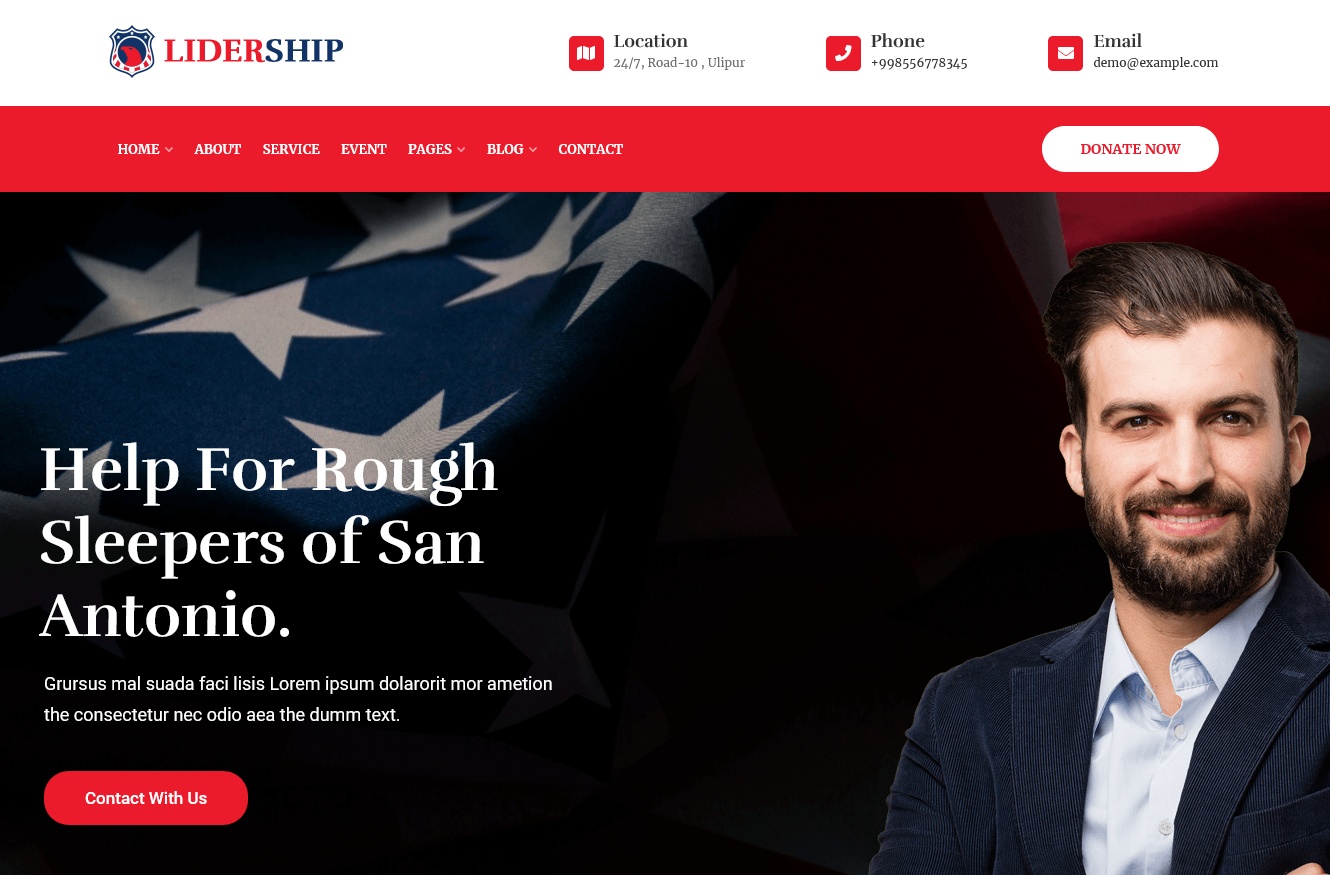 Lidership is a WordPress theme that is powerful, responsive, political, and multipurpose, and can be used by politicians, modern political leaders, activists, election campaigns, and contemporary politics. Websites for political parties, individual candidates, political reviews, and any non-profit organizations. Lidership offers a fully responsive theme that can be used on any device to create your dream theme.