If you are in the construction industry and looking to build a professional website, using a WordPress theme specifically designed for construction businesses can greatly enhance your online presence. In this section, we will explore the benefits and features of free construction WordPress themes as well as highlight some popular options available.
Construction WordPress themes are specifically tailored to meet the unique needs of construction companies, contractors, architects, and other related professionals. These themes offer a range of features that are essential for showcasing your work, promoting your services, and attracting potential clients.
One of the main advantages of using a free construction WordPress theme is cost-effectiveness. These themes provide you with a professional and visually appealing website design without the need to invest in custom web development. Additionally, they often come with built-in functionality and customization options that allow you to personalize your site according to your specific requirements.
Construction WordPress themes typically include features such as project portfolios or galleries where you can showcase your past projects or ongoing work. They also offer sections for displaying client testimonials, team members' profiles, service descriptions, contact forms, and more. These elements contribute to establishing credibility and trust with potential clients.
Furthermore, these themes are designed with responsiveness in mind. This means that your website will automatically adapt its layout and design to different screen sizes and devices. With an increasing number of people accessing websites through mobile devices, having a mobile-friendly site is crucial for reaching a wider audience.
In this section, we will present some popular free construction WordPress themes that offer a range of customization options while maintaining ease of use. Whether you are just starting out or looking to revamp your existing website, these themes can be an excellent choice for showcasing your construction business online.
Bosa Construction Industrial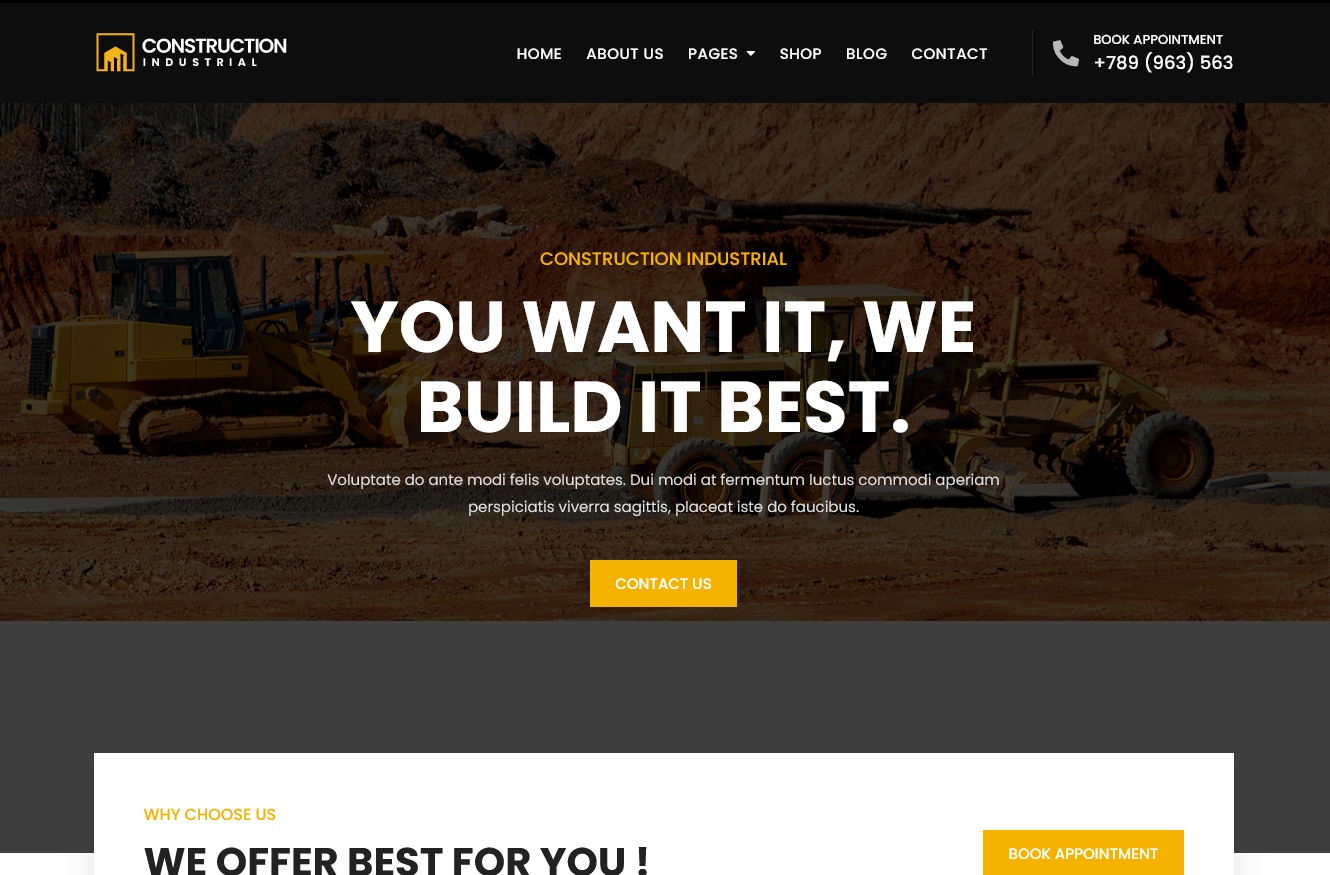 Bosa Construction Industrial is a multipurpose business theme that is beautiful, fast, lightweight, responsive, and is extremely customizable. It can be used as a foundation. Bosa Construction Industrial's compatibility with Gutenberg and the most popular page builder, Elementor, makes it easy to drag-and-drop your ideas from the interface. The ability to customize and stand out from the crowd is what makes this stand out. Bosa Construction Industrial is compatible with all major plugins like WooCommerce, Yoast, Mailchimp for WordPress, bbPress, and other WordPress platforms.
Home Construction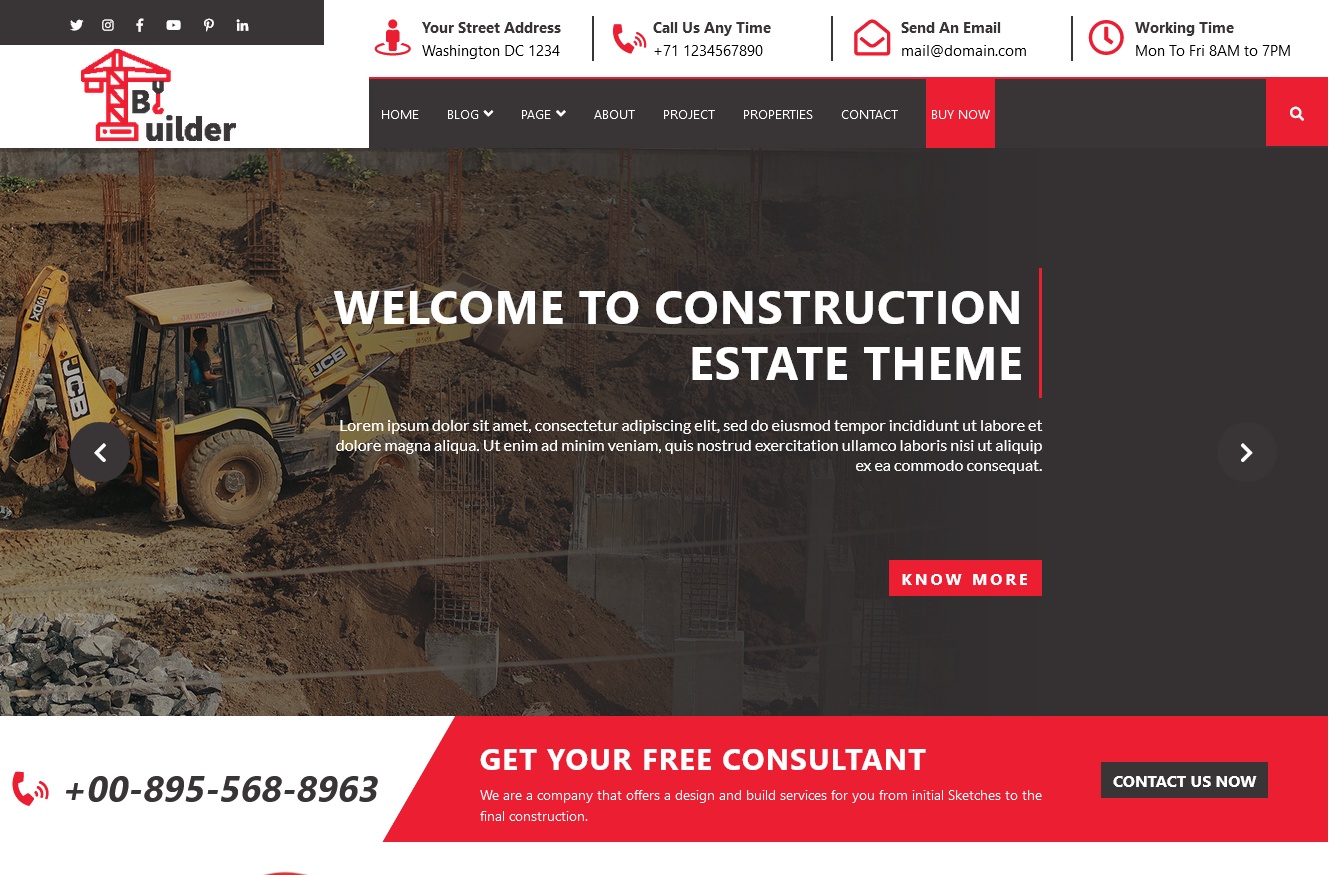 Home Construction Company is an all-inclusive and feature-rich theme that has been designed specifically for construction firms, contractors, and related industries. This theme's intuitive design and robust functionality make it the perfect choice for creating a professional and visually stunning website for your construction company. Home Construction Company offers a variety of customization options to customize your website to match your brand and style. For client inquiries and business opportunities, this seamless communication feature is essential. Connecting with your audience on multiple channels and expanding your online presence is possible with the theme's integration with social media platforms.
Renovation X Construction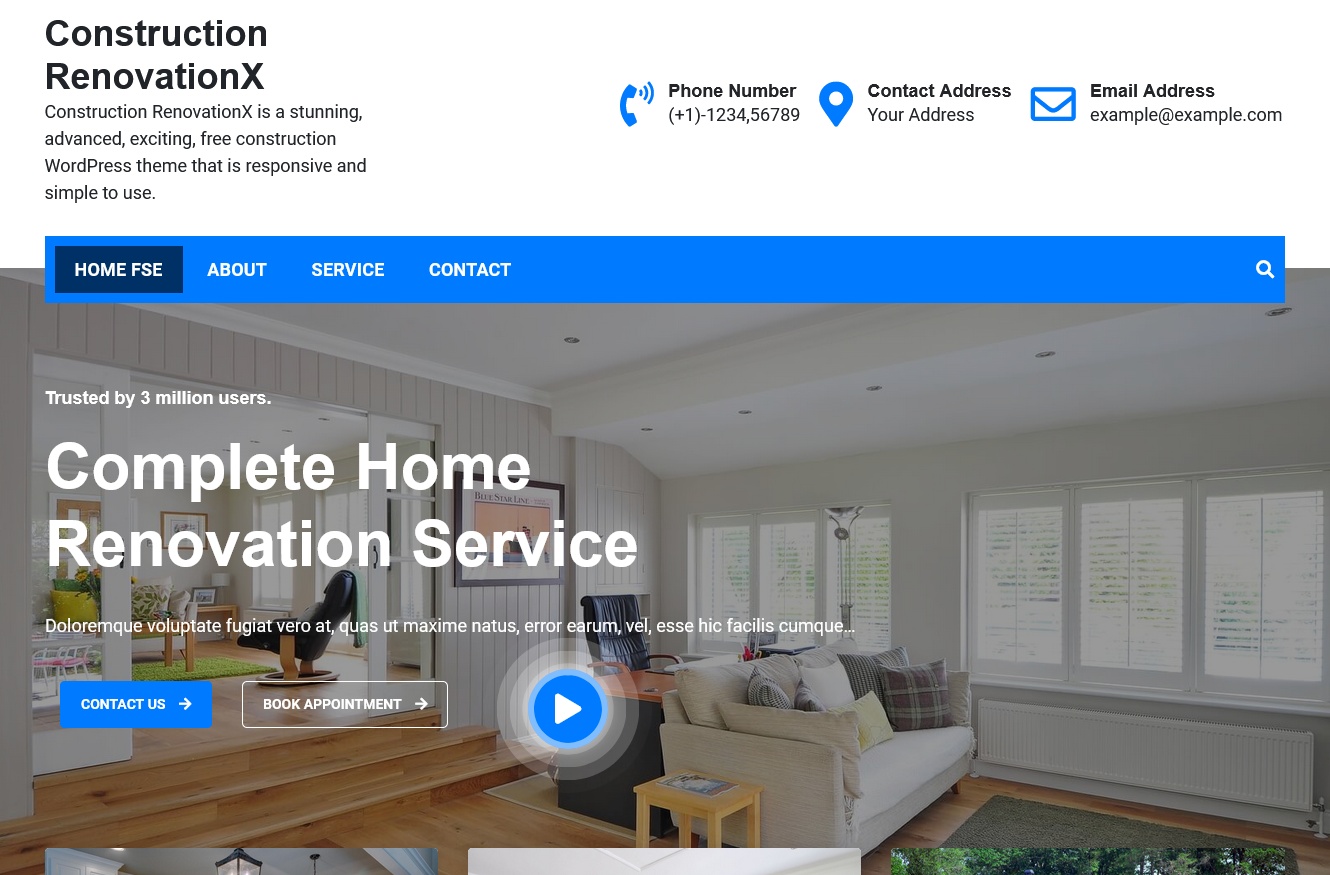 Construction RenovationX is a responsive and easy-to-use WordPress theme for construction that is stunning, advanced, exciting, and free. The Construction RenovationX theme is loaded with exciting features, including cross-browser compatibility, translation readiness, site speed optimization, SEO-friendly theme, and support for WooCommerce. If you encounter any problems with our theme, you can consult our theme documentation or get in touch with our helpful support staff.
Grand Construction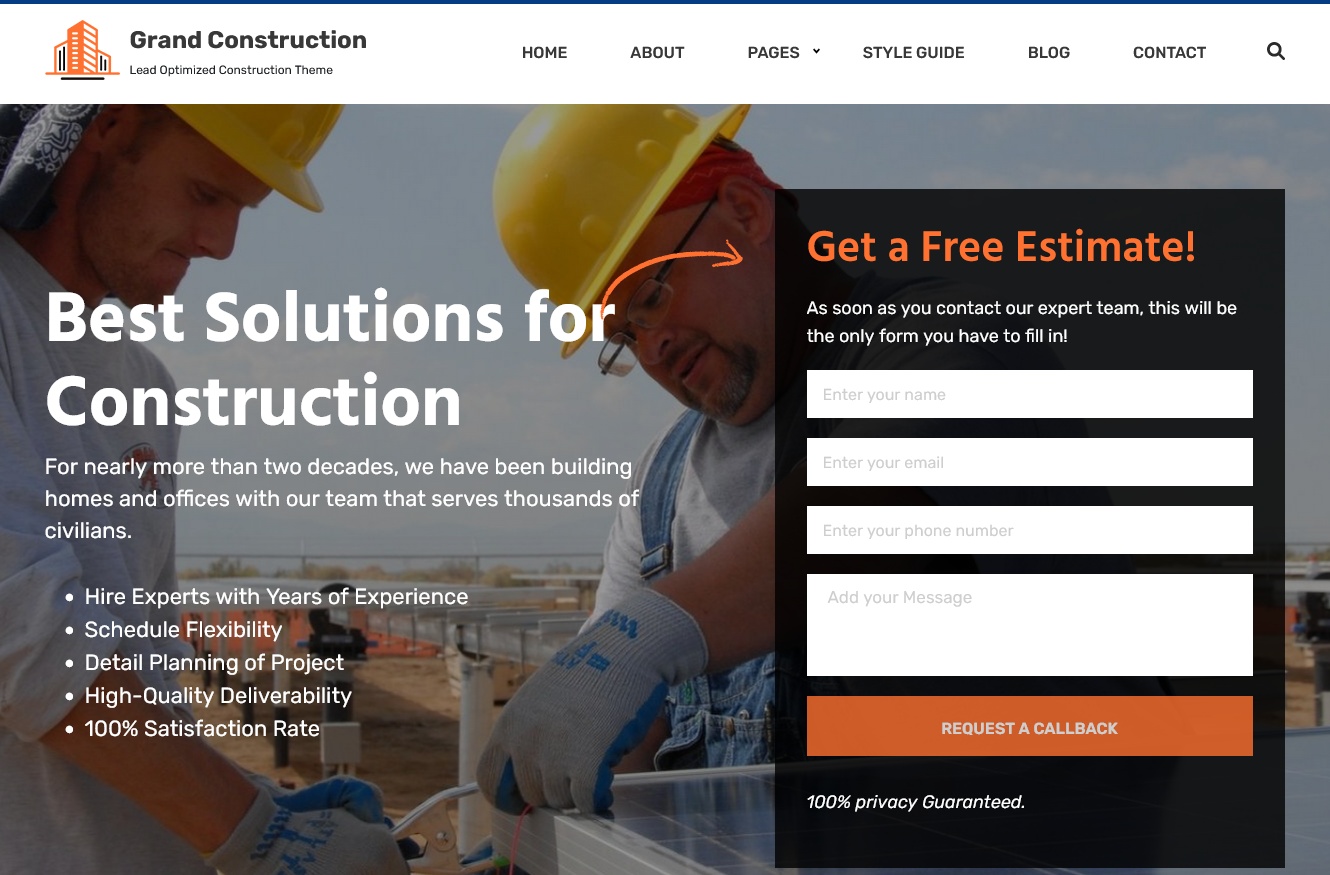 Grand Construction is a free construction WordPress theme that has been optimized for leads. The theme has multiple sections that showcase your services and introduce your business to engage your visitors. Cross-browser compatibility, mobile responsiveness, translation readiness, and RTL script support are all features of this theme.
Builders Construction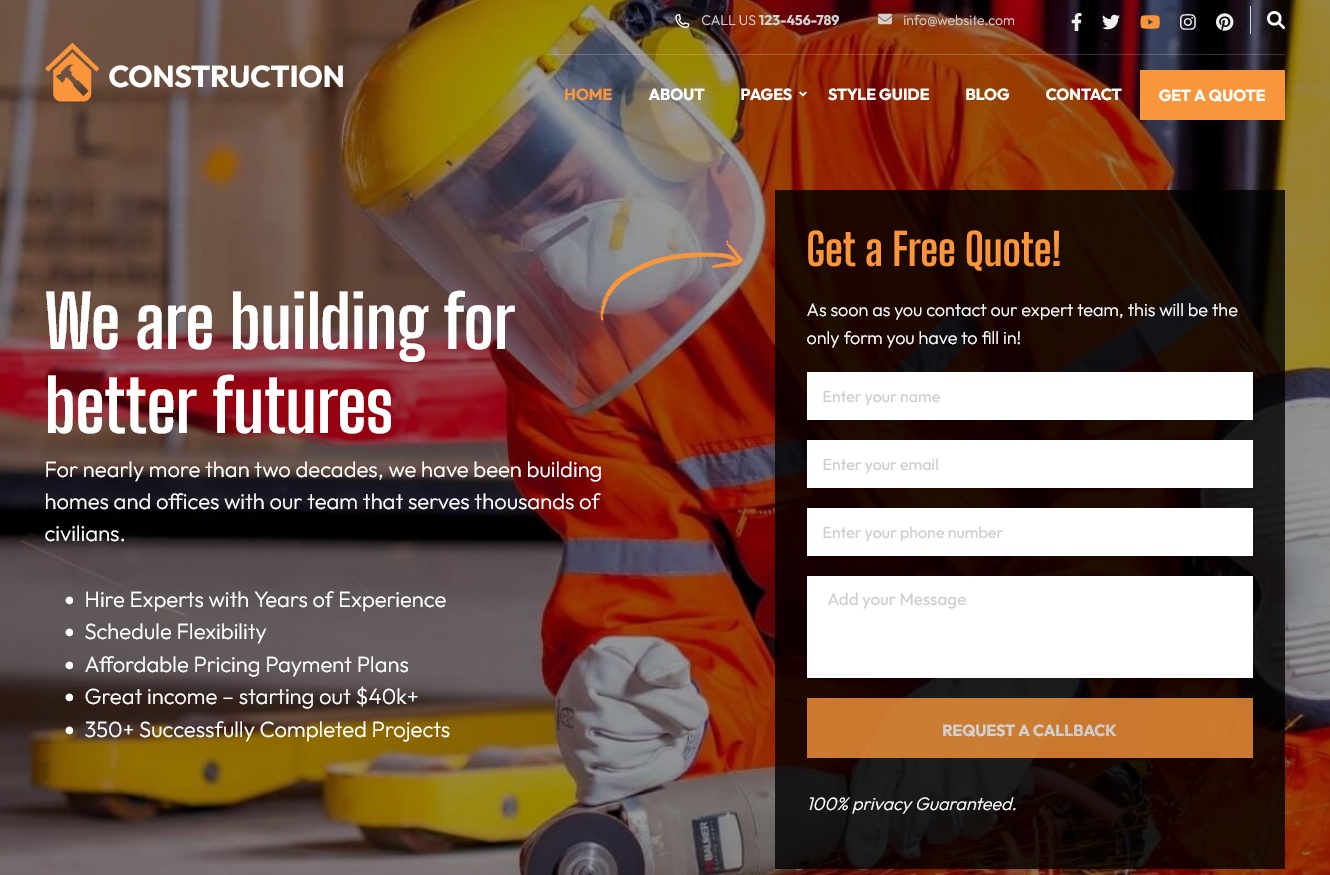 Construction Builders is a free WordPress theme that is designed for professionals and optimized for leads. To engage your visitors, the theme has several sections for displaying your services and introducing your business.
Spark Building Construction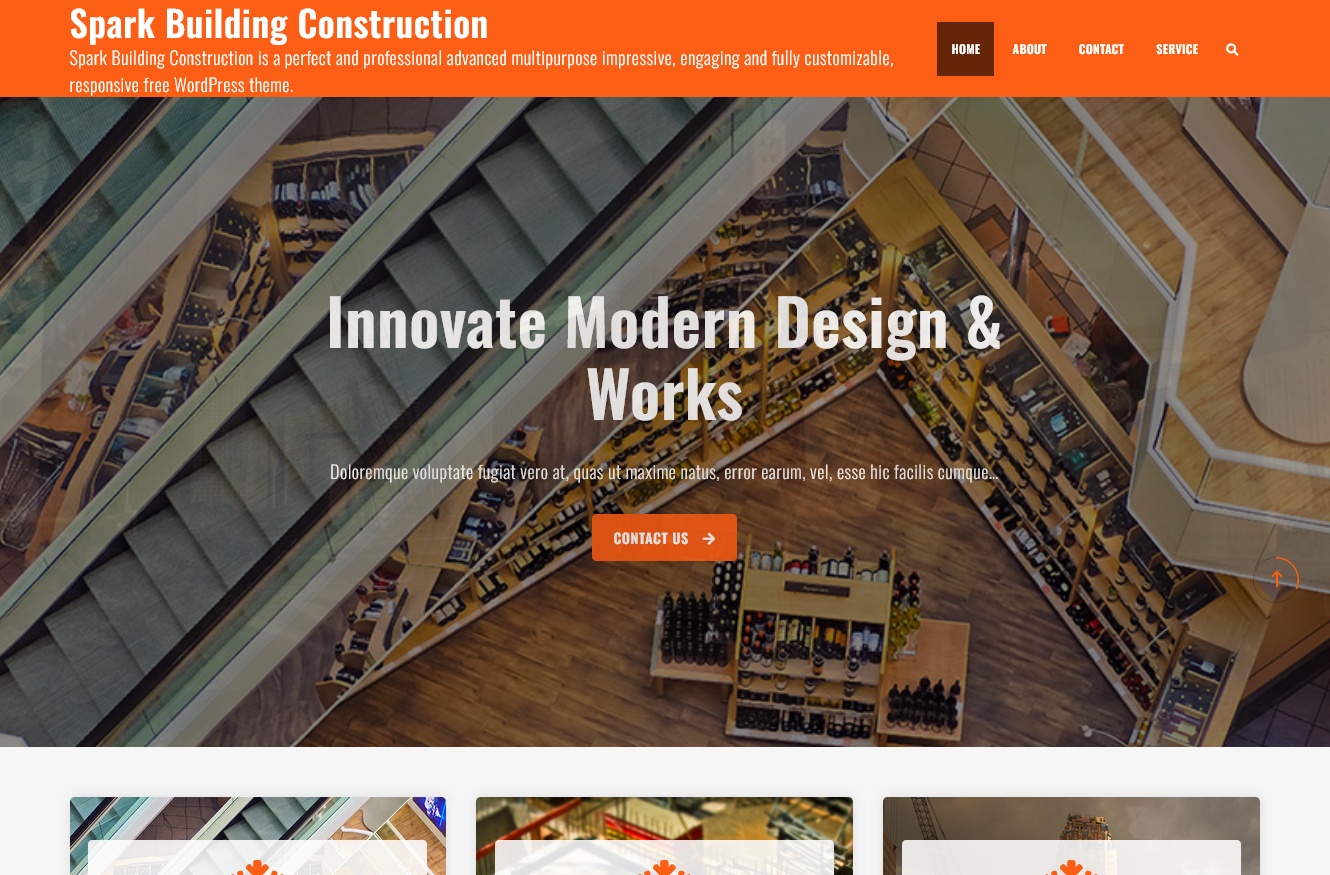 Spark Building Construction is an advanced multipurpose theme that is perfect in terms of professionalism, impressive, engaging, fully customizable, and responsive. The Spark Building Construction theme is compatible with the latest page builder plugins, making it easy to integrate into any page.
Bell Construction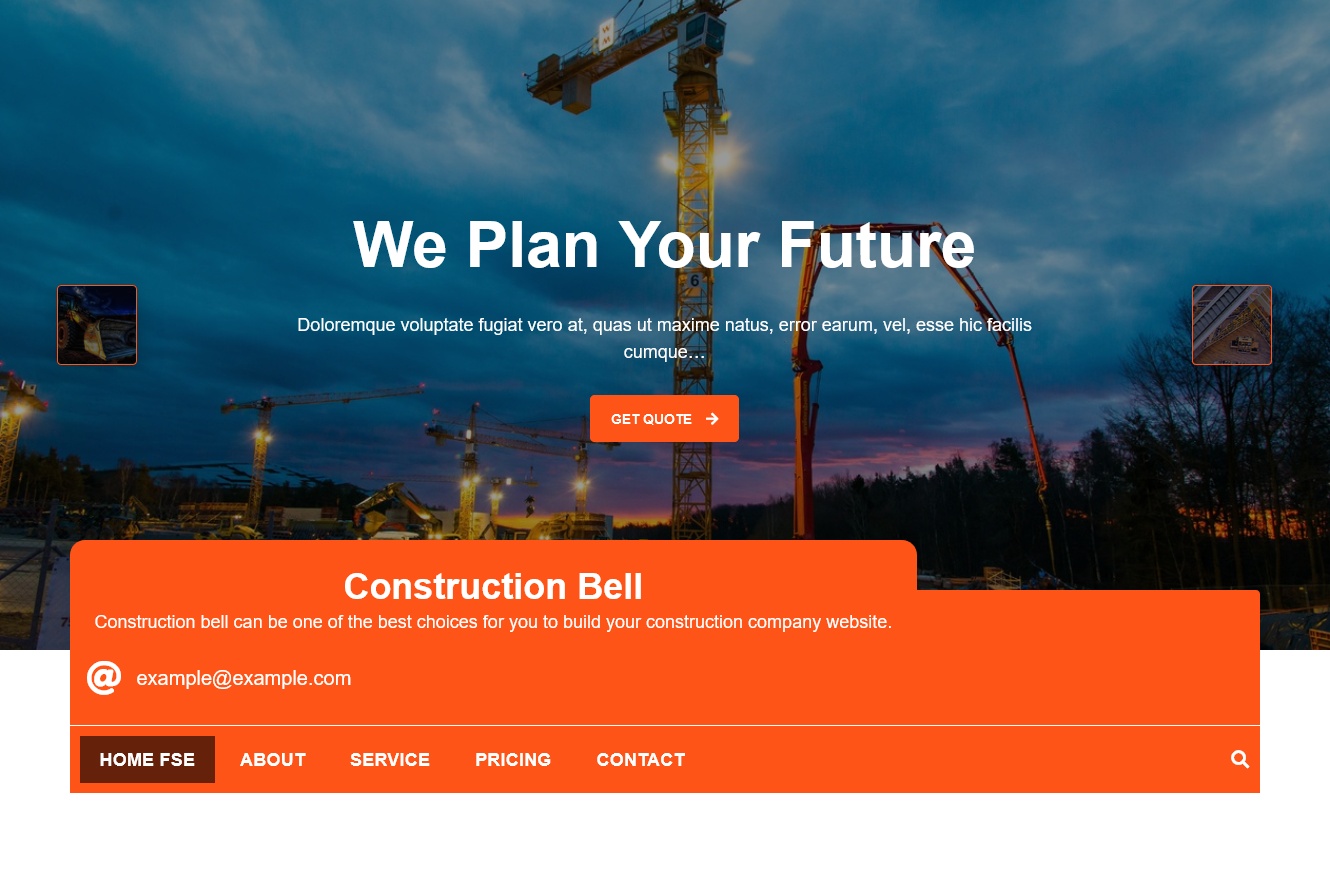 Construction bell is a great option for building a website for your construction company. Construction Bell is a WordPress theme that can be customized to be elegant, modern, minimal, royal, and versatile, and is also very easy to use. This theme can be employed to build business, corporate, digital, blog, portfolio, agency, and many other creative websites that are SEO-friendly and well-optimized. It's simple to make an advanced and modern website and have it live in a few minutes.
Home Construction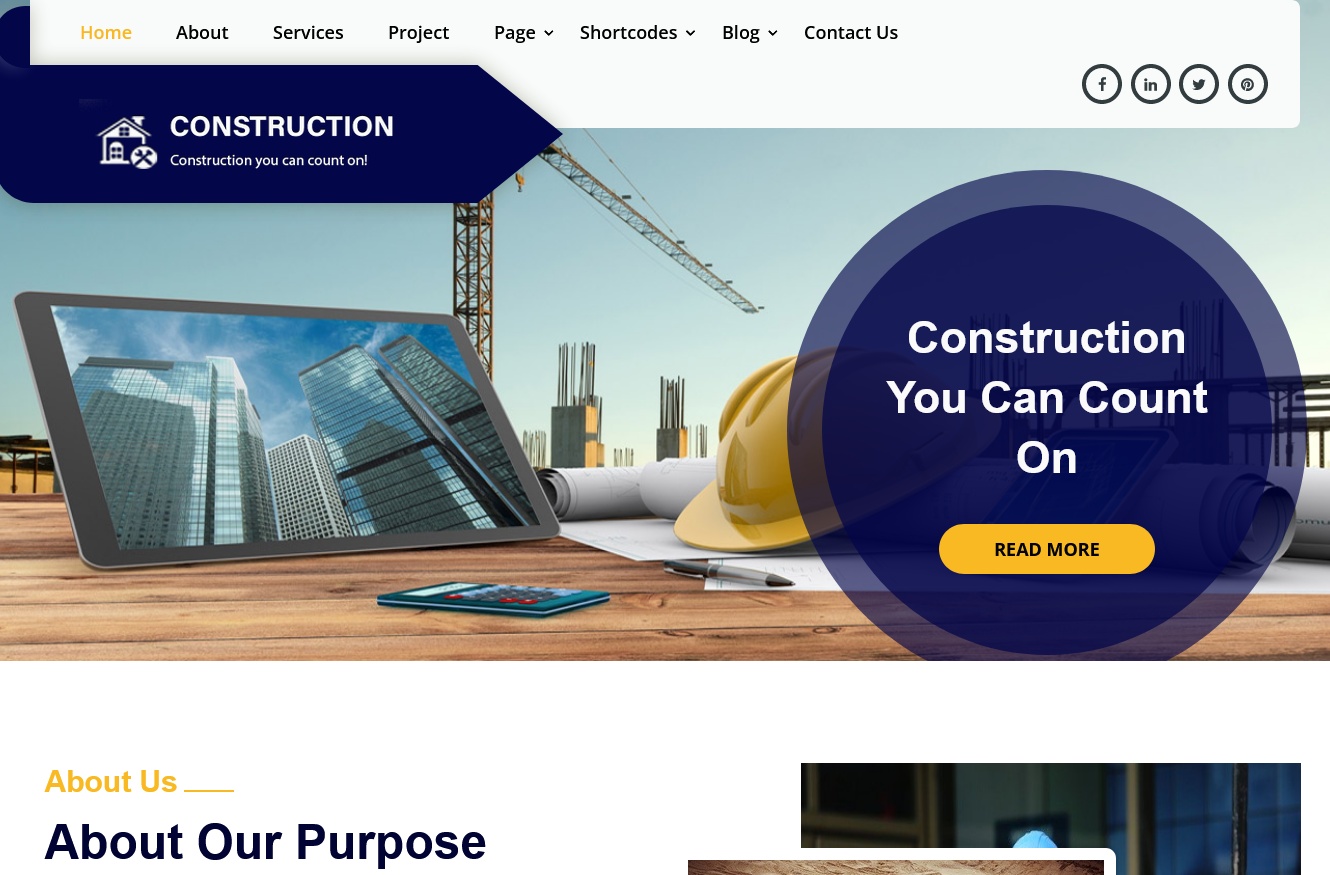 Home Construction is a high-quality theme that is designed for creating landing pages for construction businesses. Real estate solutions, property dealer websites, housing, development, or estate broker websites are all available online. The theme is designed to be user-friendly, allowing people with different skill levels to use it without worrying about coding. In light of this fact, the developers have designed it to give the most attention to the details. Easy promotion on multiple social media platforms can be achieved through social media integration, which is made possible thanks to the Bootstrap framework's ease of editability and flexibility and customizable options.
Jet Black Construction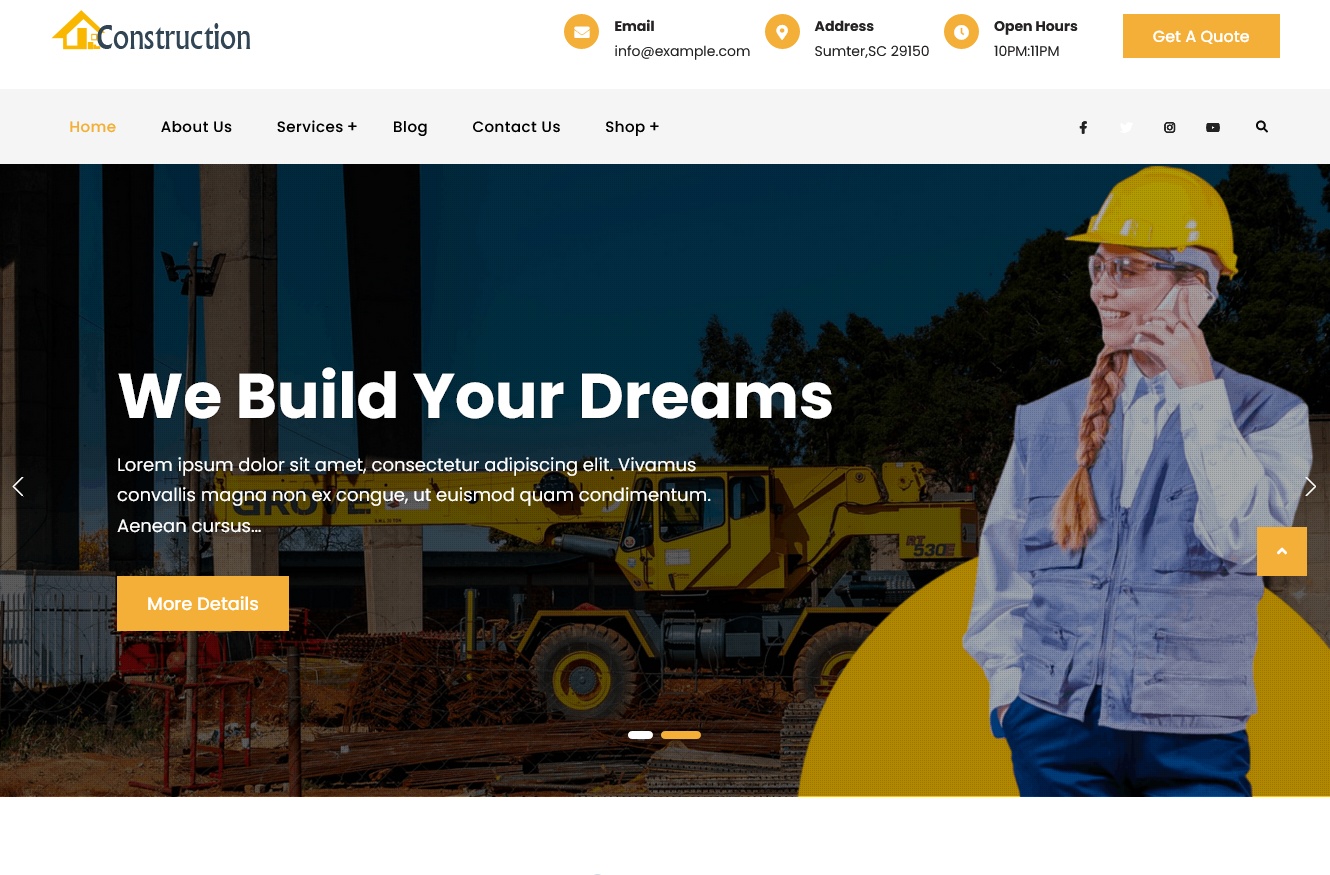 The JetBlack theme is a child's theme that includes all the features of JetBlack, as well as different header options.
Hub Construction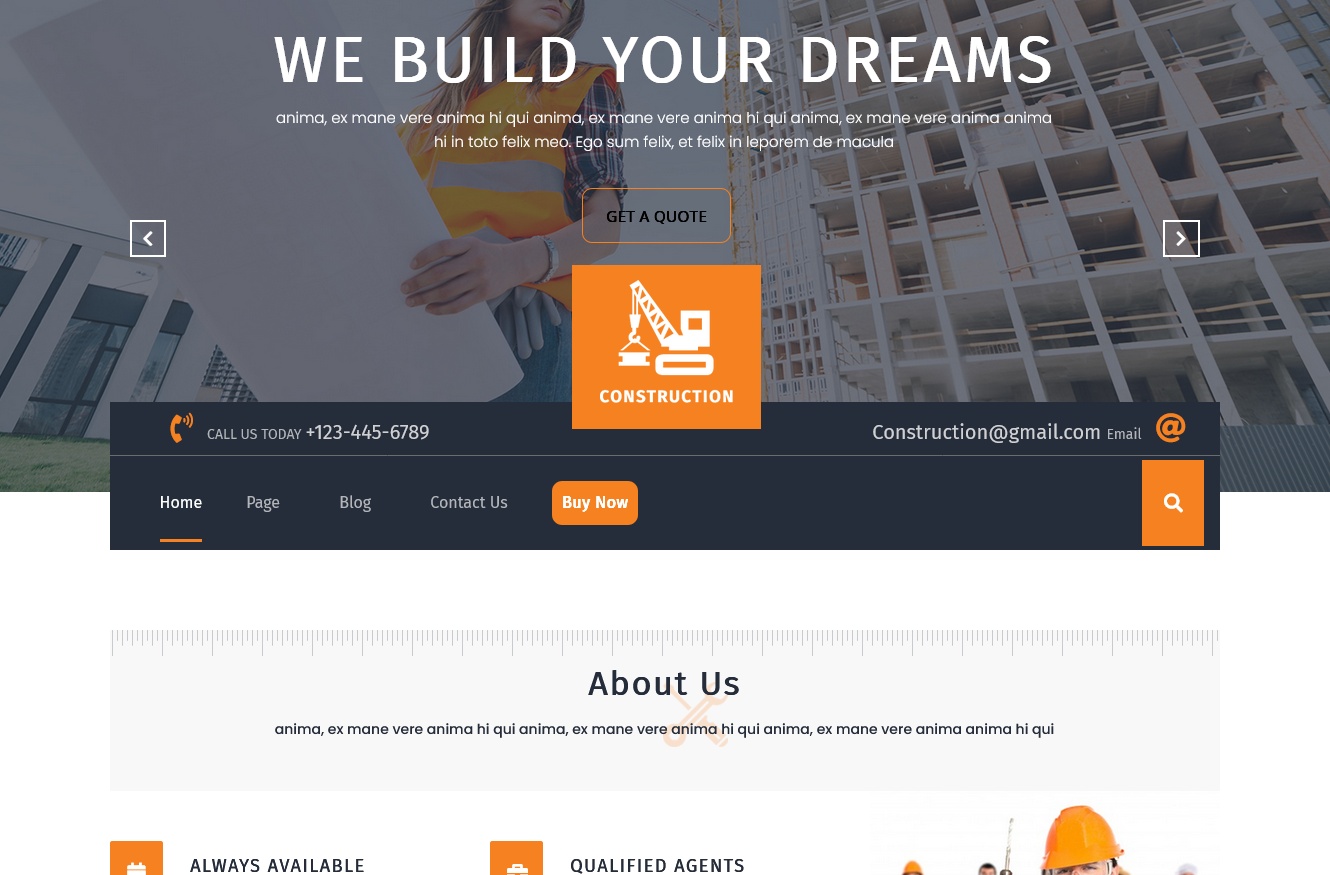 Construction hub is a perfect theme for companies that specialize in construction engineering and are related to construction businesses. The premium WordPress theme category is your preferred choice because it will provide a significant boost to your business due to its wonderful features. Businesses that have a connection to the construction sector include property dealings, oil and gas companies, petroleum companies, and the shipping industry. The testimonial section, which is stunning and animated, makes it a top choice for plumbers and other construction-related businesses.
Field Construction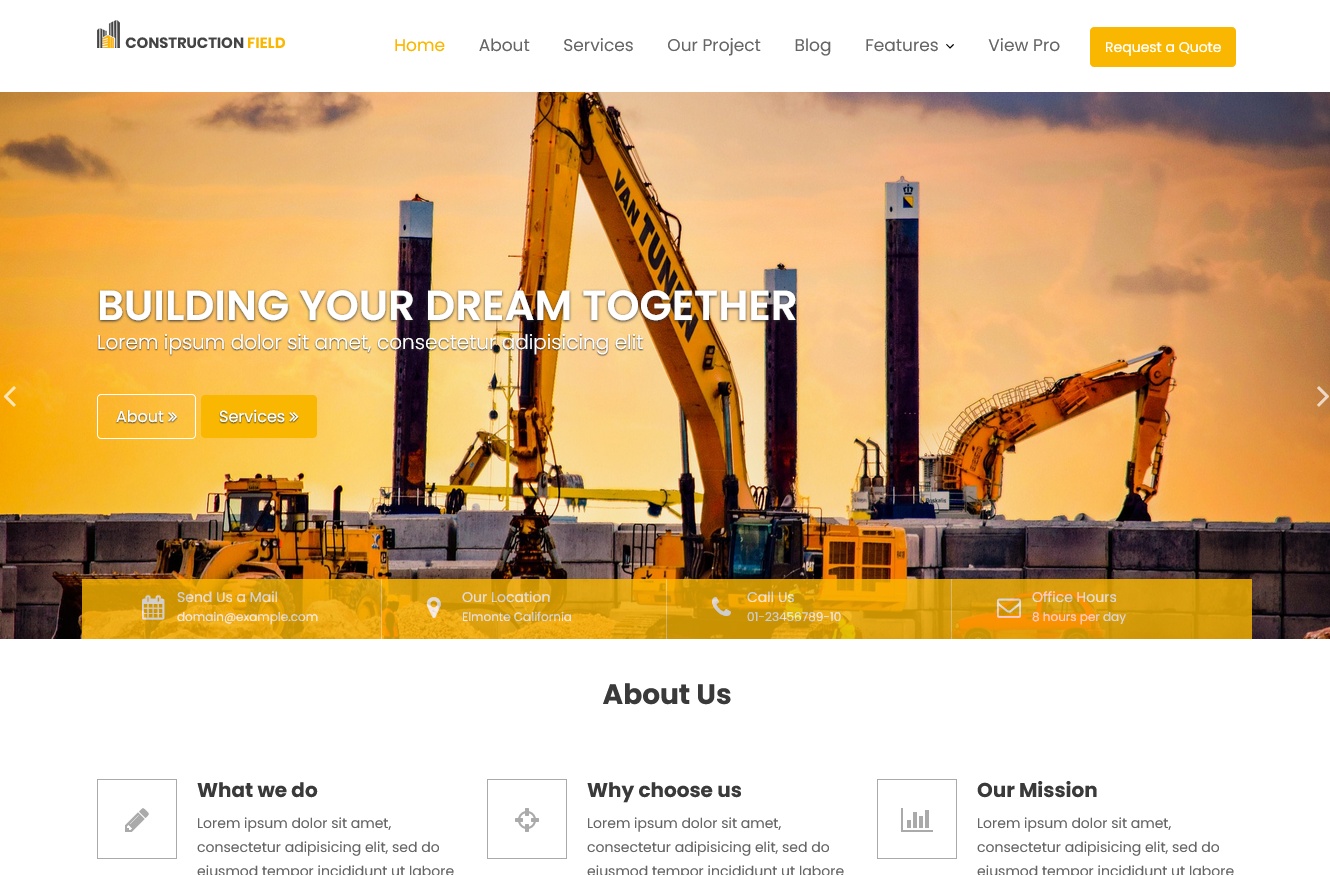 Construction Field is a WordPress theme that is tailored for construction agencies, state agencies, architectural houses, and general construction and real estate sites. Construction Field is a WordPress theme that serves that purpose. It features essential features that help to showcase the online presence of any company beautifully. Advanced widgets and a highly customized option allow the user to design the entire site without touching code.