In the construction industry, having a professional and visually appealing website is crucial for showcasing your services and attracting potential clients. This is where Construction WordPress Themes come into play.
WordPress Themes designed specifically for the construction industry offer a range of features and functionalities that cater to the unique needs of construction businesses. These themes are built on the popular WordPress platform, which provides a user-friendly interface and extensive customization options.
One of the key advantages of using Construction WordPress Themes is their responsive design. With more people accessing websites through mobile devices, it is essential that your website adapts seamlessly to different screen sizes. These themes ensure that your site looks great on any device.
Moreover, Construction WordPress Themes offer various pre-designed templates and layouts tailored for construction-related content. This saves you time and effort in designing your website from scratch. You can easily showcase your portfolio, highlight your services, display testimonials from satisfied clients, and provide contact information to potential customers.
Additionally, these themes often come with advanced functionality such as integration with project management tools or appointment booking systems to streamline business operations.
Construction WordPress Themes provide ample customization options to make your website unique to your brand identity. You can easily modify colors, fonts, layouts, and add custom elements without any coding knowledge.
Construction WordPress Themes are an excellent choice for businesses in the construction industry looking to create a professional online presence. They offer responsive design capabilities along with customizable templates and advanced functionality tailored specifically for the needs of construction businesses.
Elevate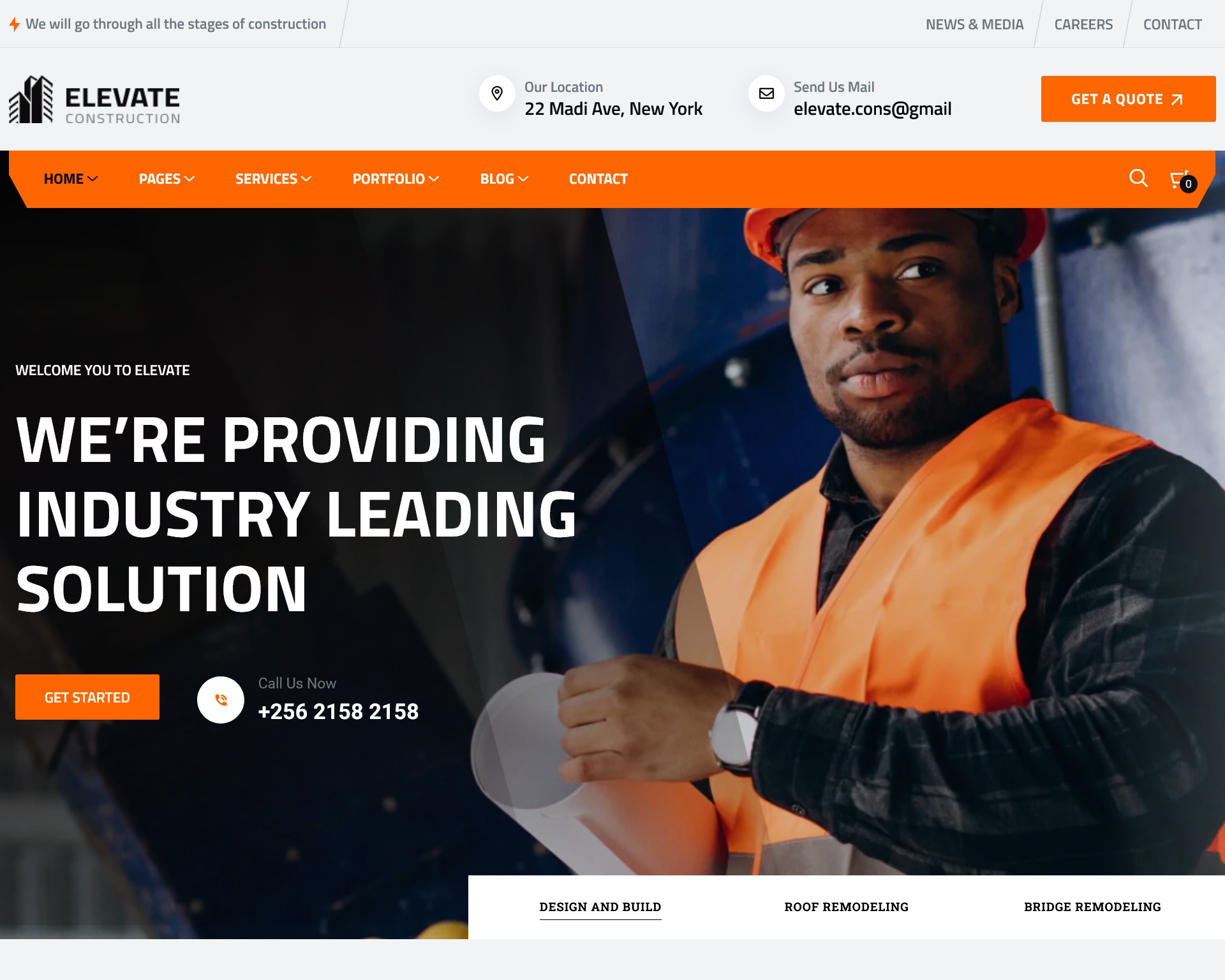 Elevate is a WordPress theme that is sleek and modern, specifically designed for construction, renovation, factory, engineering, fixer, building, architecture, and development-related businesses. Your website's layout is fully responsive, which ensures it looks great on all devices, including desktops, laptops, tablets, and smartphones.
Konstruktion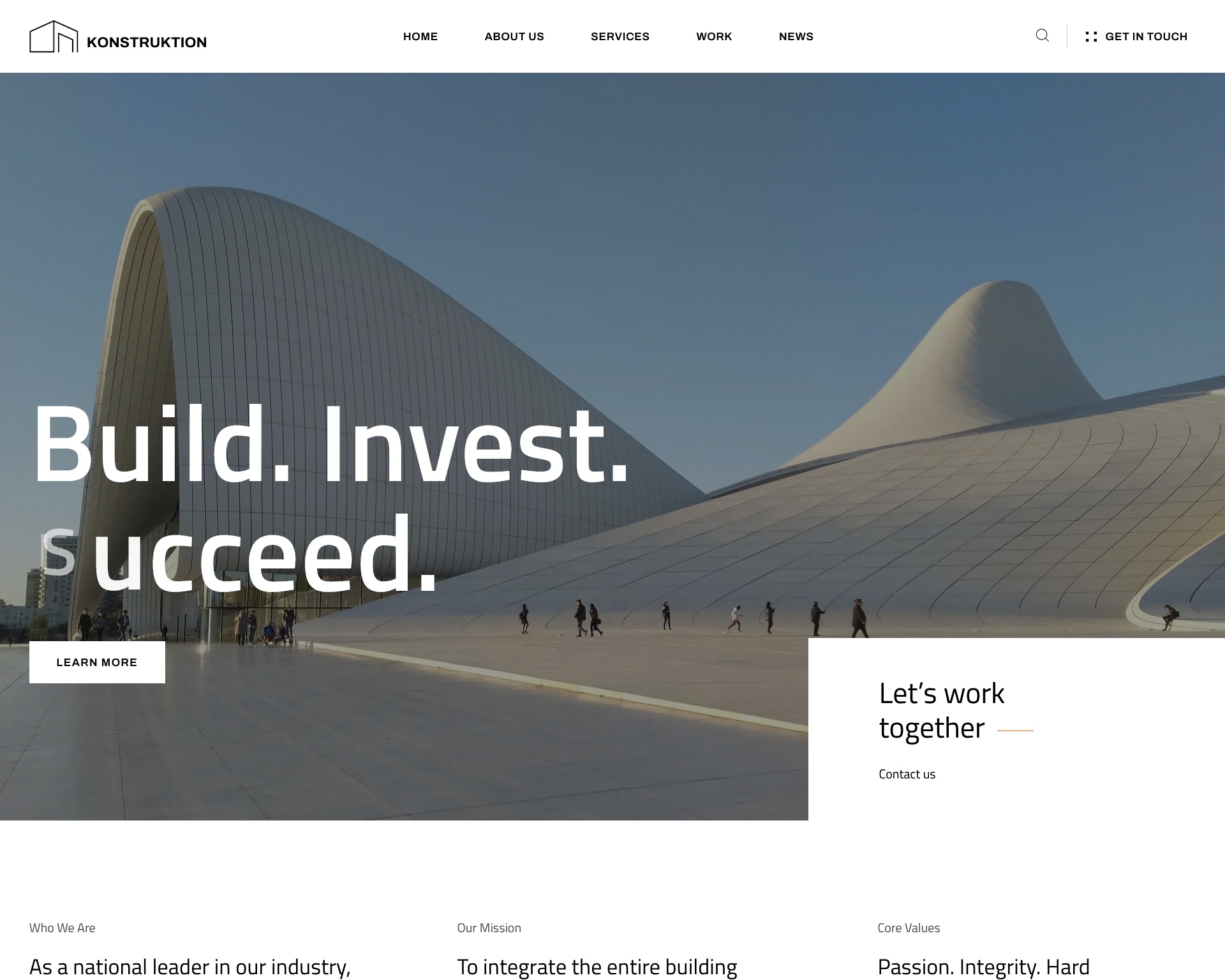 Konstruktion is a WordPress theme designed for construction and architecture, with a focus on businesses that operate in this industry. The site can be built with all the necessary features for your construction company, architects' studio, or property development firm.
Builty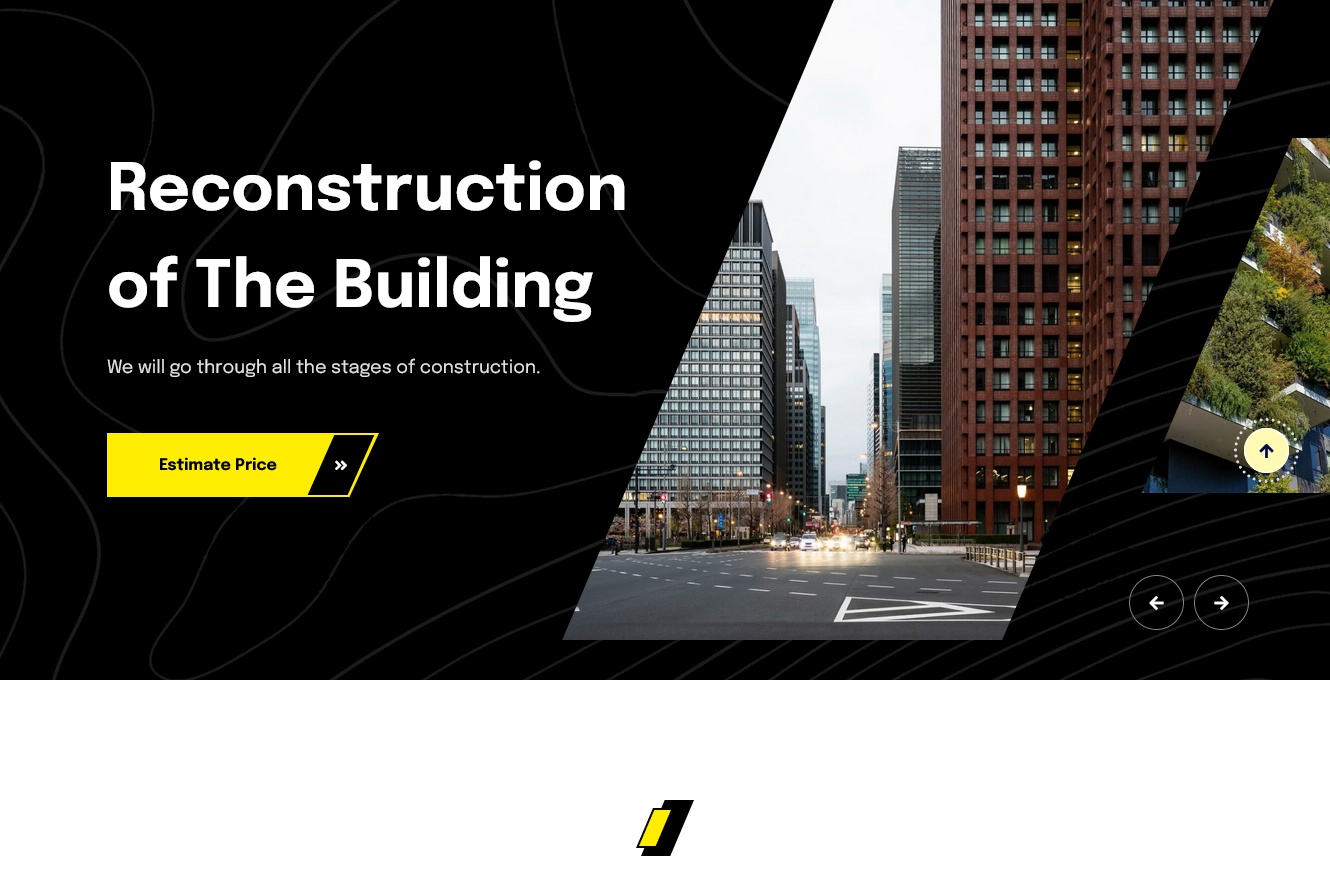 Builty is a WordPress theme best suited for industrial and factory construction businesses, architecture startup companies, construction firms, plumbers, painters, engineering or machinery and any corporate business who need an effective way to promote your construction company. Unique home pages, header and footer elementor Builder, one-click demo install, and Elementor Page Builder with custom-built widgets are all included in the Builty theme. A WooCommerce Shop that features multiple online payment methods, Call to Action forms, popups, and other premium features.
Monstroid2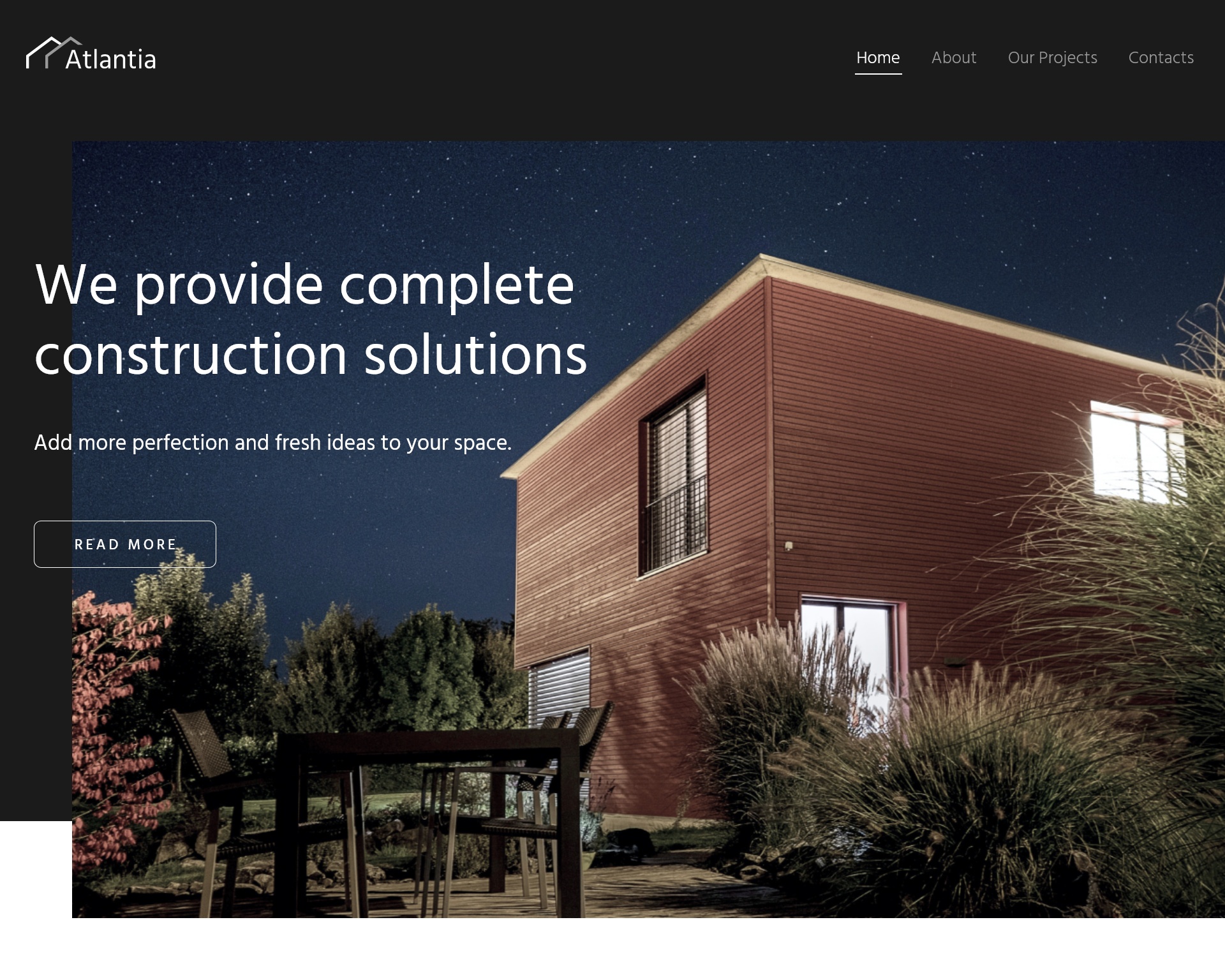 Monstroid2 has been upgraded and is undoubtedly the best multipurpose WordPress theme for any task. Everything you've ever dreamed of is gathered in more than. A professional multipurpose website can be created using the ideal multipurpose WordPress theme, whether it's a medical template, a healthy living blog, or an online store. It's easy to work with and customize all the page templates.
Wilmer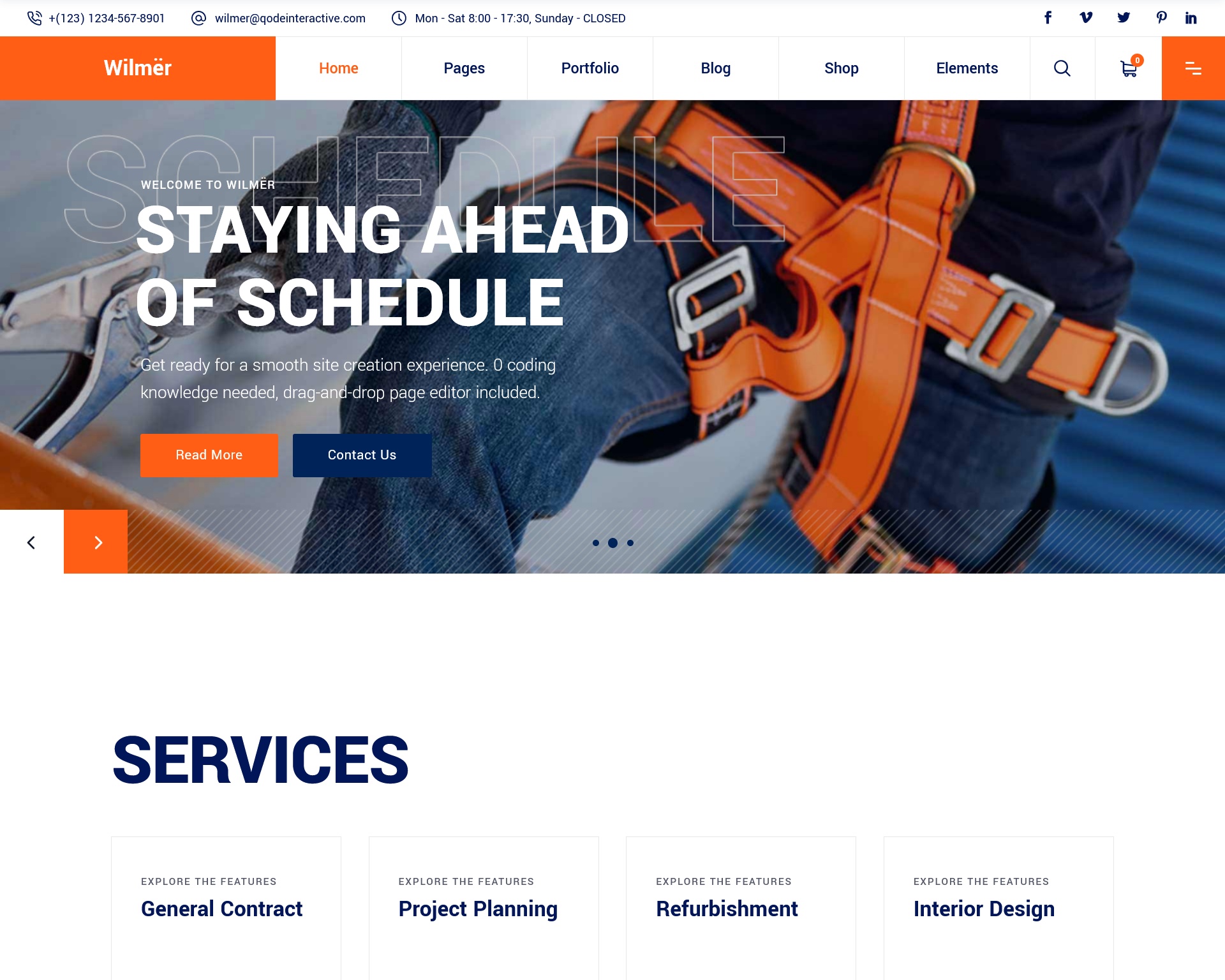 For creating high-quality websites, professional tools are necessary to construct buildings or infrastructure. Wilmer is a top-notch toolkit that is ideal for constructing your site. Wilmer is here to help you build a site for your construction company, architects' studio, property development firm, or real estate presentations. Meet Wilmer to ensure that construction and architecture are done correctly.
Constructo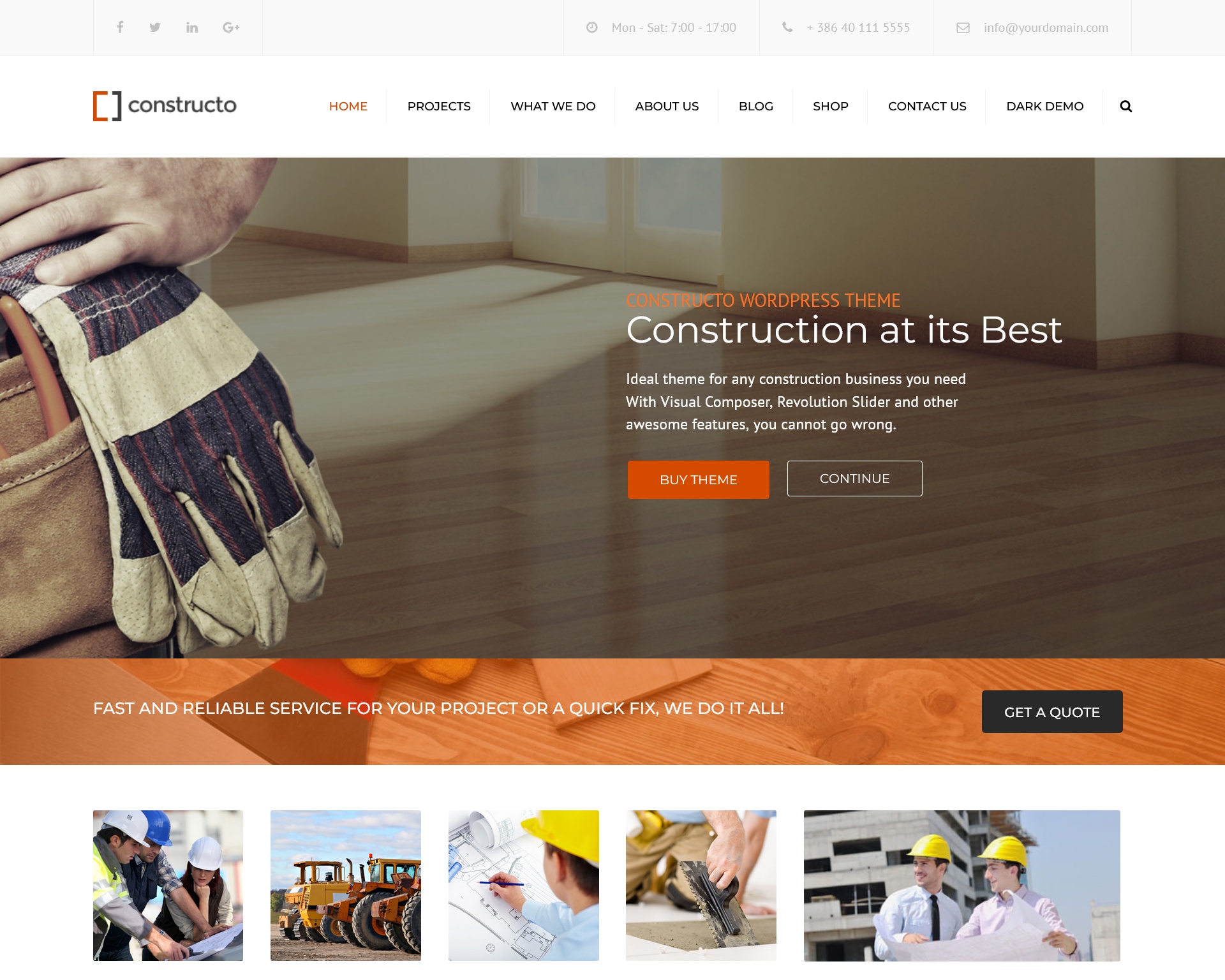 Constructo is a Construction WordPress Theme. The theme focuses on building pages for construction company niches and includes one-click installable demos and WPBakery Page Builder. With excellent support, WooCommerce support and an advanced admin panel are available for any kind of business.
Build Wall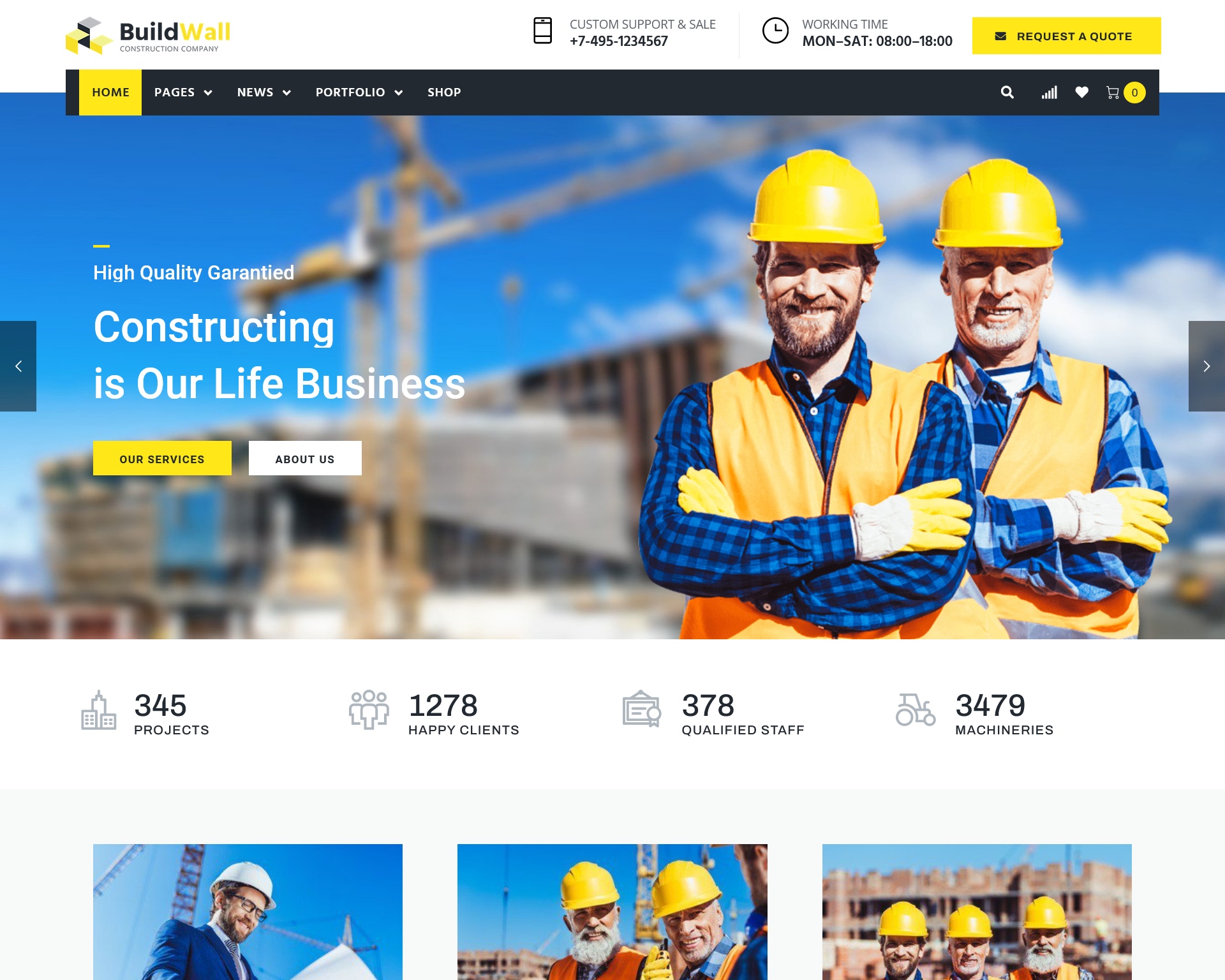 The WordPress construction company theme is exactly what you're looking for if you've always dreamed of running your own business and having a website. Your business can benefit from the multifunctional and solid foundation provided by each topic, whether it's an architect template or an eco-house building. Build a construction foundation that is both multifunctional and strong for your business. You have the option to use them for branding and don't worry about your website's loading speed.
RenoWise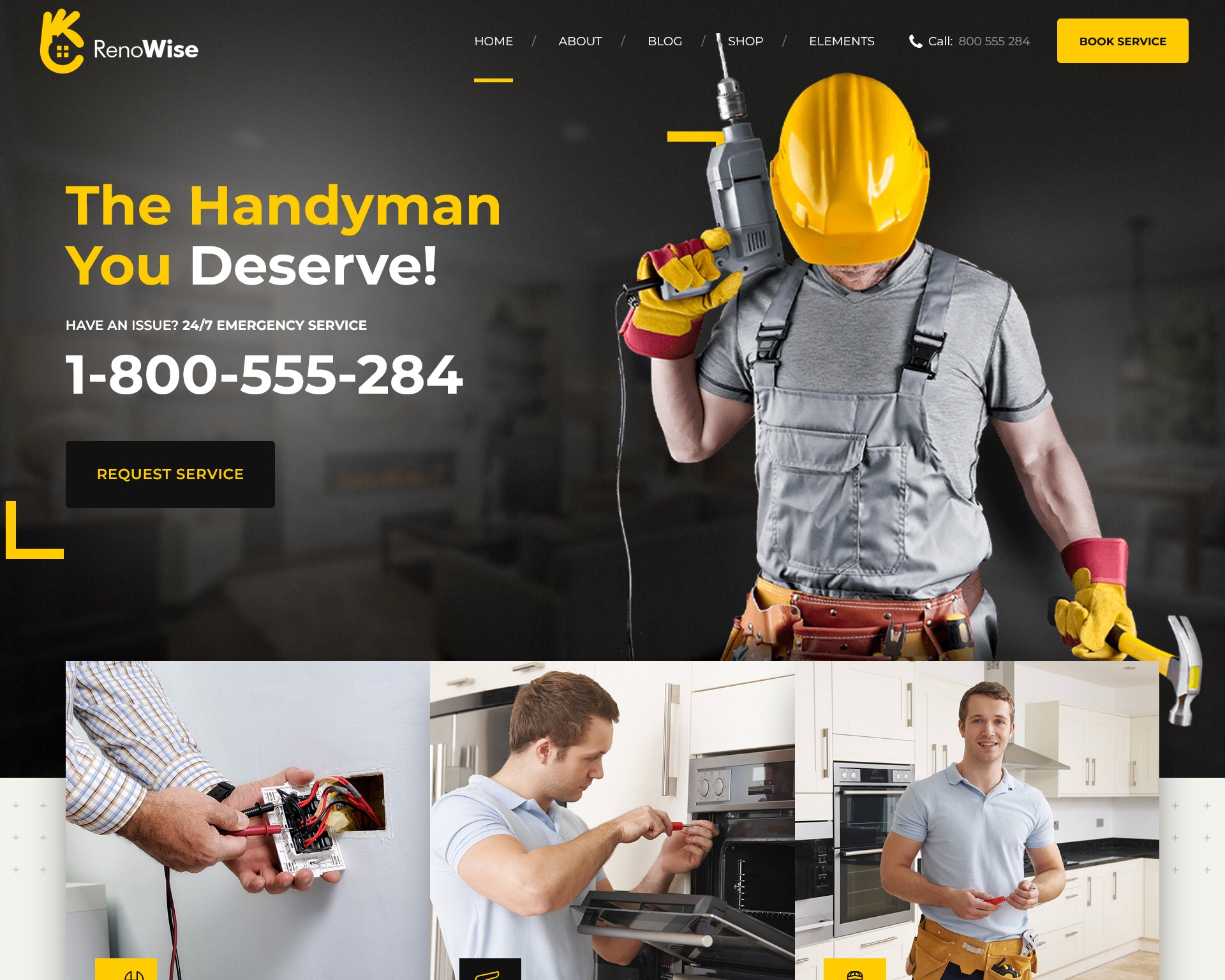 RenoWise is a WordPress theme that can be used for building, construction, renovation, reconstruction, and home repair. Maintenance services, which include electricians, handymen, flooring and roofing services, carpenters, wall treatment and wall painting, reconstruction and renovation services, and contractors in general. The design of this WP theme is unique and the inner pages are carefully designed.
TheBuilt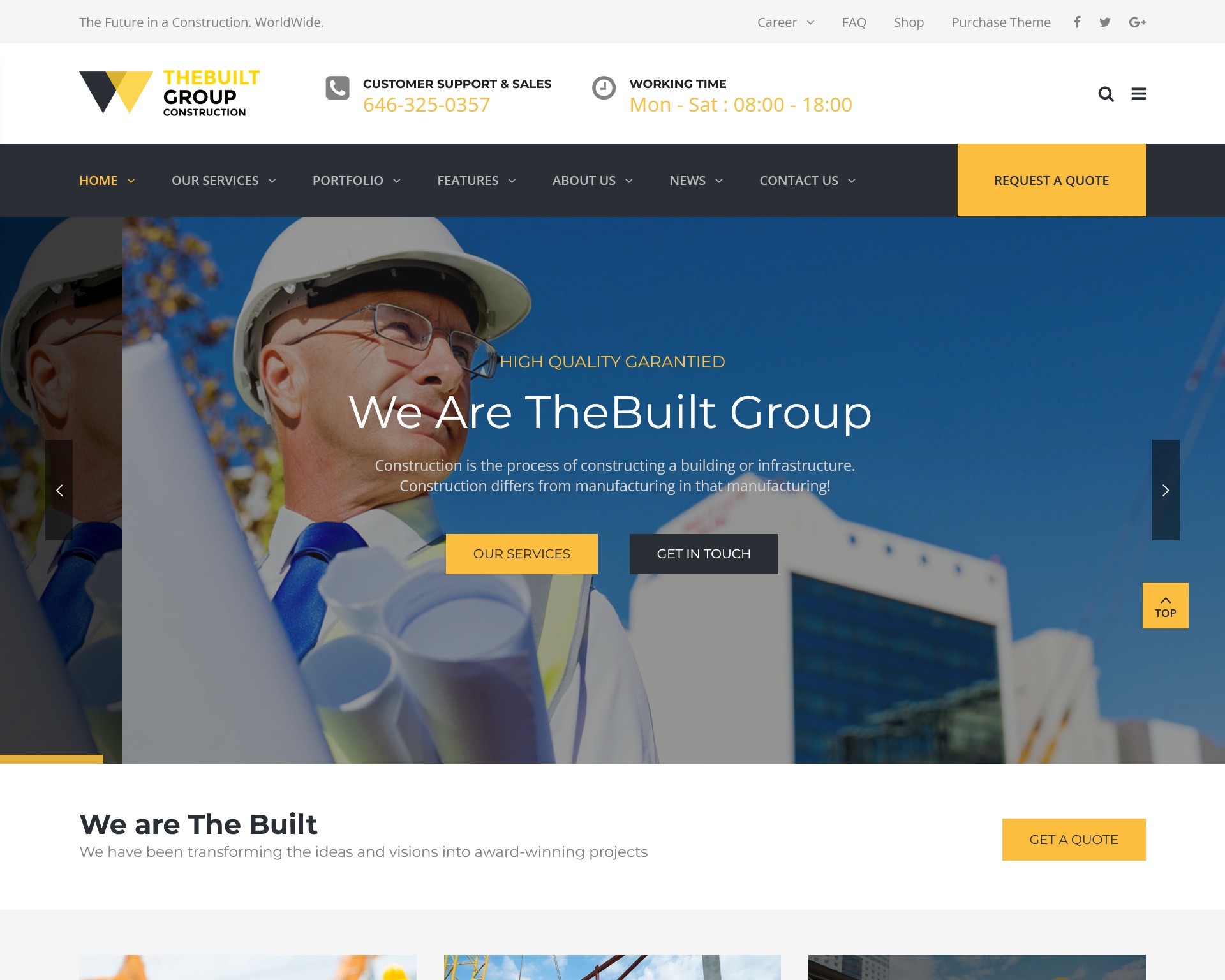 TheBuilt, Construction, Architecture and Business WordPress theme by Elite Author can be utilized for any business to easily create and showcase their website within minutes. TheBuilt has been expertly designed to meet all the features after extensive research into the construction and building industry.
Contractor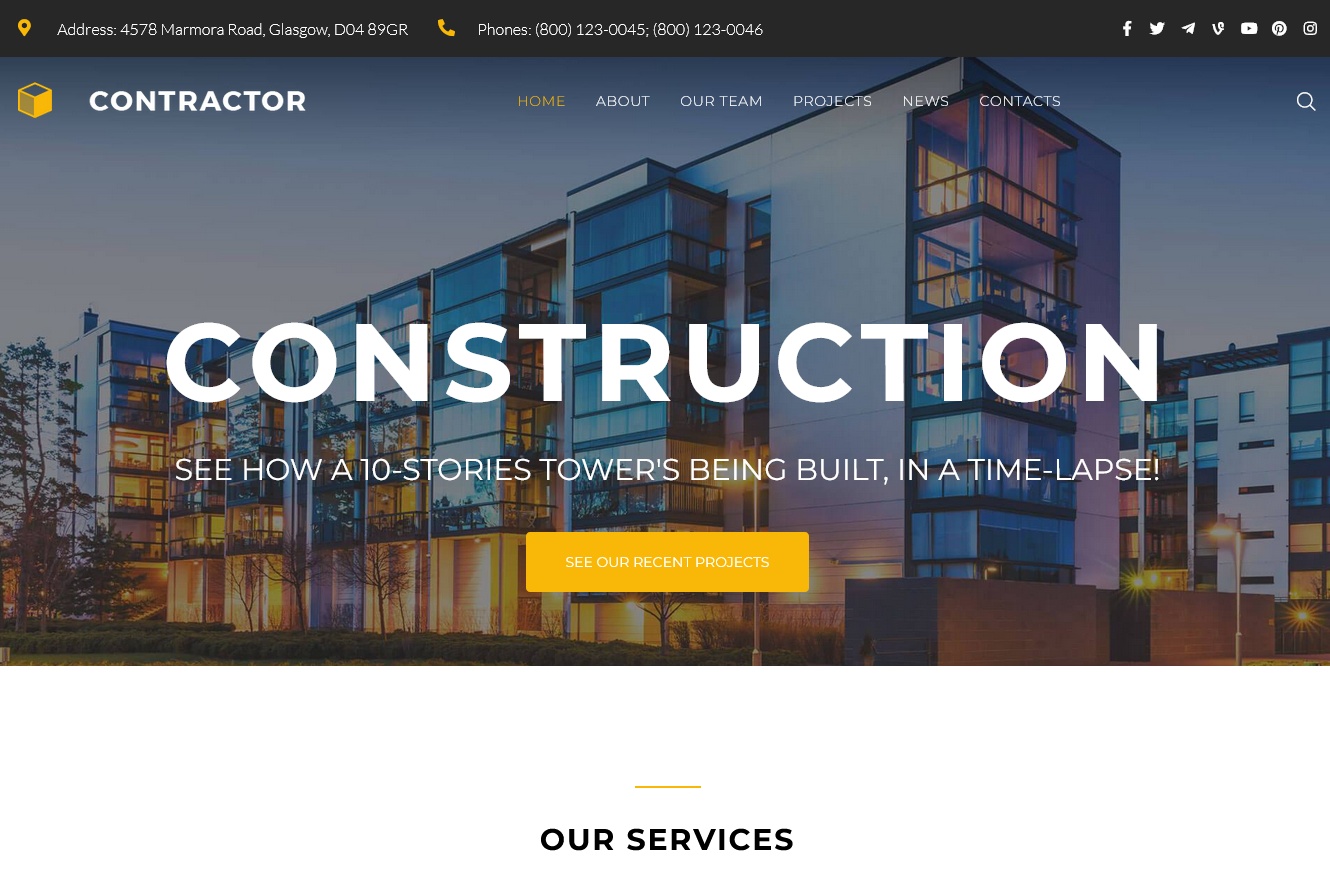 The Contractor WordPress theme is the top example in this field of creating a business website that focuses on building business. For entrepreneurs, their website is a valuable tool for expanding sales, particularly in building services, as you need to demonstrate yourself and present your best projects. Don't overlook the advantages of your company's location, which is only related to a specific place.
Real Factory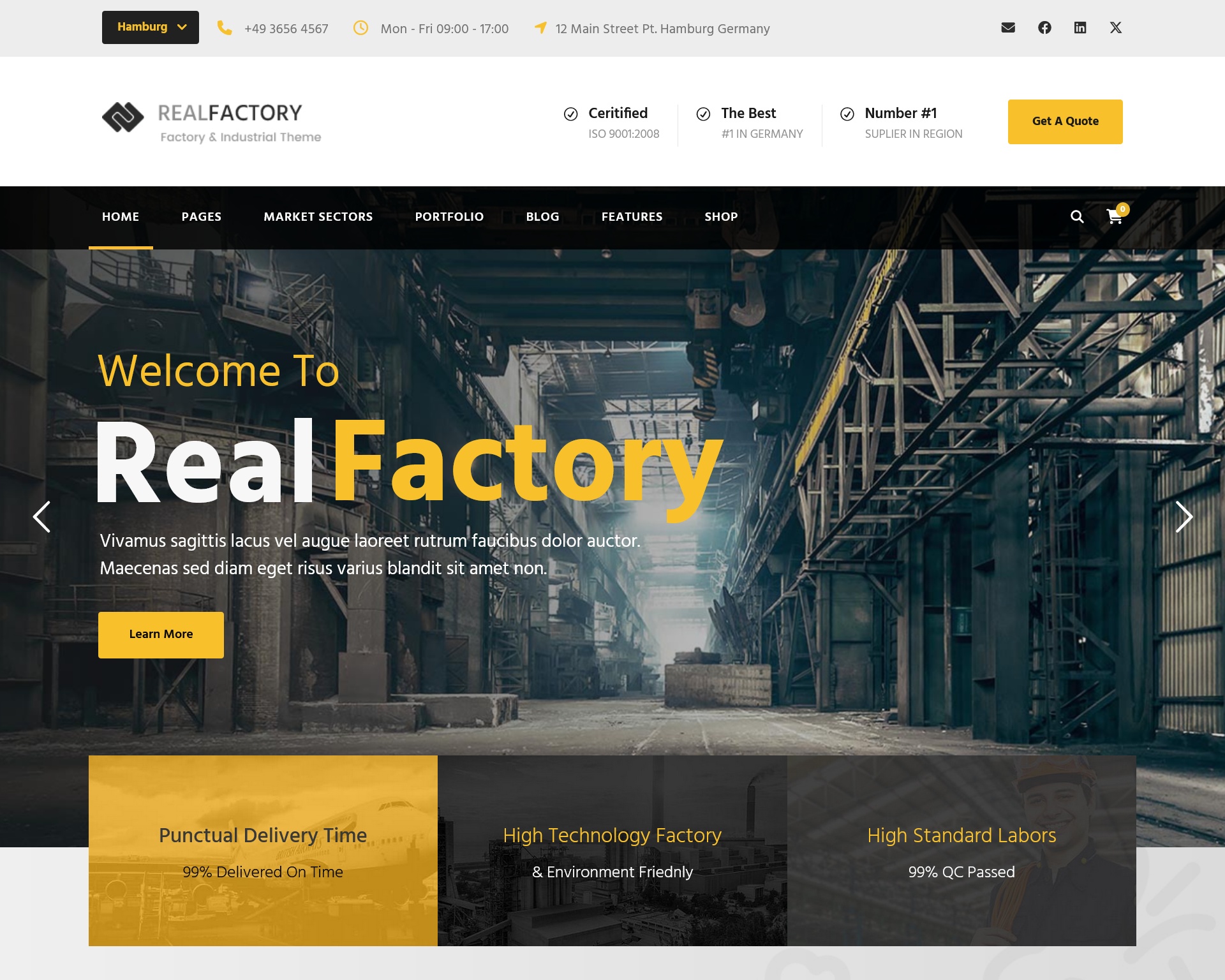 For Factory, Industrial, Construction, Commodity Business, Power, Rail Business, Airplane, Ship Business, Oil & Gas Business, Pretorium website, Real Factory is the perfect WordPress theme. It also has the most powerful drag and drop page builder. GoodLayers' super powerful and customizable framework is now available in Real Factory's latest version. There are numerous great features, including background wrapper options, which make it extremely flexible. Custom skin color for specific item wrappers, three view modes, ajax page builder saving, pre-built pages and blocks, and much more can be found.
Renovate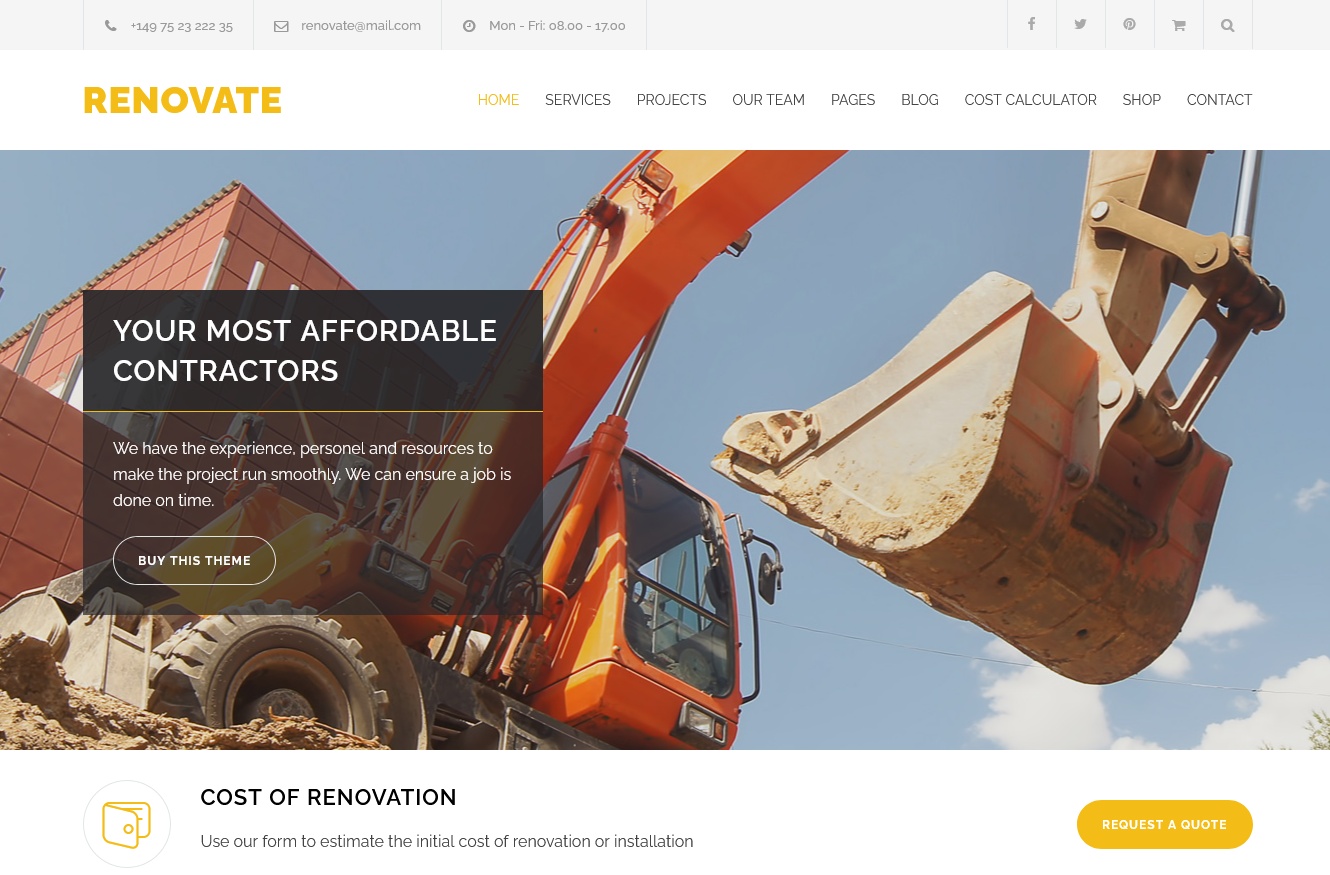 Renovate is a dedicated WordPress theme for home maintenance, home repair, plumber, electrician, painter, or carpenter. It can also be utilized in the installation industry, including for an electrical, solar system, HVAC, or air conditioning installer, and even for a company that specializes in fencing installation.
Construction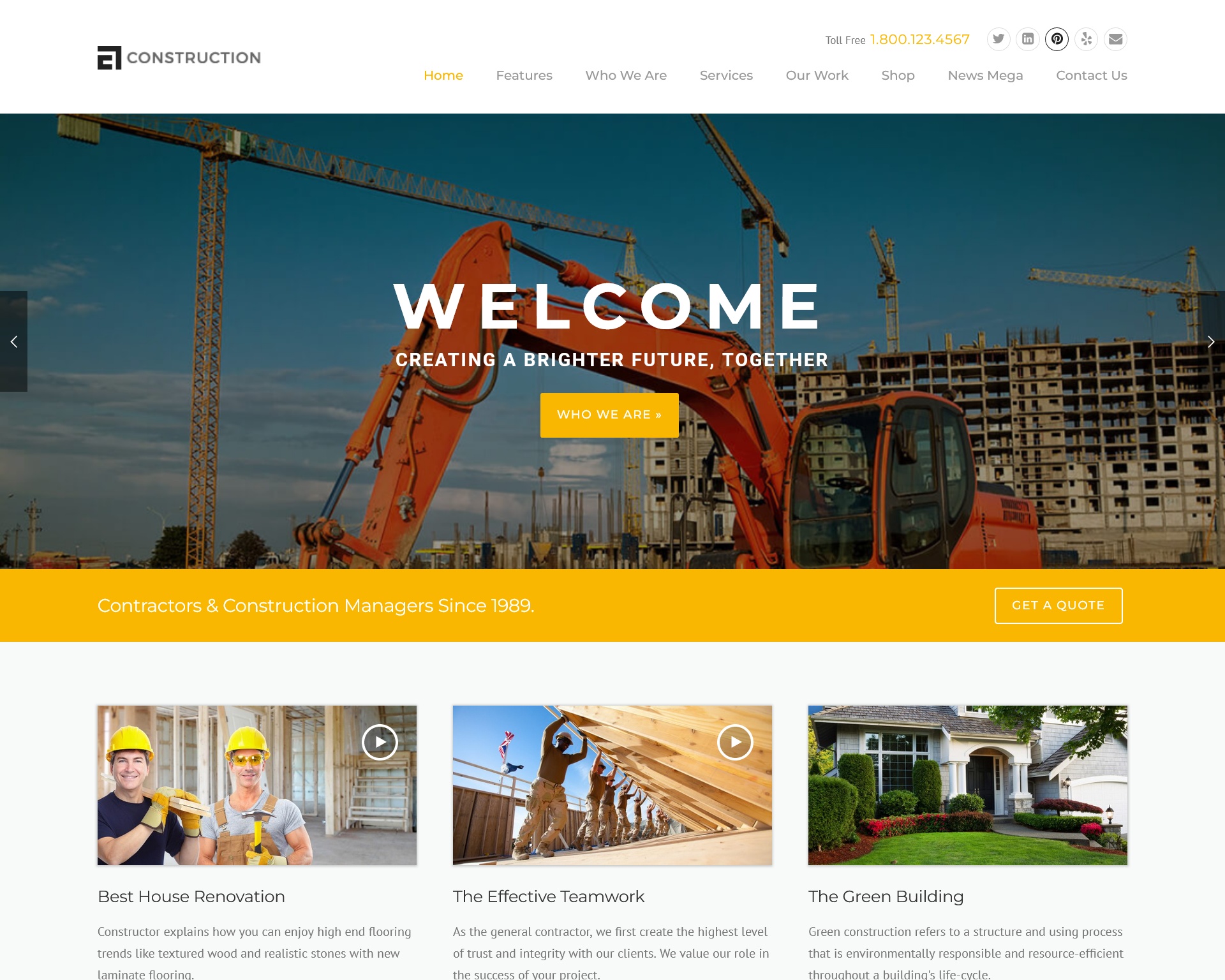 Construction is a business theme designed specifically for construction, building companies, and those offering building services. The theme is pre-packaged with a drag and drop page builder. The visual style of any element can be changed without touching a single line of code with the help of several customization options in construction.