Free Photography WordPress Themes, Photography WordPress Themes, responsive design, customizable options, portfolio showcase, image galleries
When it comes to showcasing your photography skills online, having a visually appealing and user-friendly website is crucial. WordPress offers a wide range of themes specifically designed for photographers to display their work in the best possible way. In this section, we will explore the world of Free Photography WordPress Themes and highlight their key features.
One of the advantages of using Free Photography WordPress Themes is that they provide a cost-effective solution without compromising on quality. These themes are designed with responsive layouts, ensuring that your website looks great on any device or screen size. This is particularly important in today's mobile-driven world where users access websites from various devices.
Additionally, these themes offer customizable options that allow you to personalize your website according to your unique style and branding. You can easily customize colors, fonts, layouts, and more to create a website that truly reflects your photography aesthetic.
A standout feature of many Photography WordPress Themes is their portfolio showcase functionality. These themes provide dedicated sections or templates specifically designed for displaying your photography portfolio. With stunning image galleries and intuitive navigation options, you can present your work in a visually captivating manner.
Whether you are a professional photographer looking to showcase your portfolio or an enthusiast wanting to share your passion for photography with others, Free Photography WordPress Themes offer an accessible and versatile solution for creating an impressive online presence.
Royal Photography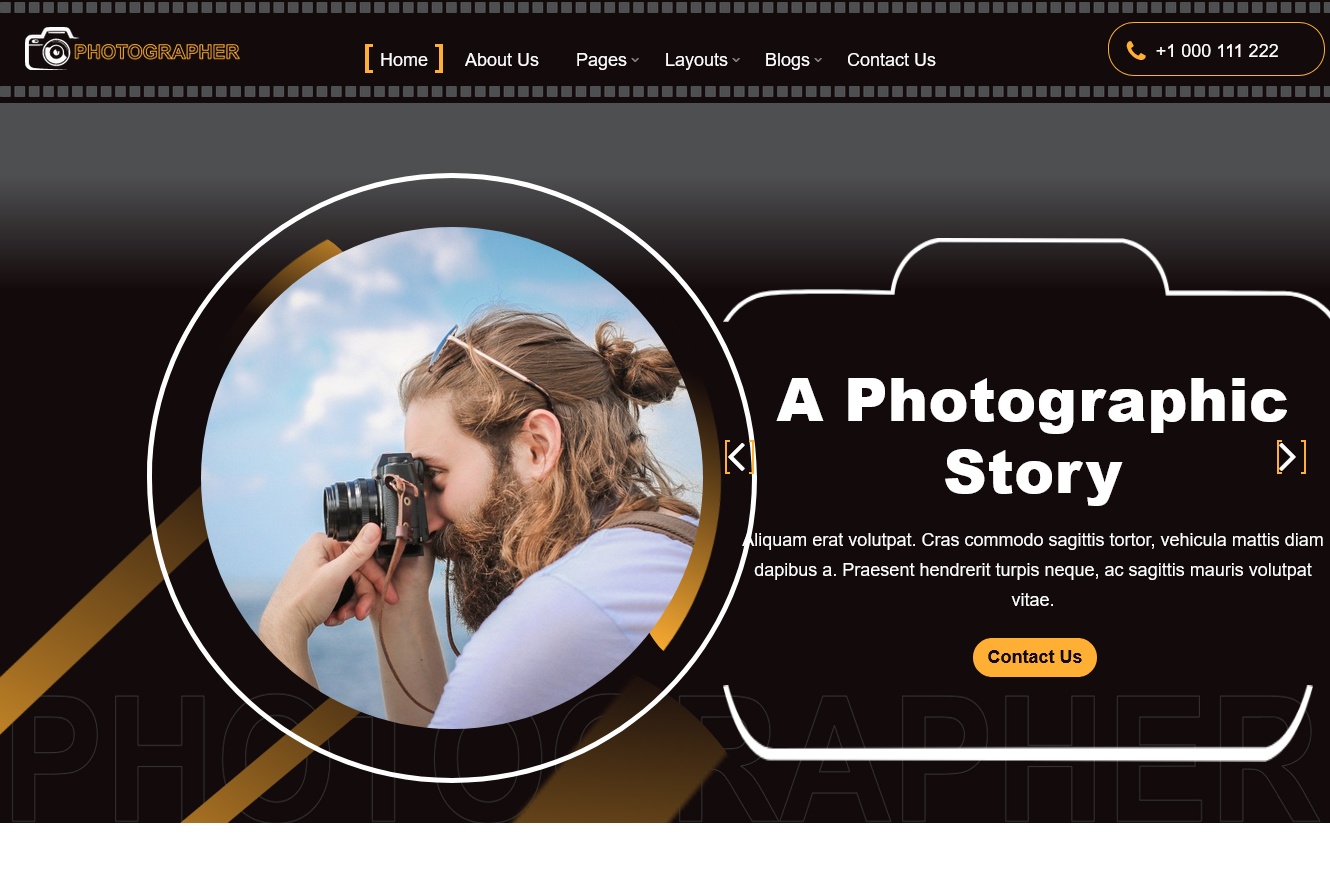 Royal Photography is a WordPress Theme perfect for personal, lifestyle, travel, fashion, or corporate photography. A clean and modern design that will showcase your business on any device without any slight distortion. You can change images, edit and update with newsworthy content, change background colors, logos add more.
Gutenify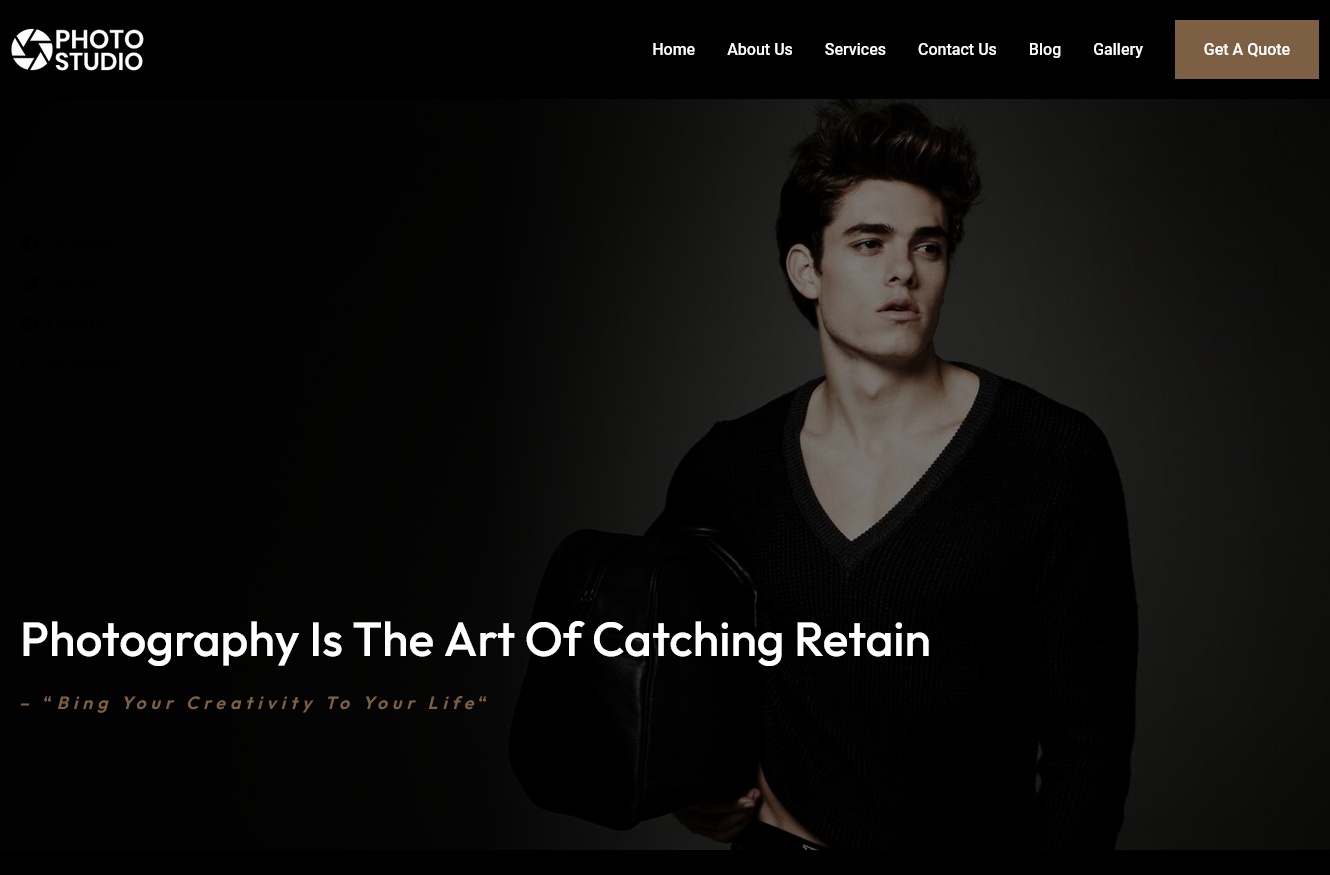 A modern block-based theme that allows you to create your own unique photography website using WordPress Blocks Editor. The theme is built in accordance of Full Site Editing features introduced in WordPress 5.9, which means that all the aspects including colors, typography, and the layout of every single page on your site can be customized to suit your need.
Wen Travel Photography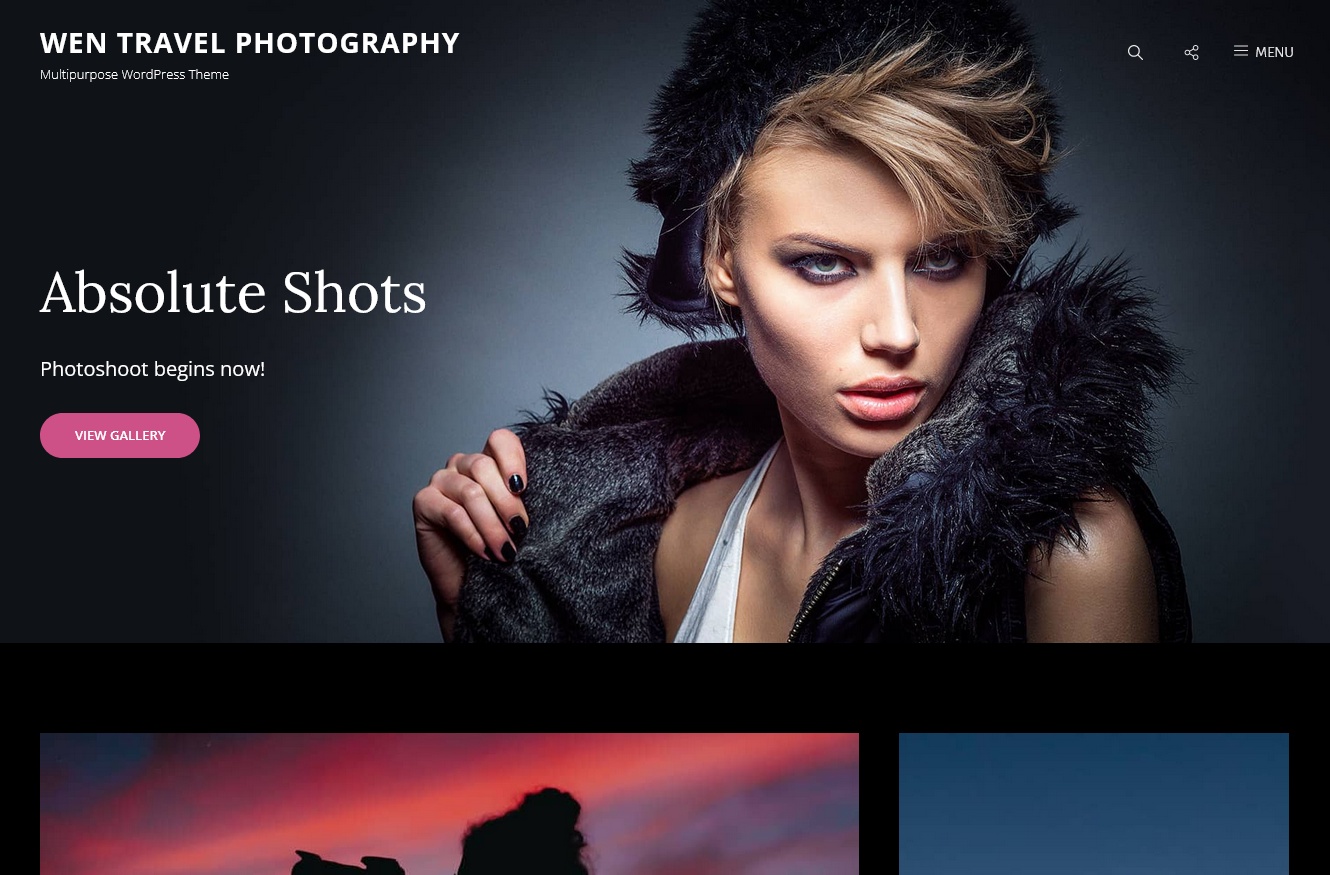 A WordPress theme designed for photography that is clean, and minimal. This theme is suitable for all types of modern photography blogs. Many essential features and sections are present in this free photography theme. For instance, Header Media, Slider, Featured Trips, Hero Content, Collection, Service, Portfolio, Stats, Testimonials, Latest Trips, Featured Content, and more. The responsive design of this theme will make your photography site look amazing on all screen sizes.
Chique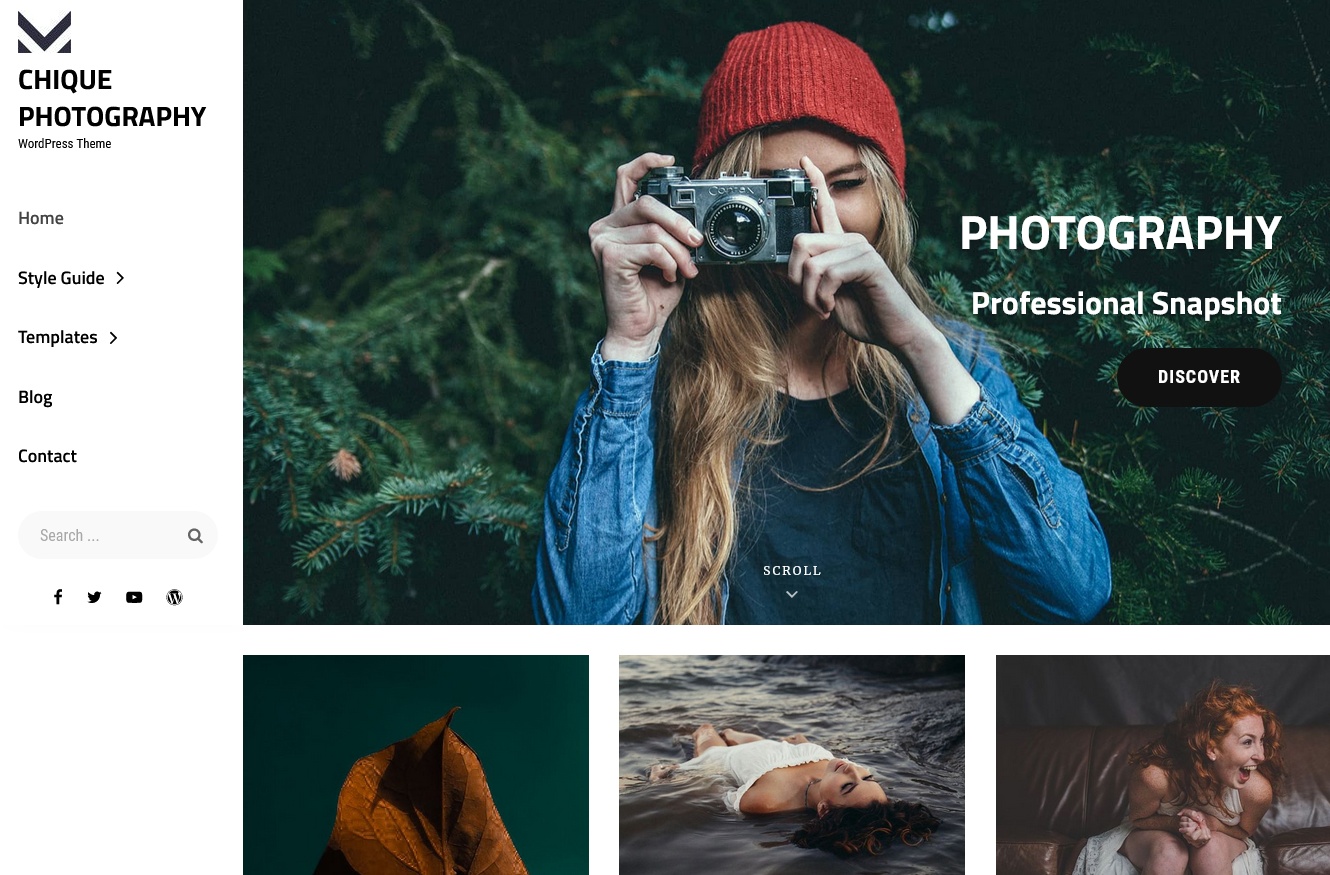 Chique Photography is a WordPress theme that is free and features a photography design and color scheme. The theme is best suitable for all kinds of photobloggers, professional photographers, graphic designers, and other creative photo-centric personalities. The photography color scheme and light design make your photography blog elegant, minimal, and visually aesthetic. Features like Light Color Style, Responsive Design, Photography Design, Featured Content, Portfolio, Testimonial, Services, Hero Content, Layout Options, and many more.
Signify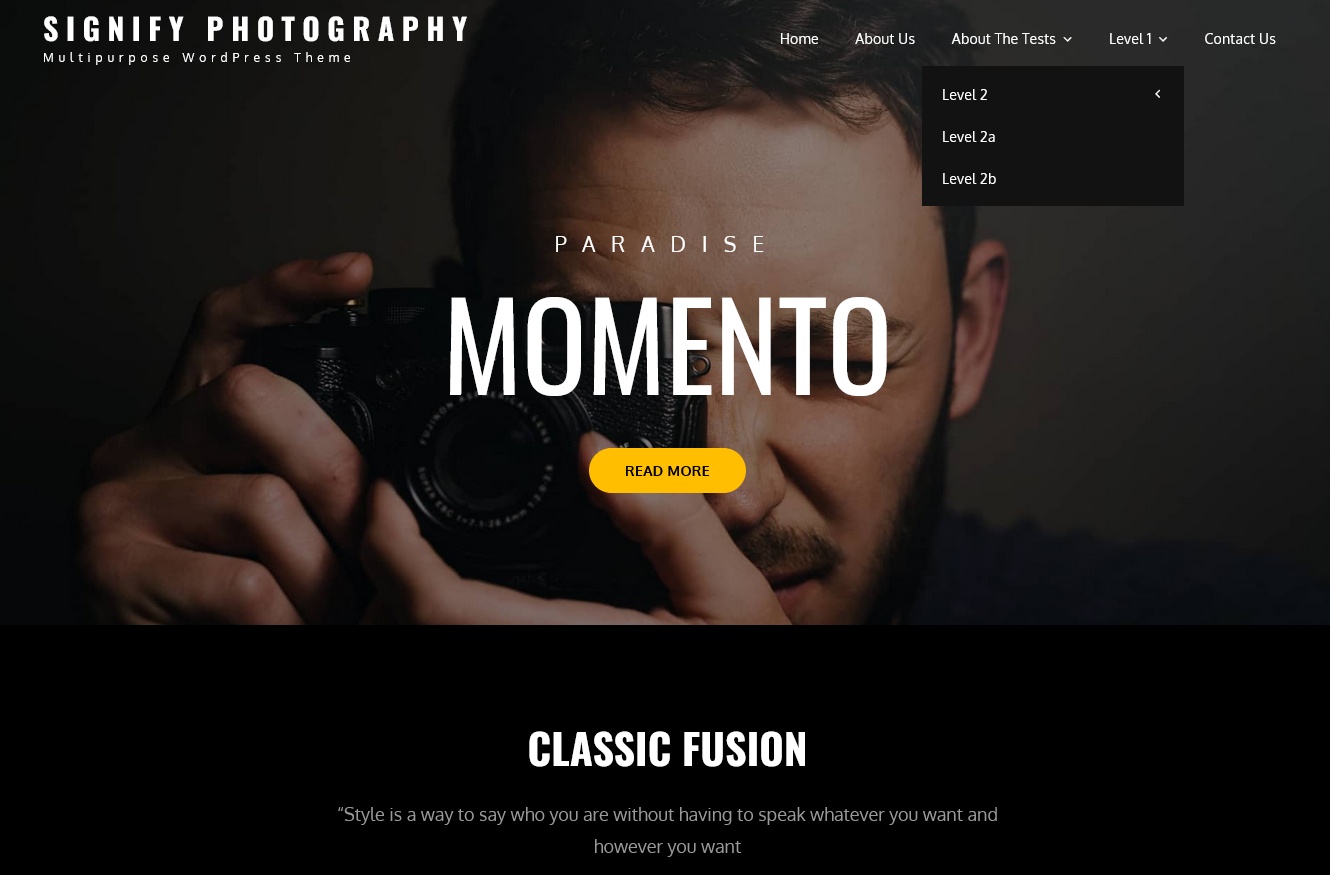 A free Multipurpose Photography WordPress theme that is simple, clean, and minimal. It is suitable for all creative individuals like photographers and photo bloggers, graphic designers, and more. This theme has amazing features and functionalities like Featured Slider, Featured Content, Portfolio, Testimonials, Promotion Headline, Services, Scrollup Options, Responsive design, fully customizable features, and more.
Bold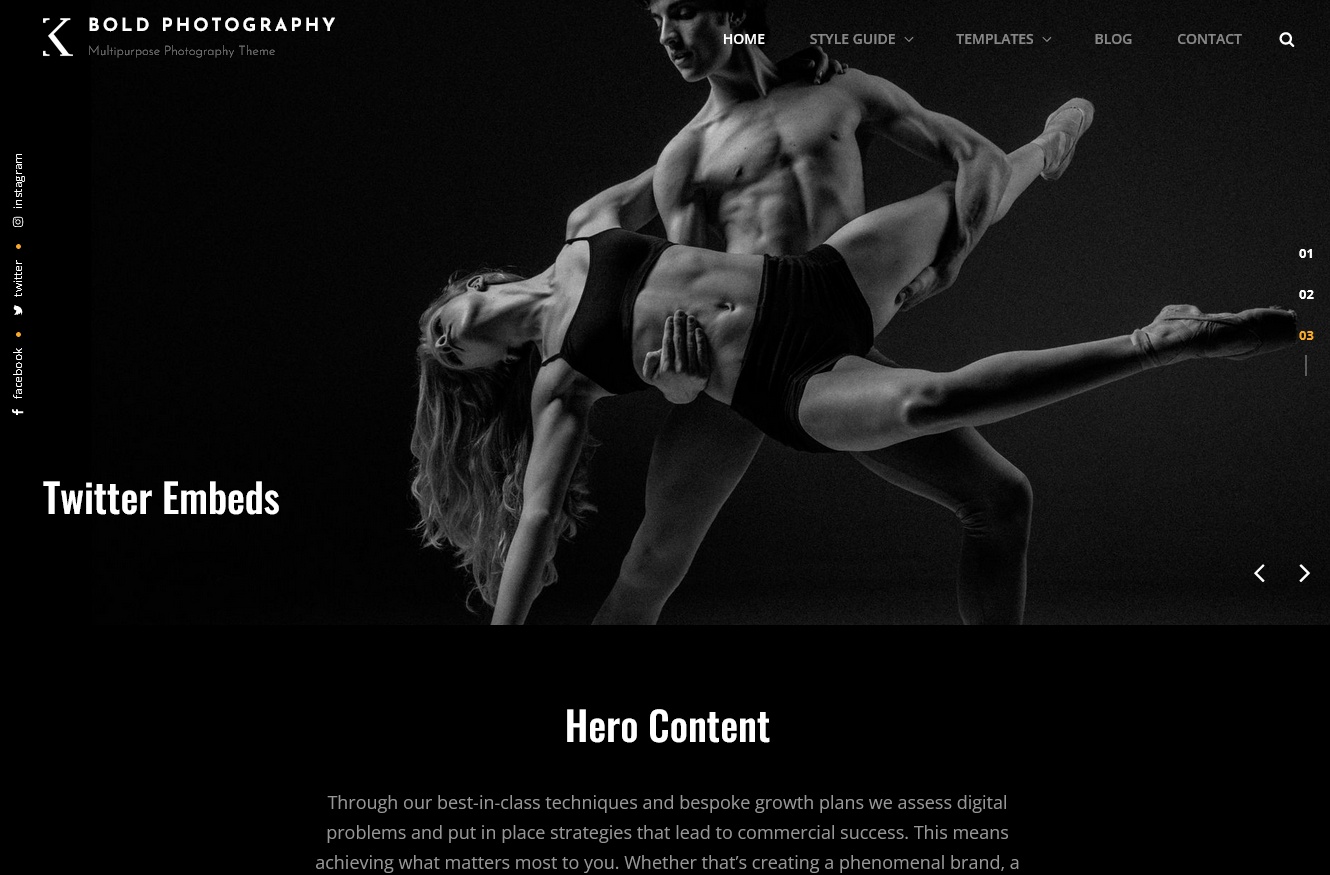 A WordPress theme that is free and has a sleek design for multipurpose photography and fantastic features to unleash your photography creativity. Bold Photography is power-packed with crucial features like Portfolio, Services, Testimonials, and many more.
Infinite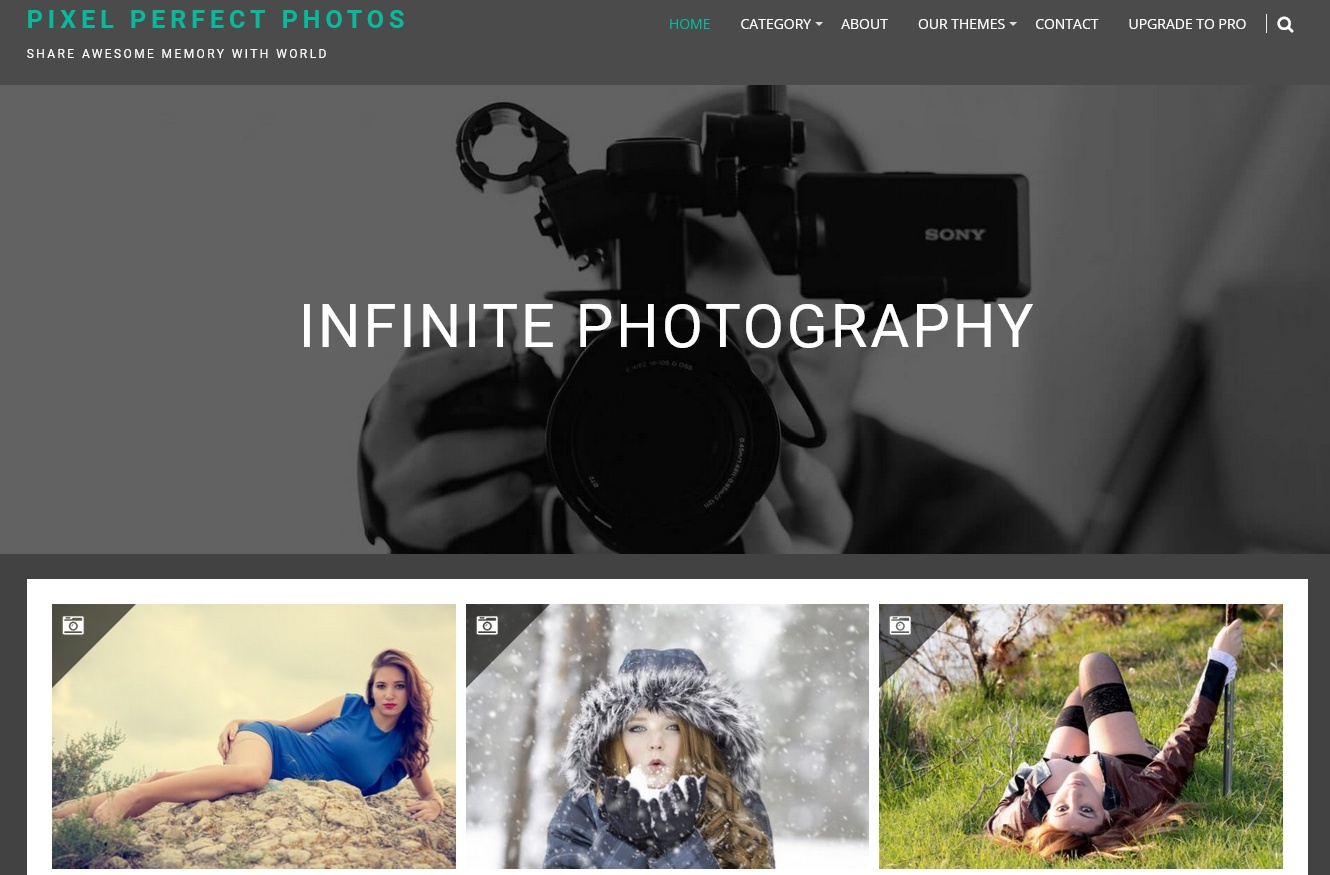 A theme that is both simple and clean, with a great elegant design and easy customization options. This theme is specially designed for photo blogging, photo sharing, and is well suited for travel, food, life style, etc. Replaceable logo, different layout of home page and category page, social icons integrated, own copyright text etc. The site can be managed with left sidebar, right sidebar and full width.
Photo Perfect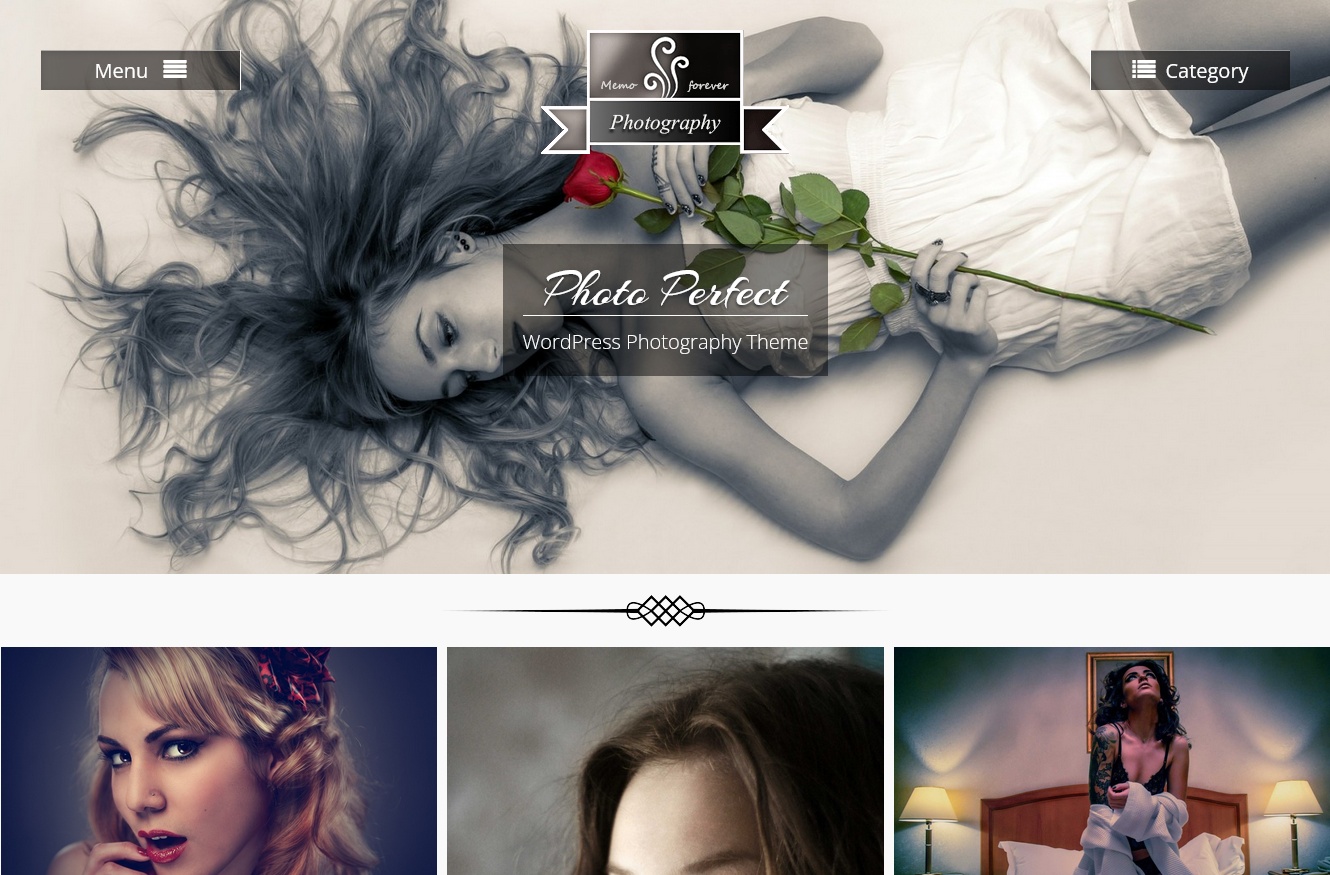 Photo Perfect is a responsive photography WordPress Theme for professional photographer, and photo bloggers. The theme is very easy to customize, maintain, and use on a daily basis.
MultiPurpose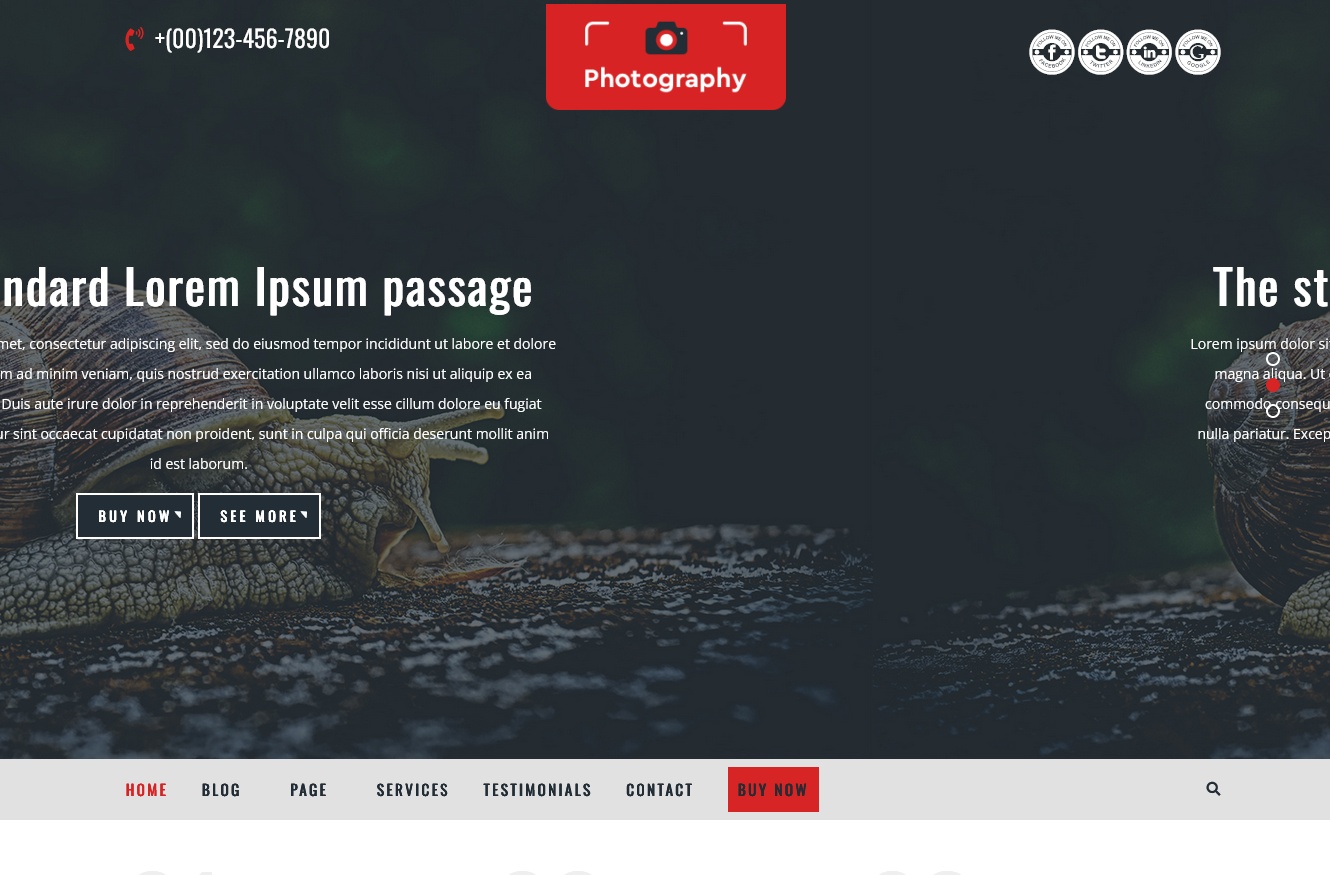 A WordPress photography theme that is an impressive, colorful, fresh, and lively. It is an ideal theme for professional photographers, photo bloggers, personal blog and more. This photography theme is multilingual, Custom Background, clean, fashion, fast loading, Grid layout compatible, Post Formats, SEO friendly and supports RTL writing.
VW Photography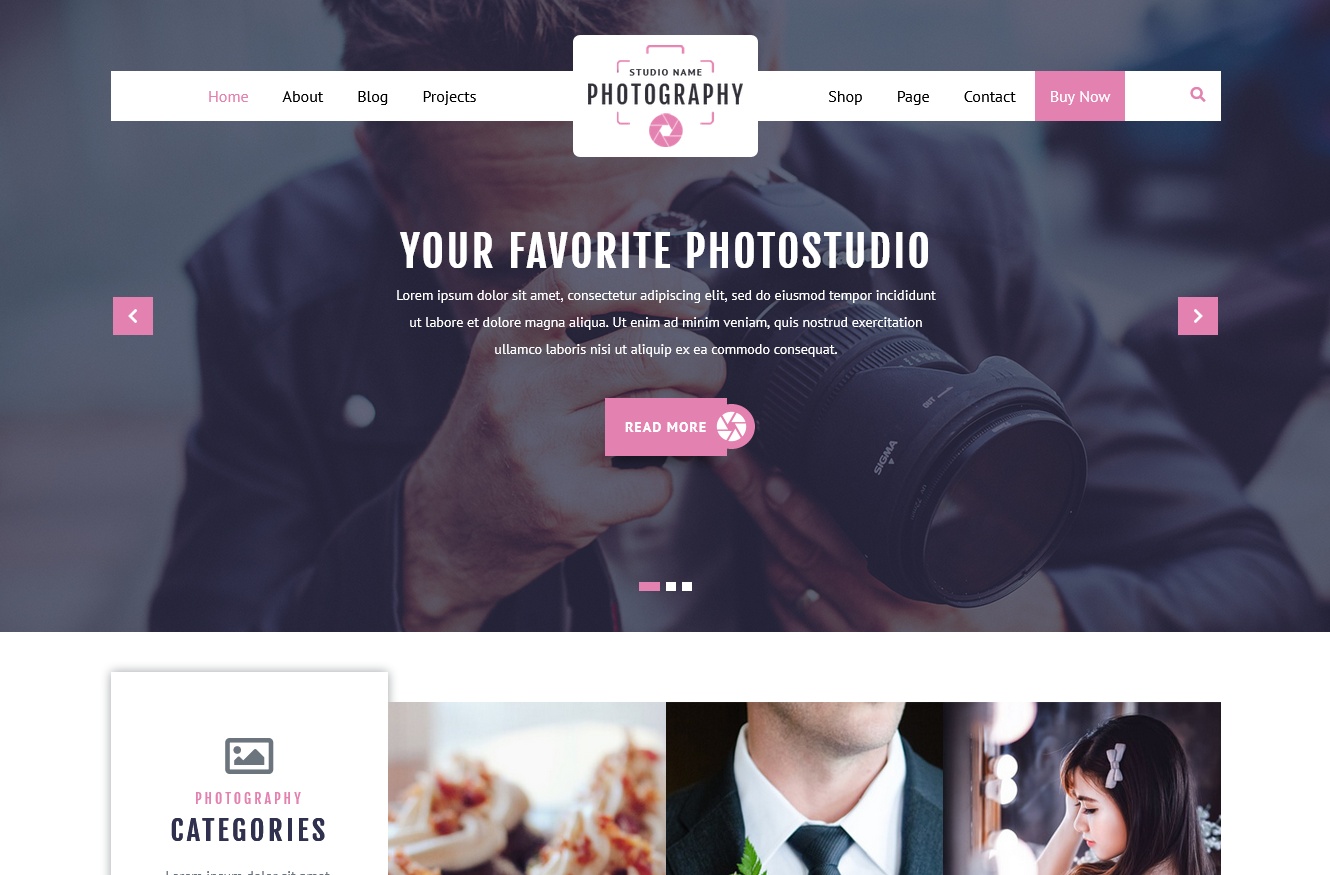 The WordPress photography theme that is well-structured, modern, and bold. It is perfect for photo studios, wedding photographers, portfolios, graphic designers, space decorators, magazines and event decorators. It is responsive, cross-browser compatible, multilingual, Custom Background, sticky post SEO ready and supports RTL writing. Banners and large sliders are used to decorate the space and grab some eyeballs.
TS Photography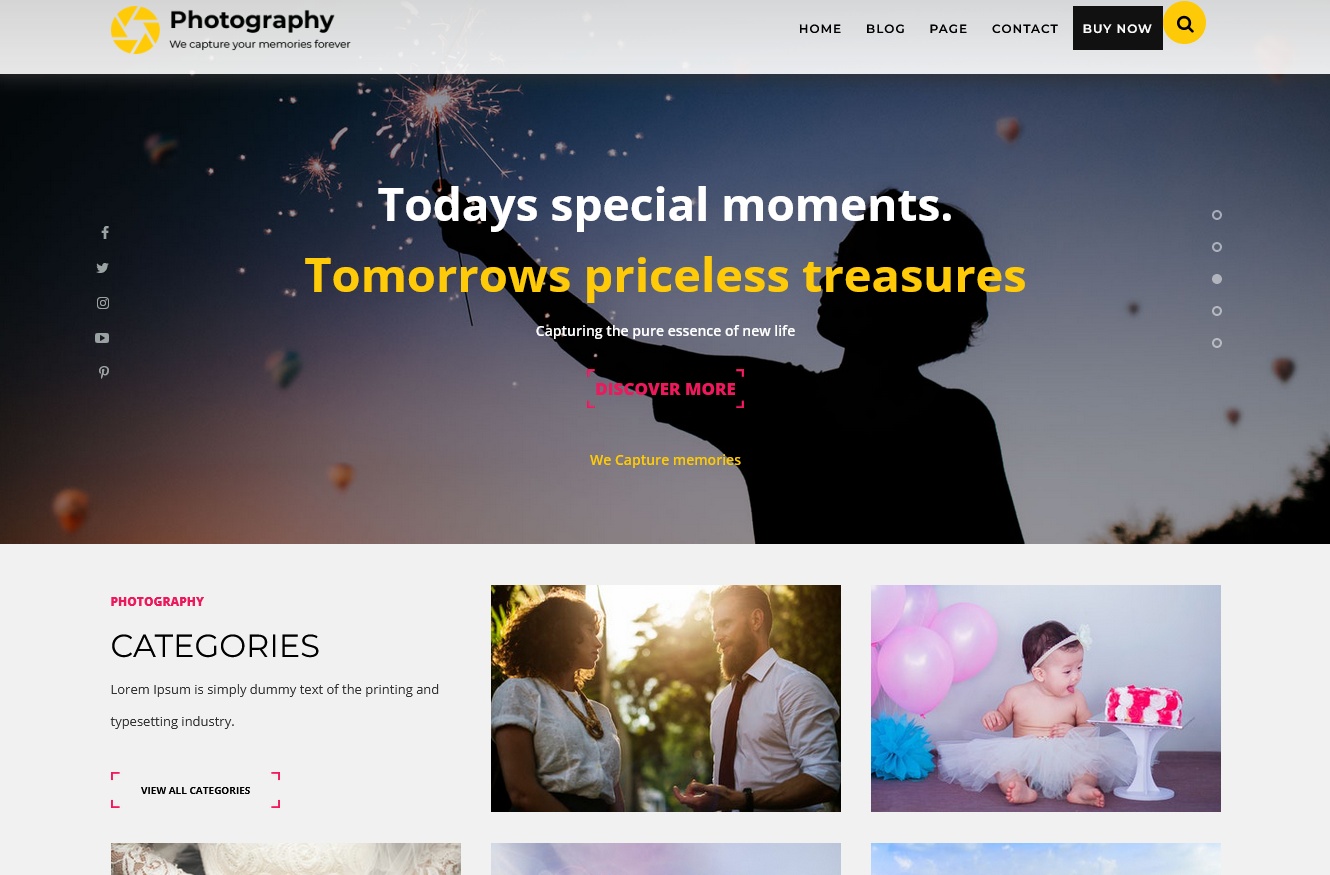 This WordPress photography Theme is perfect for photo blogging, photo sharing, personal blog, travel blog, lifestyle website, food blogging, photographers, and more. This simple, elegant, and modern theme is based on Bootstrap that helps boost website performance.The theme has banners, Post Formats, sliders, testimonial section, SEO-friendly, translation ready and much more.
Seos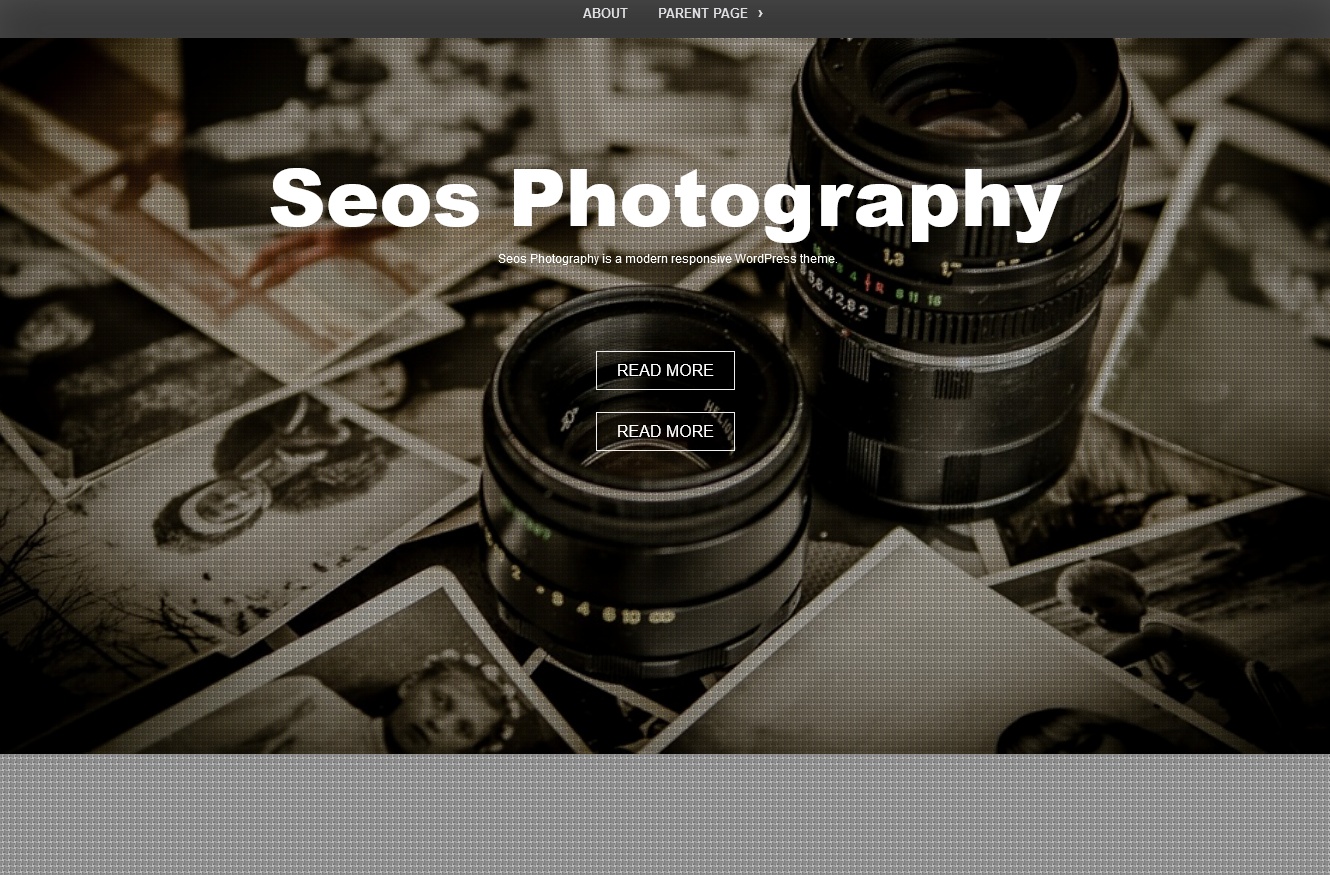 The Seos Photography theme is excellent for a photography, photographer, newspaper, images, photos, publishing or other editorial websites.