Law firms require a professional and visually appealing online presence to attract potential clients. One effective way to achieve this is by utilizing Law Firm WordPress Themes. These themes are specifically designed for legal websites and offer a range of features to enhance the overall user experience.
WordPress themes provide law firms with a responsive design that ensures their website looks great on any device – from desktop computers to mobile phones. This is crucial in today's digital age, where more and more people are accessing websites through their smartphones.
Furthermore, Law Firm WordPress Themes come with customizable features that allow law firms to personalize their website according to their specific needs and branding requirements. With options such as custom color schemes, font styles, and layout variations, law firms can create a unique online presence that reflects their professionalism.
In addition to aesthetics, these themes also prioritize search engine optimization (SEO). They are built with clean code and optimized for search engines like Google, making it easier for potential clients to find the law firm's website when searching for relevant legal services.
Overall, Law Firm WordPress Themes offer an efficient and cost-effective solution for law firms looking to establish a strong online presence. With their responsive design, customizable features, and SEO optimization capabilities, these themes provide the necessary tools for creating an attractive and functional legal website.
Law Firm Lite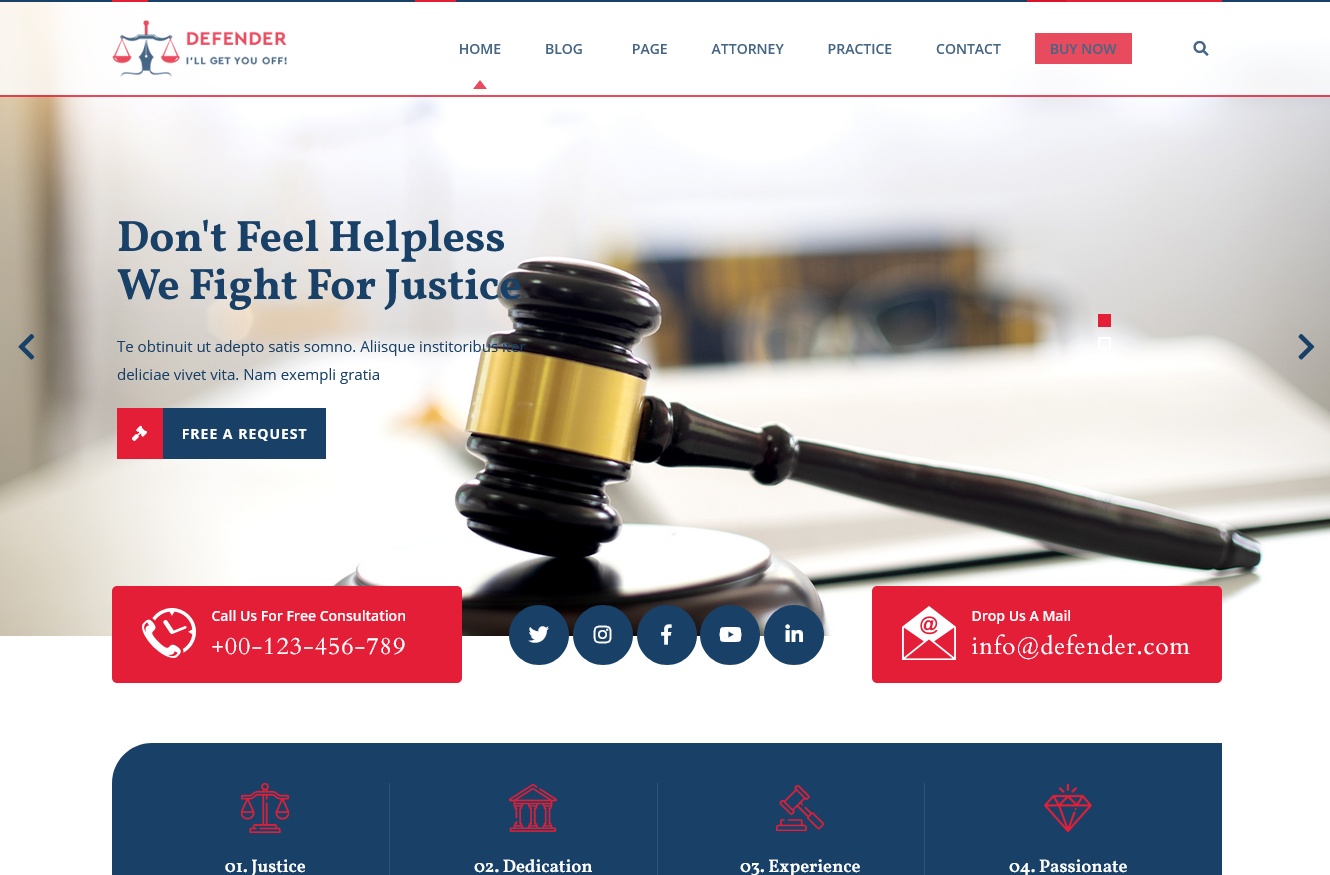 Law firm lite is a WordPress theme that is highly popular. Law firms and businesses related to law, as well as companies involved in areas related to the legal sector, can benefit from the online international market. It is also applicable to individual attorneys and if you are operating an established legal firm or want to start one. The theme will have a positive impact on business excellence and expansion in this area. This WordPress theme is advanced and sophisticated, with customization options, making it suitable for legal-focused websites and falls under the professional lawyer WordPress themes category. There are lawyers, accountants, advocates, consultants, courts, finance, solicitors, accountants, legal experts, law firms, and legal offices. Law Firm Lite is a good choice for legal advisors and legal services.
Lawyer Firm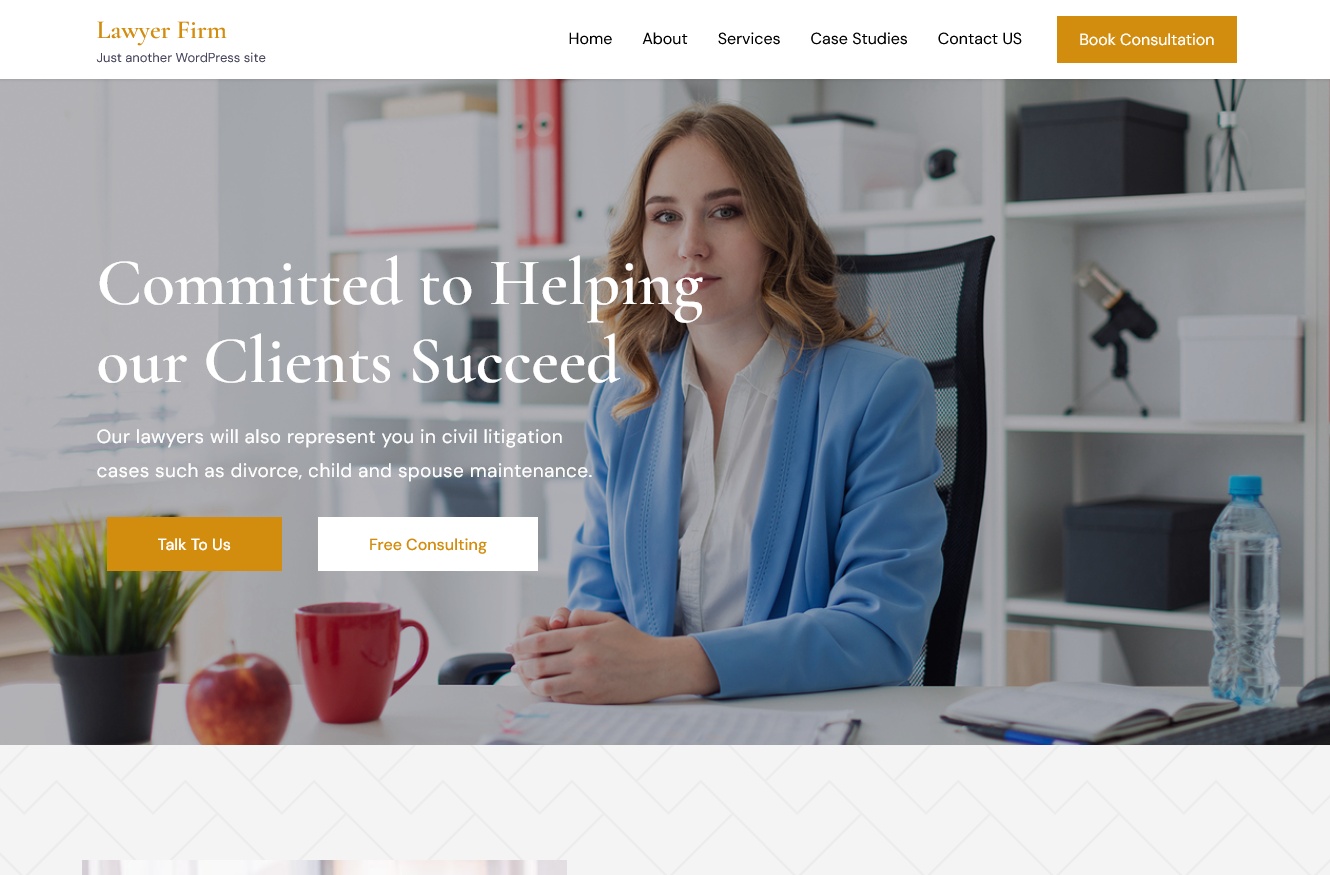 For individual attorneys and companies, Lawyer Firm is the best lawyer's WordPress theme. Start making noise on the internet with Frontline using the Lawyer Firm theme, as it is built on the Elementor page builder and doesn't require expertise in coding or design. Lawyer Firm is a WordPress theme that is both classic and versatile, and it is suitable for creating a professional website for lawyers and law firms.
Law Zone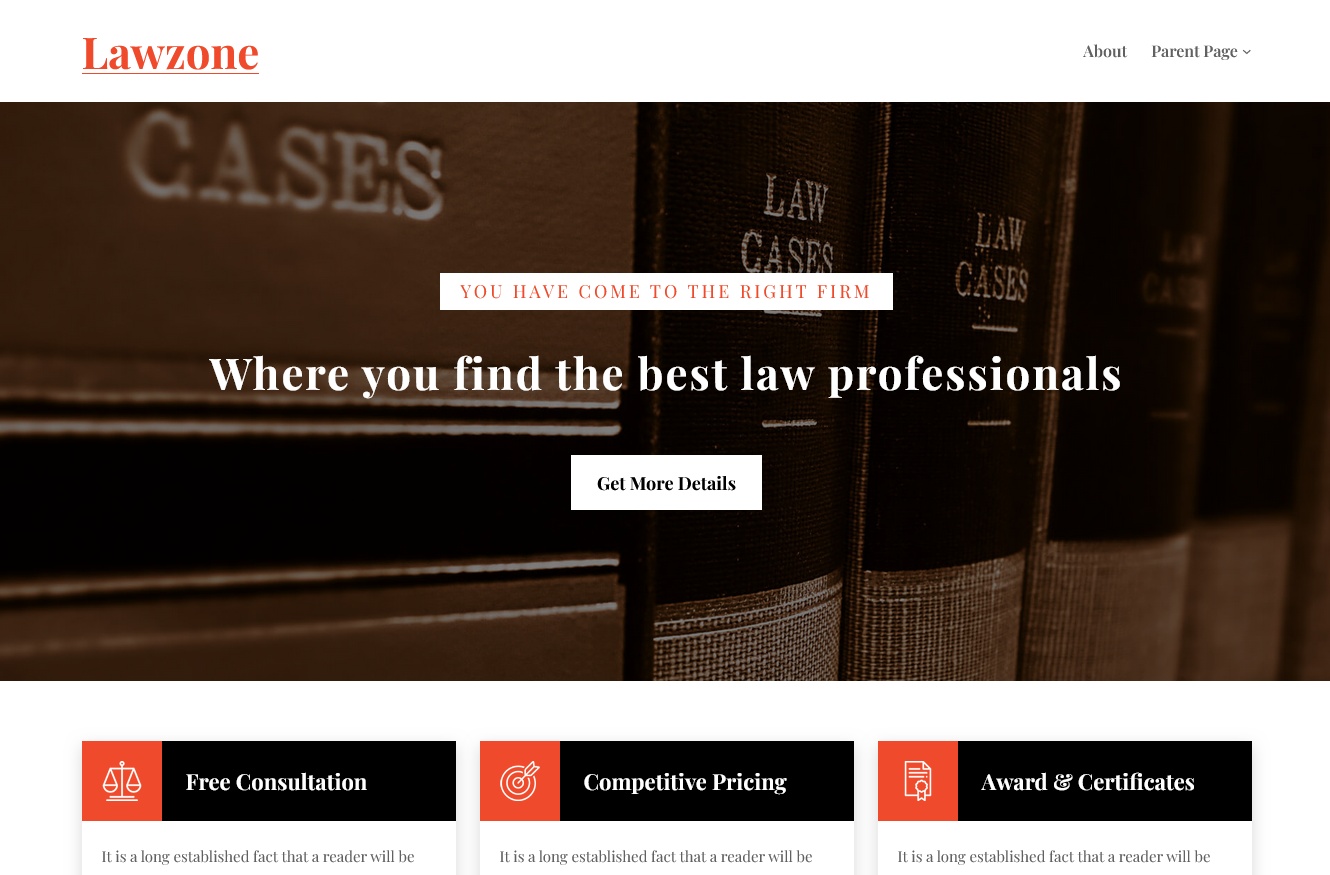 Creating a website for a law firm or legal services provider can be made easier with the use of a theme created specifically for this purpose. The Lawzone Full Site Editing WordPress theme is a comprehensive solution that offers a range of features designed to meet the needs of legal professionals. Even with limited technical expertise, installing, using, and customizing it is easy. The theme is created to be user-friendly, allowing you to easily create a professional-looking website without needing to hire a web designer. Anyone who wants to create a professional-looking website for a law firm or legal services provider can make use of the Lawzone Full Site Editing WordPress theme.
Law Advocate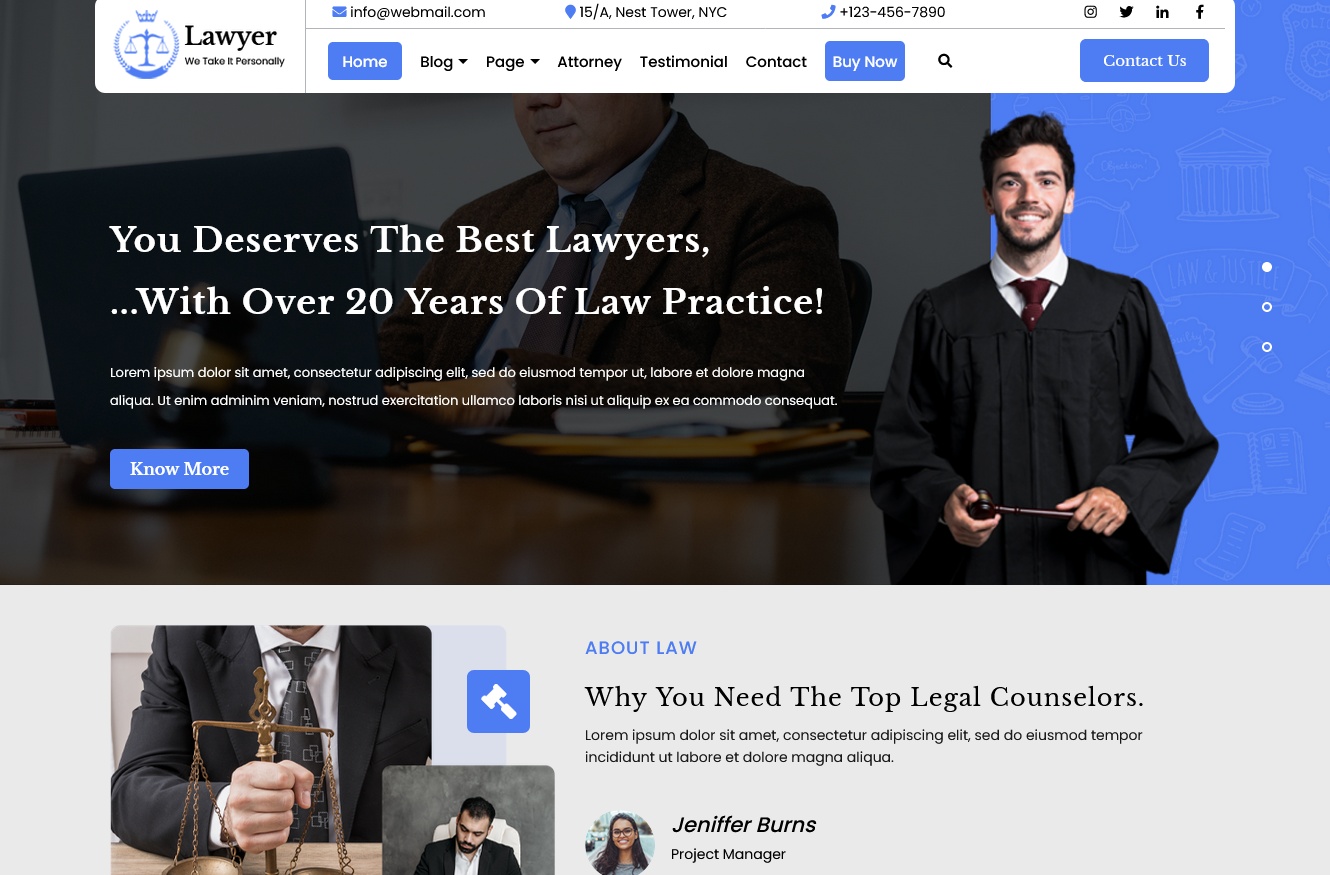 Barristers, advocates, legal practitioners, law firms, legal offices, solicitors, judges, and law consultants can benefit greatly from the Law Advocate themes. This theme is gorgeous and features a responsive and retina-ready design that can enhance the look of your website on multiple devices, including mobile phones, tablets, and desktops. Professionally carved Team, Testimonial, and Blog sections are among the many sections available. A lightweight design that loads at lightning speed and delivers better rankings while being friendly, leading to faster page load times.
Avadanta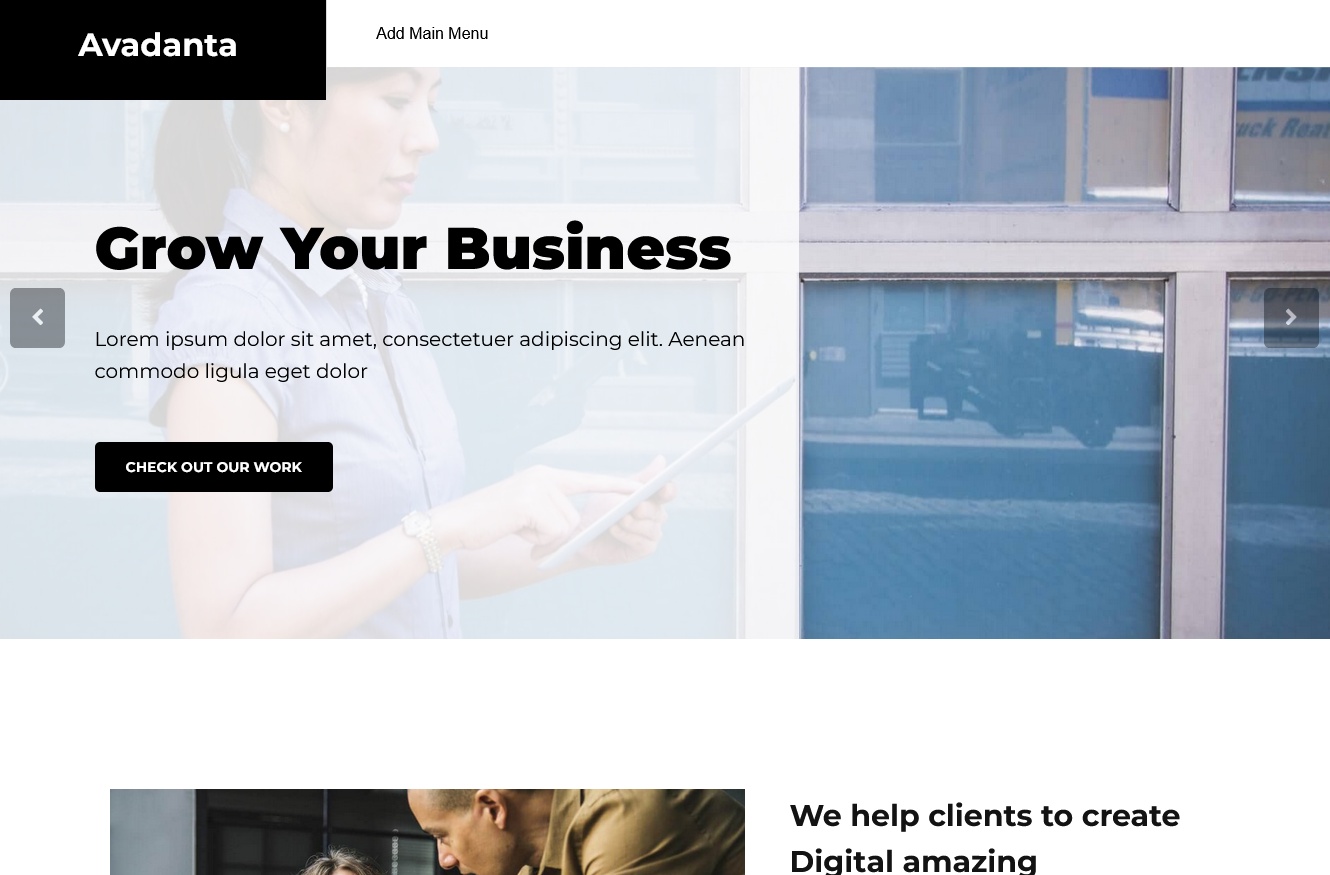 Avadanta Finance is an excellent and innovative theme for WordPress. This is the perfect tool for both business and corporate use, as it doesn't require any coding skills and is retina-ready. Drag and drop the section position is easy to do with the dark header menu layout and top info bar with social media icons. The theme is suitable for a SaaS application website and architecture, interior design, corporate, agency, business, agency, shop ecommerce, gym, blog, travel agency, construction, law firm, spa salons, industries, Beauty, furniture, home decor, photography, insurance, app landing page, marketing, it solutions, decoration and many other websites compatible. It is compatible with Elementor Page Builder, Gutenberg, and many popular plugins, and it is also compatible with the Avada theme.
CorpoNotch law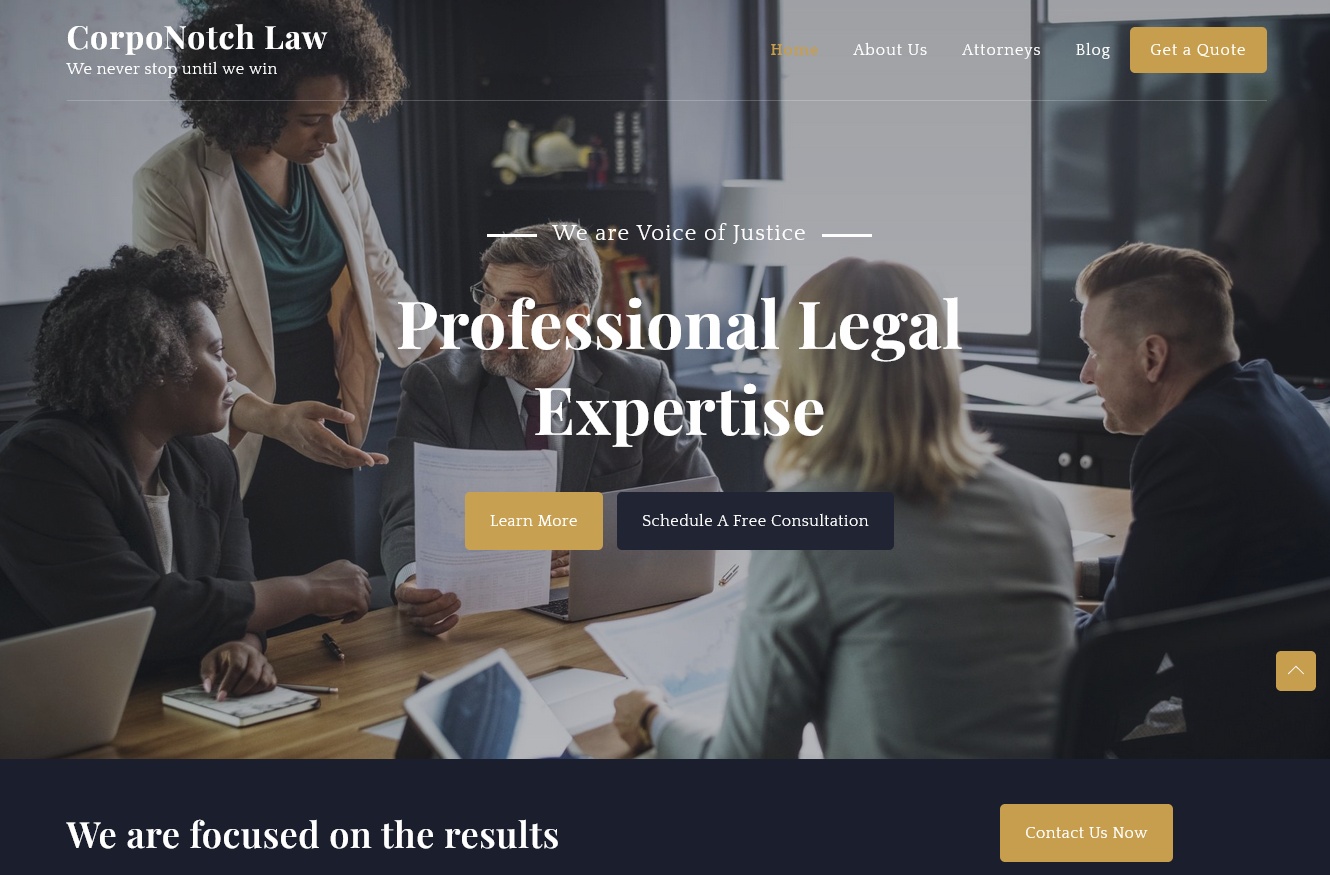 CorpoNotch Law is a theme that can be used by all kinds of law firms and their websites.
Bosa Lawyer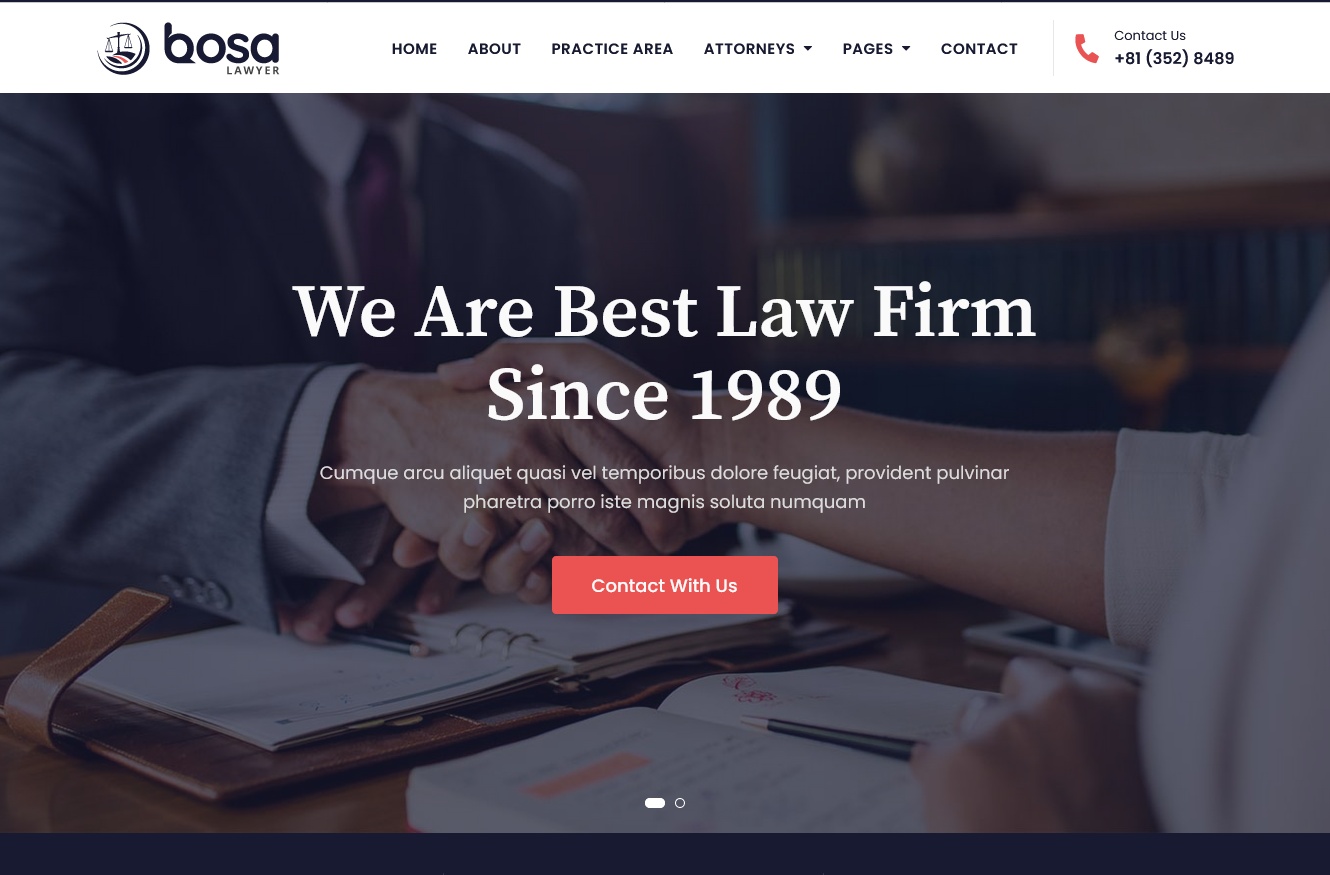 Bosa Lawyer is a theme that can be used for a variety of purposes. Bosa Lawyer is a theme that is beautiful, fast, lightweight, responsive, and extremely customizable, and can be used as a base for building flexible sites like Bosa Lawyer is a subset of Bosa, a free WordPress theme that can be used for anything. Bosa Lawyer is compatible with Gutenberg and the most popular page builder, Elementor, which makes it effortless to drag-and-drop your ideas from the interface. All major plugins like WooCommerce, Yoast, Mailchimp for WordPress, bbPress, etc. are compatible with Bosa Lawyer.
Lawyer WEB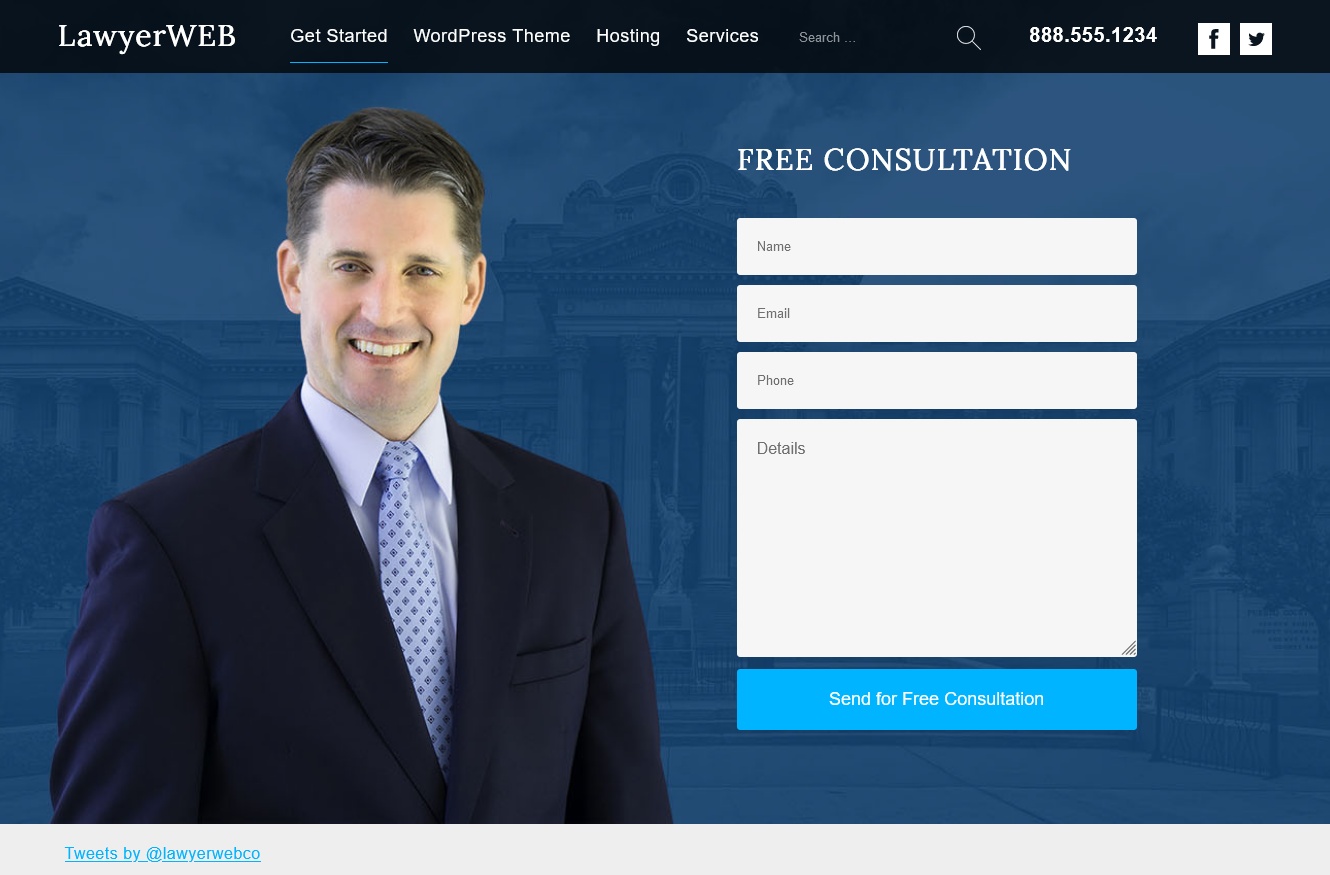 Construct a site to advertise your professional services as a lawyer, attorney, or law firm. Lawyer is built to be fully responsive and has WooCommerce and bbPress support. It has been carefully coded with quality and minimalism, resulting in a blazing-fast and SEO-friendly website without any bloat.
Lawyer Attorney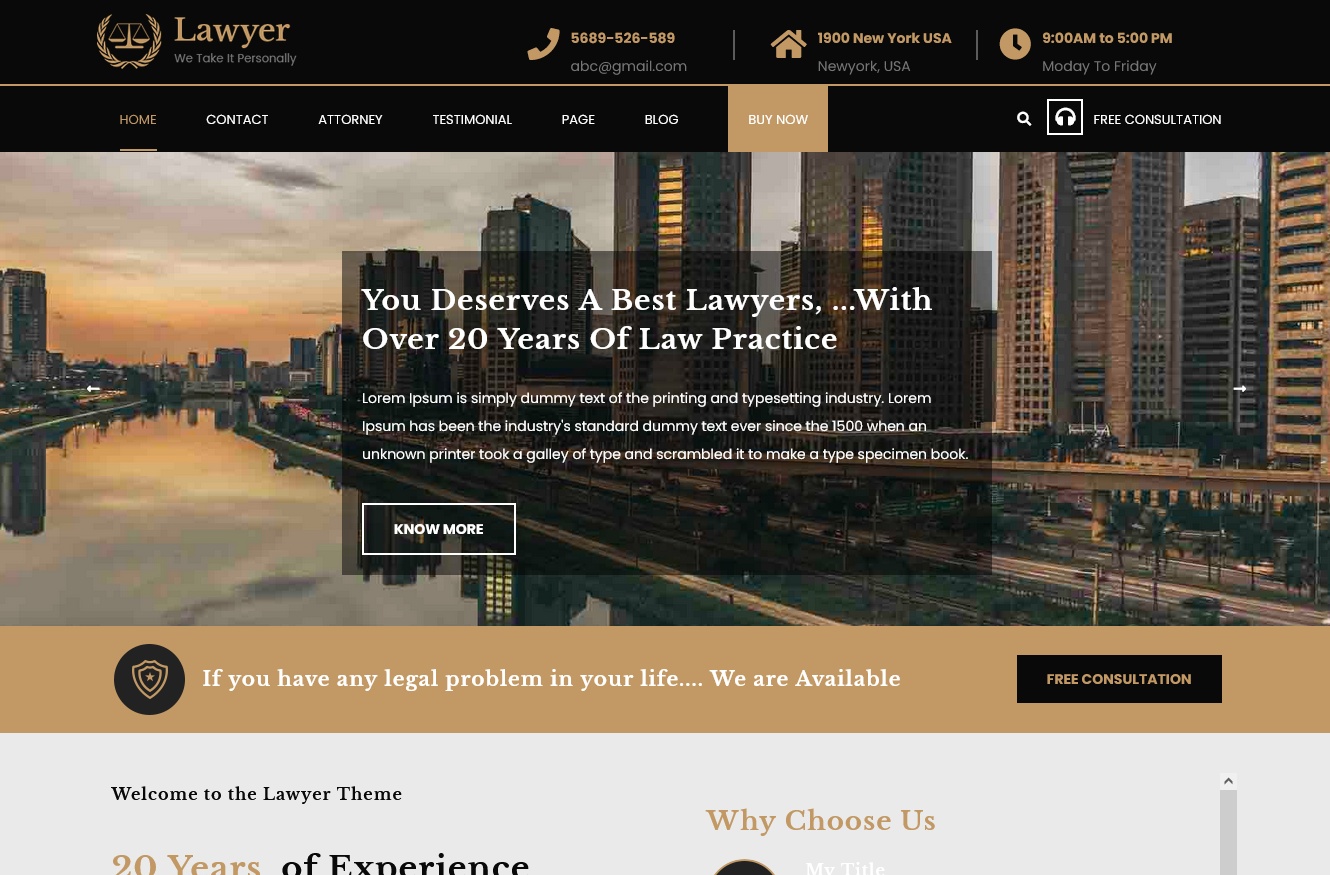 Designed exclusively for lawyers, the VW Lawyer Attorney Theme is intended to be stylish and classy. Customizing our lawyer's WordPress theme is easy with the use of secure and clean code. Our free WordPress theme is packed with features that you won't be able to find anywhere else. This supreme theme features an interactive demo, responsive slider, quick page speed, display options, Custom Menu, SEO-friendly features, social media icons, and other features. The Free Lawyer Attorney WordPress theme is characterized by its freshness, speciality, and distinctness in every aspect.
Lawyer Landing Page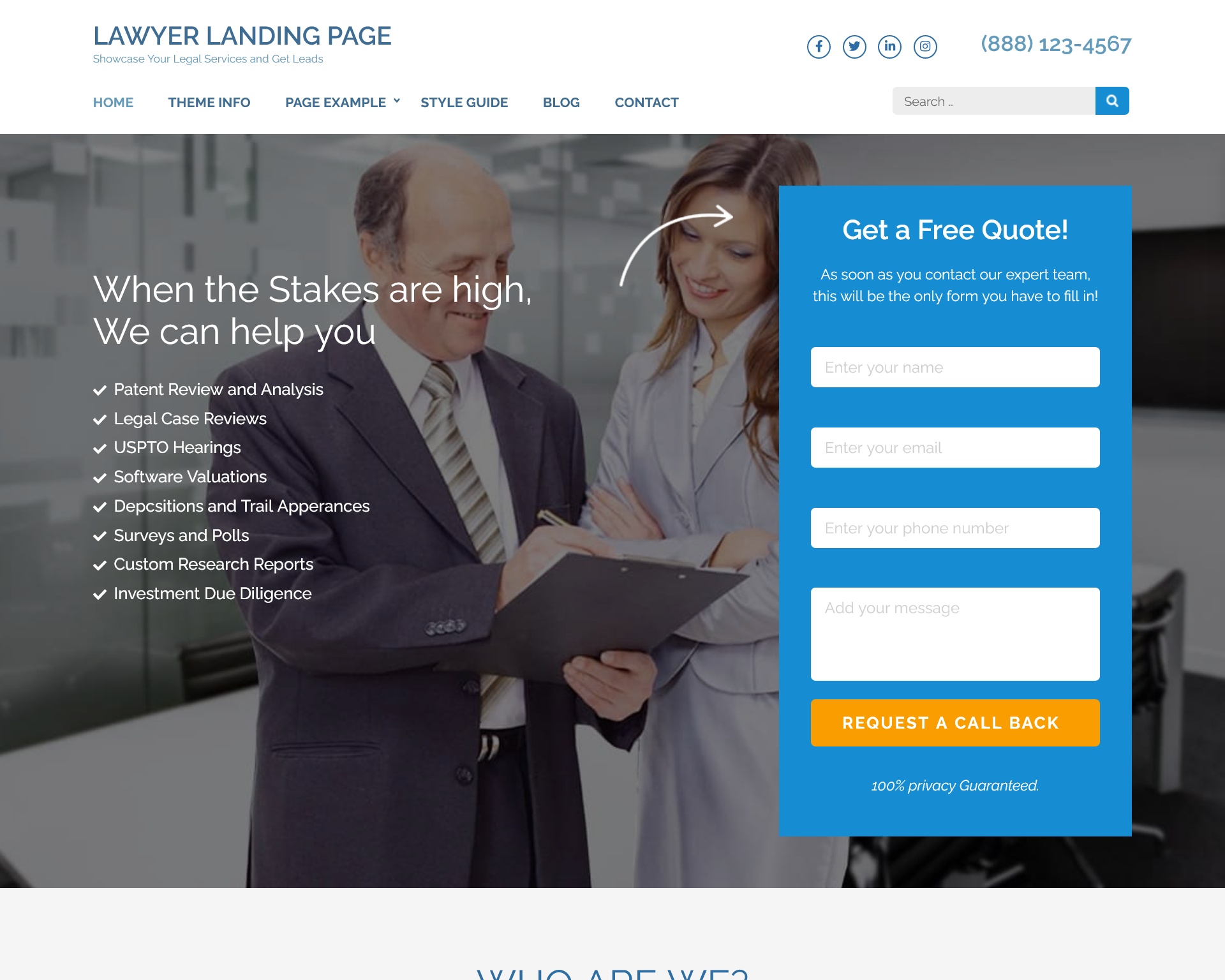 Lawyer Landing Page is a WordPress theme that has been built with sophistication, elegance, professionalism, and robustness in mind for lawyers, law firms, and attorneys' websites. The Lawyer Landing Page has multiple features to create a website that is user-friendly, interactive, and visually stunning. Among the features are the custom menu, attractive banner with contact form, About section, Service section, Testimonial section, Team Section, FAQ Section, Banner with Call to Action Button, and social media. Lawyers, law firms, legal professionals, advisors, solicitors, consultants, and finance websites will find this professional WordPress theme ideal.