Food Delivery WordPress Themes are specifically designed templates for websites that offer food delivery services. These themes are built on the WordPress platform, which is a popular content management system used by millions of websites worldwide.
WordPress Themes provide a convenient and user-friendly way to create and customize websites without the need for extensive coding knowledge. With Food Delivery WordPress Themes, businesses in the food industry can easily showcase their menu, accept online orders, and provide a seamless user experience to their customers.
These themes often come with features such as online ordering systems, integration with popular payment gateways, customizable menus, and responsive design to ensure optimal viewing on various devices. They also offer options for displaying high-quality images of food items, customer reviews, and social media integration to enhance engagement and promote sharing.
Whether you run a restaurant, cafe, or food delivery service, using a Food Delivery WordPress Theme can help you establish an attractive online presence that effectively promotes your offerings and facilitates convenient ordering for your customers. With the flexibility and functionality provided by these themes, you can create a visually appealing website that reflects your brand identity while streamlining your business operations.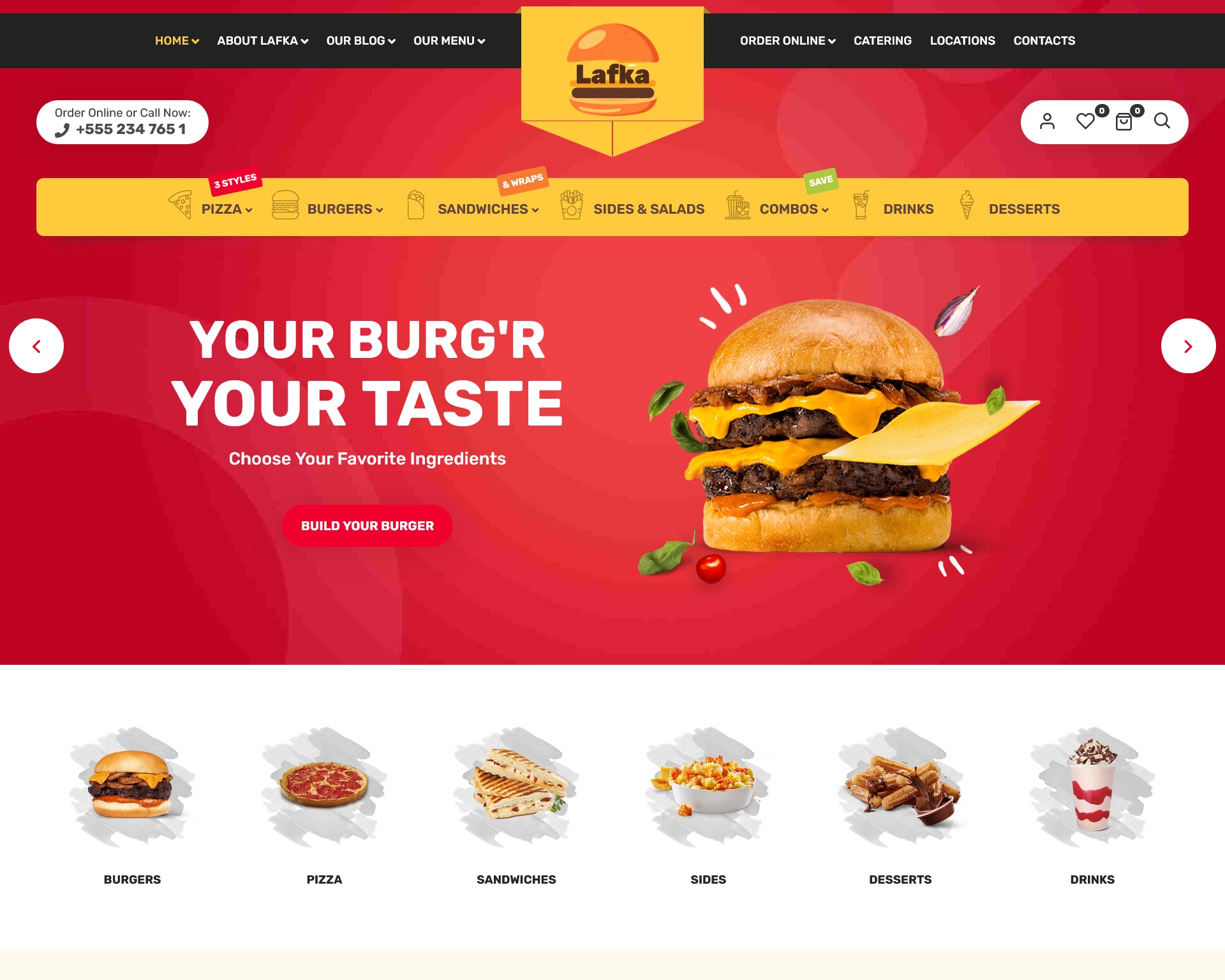 Lafka is a modern WordPress theme that features industry-specific features that online fast food businesses require, which are not available in other themes. Local fast food business owners can order food online from fast food chains, Burger Shops, Pizzerias, Bakeries, Street Food, Food Trucks, Sushi Bars, etc. using the best tools available.
FitMeal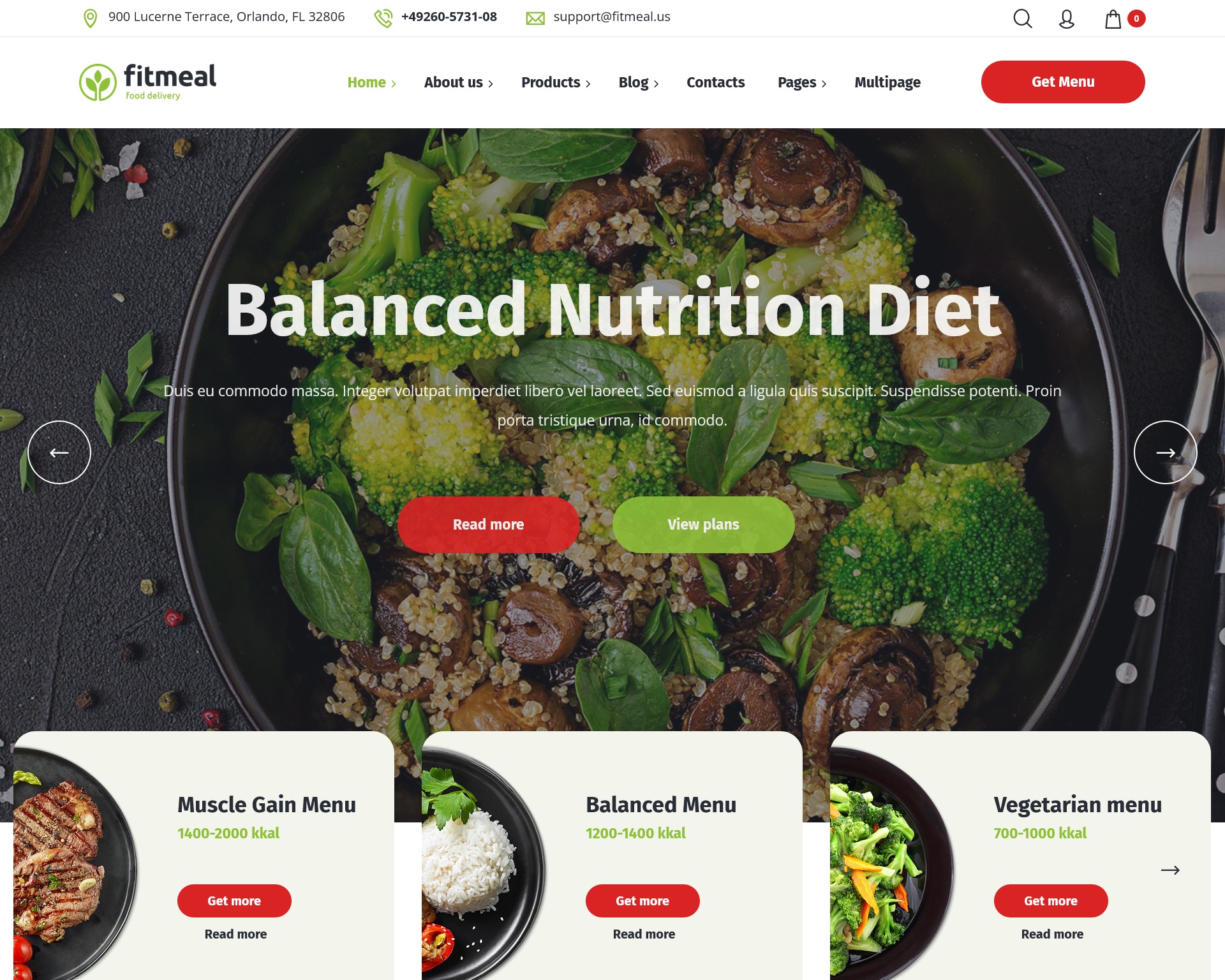 The WordPress theme Fitmeal – Healthy Food and Nutrition was created specifically. Delivery of food, healthy food, fitness diets, organic food store, courier service nutritionist, health coach, health diet, fitness meal, smoothie bar, and business lunch delivery.Selling your meal, food, fruits, vegetables, smoothies, juices, delivery services, and other items is something you can do. Create any layout you can imagine with the help of Page Builder, which is quick and easy to use.
Online Food Ordering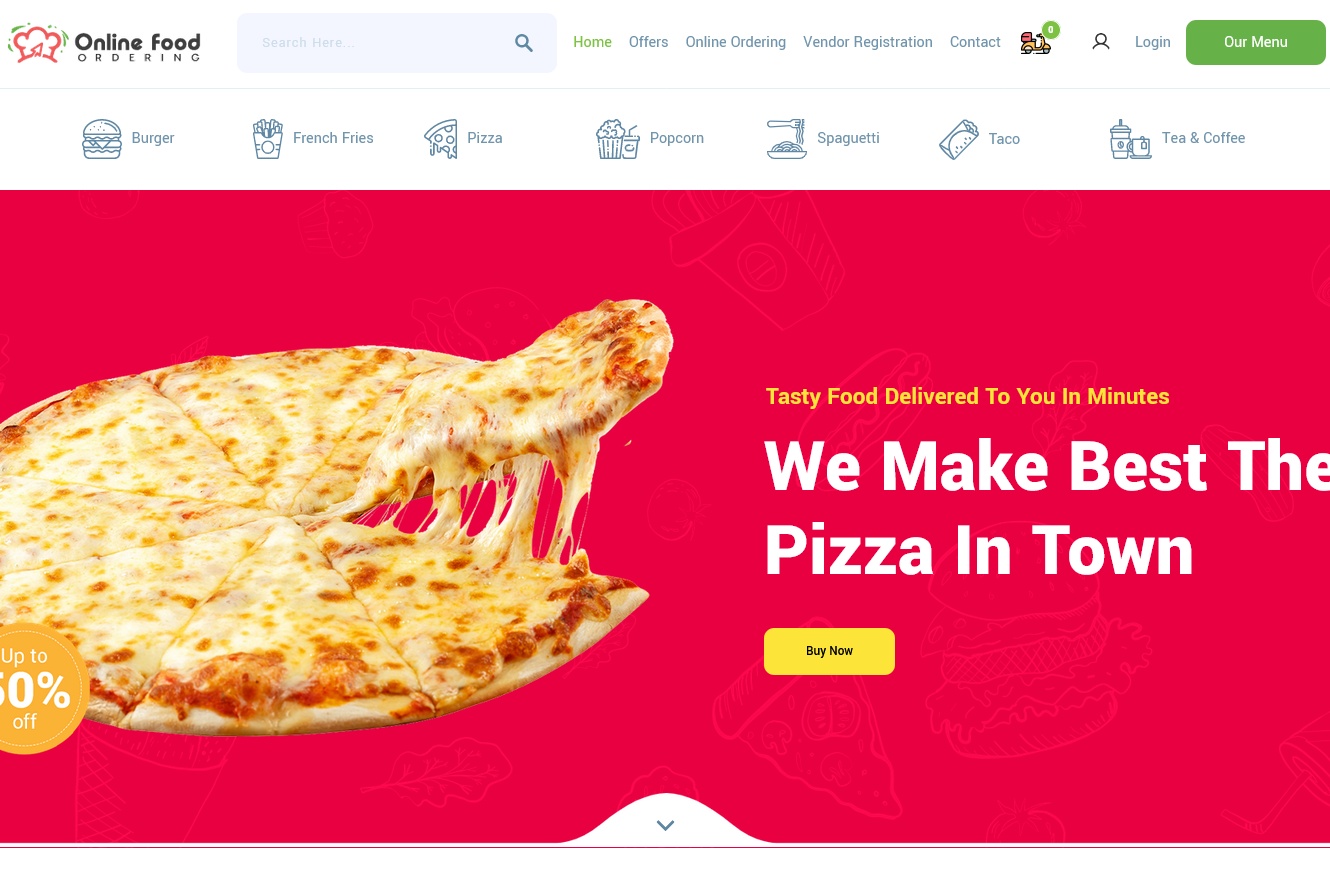 The WordPress theme for online food ordering is suitable for individuals or businesses that sell fresh food and fruits. Through their web presence, organic food and fruit farming or cultivation, organic food stuff vendors, grocery store owners, and animal husbandry provide greener and healthier people around the world.
Eatsy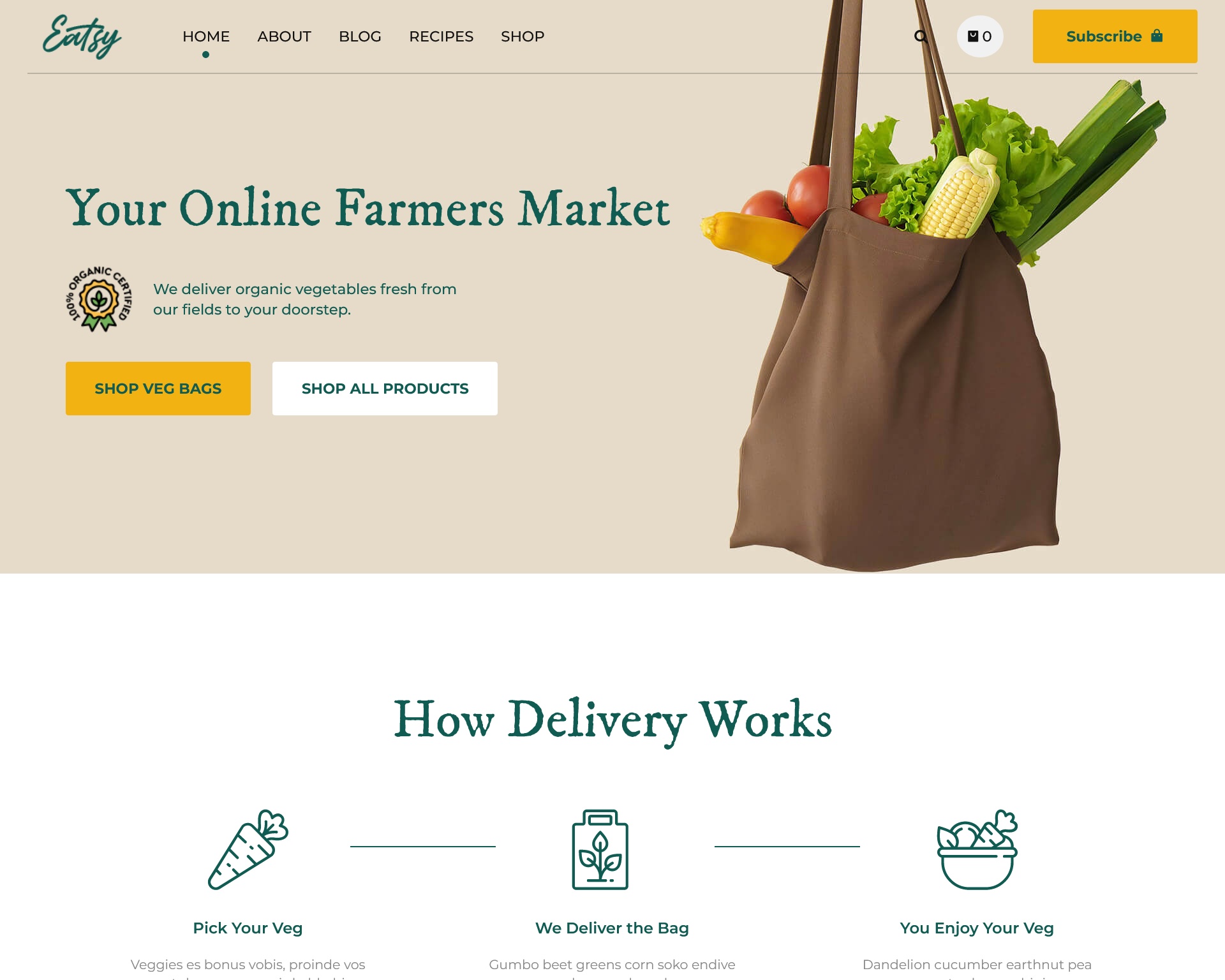 Eatsy is a bold WordPress theme that specializes in food delivery, including burgers, pizzas, and the ordering and delivery of various desserts and sweets like donuts. Whether you prefer healthy and homemade food options like homemade desserts, honey, vegetables, or any other food delivery options that fit these distinctive design styles, you can find them here.
Madang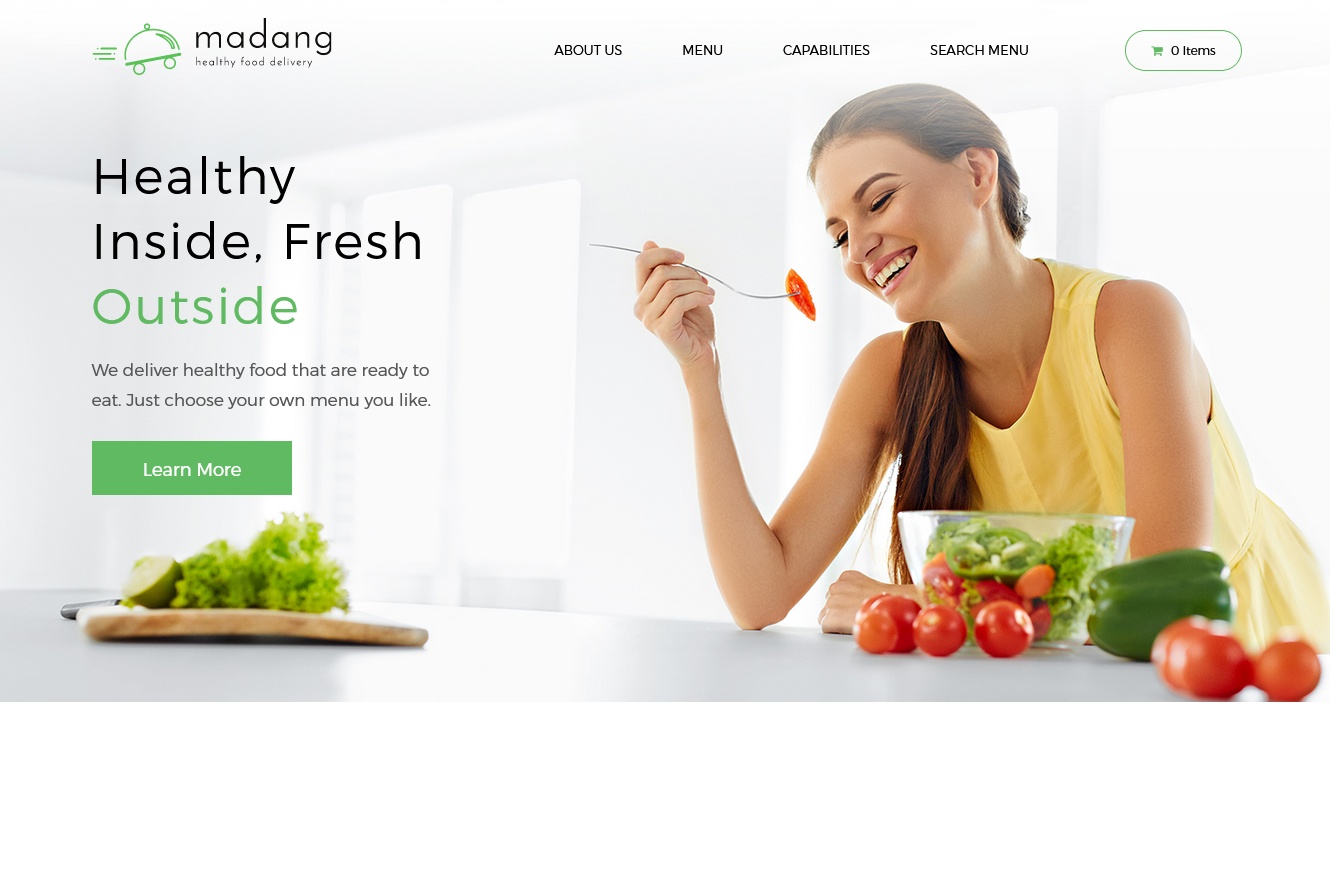 Madang is a WordPress theme that is both modern and freshly designed to offer healthy food delivery services. The theme consists of nutrition program pages, dish menu details, and nutrition facts calculations. It's simple and intuitive to create personalized meal plans. Set up pricing tables to compare and sell daily meals. Your customers should be able to find what they are searching for because of that.
Dream Hub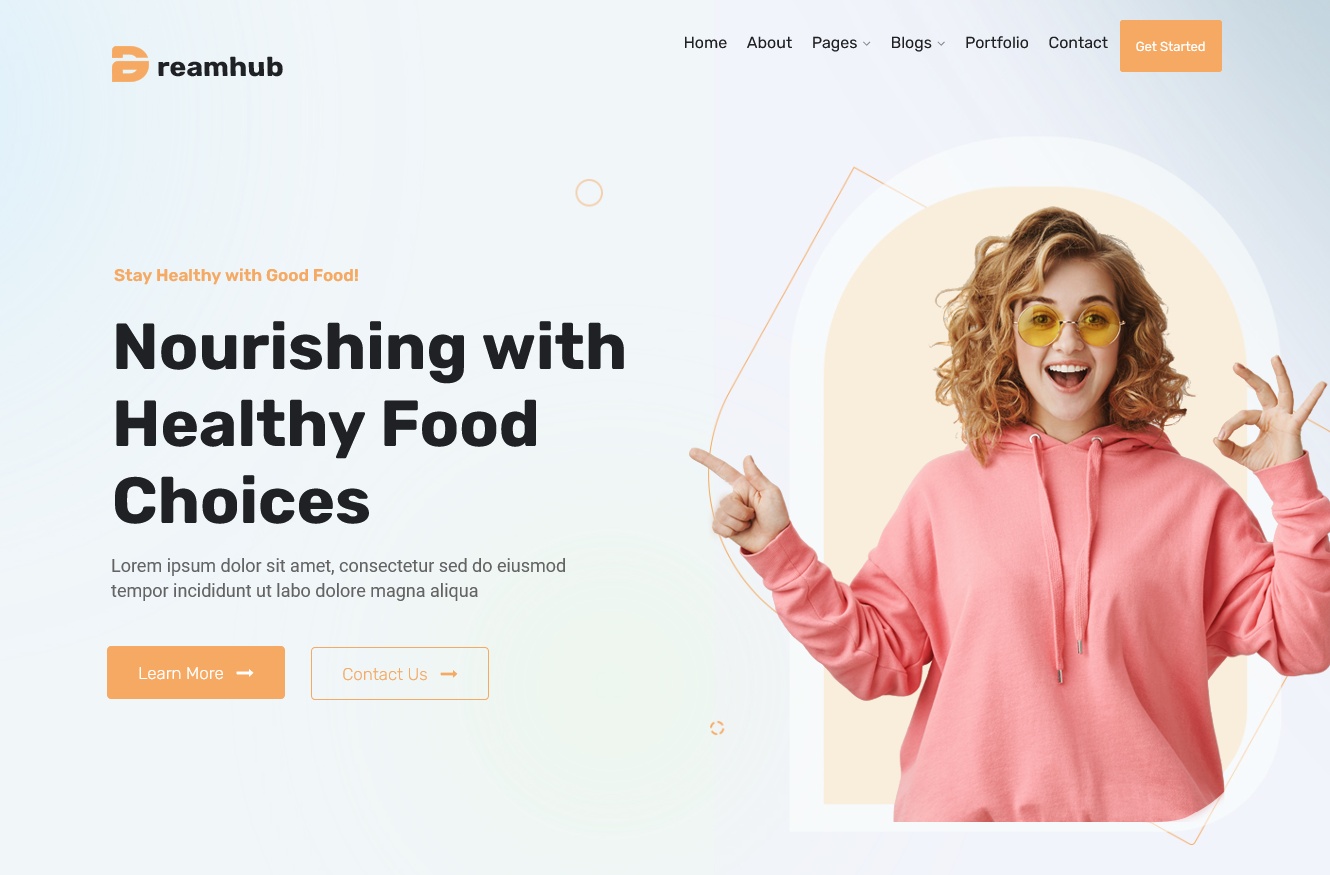 DreamHub is a WordPress theme for nutrition delivery of food and a healthy lifestyle. Delivering delectable, healthy meals right to your audience on the screens of this theme is the ultimate digital platform to showcase your culinary expertise. DreamHub assures a flawless browsing experience for visitors who are exploring your site on a desktop, tablet, or smartphone. DreamHub's user experience makes it simple to connect with your target audience, making it easy to explore, order, and indulge in your nutritious offerings.
Meals Wheels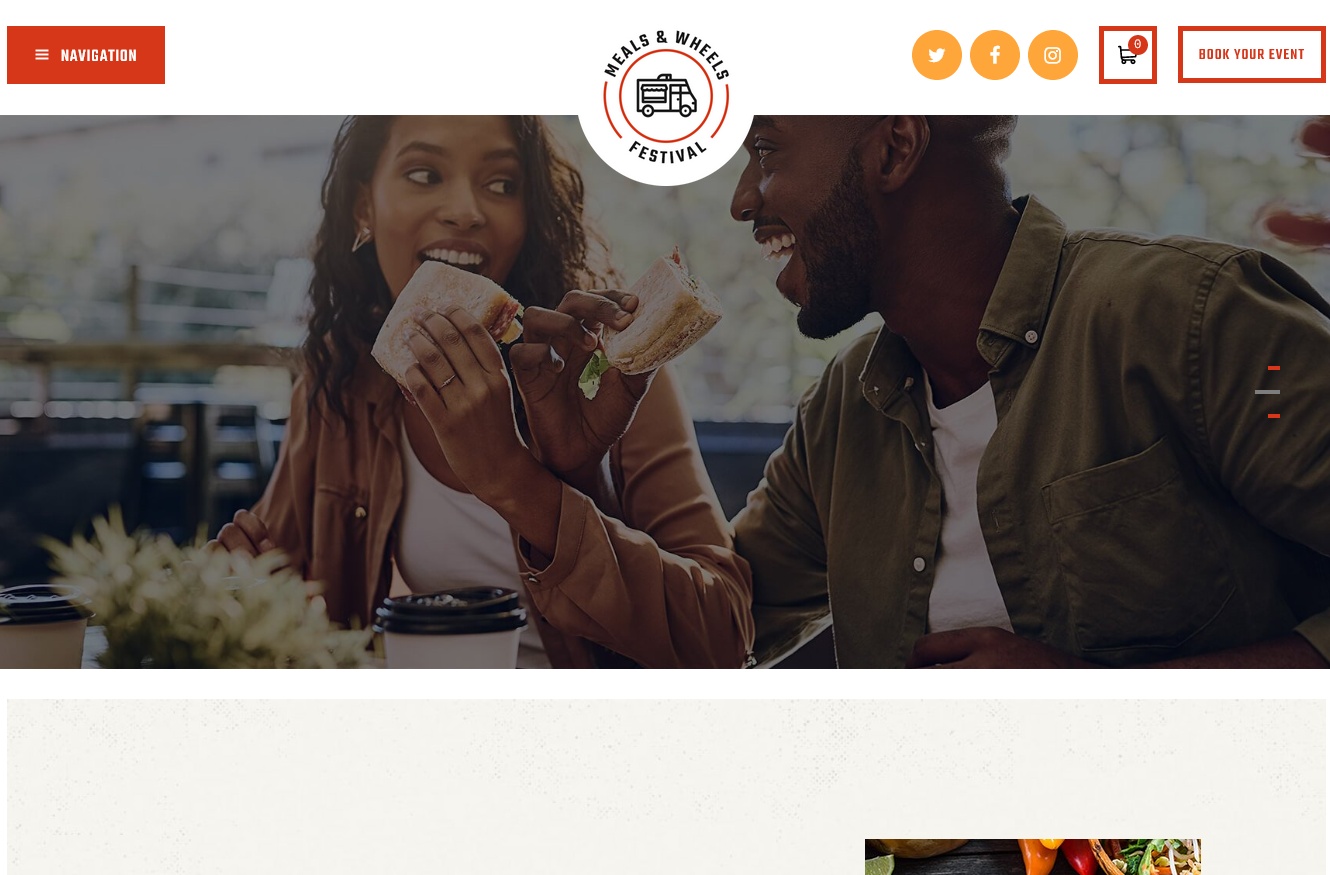 Meals and Wheels is a WordPress theme that is stylish and modern, and it is suitable for all types of food businesses, such as restaurants, food truck, street food, restaurant, cafe, sports pub, bakery, food portfolio and gallery, online shop, creative bar, pizza place, online reservation and menu, organic food, chef restaurant, football pub, buffet,snack bar, cafeteria, coffee bar, team room, tea shop bistro, brasserie, wine bar, cafe bar, cybercafe, anticafe, milk bar, diner, eatery, canteen, fast food and burger place, eating house, eater, eating place, lunchroom, fast-food place, grill, pizzeria, beer garden, cocktail lounger, alehouse, roadhouse, beer joint, saloon, taproom, happy hour establishment, tavern, public house, brewery, wineshop, whisky bar.
FoodFly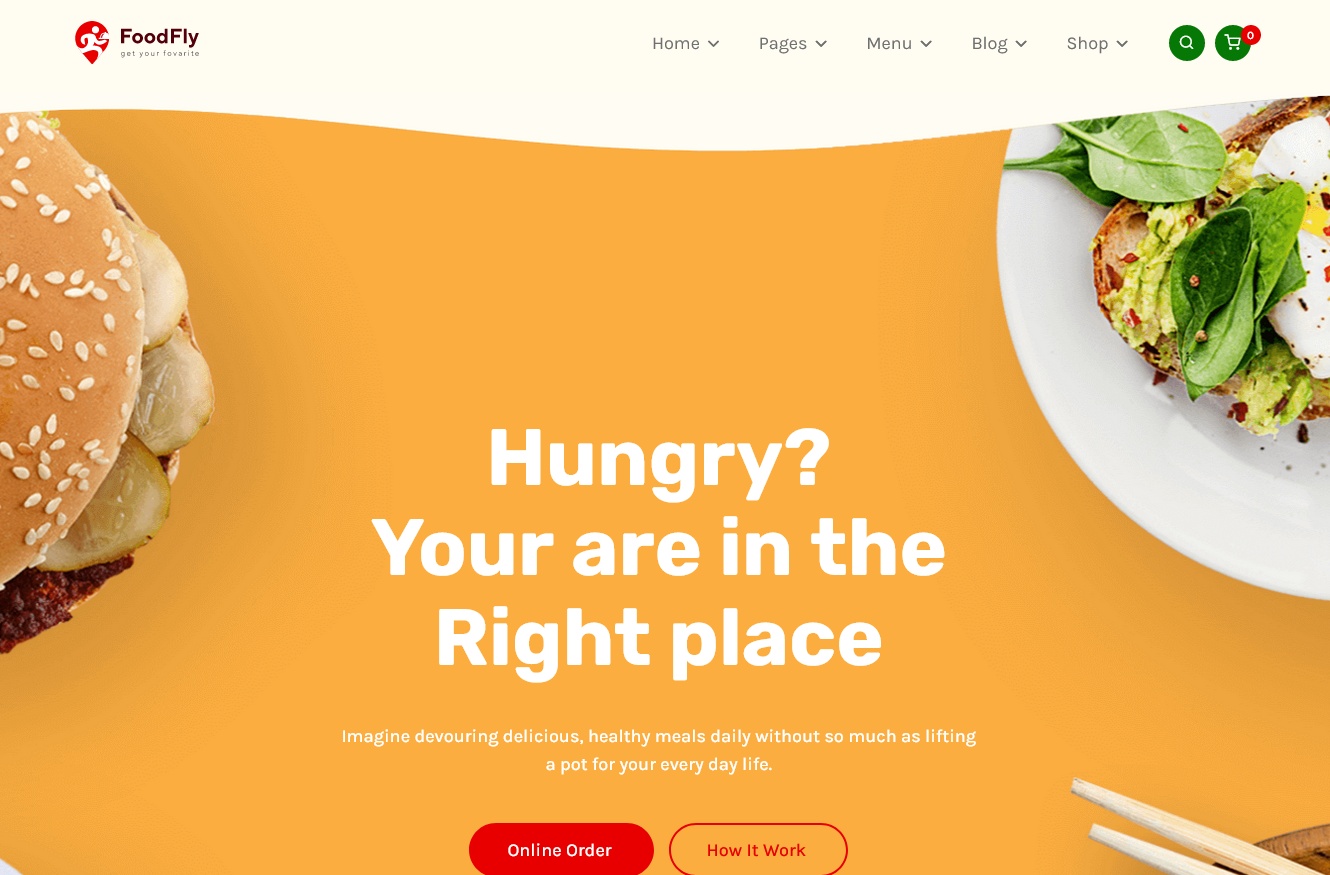 FoodFly is a Fast Food Delivery and Restaurant was created specifically for restaurants, fast food shops, bakery shops, burger shops, coffee shops, pizza shops, vegan food shops, and more, themed, offer food ordering and delivery services. You can easily replace any picture with your own one in just a few clicks. It is customizable and well documented. Also, child themes are included. The desktop, laptop, mobile, and major browsers are all compatible with it.
Gloreya Fast Food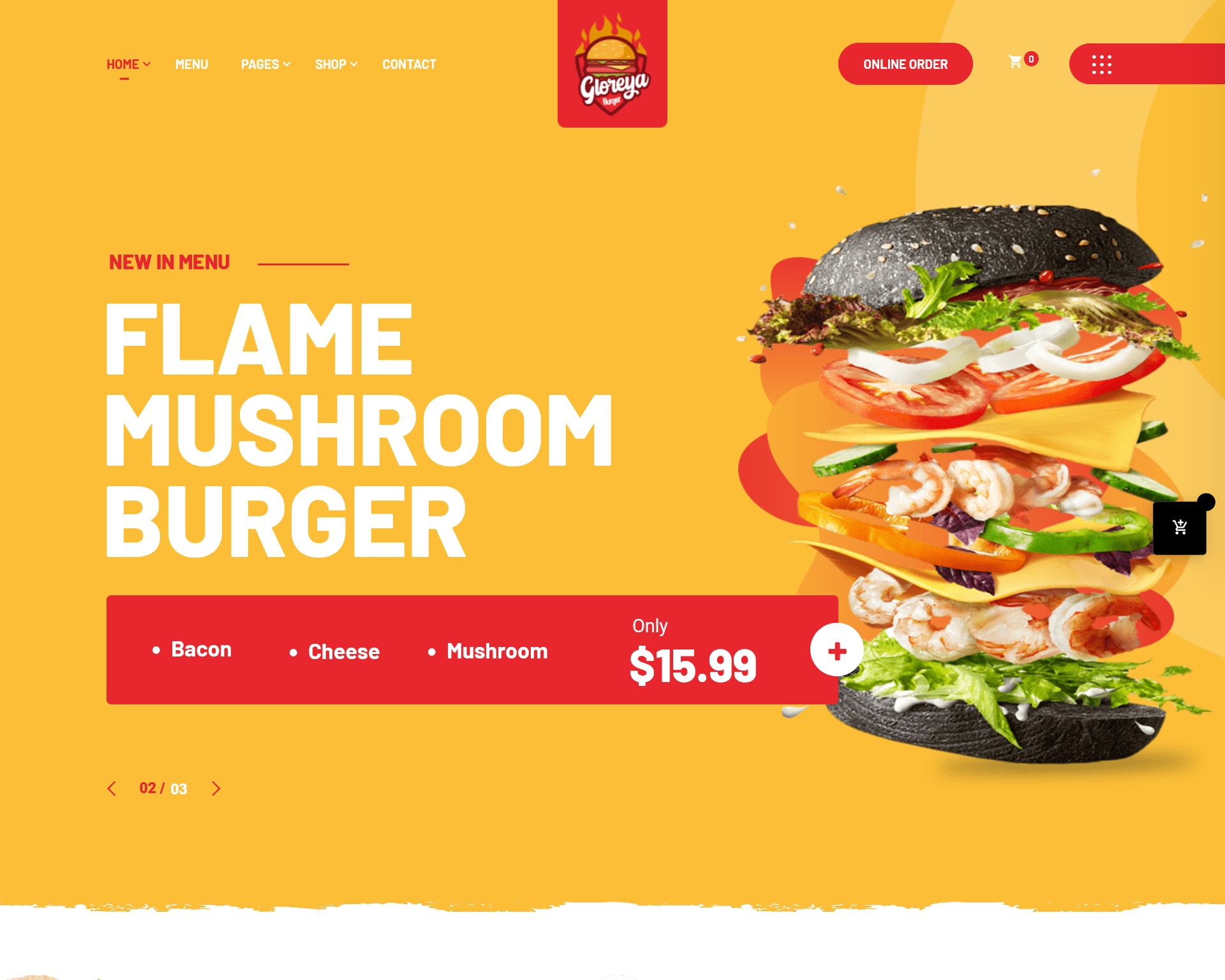 Gloreya is a Fast Food Restaurant WordPress Theme is a restaurant that sells fast food, bakeries, burgers, coffee shops, pizza shops, and vegan food in a professional and modern way.
Fooddy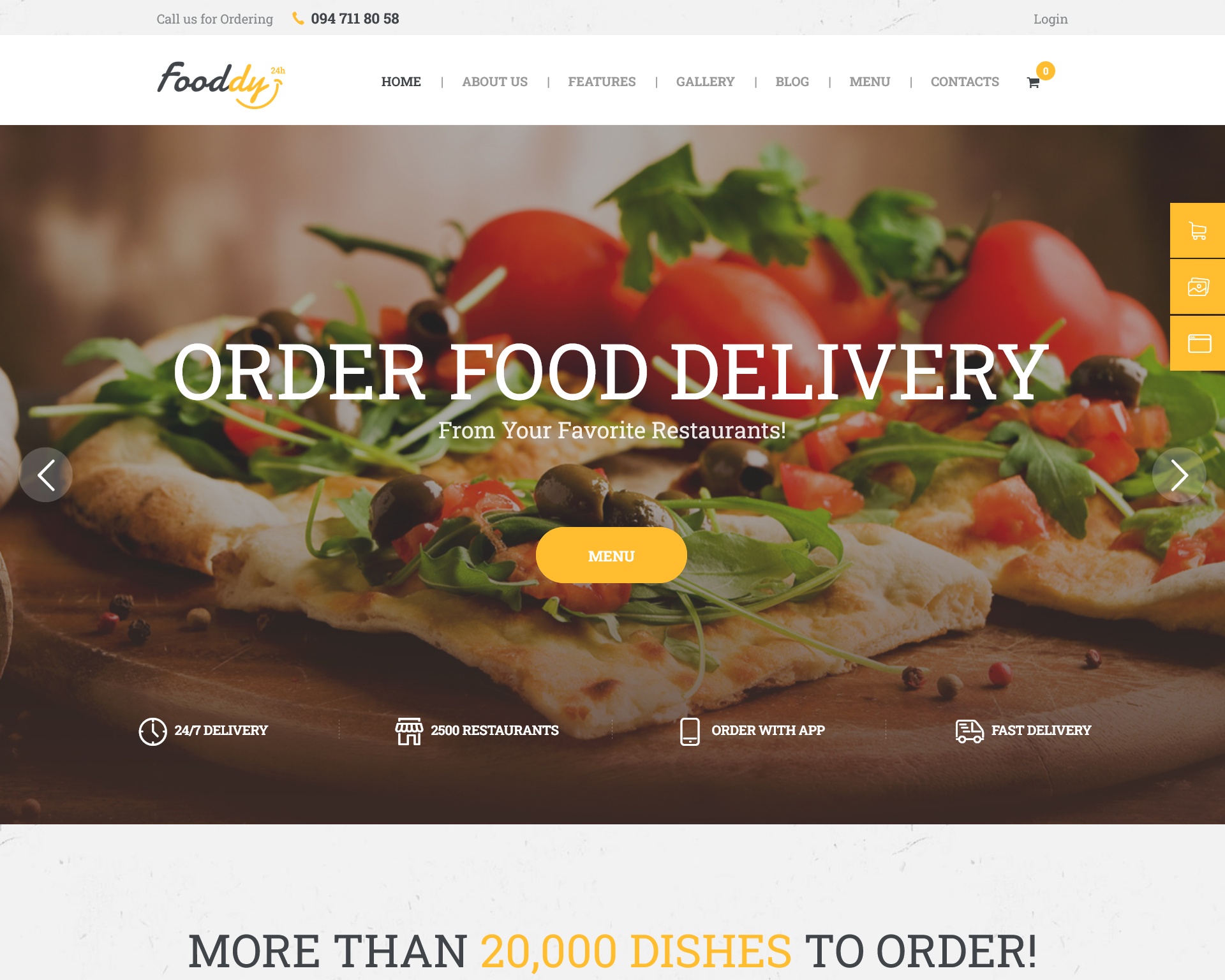 Fooddy is a WordPress theme that is stylish and modern, suitable for online food ordering and delivery websites, as well as catering mobile applications. You have the option to use it as a food blog, lifestyle blog, online cookbook, restaurant listing, mobile application, restaurant ranking, or recipe website.