Medical WordPress themes are specifically designed to cater to the needs of healthcare professionals, medical clinics, hospitals, and other related businesses. These themes offer a range of features and functionalities that are essential for creating a professional and user-friendly website in the medical field.
WordPress themes, in general, provide a framework for designing and customizing websites without the need for extensive coding knowledge. They offer pre-designed templates and layouts that can be easily customized to suit individual preferences and branding requirements.
Premium WordPress themes take this concept a step further by offering additional features, advanced customization options, and dedicated support from theme developers. These themes often come with built-in plugins or integrations that are specifically tailored to the medical industry.
When it comes to medical WordPress themes, they typically include features such as appointment booking systems, doctor profiles, patient testimonials, service listings, blog sections for sharing health-related articles or news updates, responsive design for optimal viewing on different devices, and integration with popular plugins like WooCommerce for online pharmacy or e-commerce functionality.
By using medical WordPress themes or premium WordPress themes designed specifically for the healthcare industry, medical professionals can create visually appealing websites that effectively showcase their services while providing a seamless user experience for patients or visitors.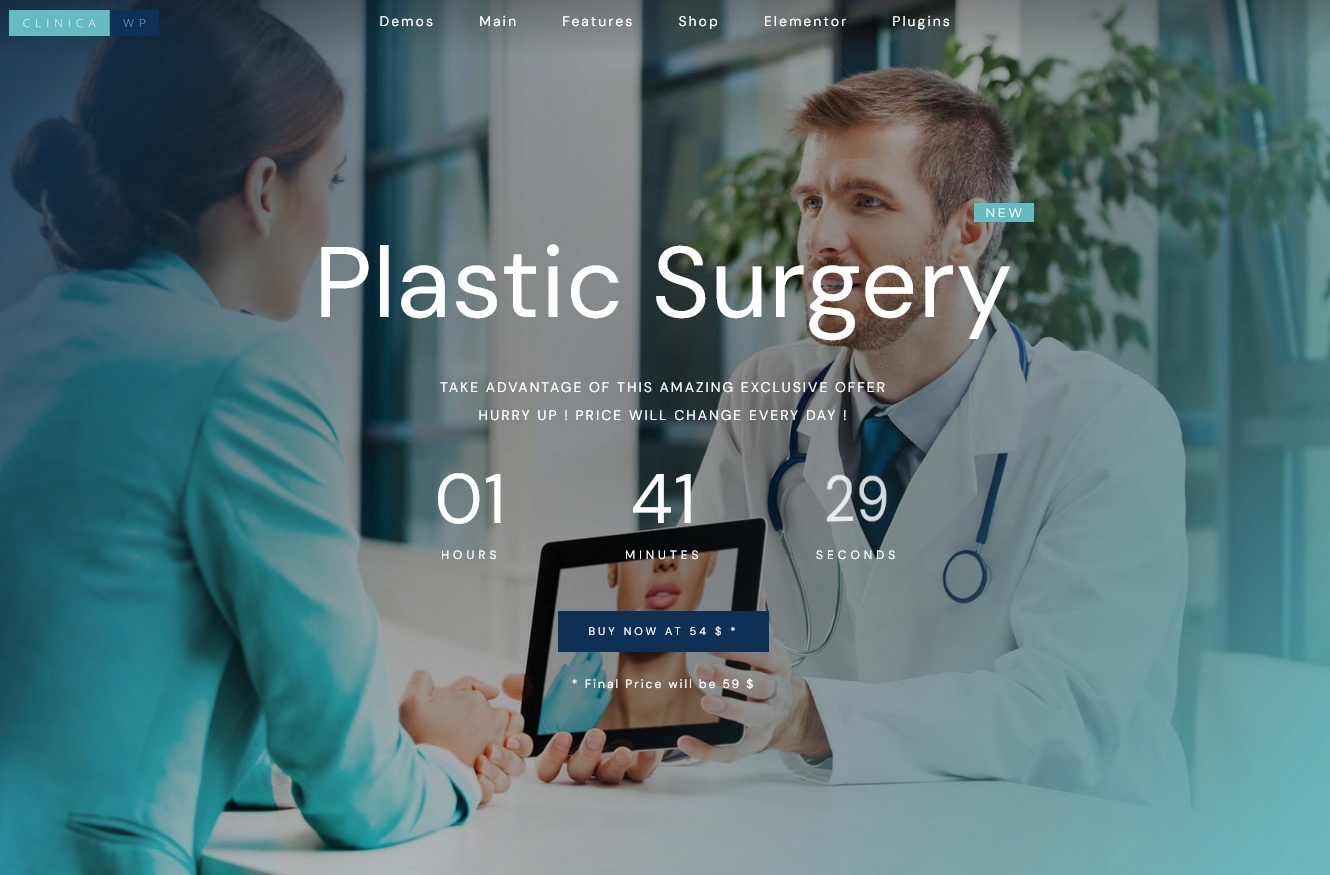 Clinical has been created for all cosmetics and plastic surgery WordPress sites. This WordPress theme is the ideal choice for all medical activities. You have the option to add various pages that contain clinical information and customize them to receive reservations.
MediCenter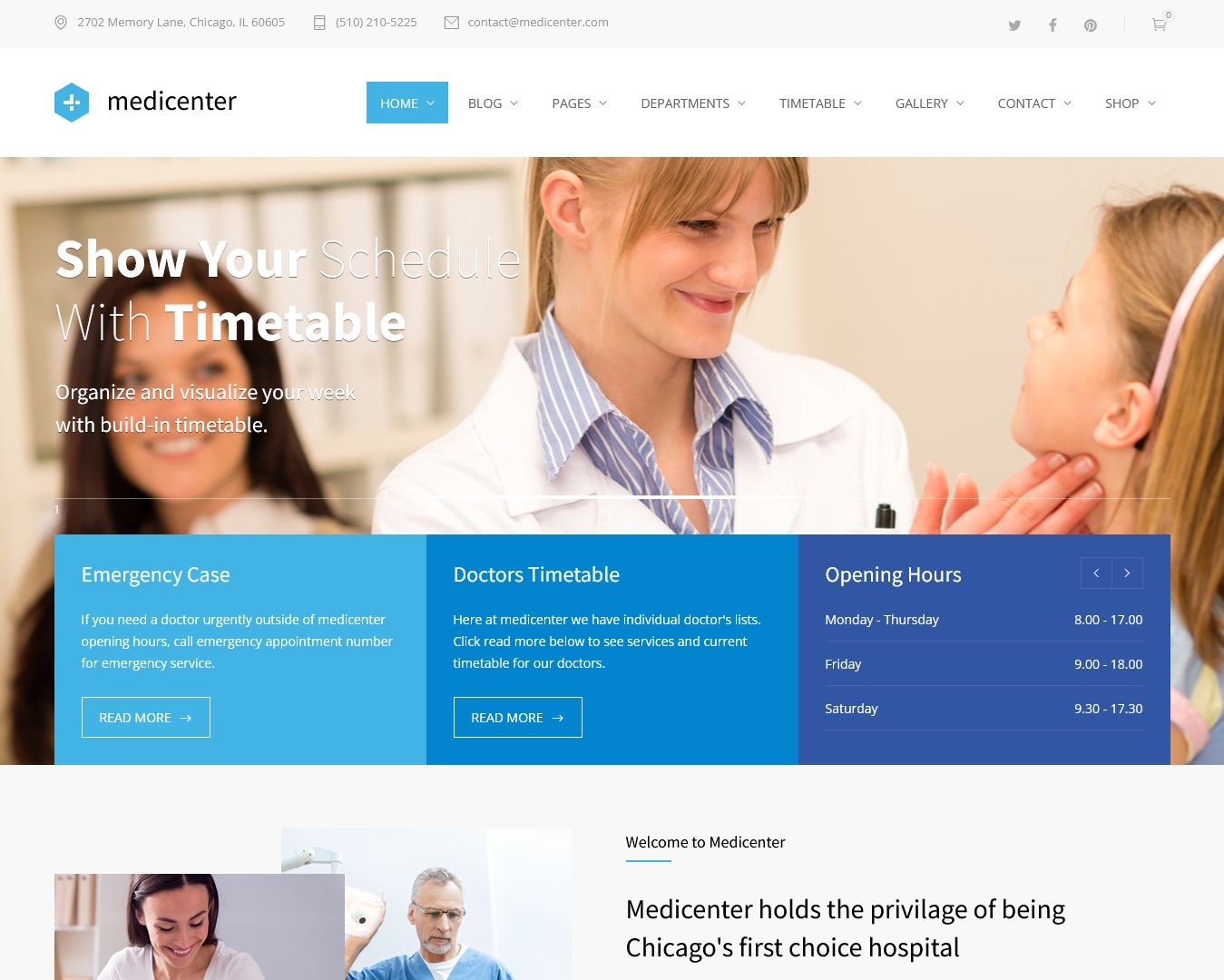 MediCenter is the WordPress theme that is most popular and medical purposes, clinics, health centers, and hospitals, doctors, and anyone else involved in healthcare services. MediCenter has you covered on medical industry websites, from veterinary through pregnancy clinics to dental care and physiotherapy.
BeClinic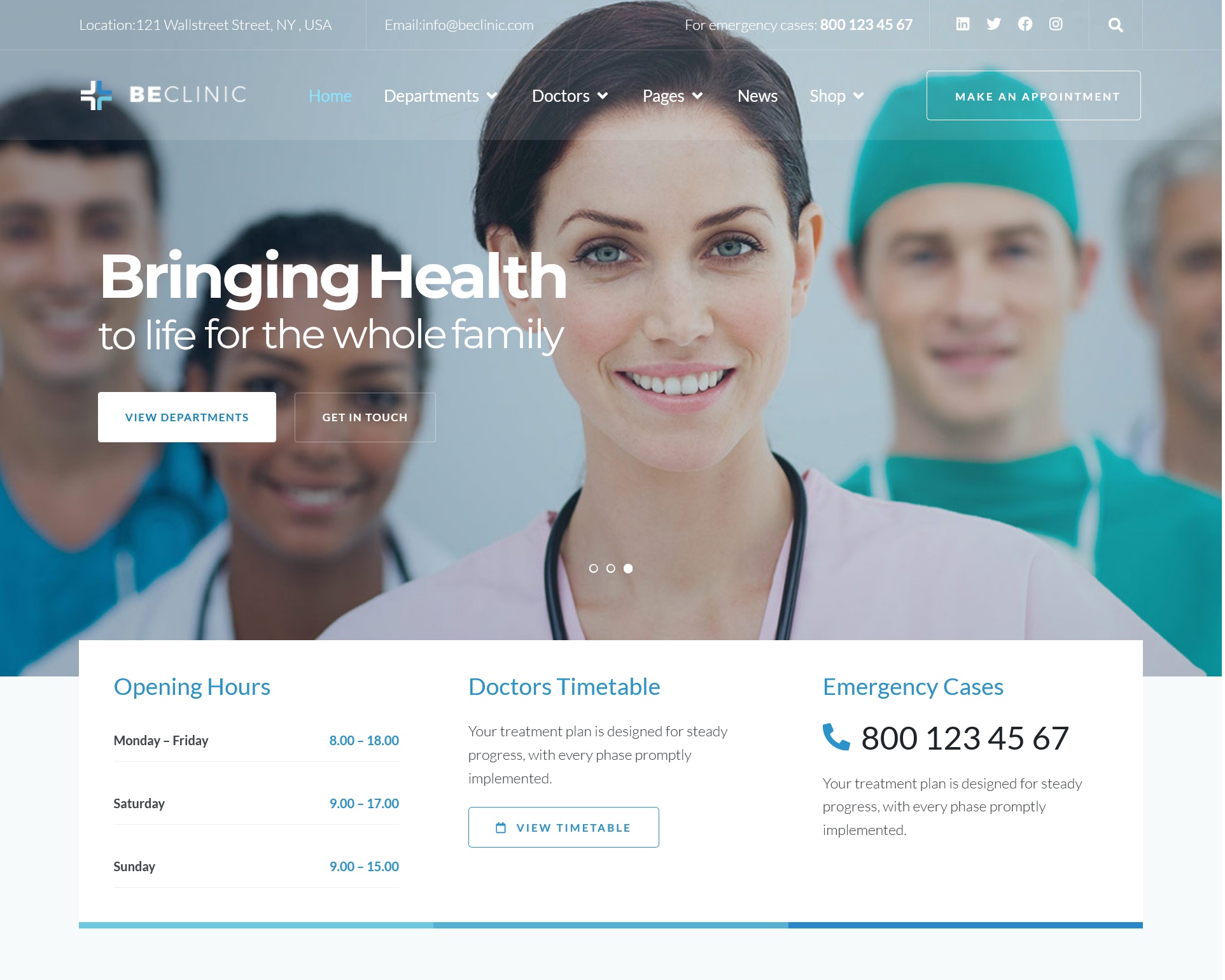 BeClinic is a Multipurpose Medical Clean WordPress Theme. Customized options are available for the BeClinic WordPress theme. Your website will look both reliable and eye-catching with engaging images and modern layouts. The medical clinic WordPress theme was created using the Elementor plugin and a bunch of powerful add-ons, which enable you to utilize drag-and-drop technology.
Accalia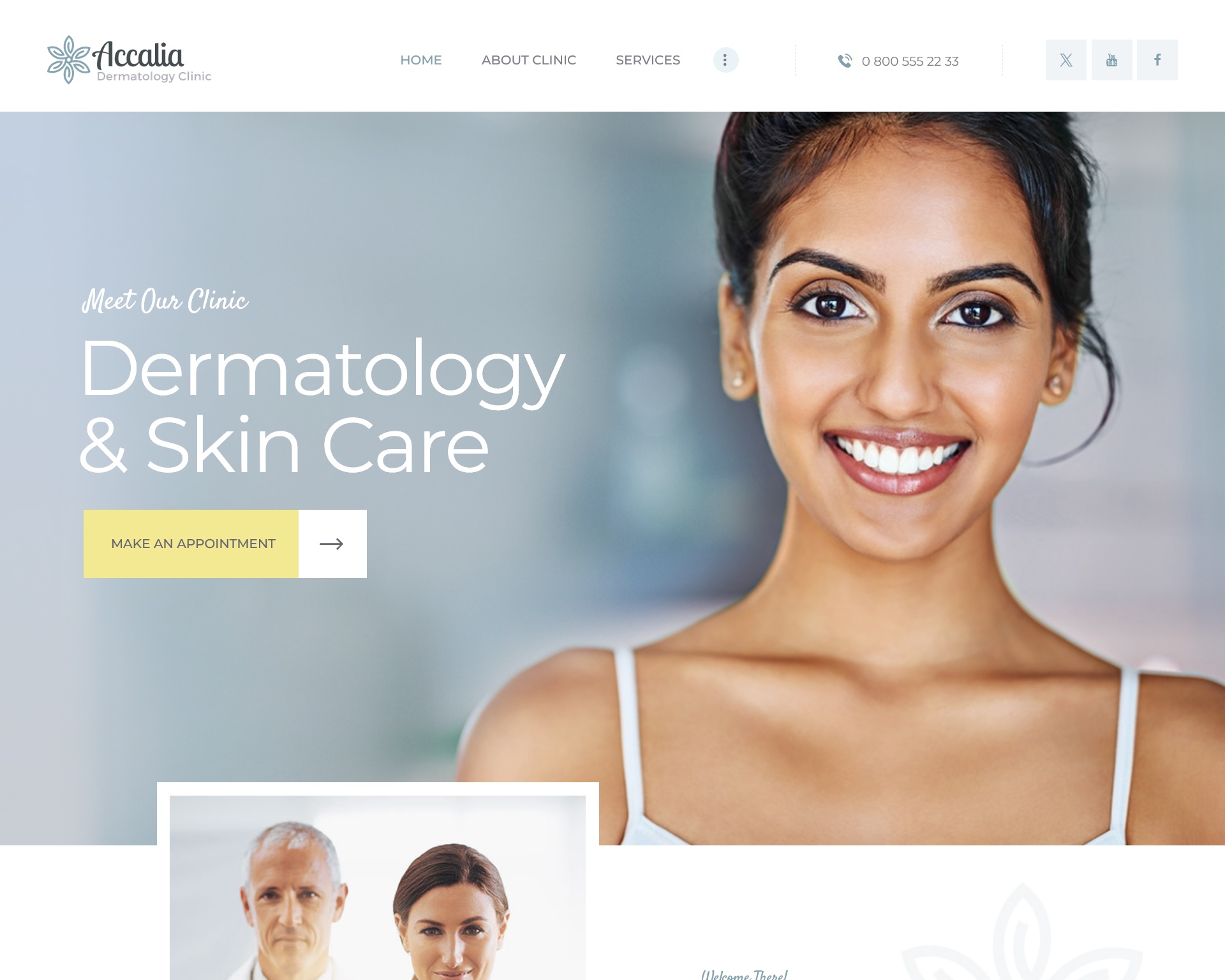 Accalia is a medical WordPress theme that is both powerful and responsive. It will be suitable for hopistal, dermatology clinic, ambulance, nursing care, clinique, medical institution. Additionally, it works for medical hospice center, medical equipment shop, infirmary, convalescent home or even sanatoriom.
Medic Health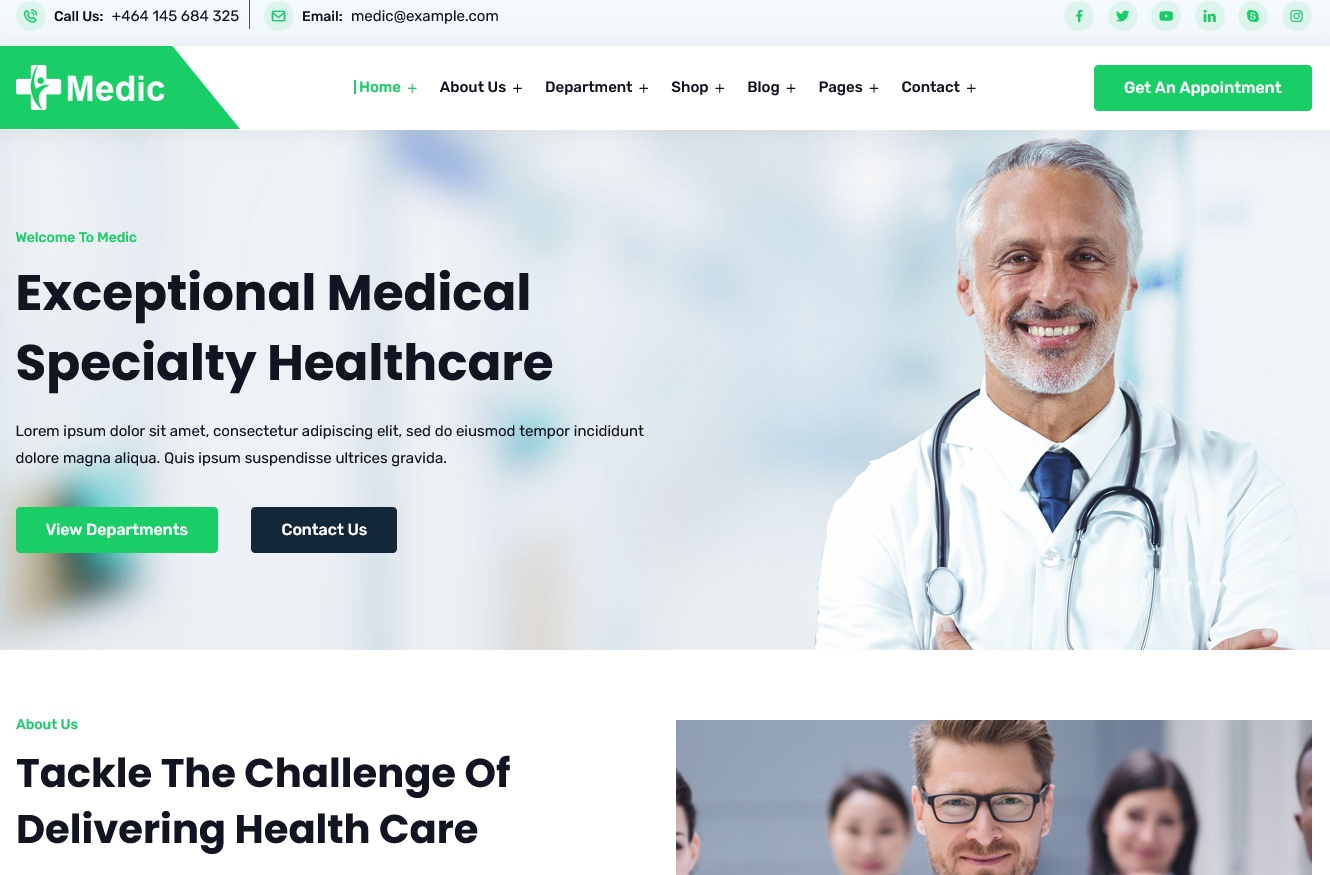 Medic is a WordPress theme that focuses on hospitals, clinics, and medical websites. Advanced dynamic options are available with the Elementor website builder. Flat colors, a clean, modern design, and customization options make it easy to use and responsive. Medic provide a free lifetime upgrades, so there's no need to worry.
Dental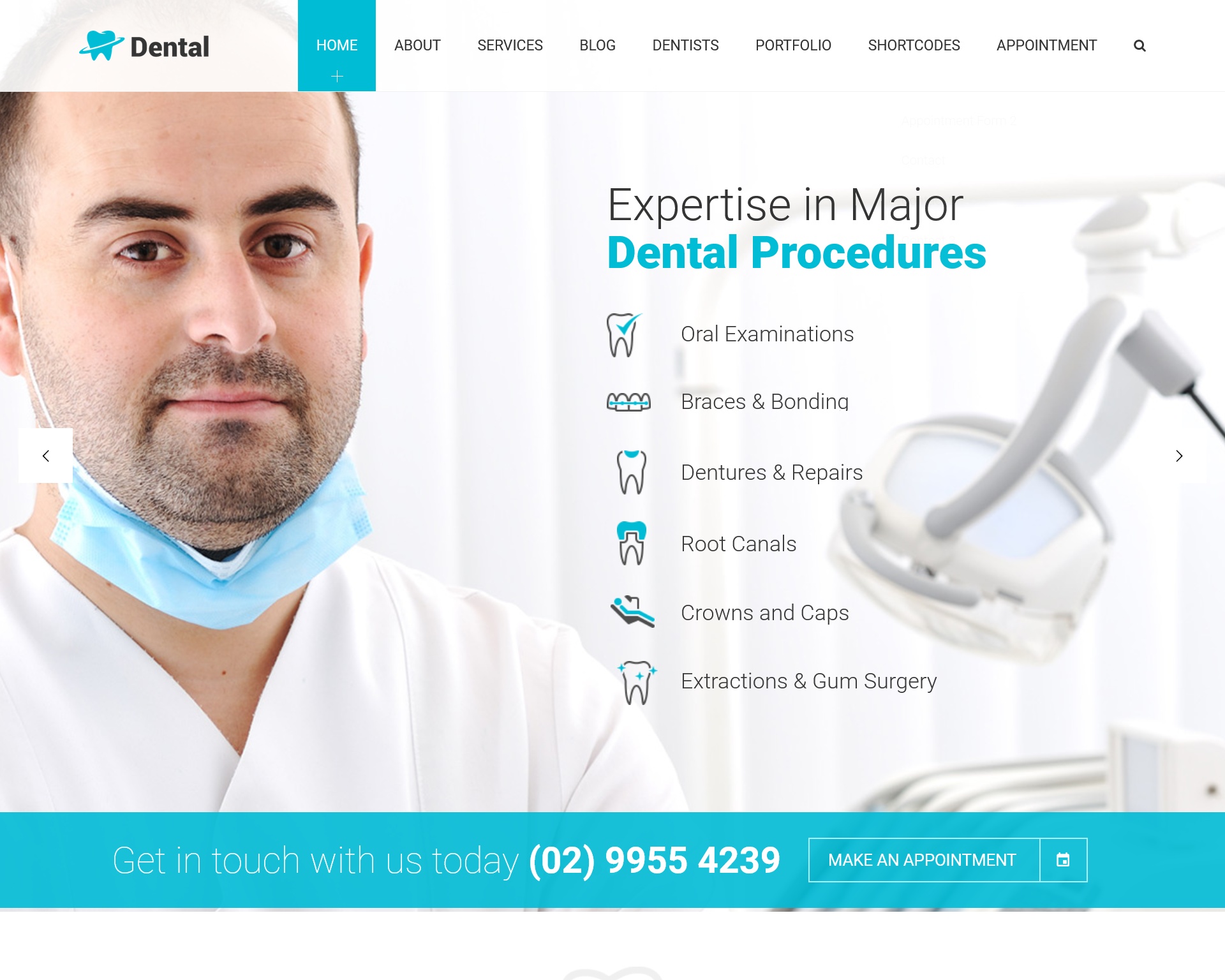 The dental WordPress theme is designed for dentists, dental care clinics, dentistry, and medical websites. It is suitable for dental camps, emergency websites, dental shops, oral cavities, and oral hygiene. Develop websites for dentists, emergency services, oral health, dental braces, dental cosmetics, tooth decay, and dental fillings.
Psychiatrist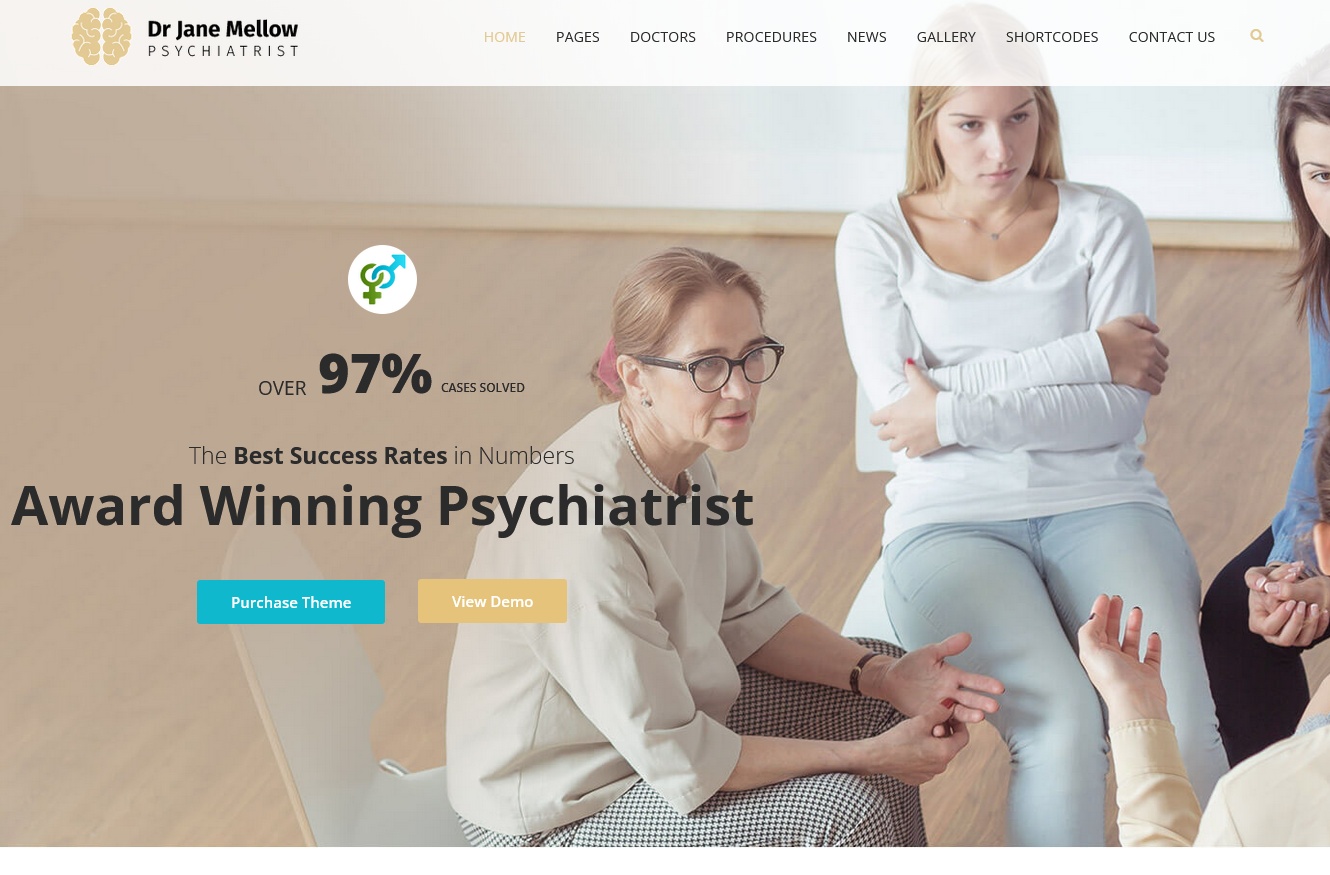 The WordPress theme for a Psychology Psychiatrist Counseling Center. A medical theme was created for Psychiatrists, Psychocare, Medical Consulting, Mental Counselors, Psychologists, Counseling Centers, and Medical Consultants, Therapists, Mental Specialists, Mental Health Care, Public Mental Care Association, Private Psychiatrist Clinic, Psychotherapists, Hypnotherapists, Lunatic Asylum, Best Psychotherapist, Medical Experts, Personal doctor, Hospital websites.
ProFimed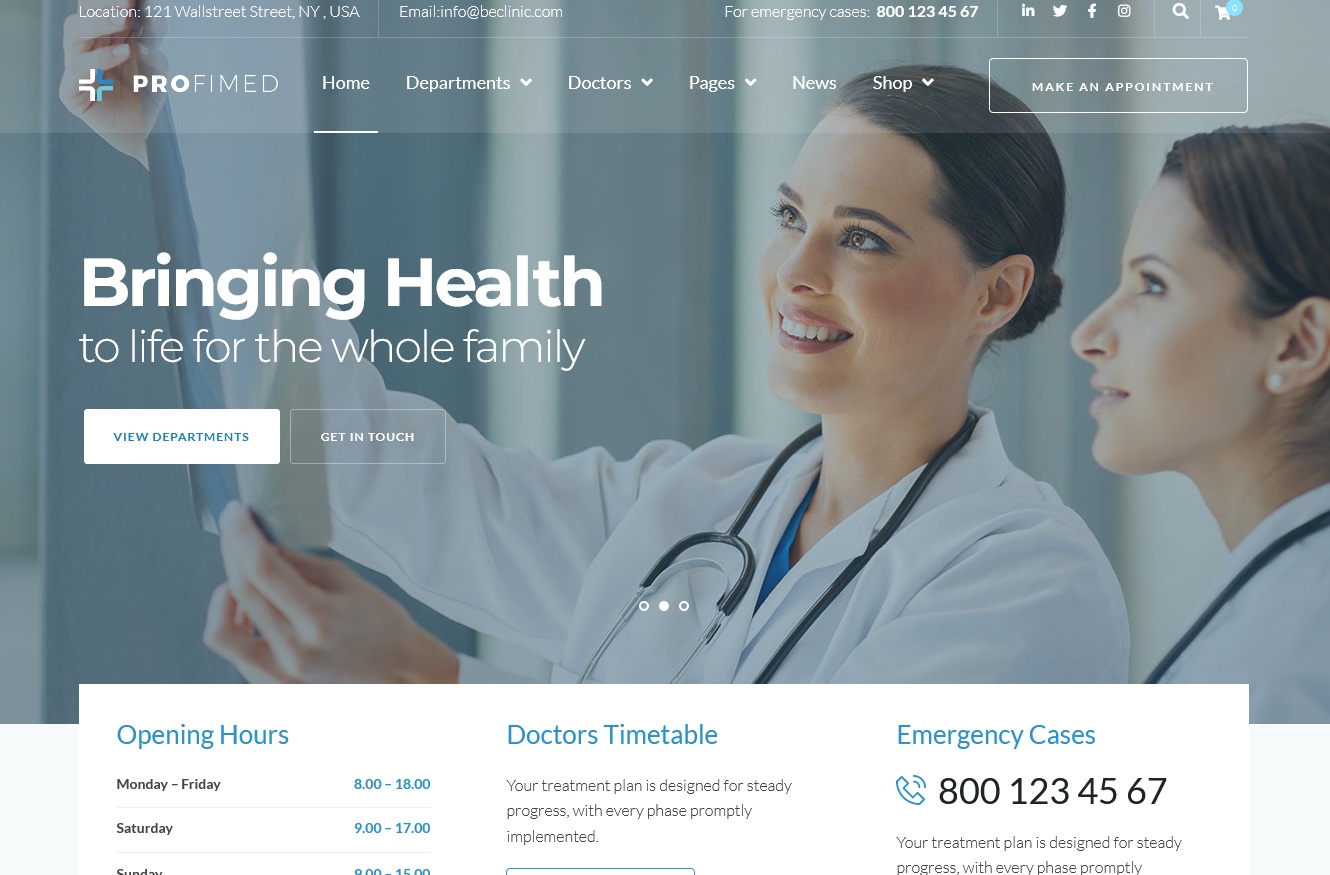 The Medical Website WordPress Theme is designed to create a functional healthcare services website. Using this theme, you can create a website that is highly customizable, stylish, and responsive. Full blogging and social network support is also included. Your website experience can be improved by using multiple features, such as widgets and dynamic pages. Create your medical website with this fast and reliable WordPress theme and customize it to your liking.
KidsHealth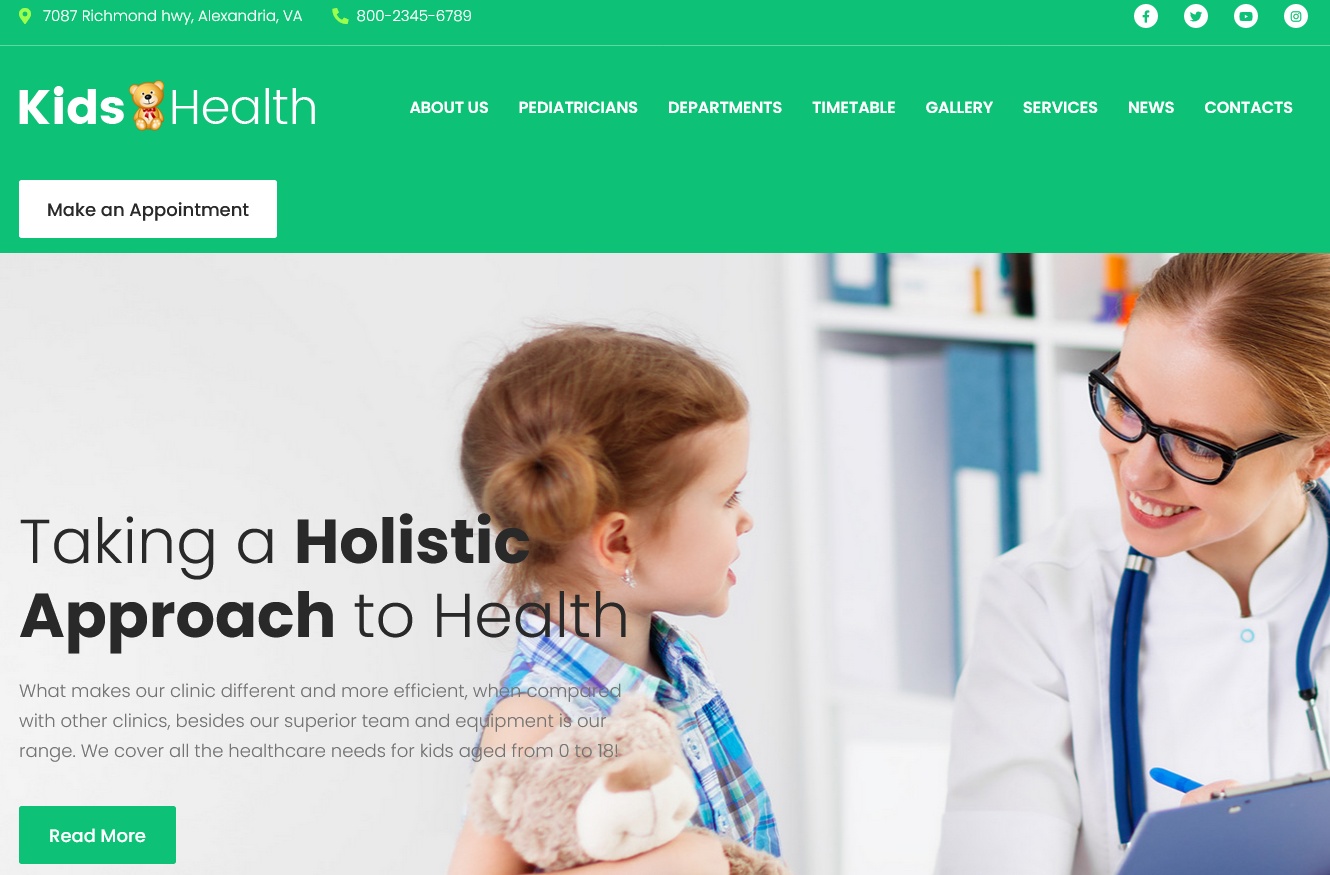 KidsHealth is a WordPress theme that is both user-friendly and eye-pleasing for pediatric clinics. By using Power Page Builder, you can create pages with any layout and enrich them with widgets, plugins, and modules to create a top-notch experience for your online presence. Thank you for scheduling and booking your potential.
Kuza Medical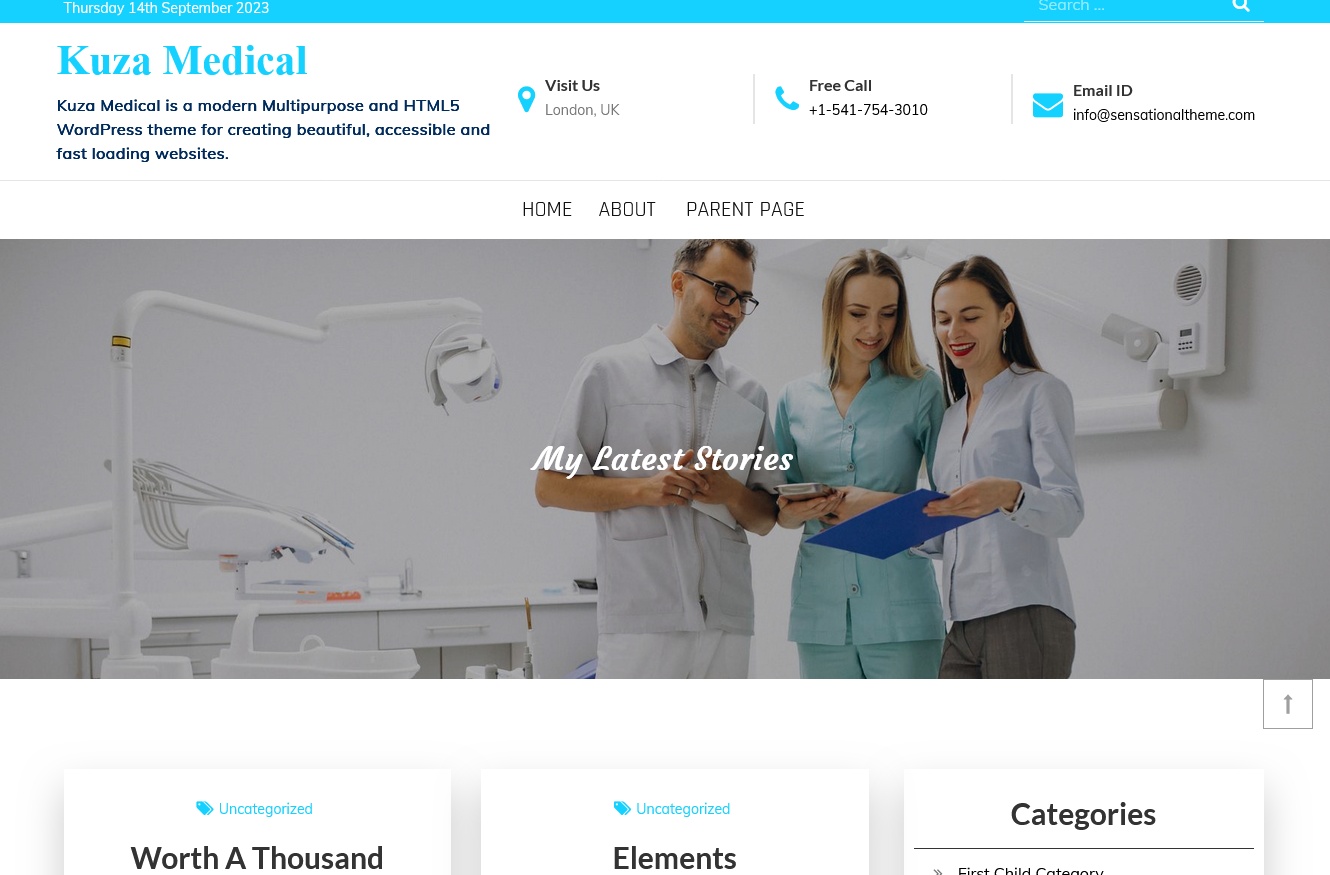 Kuza Medical is a modern WordPress theme that can be used to create beautiful, accessible, and fast-loading websites. The Kuza Medical theme can be customized, SEO-friendly, responsive, interactive, and has a faster website load time. You have access to support for custom headers, two column layouts, full-width layouts, and numerous easy customization options. The theme is both well-crafted and adaptable, and it performs admirably.
DentalCare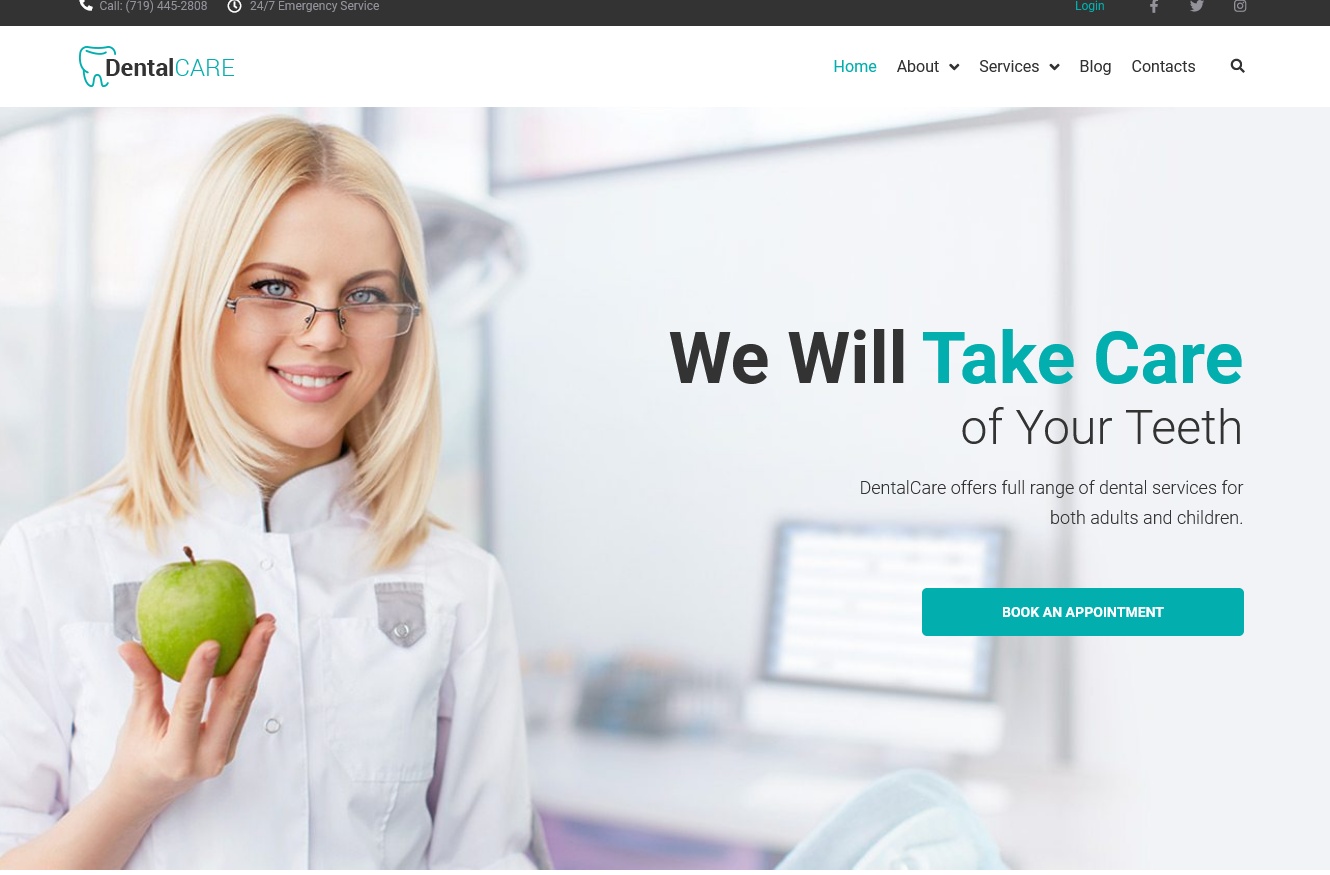 This fully responsive WordPress theme will help you create a fully functional dental clinic website. Create your dental clinic website with this fast and stylish WordPress theme and customize it as much as you want. The ultimate device support is available with this plugin. Dental care can help you demonstrate most of your skills and jobs in a straightforward manner.