Photography WordPress themes are specifically designed to cater to the needs of photographers and photography enthusiasts who want to showcase their work online. These themes offer a variety of features and functionalities that make it easy for photographers to create stunning portfolios, galleries, and blogs.
WordPress themes are pre-designed templates that can be easily installed on a WordPress website. They determine the overall look and layout of a website, including its design elements, colors, fonts, and page structure. By using a photography-specific WordPress theme, photographers can save time and effort in customizing their website from scratch.
Photography WordPress themes often come with built-in gallery options that allow photographers to display their images in an organized and visually appealing manner. These galleries may include features such as lightbox effects, image sliders, masonry layouts, and filtering options. Additionally, these themes may offer various customization options for photographers to personalize their websites according to their branding or style preferences.
Another advantage of using photography WordPress themes is their responsiveness. These themes are designed to adapt seamlessly across different devices and screen sizes, ensuring that the photographer's work looks great on desktop computers, tablets, and mobile devices.
Furthermore, many photography WordPress themes integrate with popular plugins or tools that enhance functionality. For instance, some themes may support integration with e-commerce plugins for selling prints or digital downloads directly from the website. Others may offer social media integration for easy sharing of images on platforms like Instagram or Pinterest.
Photography WordPress themes provide an efficient solution for photographers who want to create visually stunning websites without extensive coding knowledge or design skills. With various customization options available and compatibility with essential plugins, these themes empower photographers to showcase their work effectively online while maintaining a professional aesthetic.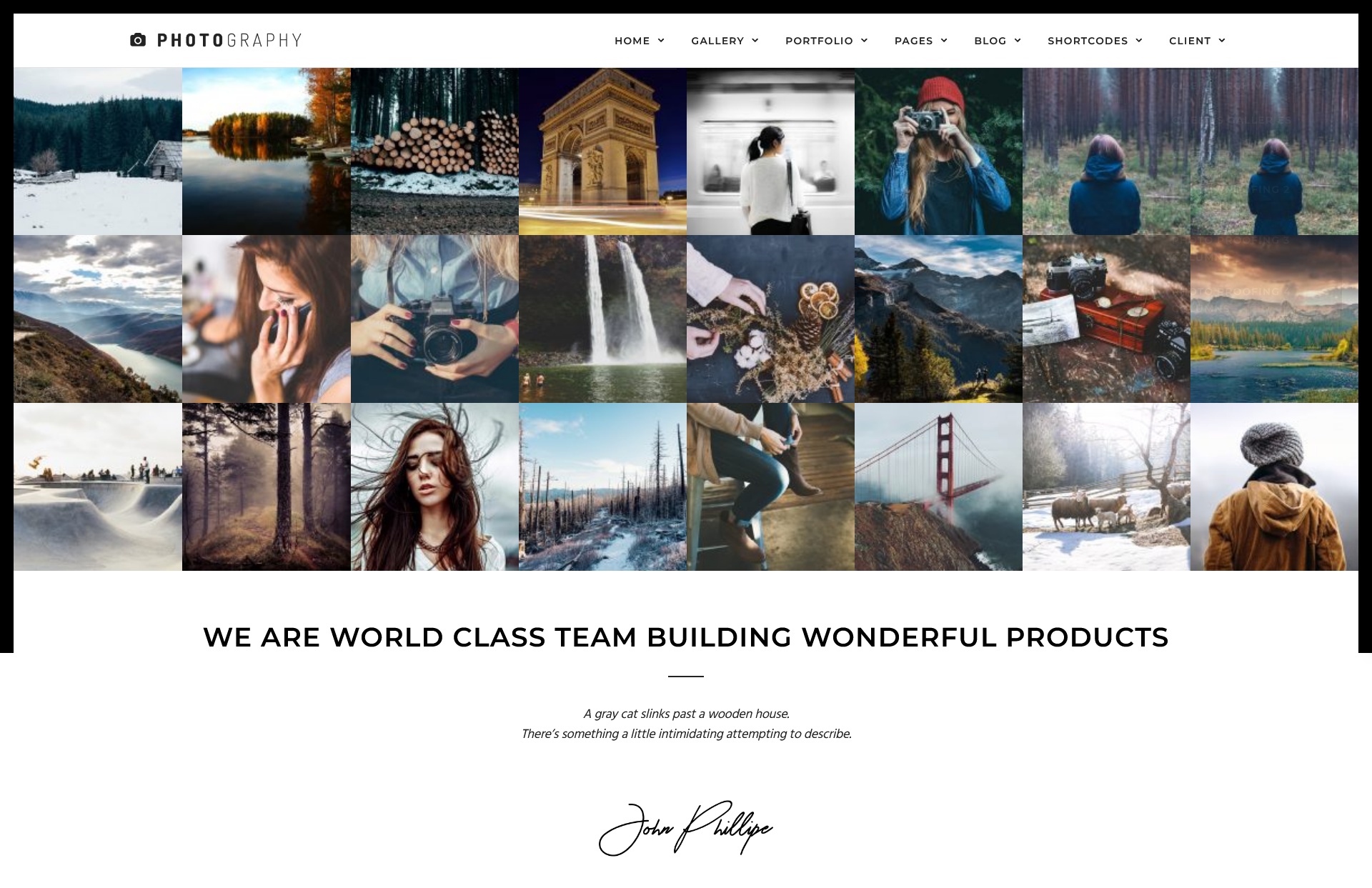 Photography is a WordPress theme that is responsive, clean, and minimal, ideal for a creative portfolio site that showcases photography. The responsive layout is designed for photography, which makes it look great on all devices. It has predefined styling for photographers, creative designers, and design agencies that can be imported with a single click.
Core Minimalist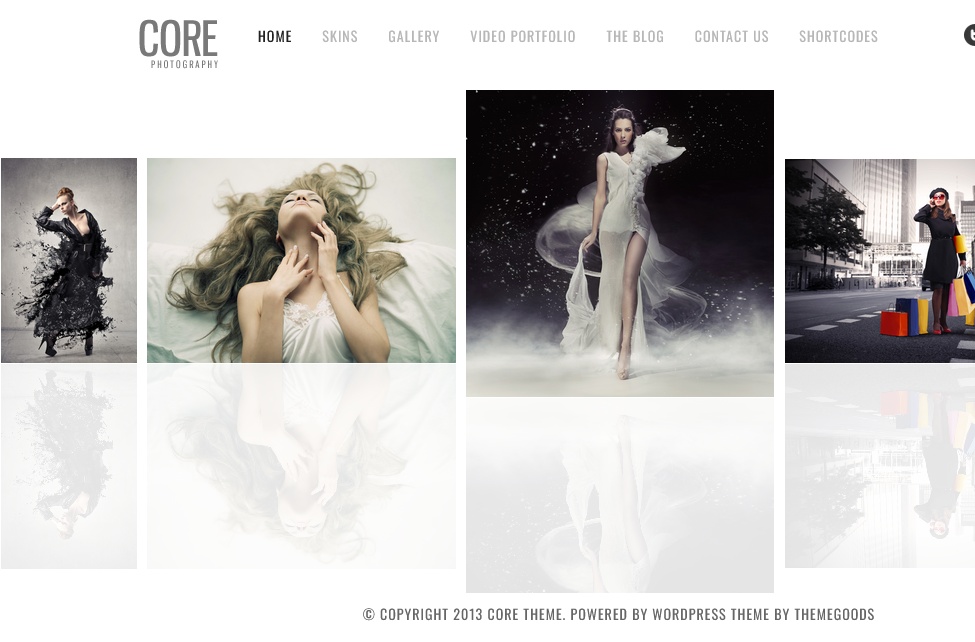 Core is a minimalist photography portfolio and personal website template that is built using the latest WordPress features, including custom post types and image uploaders.
Novo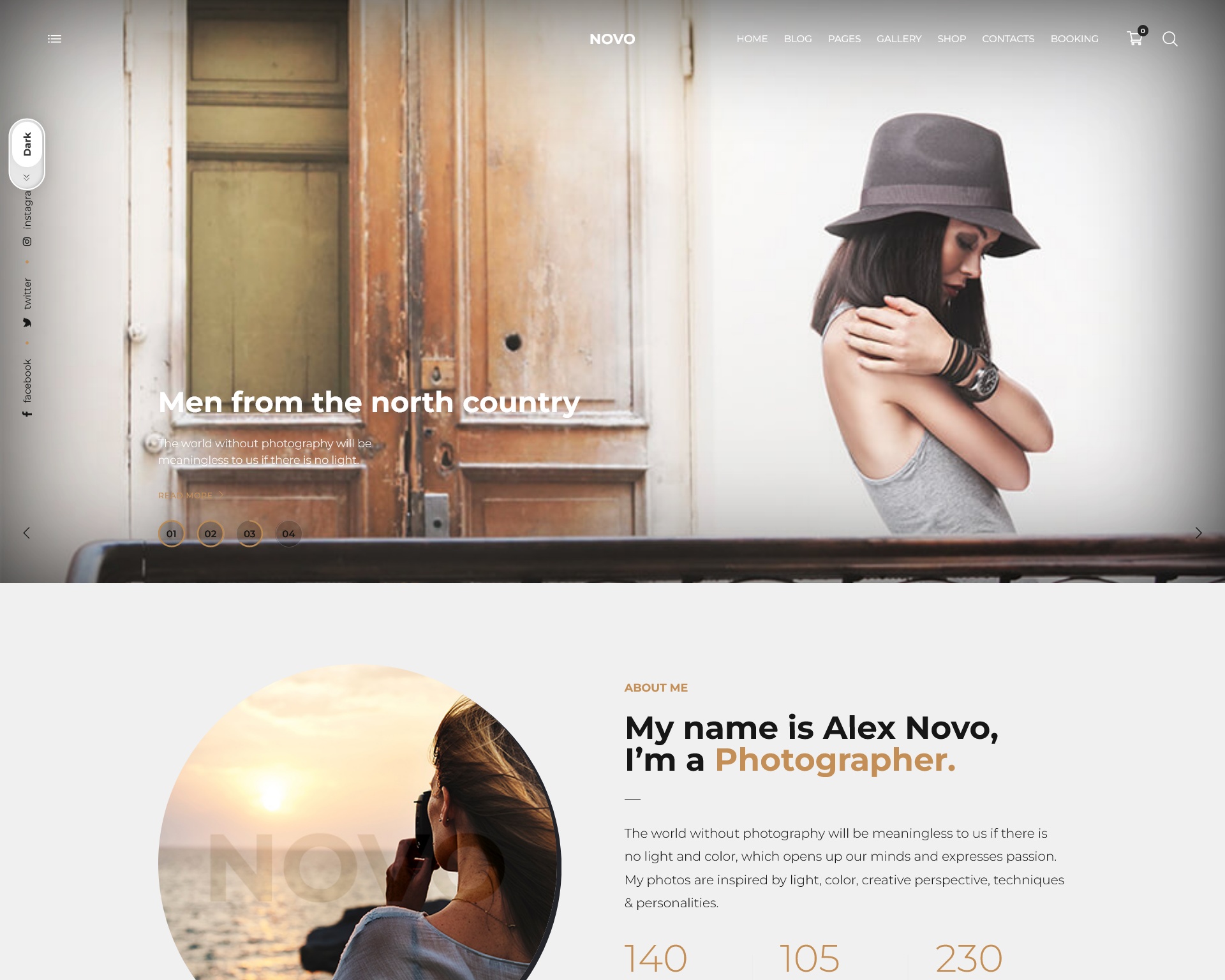 The Photography WordPress theme is an excellent option for creating sites that are unique and beautiful, perfect for photographers, bloggers, photography agencies, photo studios, musicians, videographers, and more. Our goal is to create multiple components that enhance the functionality of your site.
Artwork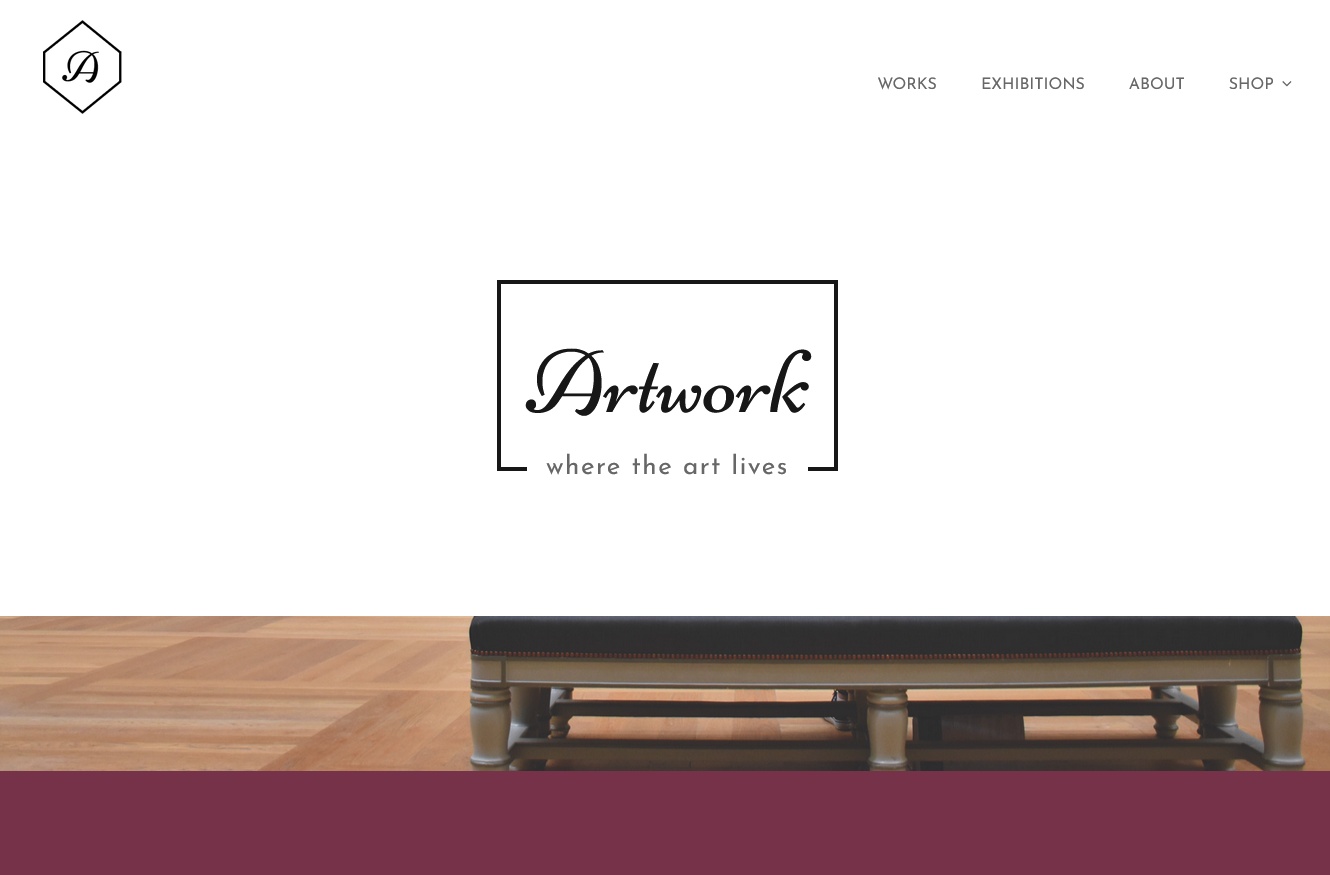 Artwork is a WordPress theme that is both expressive and gracious, suitable for websites related to art and photography. Visitors are fully immersed in your work and able to focus on the smallest details thanks to parallax effects, making the WordPress portfolio theme unique and full of customization options. Fine art creators use the Artwork WordPress theme extensively.
Photo Me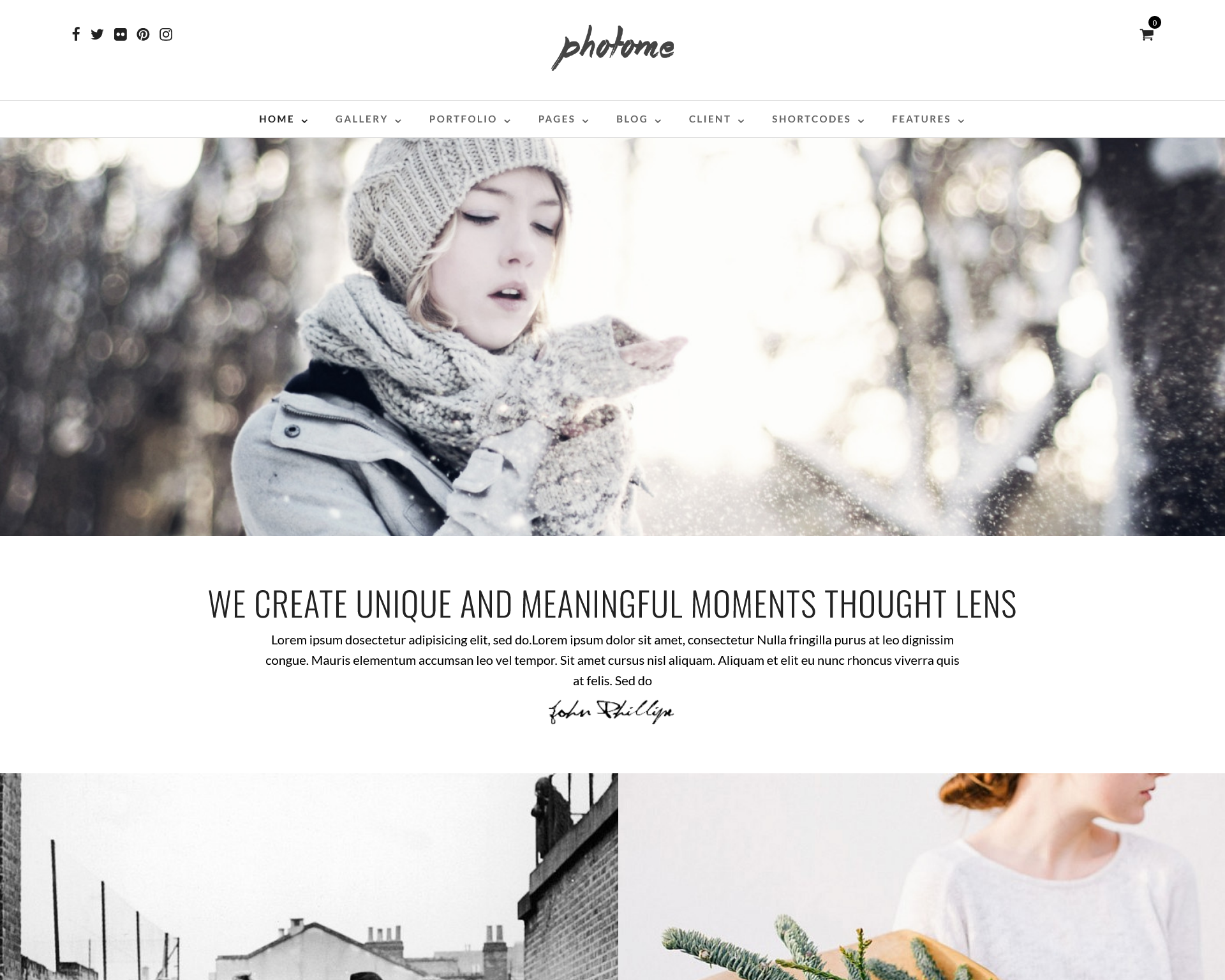 Photo Me is a clean and minimal WordPress theme for a photo, photography, and creative portfolio website. It is built using the latest WordPress technology. Predefined styling for photographers, creative designers, and design agencies can be imported with just one click.
Skylab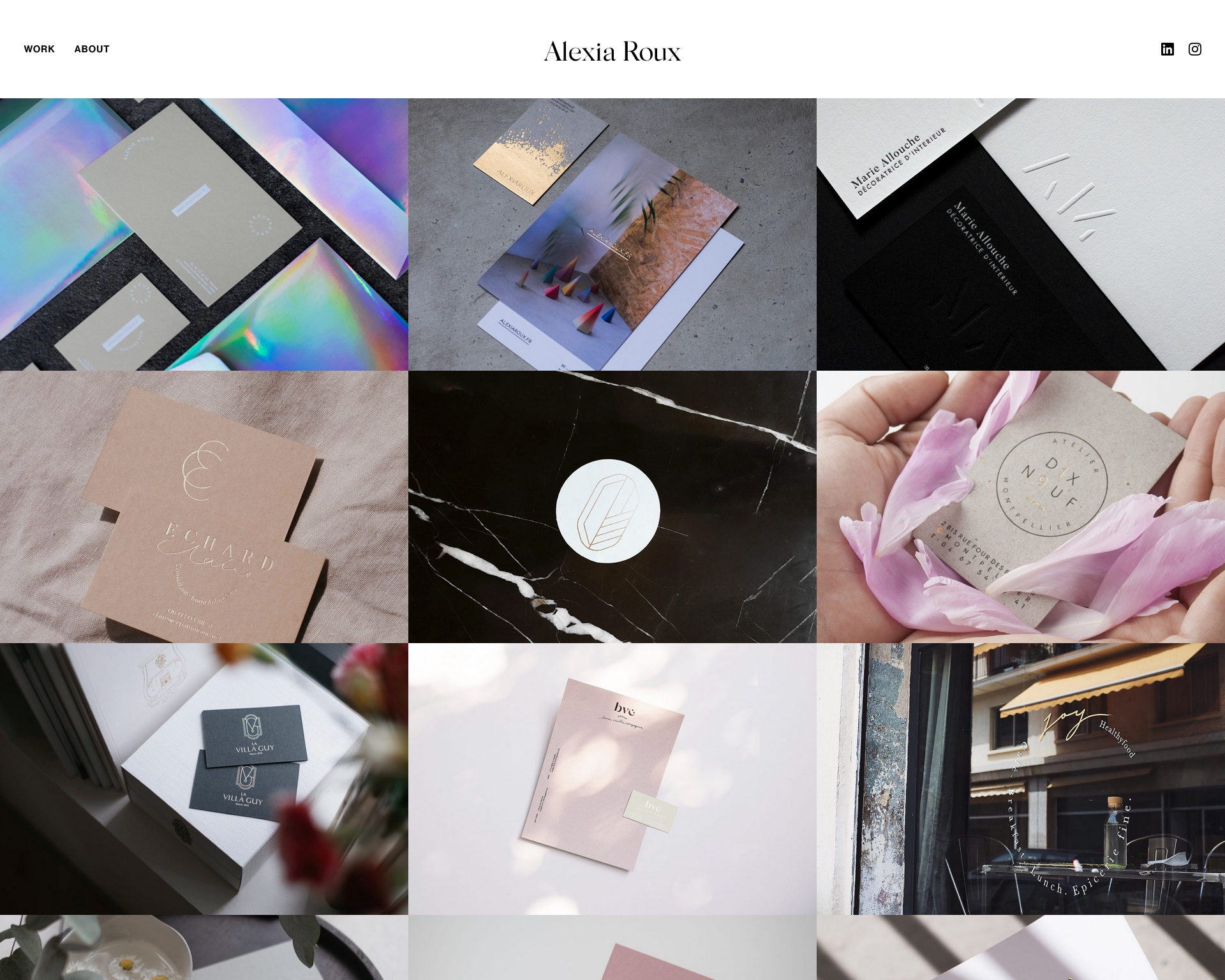 Skylab is a Responsive Creative Portfolio WordPress Theme.
Chroma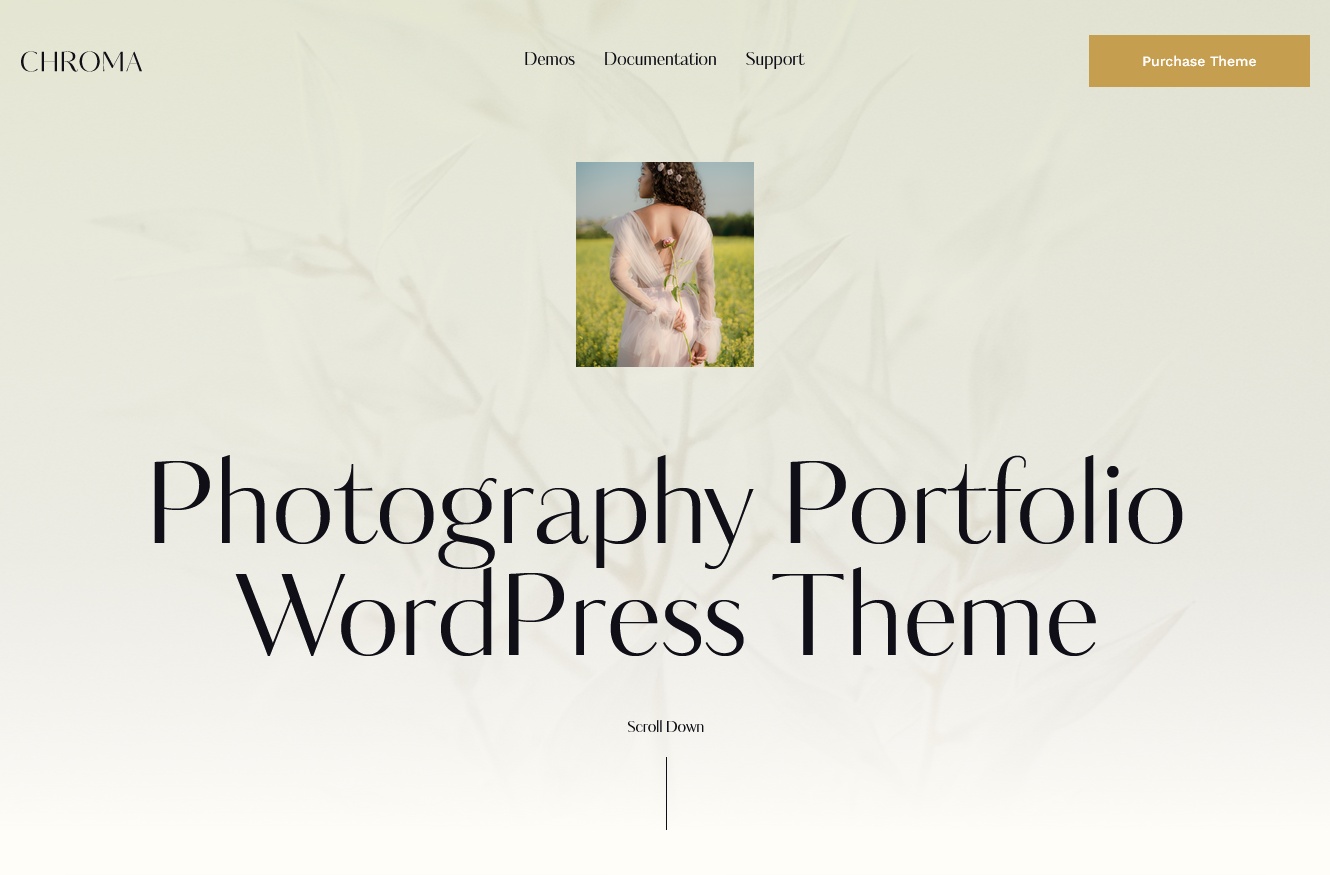 Chroma is a WordPress theme that is responsive, attractive, and refined, and is suitable for event photographers' portfolios and blogs. It is compatible with event wedding bureaus, individual photographers agencies, or online stores that sell photo equipment and goods. It can be utilized as a portfolio for freelance photographers or as a photography blog.
Photographer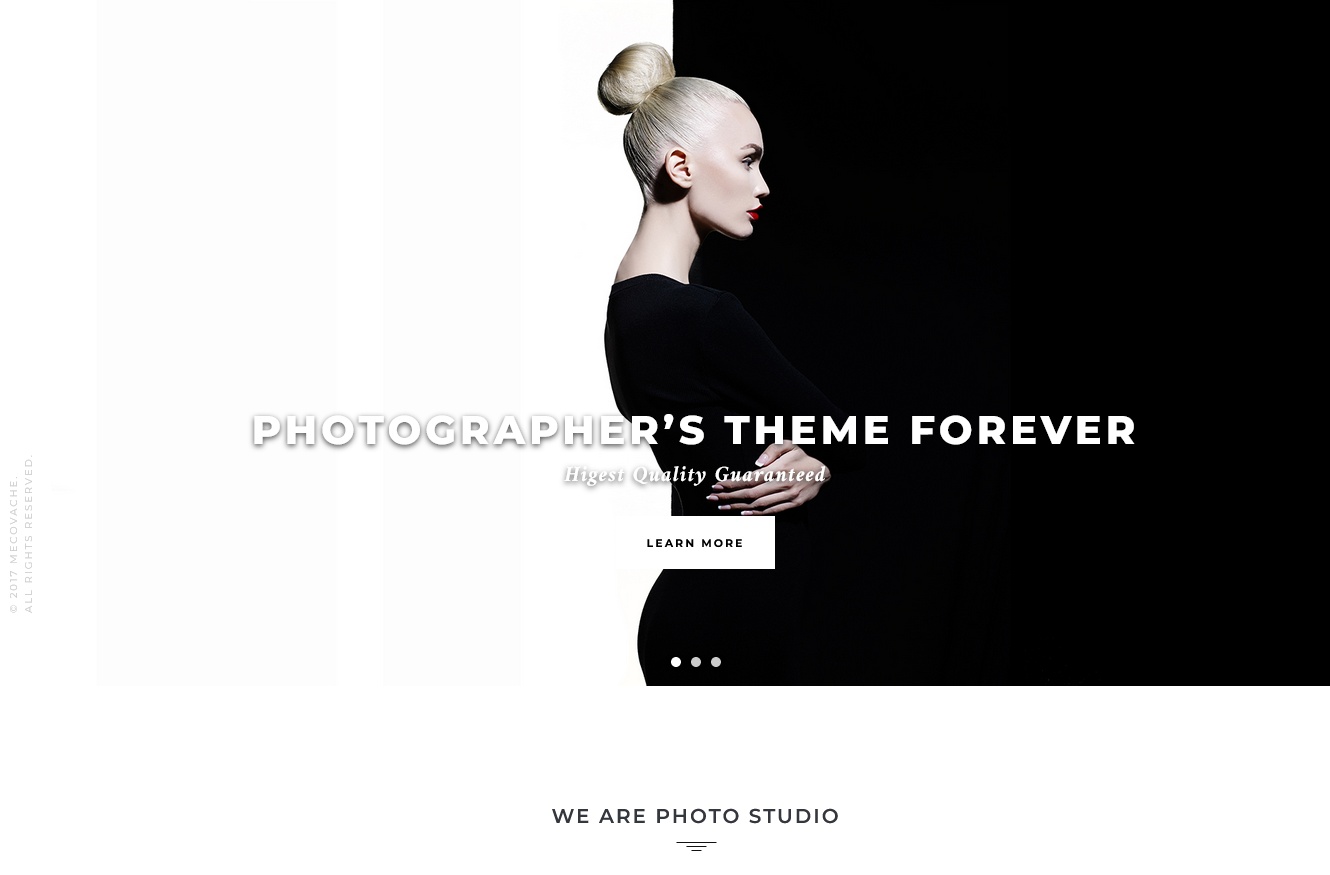 The PHOTOGRAPHER WORDPRESS THEME is advantageous for those who have a genuine interest in photography, such as photographers, gallery owners, or business men who operate in this industry. In case someone lacks experience in web development, the WordPress theme is created for them as CMS handles all the work. The template's design changes depending on the device used to open it, which means it will always look perfect. Photography is a way to attract as many visitors as possible through these sections. For a person who has a strong interest in photography and wants to transfer it to an online platform, WordPress theme features are necessary. This theme has undergone modifications and anyone who is informed can download it for free. Images are only used for promotional purposes and are not included in the pack.
Picszen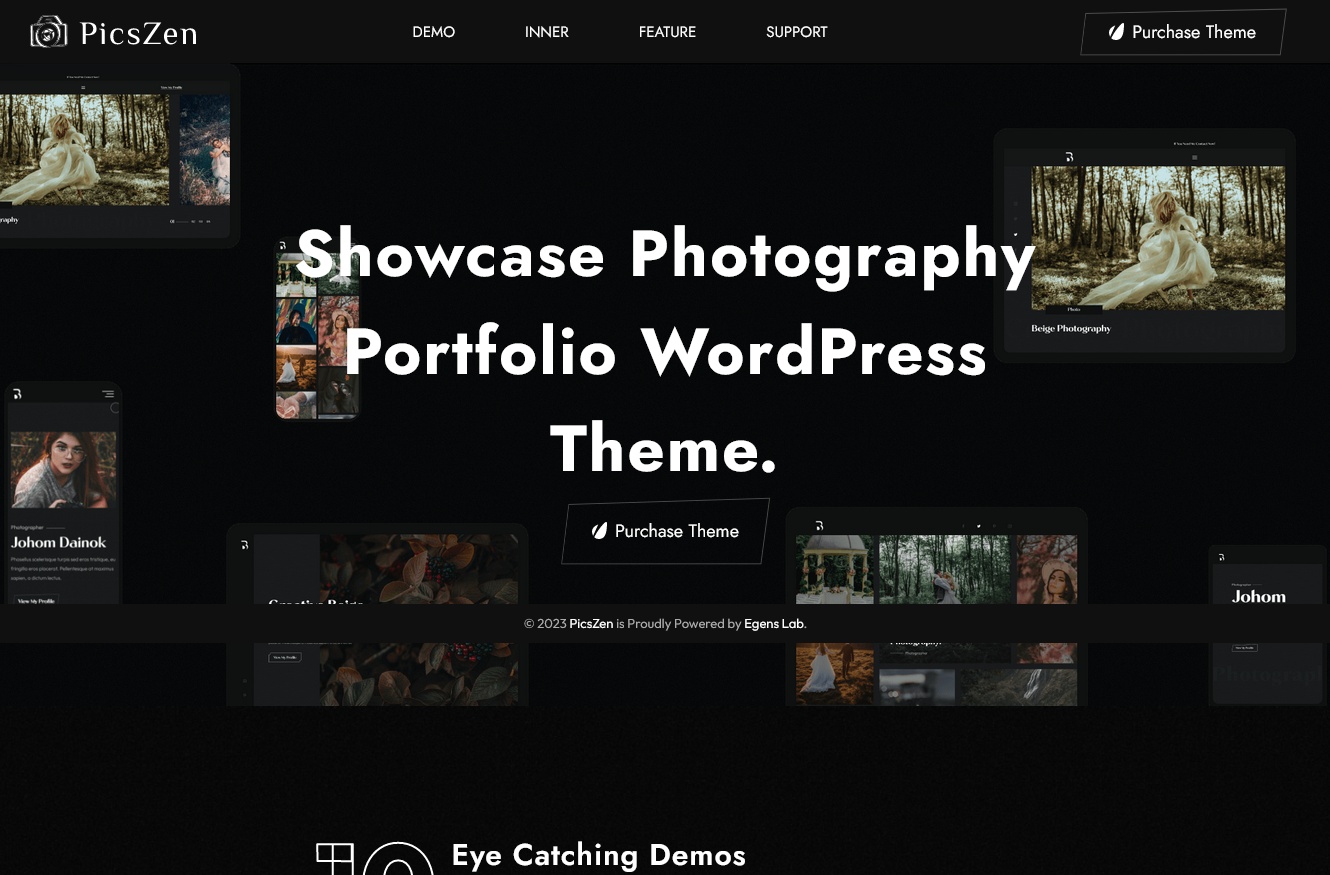 Picszen is a WordPress theme that can be used for both personal photography portfolios and photography companies. Different demo styles, portfolio styles, and gallery features with schedule booking features have been added to explore the passion of photographers. Elementor Page Builder enables anyone to easily customize and use it in the proper way.
Amore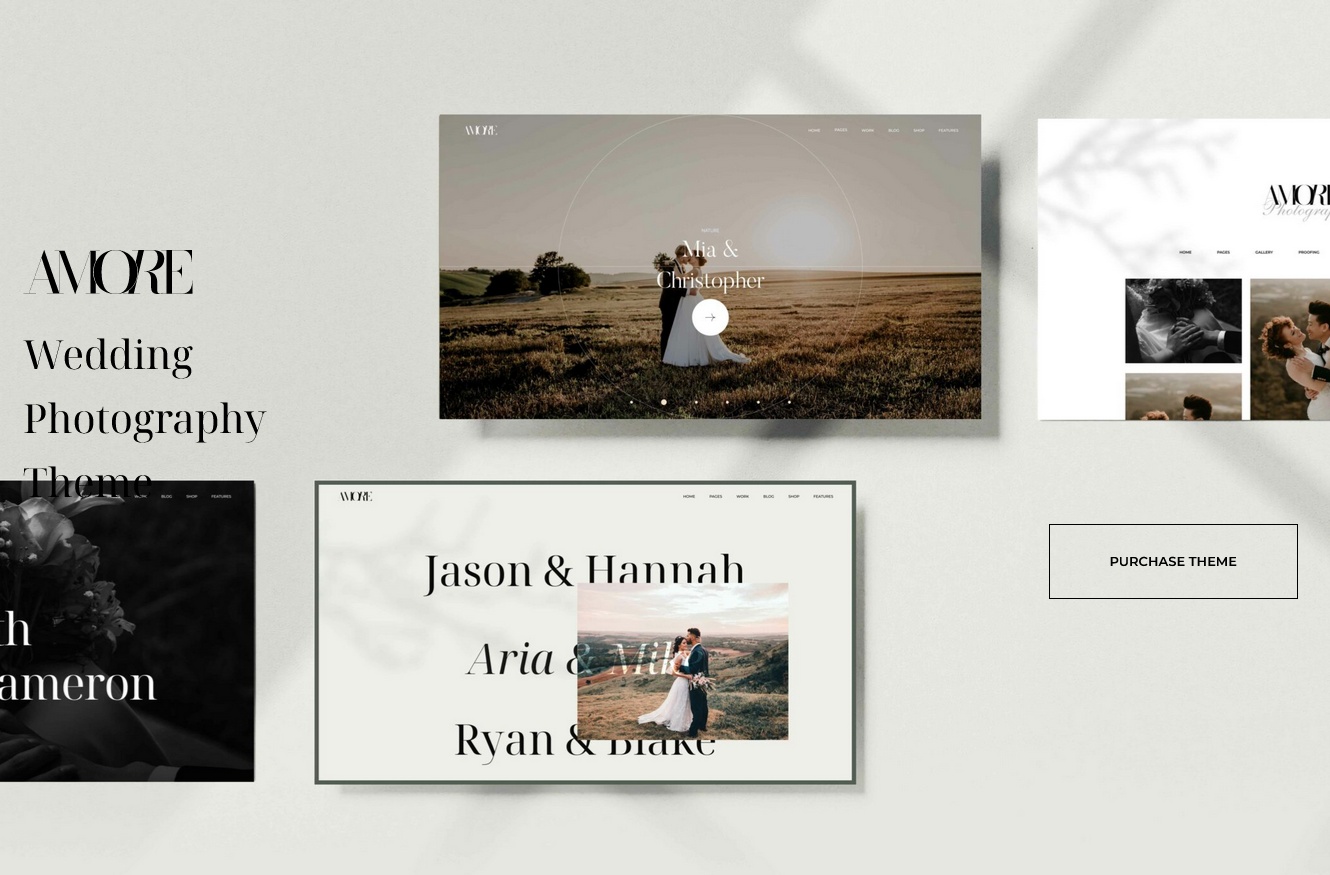 Amore, a WordPress theme, is introducing a new approach to simplicity and sophistication that elevates your website building and design experience. Amore allows you to create a modern multi-concept agency or showcase your best work, impressing clients you've worked with and attracting new prospects. Create a solution that makes sure everyone feels at ease while building and designing their website. Amore is the perfect choice for artists, digital studios, agencies, freelancers, entrepreneurs, and more, as it embodies the spirit of creativity. Amore provides powerful WooCommerce tools to create exquisite eCommerce experiences for your products, allowing you to create a blog to share your knowledge and insights.
Emily Benson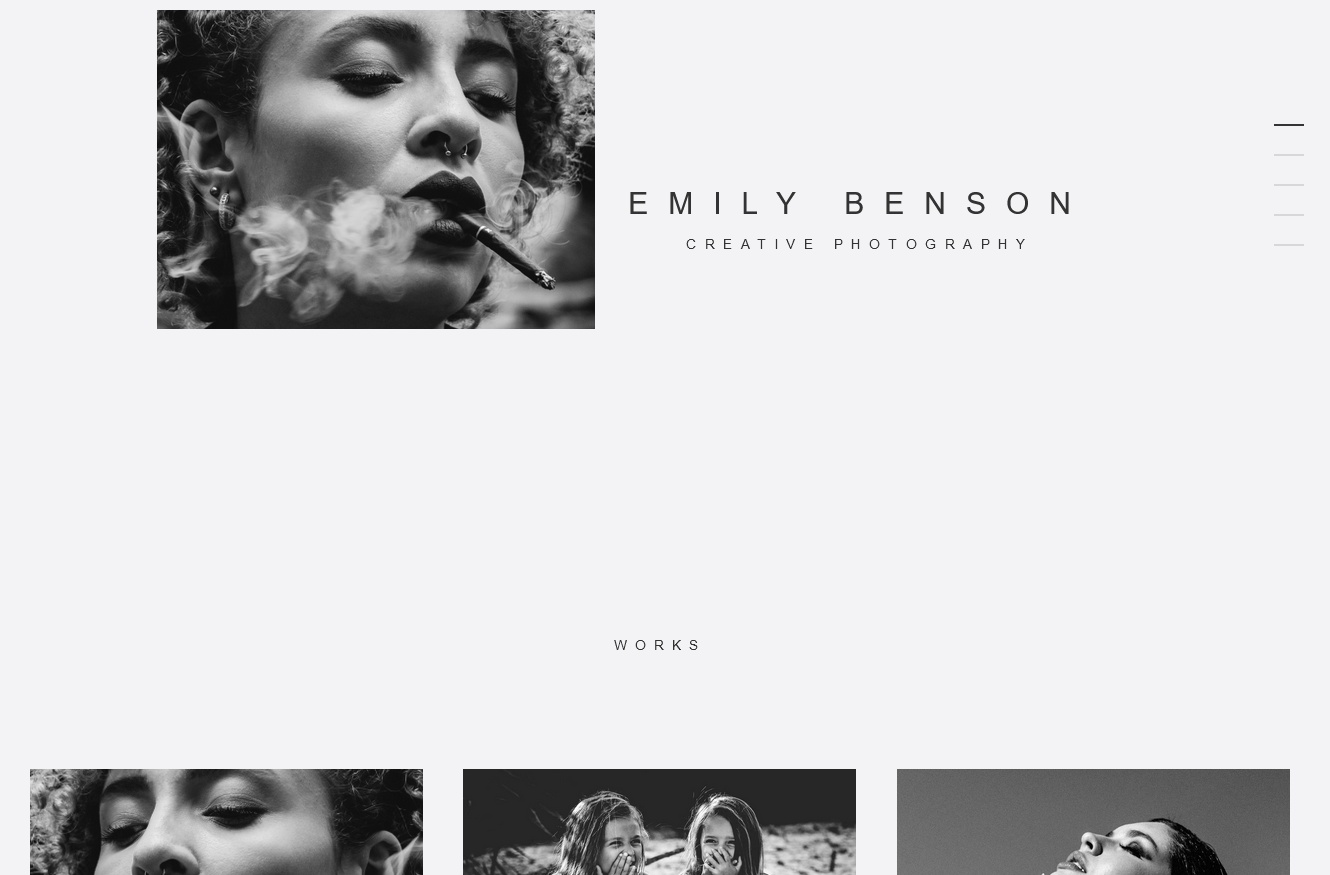 Emily Benson is a modern, monochrome theme that allows you to create your personal website by presenting your portfolio, information about yourself, and all other necessary information. Add useful elements to the page with just a few clicks and adjust their style settings to suit your needs and preferences. Jet plugins for Elementor page builder can be used to make different changes on your website. Using this responsive Emily Benson theme, you can create a website that is both professional and amazing, attracting new clients.