Bootstrap templates are pre-designed website layouts that are built using the Bootstrap framework. These templates provide a foundation for developers and designers to create responsive and visually appealing websites quickly and easily.
Free Bootstrap templates are readily available online, offering a cost-effective solution for individuals and businesses looking to establish an online presence. These templates come with a range of features, including responsive design, customizable components, and a variety of page layouts.
By utilizing free Bootstrap templates, developers can save time and effort in designing websites from scratch. They can leverage the ready-made components and styles provided by these templates to create professional-looking websites without the need for extensive coding knowledge.
Bootstrap templates cater to various industries and purposes, such as e-commerce, portfolio websites, blogs, corporate sites, and more. With their flexibility and versatility, these templates can be customized to suit specific branding requirements or project needs.
In addition to being free of charge, Bootstrap templates also benefit from regular updates from the open-source community. This ensures that they remain compatible with the latest web standards and technologies.
Overall, free Bootstrap templates offer an accessible solution for individuals or businesses seeking visually appealing website designs without the need for extensive coding skills or financial investment.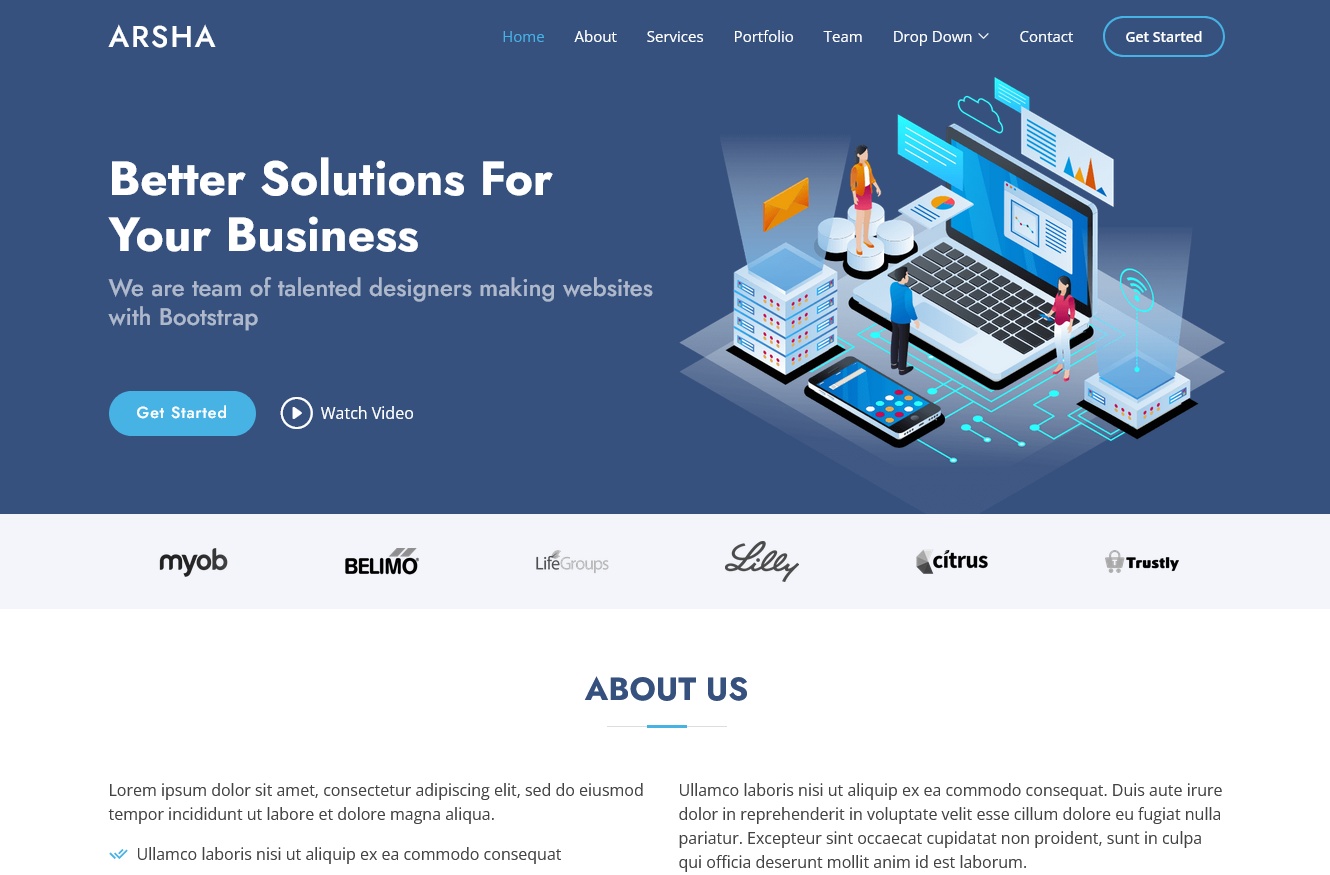 Arsha is a Bootstrap template that is clean, modern, and specifically designed for startups, apps, and IT services. With the pixel-perfect layout and neat sectioning of this template, you can quickly create a professional-looking website for your business. Your content can be showcased on mobile devices like smartphones, tablets, and other types of devices.
Gp Bootstrap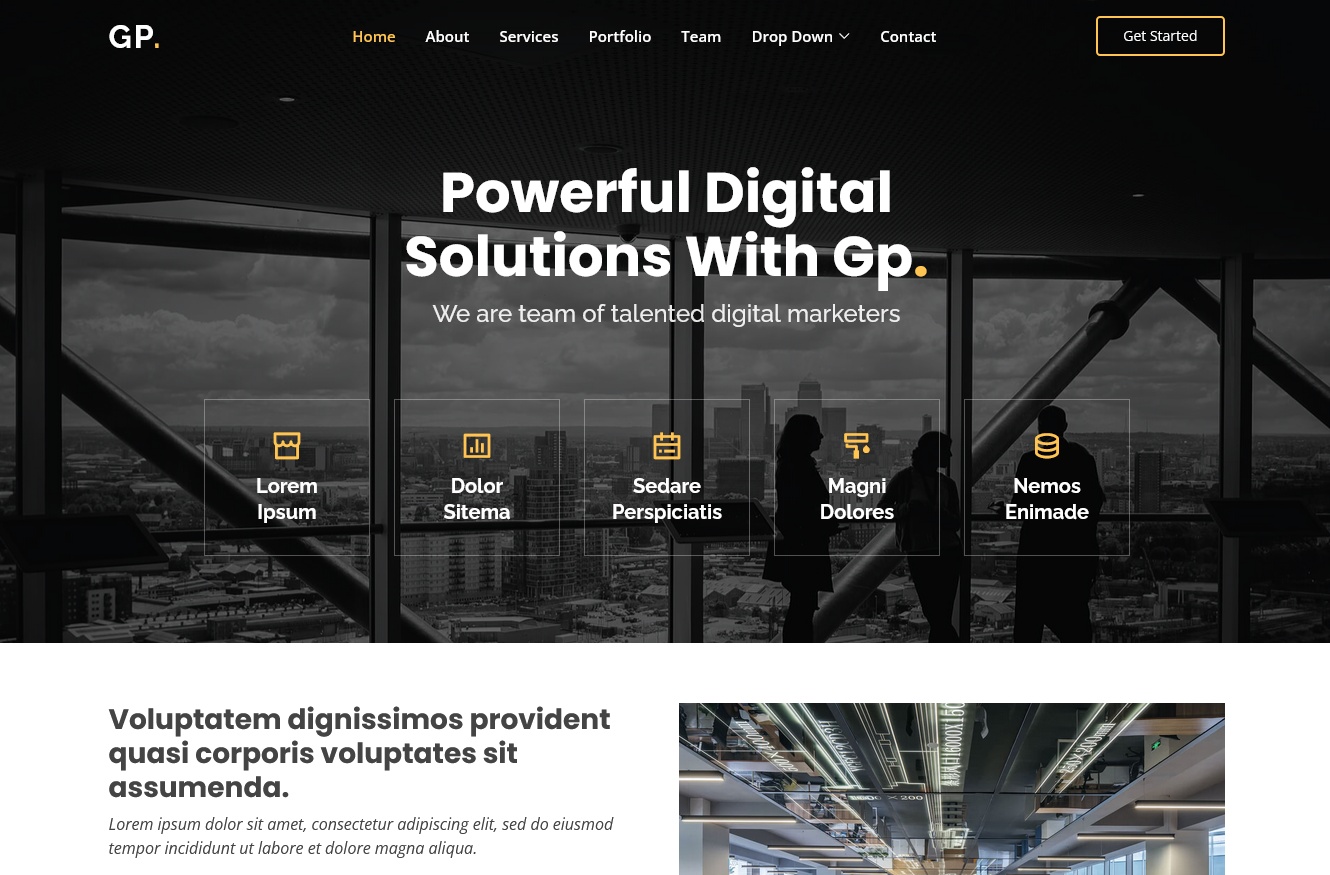 Gp is a website template that is both clean and modern, and it was created using the Bootstrap framework. Gp could be easily modified to fit a variety of websites. Designers, artists, companies, photographers, videographers, and architects can benefit from this professional and powerful business consulting template that has been meticulously crafted.
Multipurpose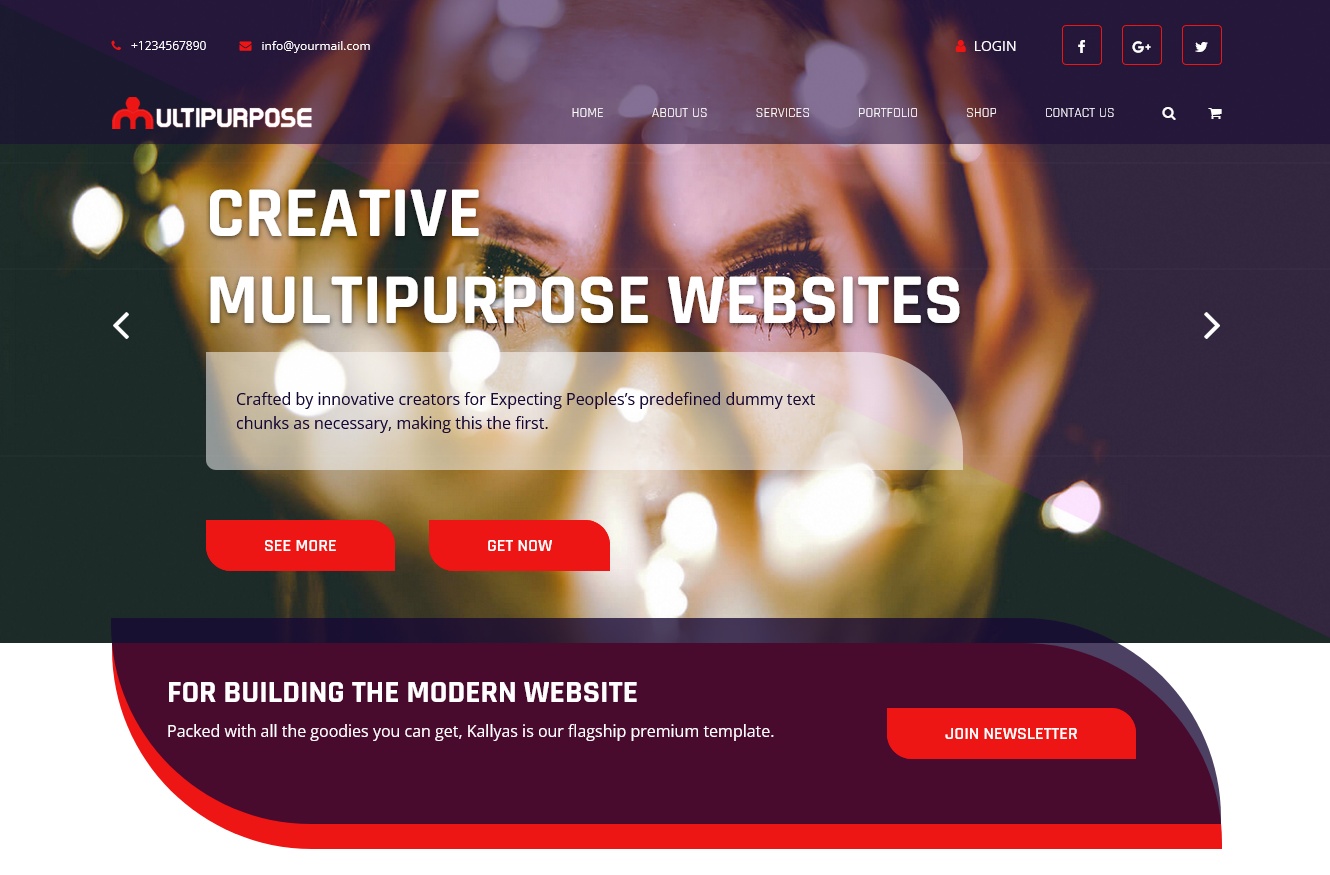 Multipurpose is a Free Fully Responsive Website Template. This template can be utilized to create a variety of stylish websites. Features are Bootstrap 4, Responsive, Unique design, Call-to-action buttons, Features section, Carousels, Testimonials and more.
PhotoFolio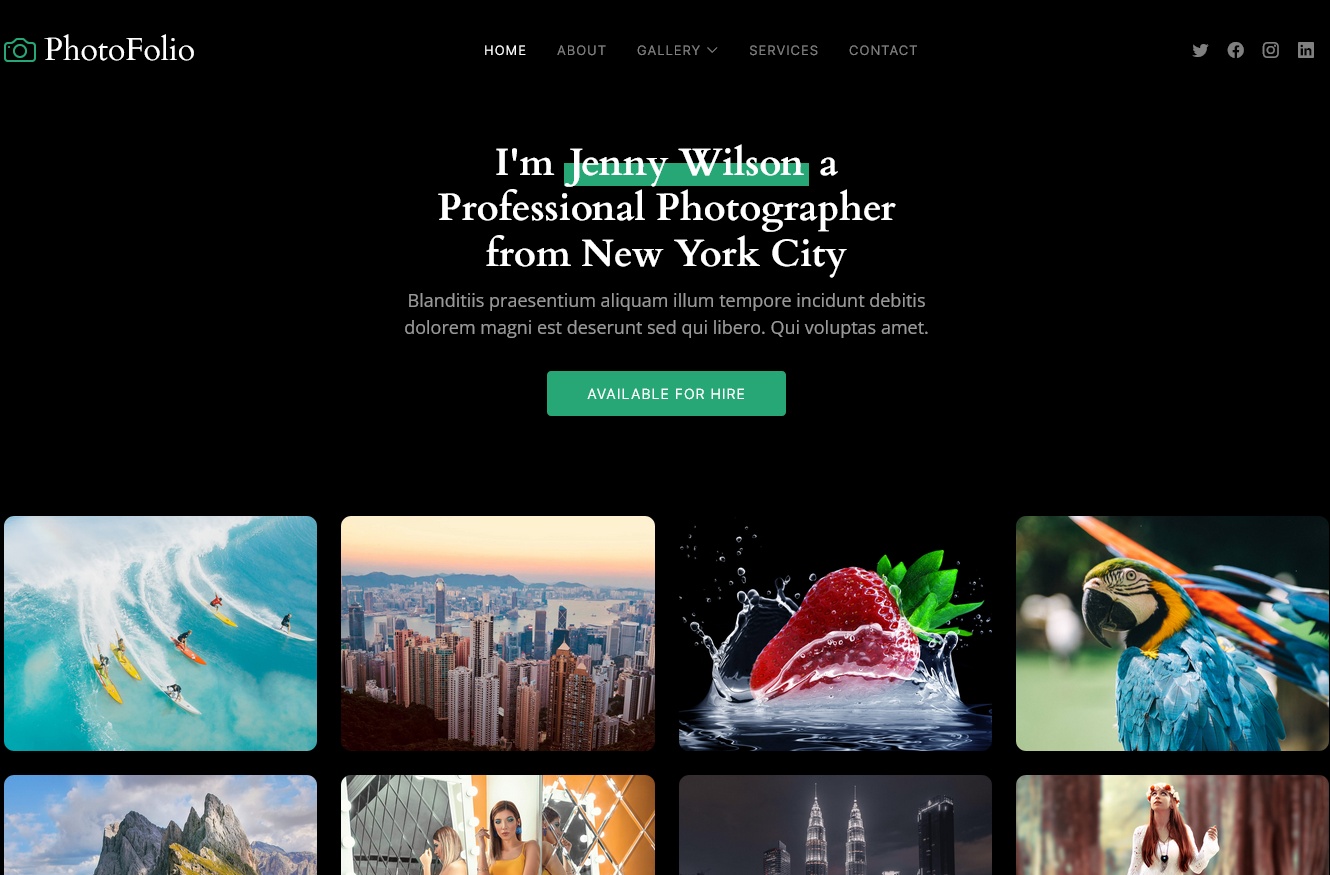 The Bootstrap framework was used to build PhotoFolio, an elegant and creative photography website template. PhotoFolio's gallery layout is both simple and easy to use, enabling you to create unlimited galleries and individual project gallery pages. PhotoFolio is fully customizable and can be used on all modern browsers and device widths, including mobile phones, tablets, desktop computers etc. For photographers, designers, and those who require a simple, attractive, and effective method of sharing their creative work online.
Creative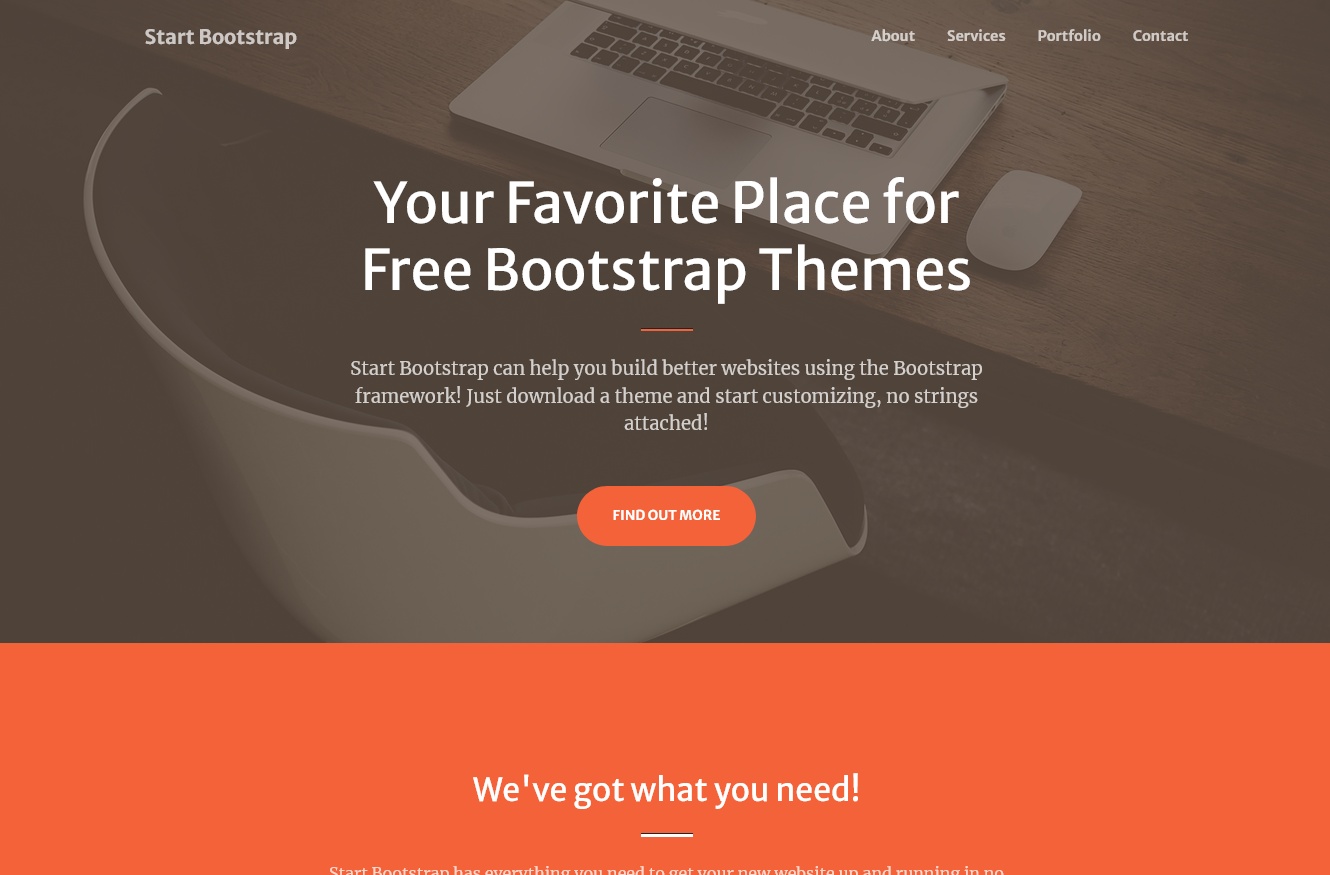 A Bootstrap theme with a one-page layout that is ideal for creative portfolios and businesses. The combination of a modern, flat design style and rich features and plugins makes this theme a great boilerplate for your next Bootstrap-based project. Creative is a Bootstrap theme that can be used for creatives, small businesses, and other multipurpose purposes.
Yummy Bootstrap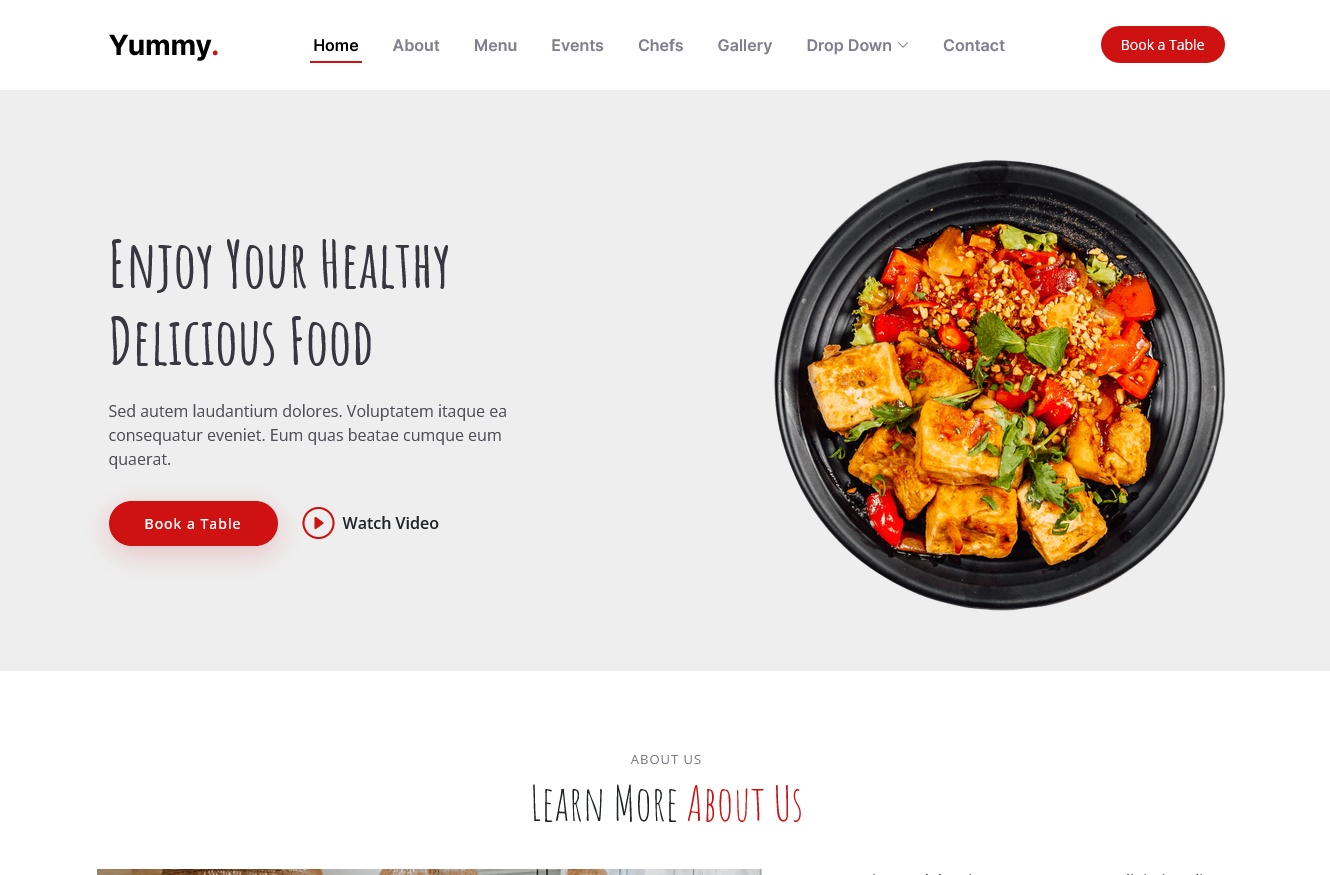 Creating a beautiful restaurant website is made easy by Yummy. The latest version of the Bootstrap framework was used to create Yummy, a restaurant website template that is clean and lightweight. It's designed specifically for restaurants, cafes, bakeries, bars, catering. To promote your food-related businesses, this is an effective and attractive way for anyone working in the food industry.
Waso Strategy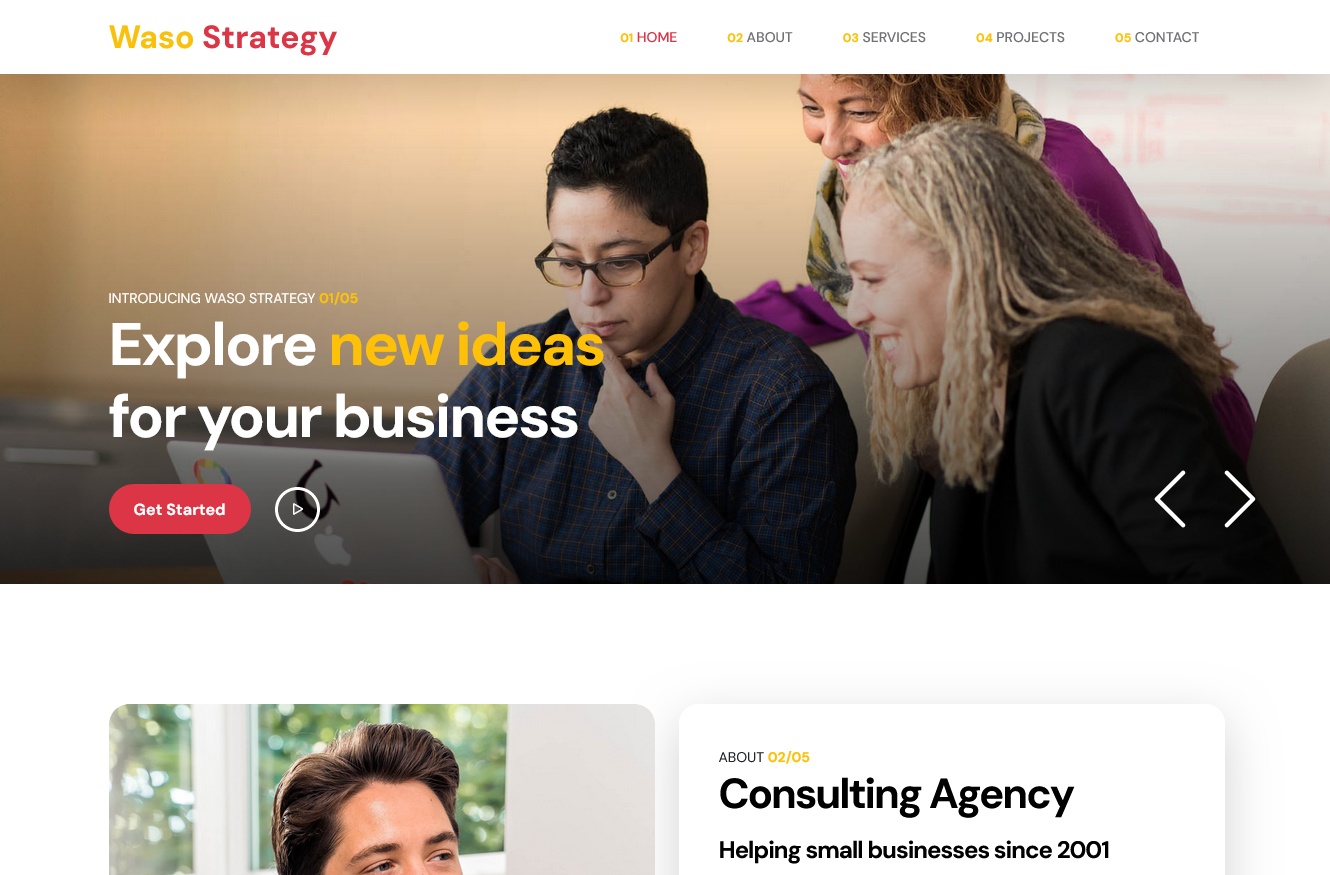 This template is permissible for your commercial project. Waso is a Bootstrap 5 HTML template that is free to use for your business website. The project gallery section utilizes the zoom-in hover effect. The contact form is included, and you can expand it to include more pages as needed for your project.
Nova Bootstrap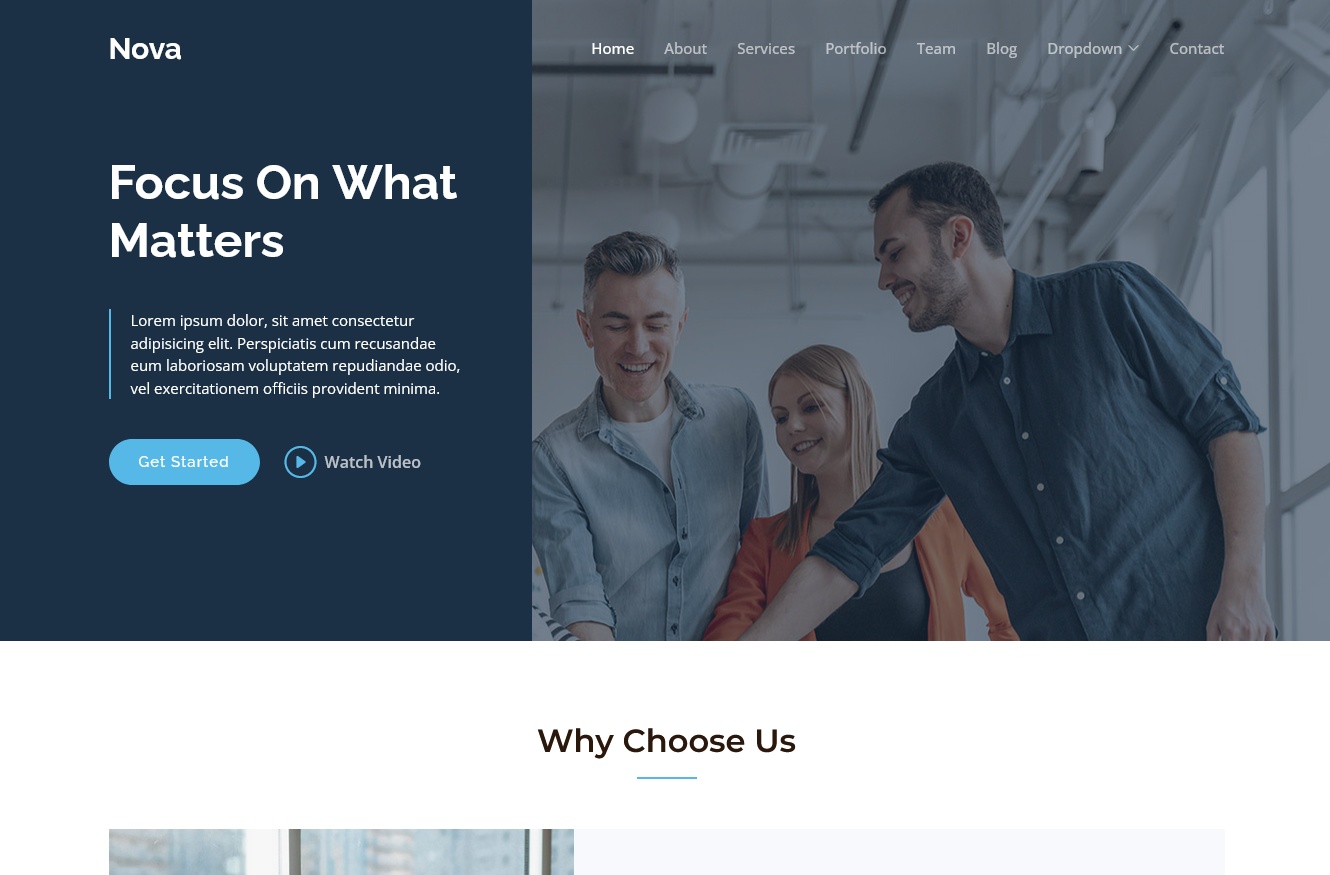 Nova is a modern business bootstrap template that is highly suitable for consulting agencies, finance, consultants, advisors, businesses, and other agencies and businesses. Nova is a website designed for small or large businesses, featuring professional services and portfolios, a blog, pricing, and other internal pages. Nova is a template that is fully responsive and optimized for mobile-friendly websites and applications. Nova is an option for you to present your new business website with a creative design.
Solution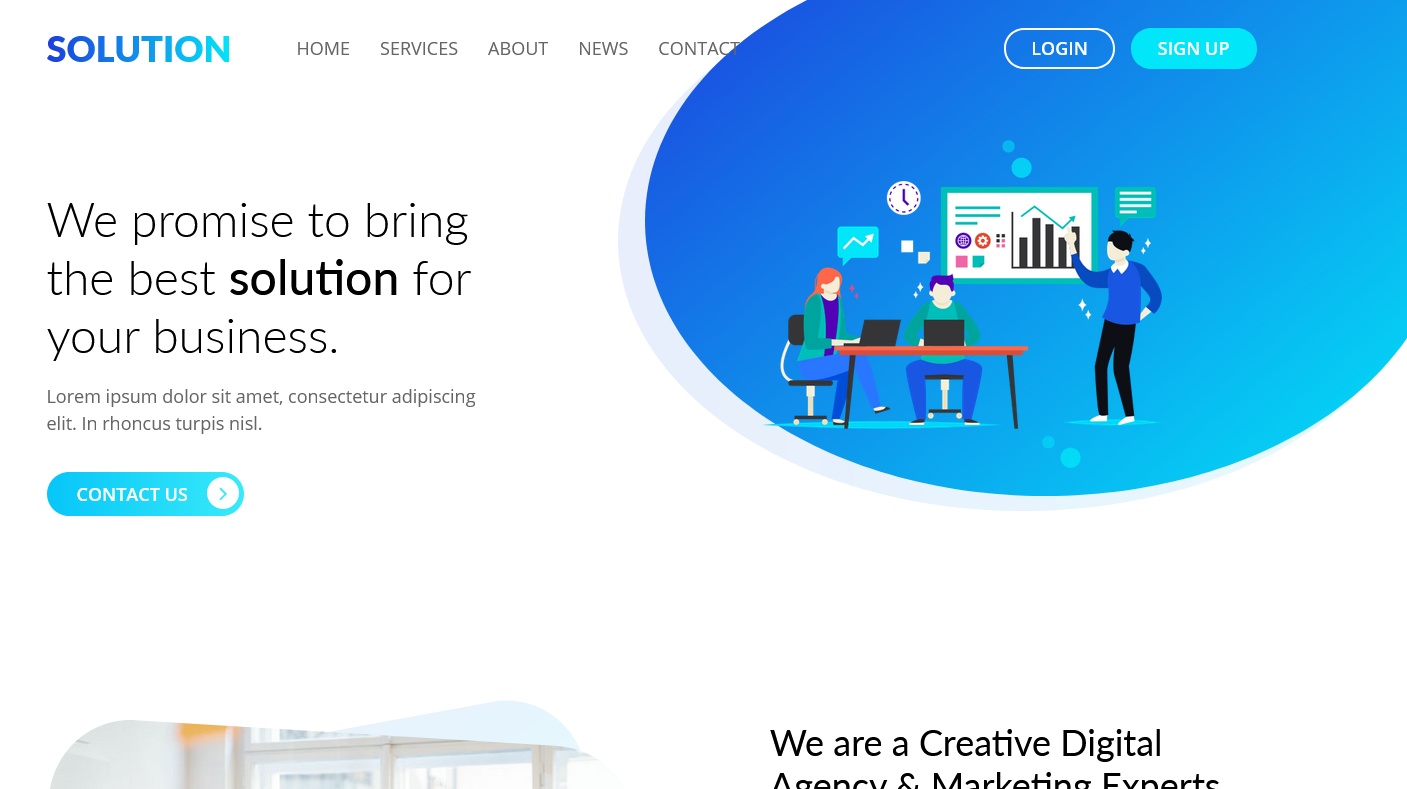 Our team created a free HTML5 bootstrap template called Solution. Smooth gradients, slick CSS clip-path shapes, an owl carousel, and many other features are available in this template. This is suitable for marketing agencies, SaaS companies, or any type of website.
Zen Blog Bootstrap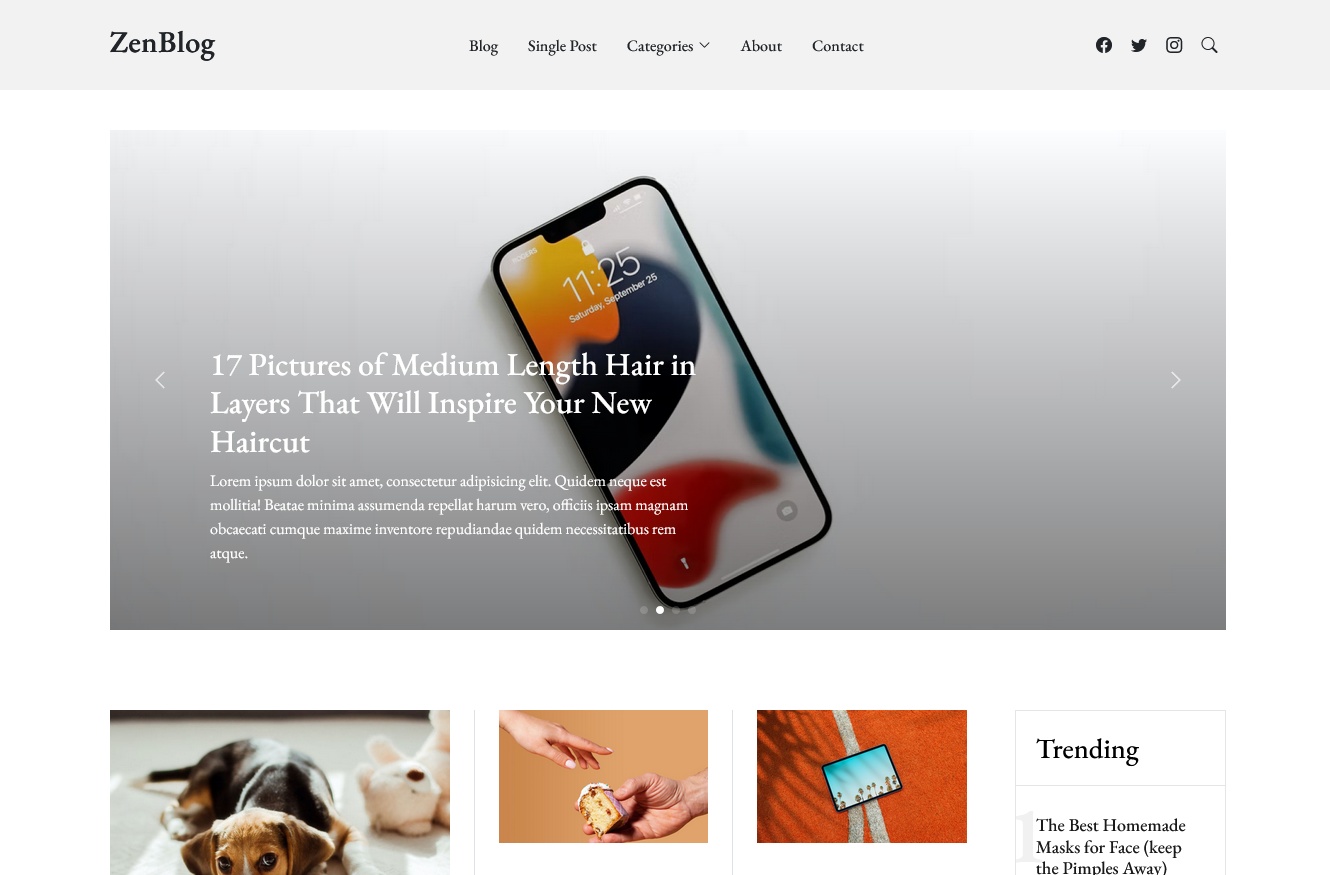 ZenBlog's Bootstrap blog template is both lightweight and clean. ZenBlog is completely responsive and works flawlessly on all devices. The ideal blog-magazine template is one that is elegant, modern, clean, and trendy. Personal blogs, magazine websites, newspapers, or any particular category that includes fashion, travel, tour agencies, beauty, health, lifestyle, or any magazine sites.
Moso Interior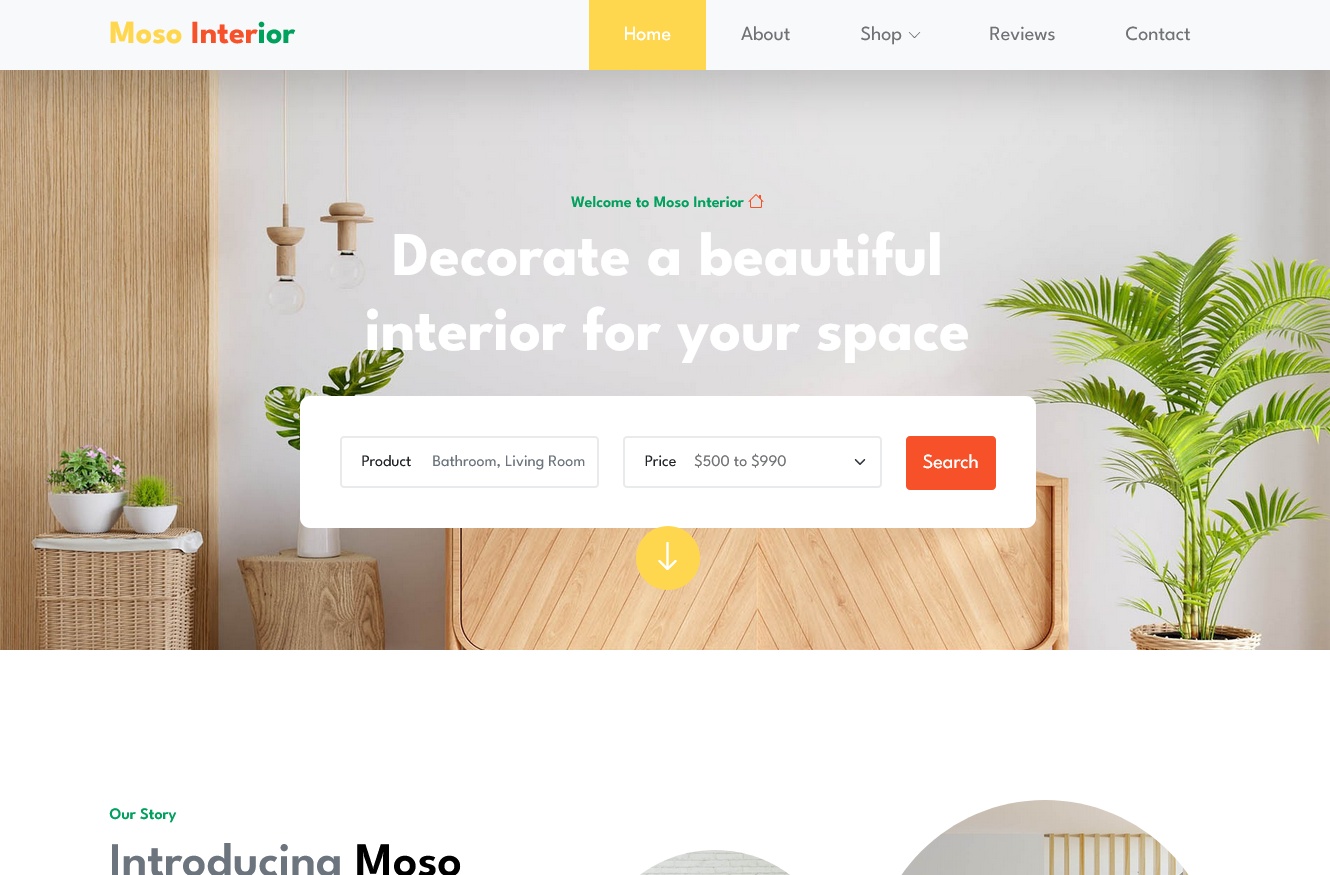 The Moso Interior HTML CSS template can be advantageous for a company website. There are pages for both shop product listing and product details. This template can be utilized for your commercial project.
Medilab Bootstrap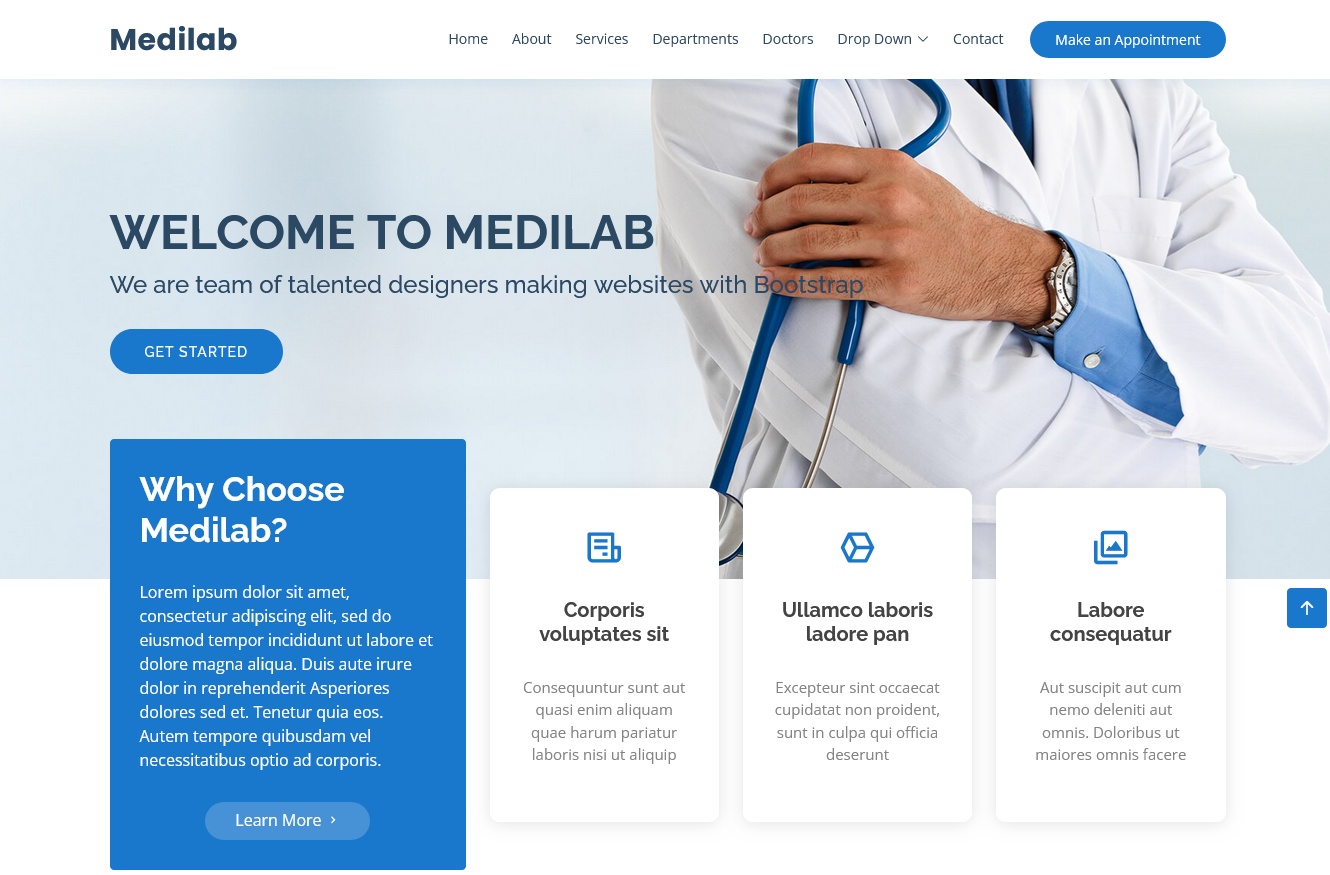 Medilab is a template for bootstrap that is clean, free, and responsive. Medical purposes were the focus of the development and design of this free website template. Medilab is suitable for hospitals, doctors, clinics, medical, health, and other medical facilities. The special features of this template include appointment forms, services, doctors, gallery items, testimonials, and much more.
Mentor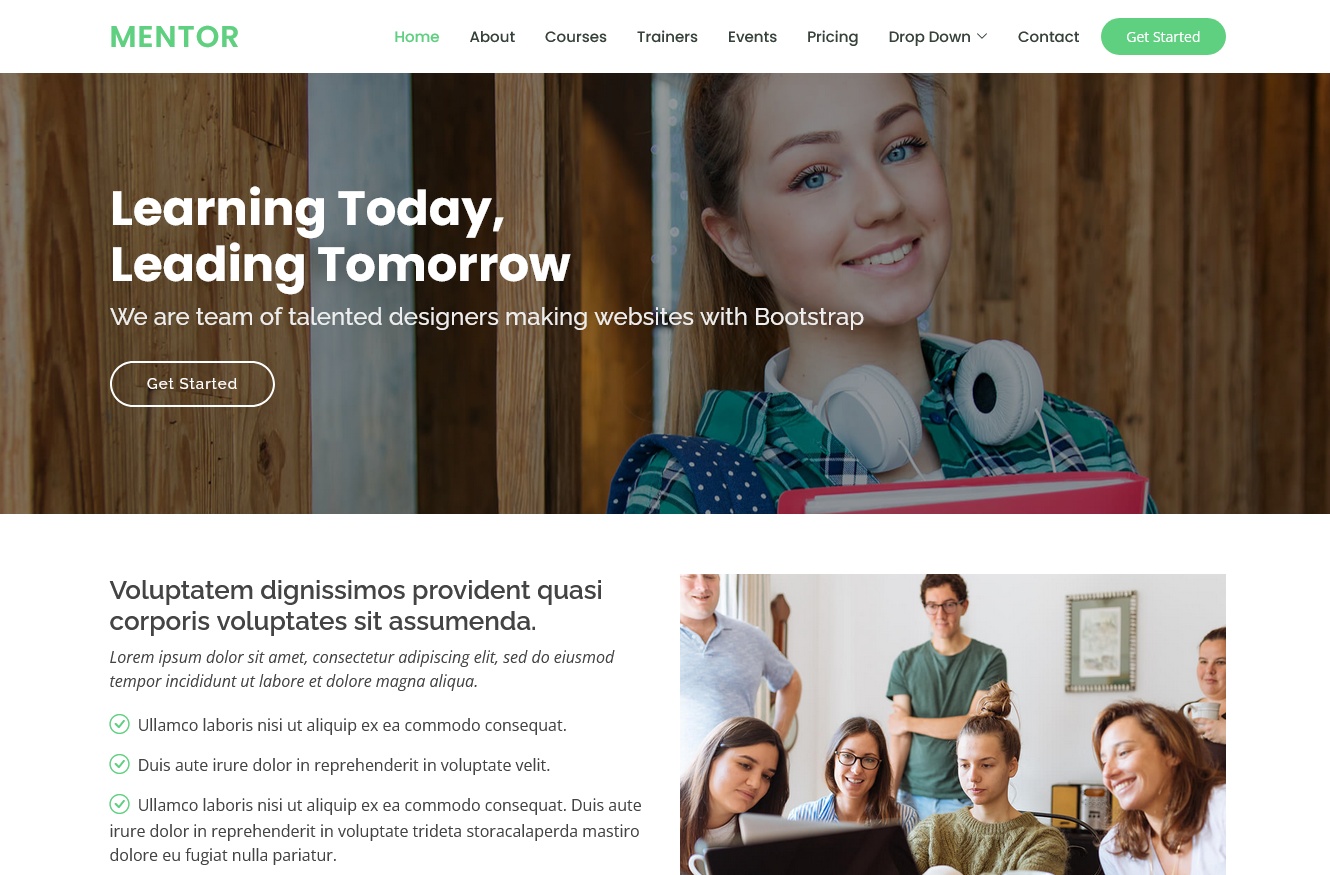 The Bootstrap framework is the basis of Mentor, a modern and creative education website template. Mentor is made up of well-organized components that are easy to customize. Ideal for any kind of education, online learning center, academy, or other educational activities. Different page styles, including about, courses, trainers, and other pages, are available in this free website template. It can be used on various displays and resolutions, including regular desktop screens, tablets, iPads, iPhones, and small mobile devices.
Stylish Portfolio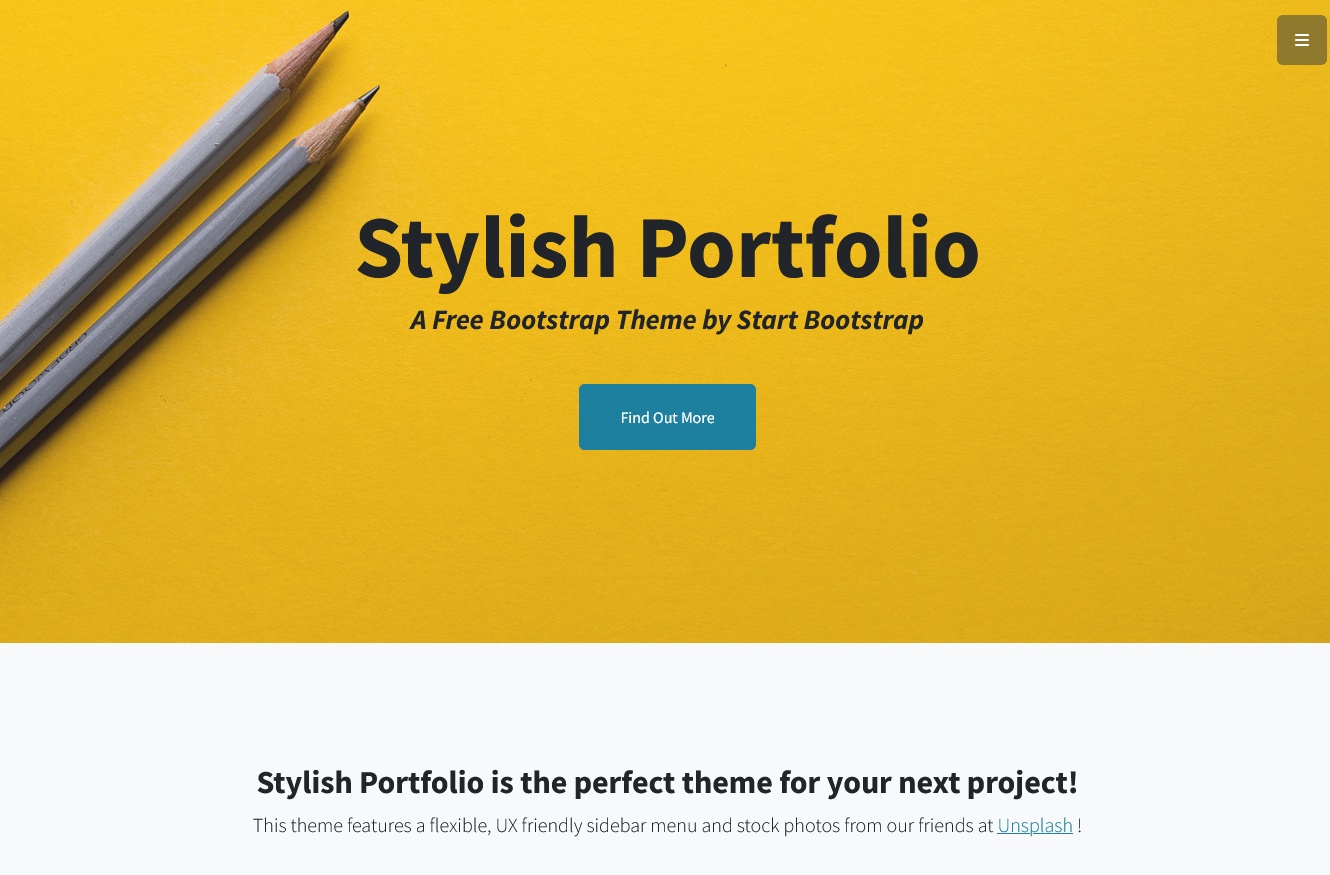 Stylish Portfolio is a Bootstrap portfolio theme that features canvas navigation and smooth scrolling through content sections on one page.
Personal Bootstrap
Personal is a portfolio, resume, and CV template that is clean, minimal, and professional. The Bootstrap framework's latest version is used to build Personal and it works flawlessly on all devices and screen sizes. Anyone who wants a personalized portfolio and resume website with a unique style can use this template. Personal can help you create a professional-looking portfolio and resume website today.