Automobile WordPress themes are specifically designed templates for websites related to the automobile industry. These themes offer a range of features and functionalities tailored to meet the specific needs of automotive businesses, such as car dealerships, auto repair shops, car rental services, and more.
WordPress themes in general are pre-designed layouts that can be easily installed and customized on a WordPress website. They allow users to quickly create professional-looking websites without needing extensive coding knowledge or design skills.
When it comes to automobile WordPress themes, they often come equipped with features like vehicle listings, search filters, inventory management systems, appointment booking capabilities, and integration with popular plugins for enhanced functionality.
These themes provide a visually appealing and user-friendly interface that is optimized for showcasing automobiles and related services. They typically include customizable options for colors, fonts, layouts, and images to ensure that the website aligns with the brand identity of the business.
By using an automobile WordPress theme, automotive businesses can save time and effort in building their online presence. These themes offer a convenient solution for creating attractive websites that effectively showcase their products or services while providing a seamless user experience for visitors.
Whether you are an auto dealer looking to showcase your inventory or an auto repair shop wanting to promote your services online, utilizing an automobile WordPress theme can help you create a professional website that meets your specific requirements.
Automobile Shop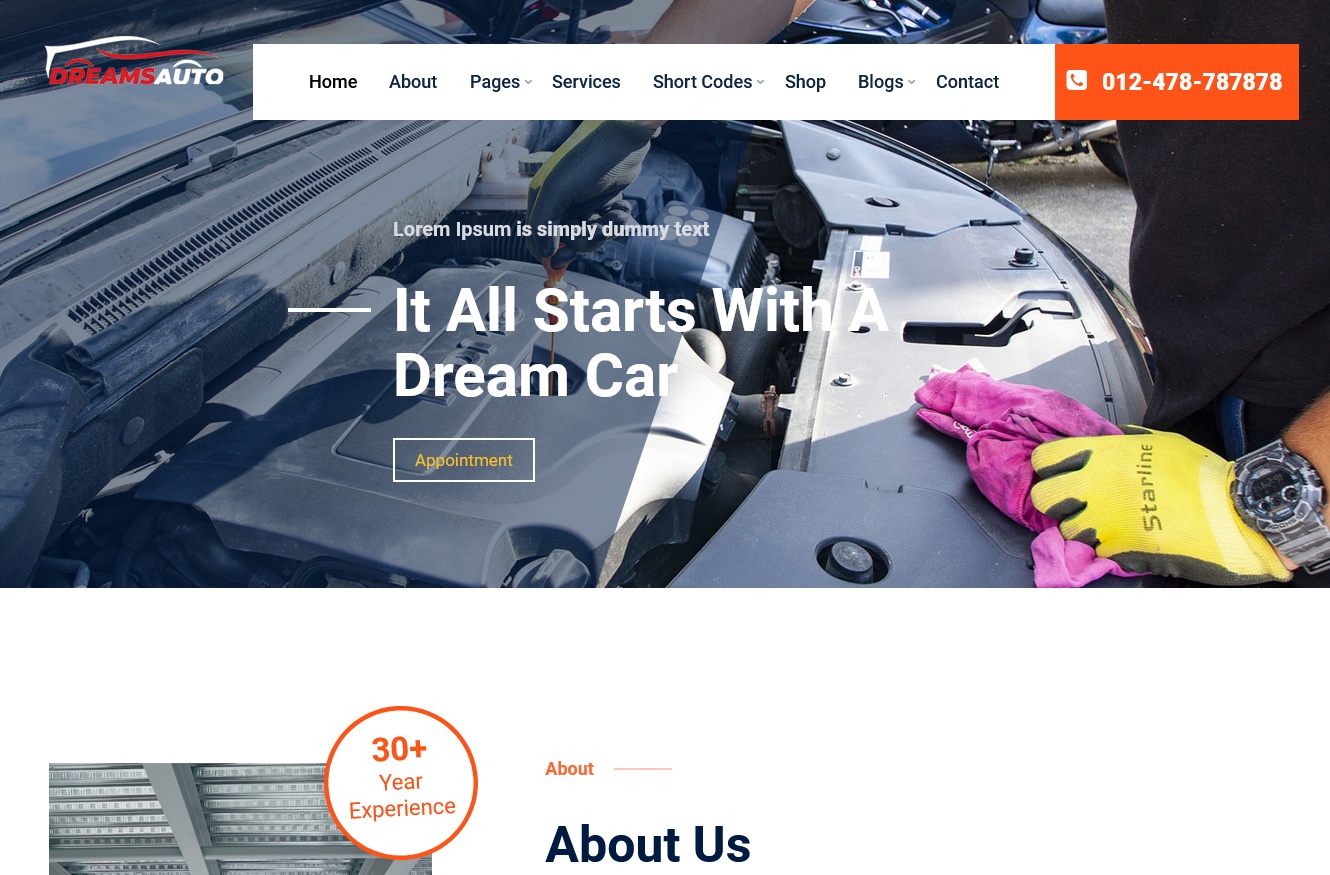 Automobile Shop is a WordPress theme that is based on Bootstrap and has a simple, sleek, clean, and minimal design that is suitable for businesses that sell car parts. The sale of bike or automobile parts, car parts, operating a car garage or auto shop, car washing center, selling car accessories, etc. The design of this theme is beautiful, responsive, and can adjust to various screens and devices automatically. Your website will have better SEO rankings and get noticed online with HTML codes that have been well-tested and written cleanly.
Automobile Hub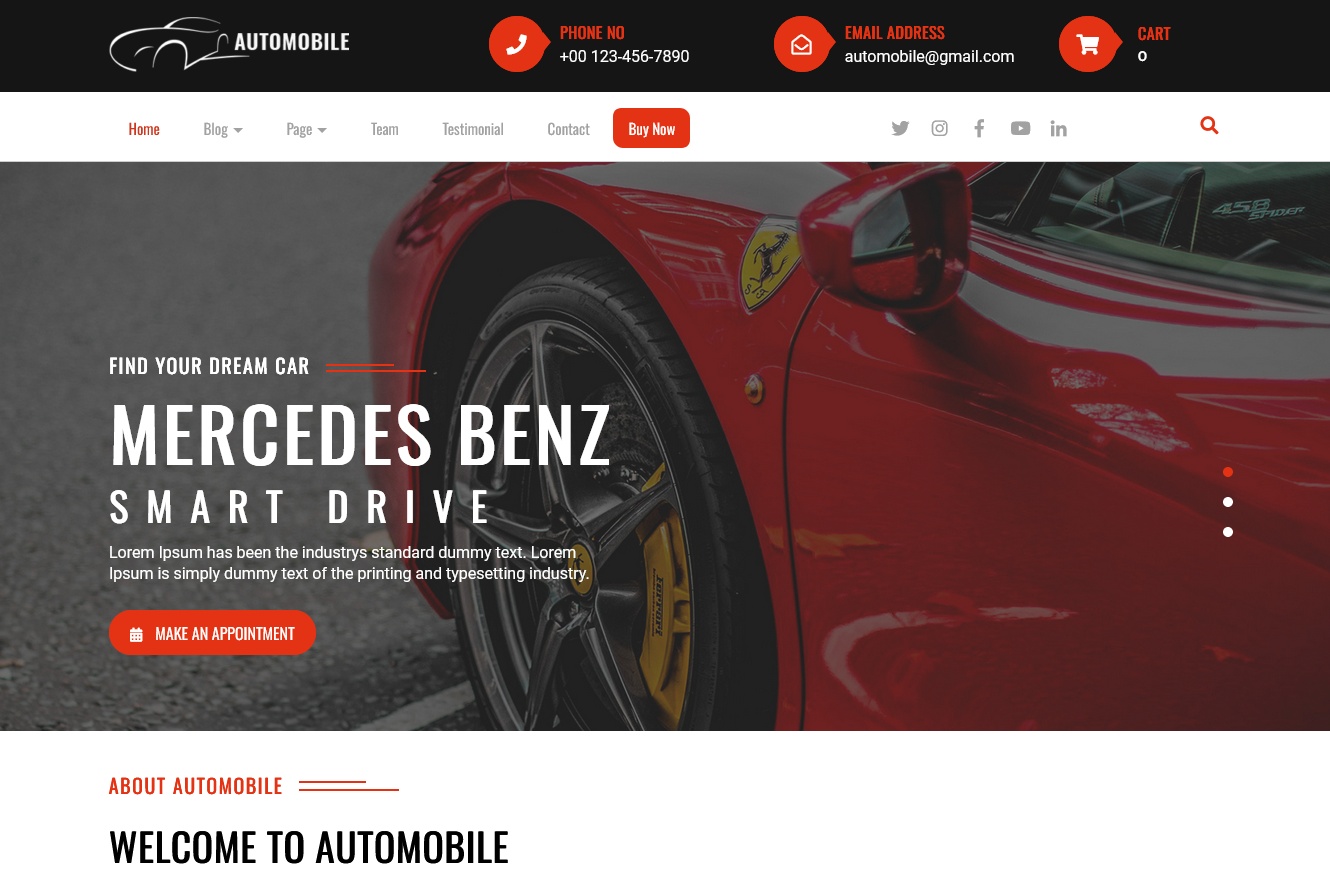 Automobile Hub is a WordPress theme that features a stylish, modern, dynamic, resourceful, and feature-rich automobile. The website is designed to look beautiful with its multilingual services and retina-ready display of sharp and crisp images of automobiles. This automobile WordPress theme is designed for search engines and all its pages load quickly. Your website and its content will reach your target audience easily because of the numerous social media icons embedded there. A gallery dedicated to displaying stunning images of cars, bikes, and other vehicles to entice visitors. The testimonial section is meant to gather feedback from customers to enhance services.
Advance Automobile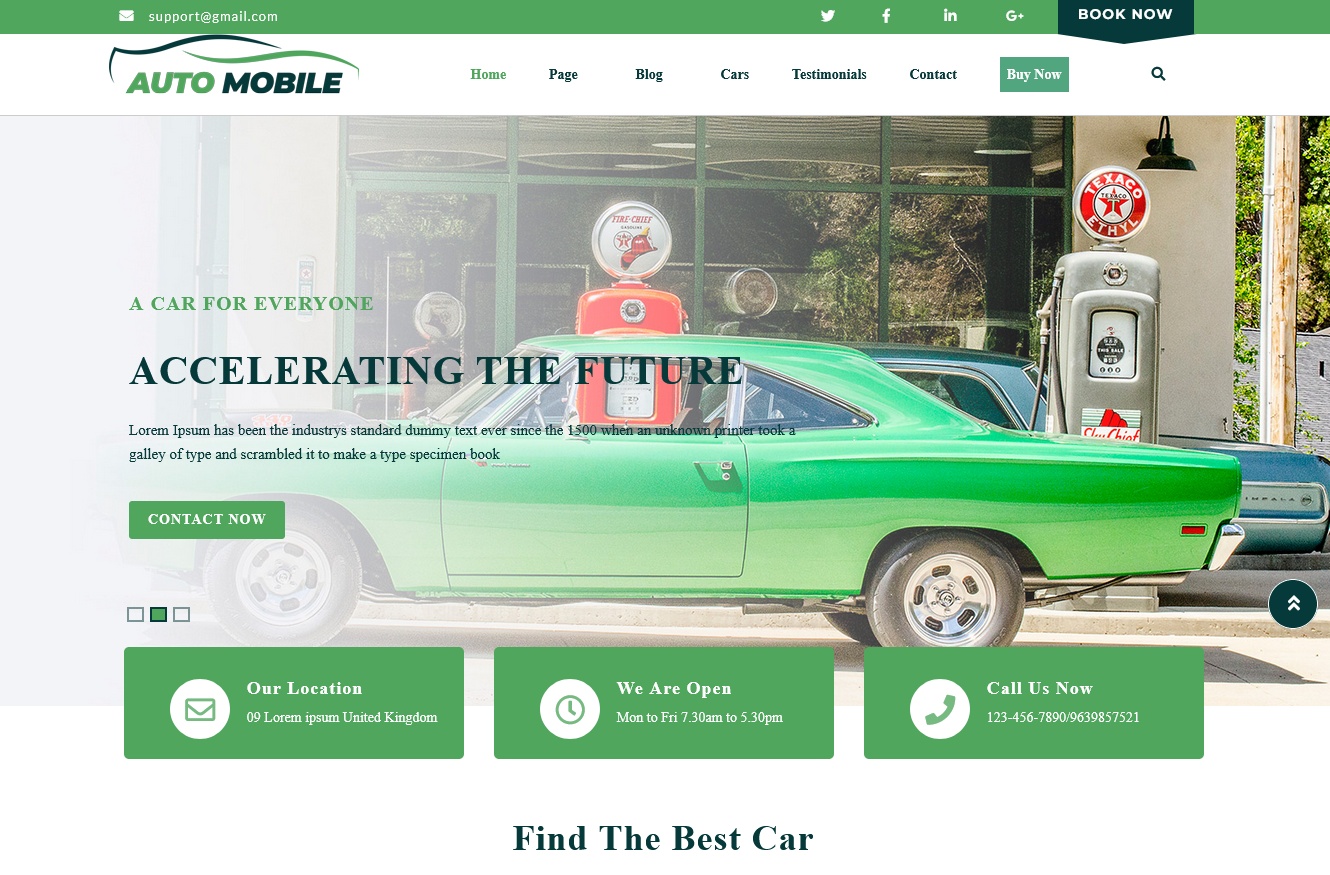 Advance Automobile is an automobile WordPress theme that is stylish, versatile, modern, and resourceful for car showrooms. Automotive sector websites can rely on this perfect skin, whether it's for a blog, portfolio, or any other type of website. Custom menu options are also part of the theme. With its easily changeable elements, this theme is customizable and can perfectly fit your imagination.
Automobile Car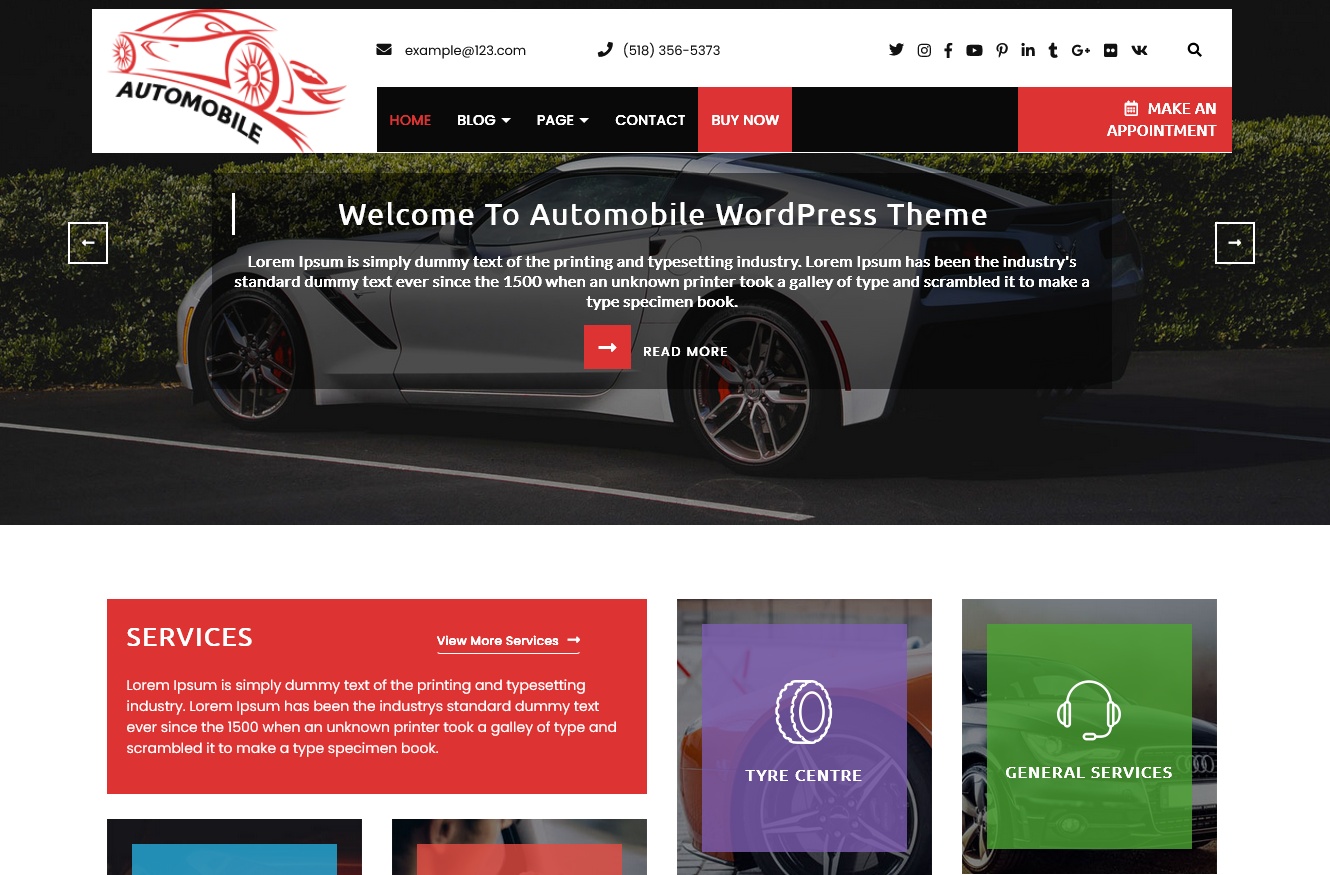 Automobile Car is a responsive car dealer theme, that features optimized codes and interactive designs that are both secure and stunning at the same time. The portfolio of products can be displayed in the best possible way with the use of a custom menu, footer widgets, left sidebar, and custom logo. It is a simple, adaptable, theme-based application that is clean, user-friendly, and responsive. Car dealers, wheel shop owners, and motorcycle shops can use this theme to publish automotive news or blogs on their website or share them on different social media platforms. The entire automotive business process, from browsing to purchase, can be streamlined with the help of this theme's functionalities and features.
VW Automobile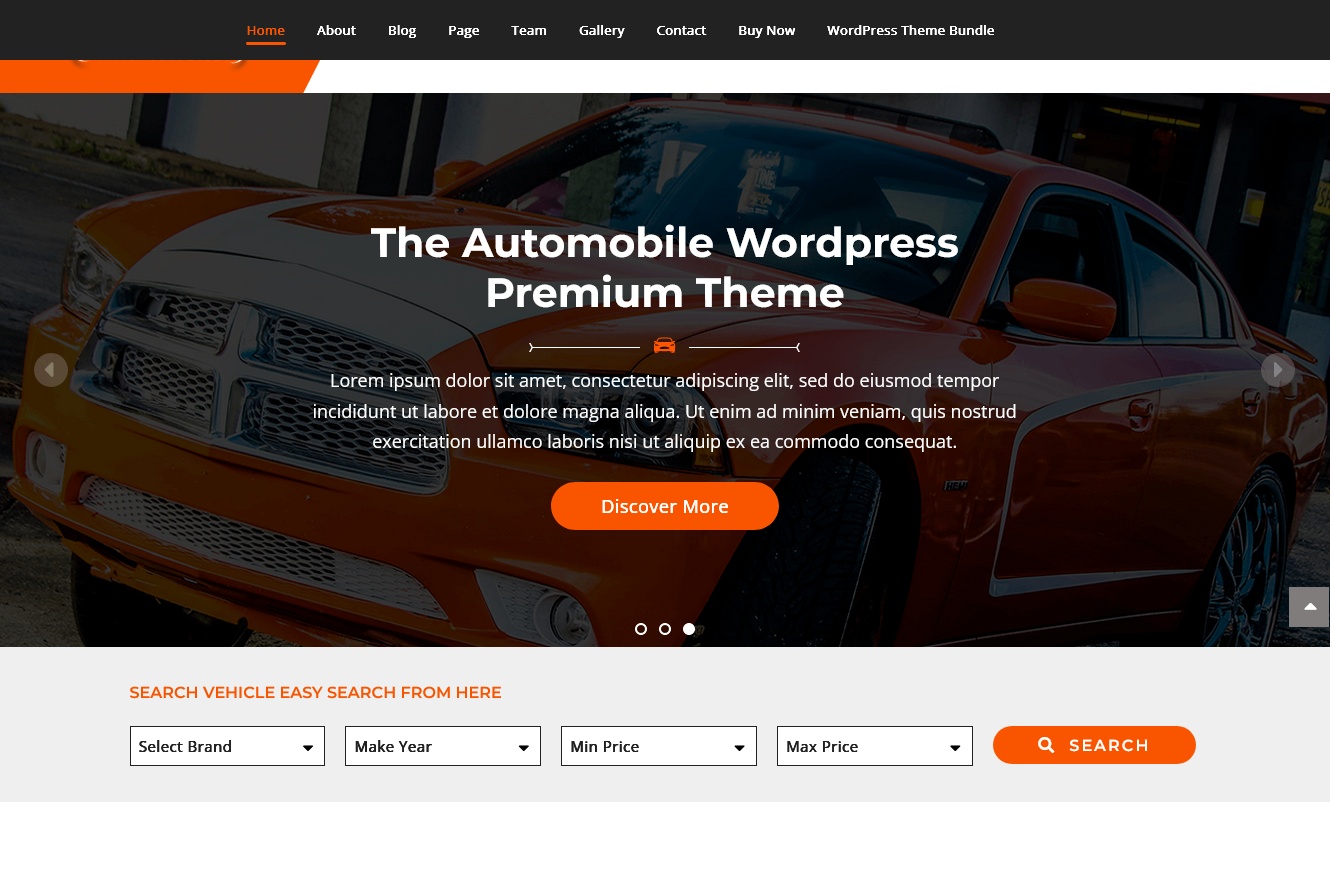 The Automobile WordPress Theme is made to look stylish and classy. This theme was created exclusively for car dealership, car resellers, car booking, rent a car, rent bike, selling, etc. The theme is multi-purpose and responsive, paying particular attention to motorheads and people. It's secure and clean, and you can easily customize it to suit your needs. Our Automobile theme is made for gearheads like you, and it is built on the Bootstrap framework to make web development for the automobile industry or services you offer easier. This WooCommerce compatible, user-friendly, Four Columns layout, and multipurpose eCommerce theme will be perfect for you.
Sayara Automotive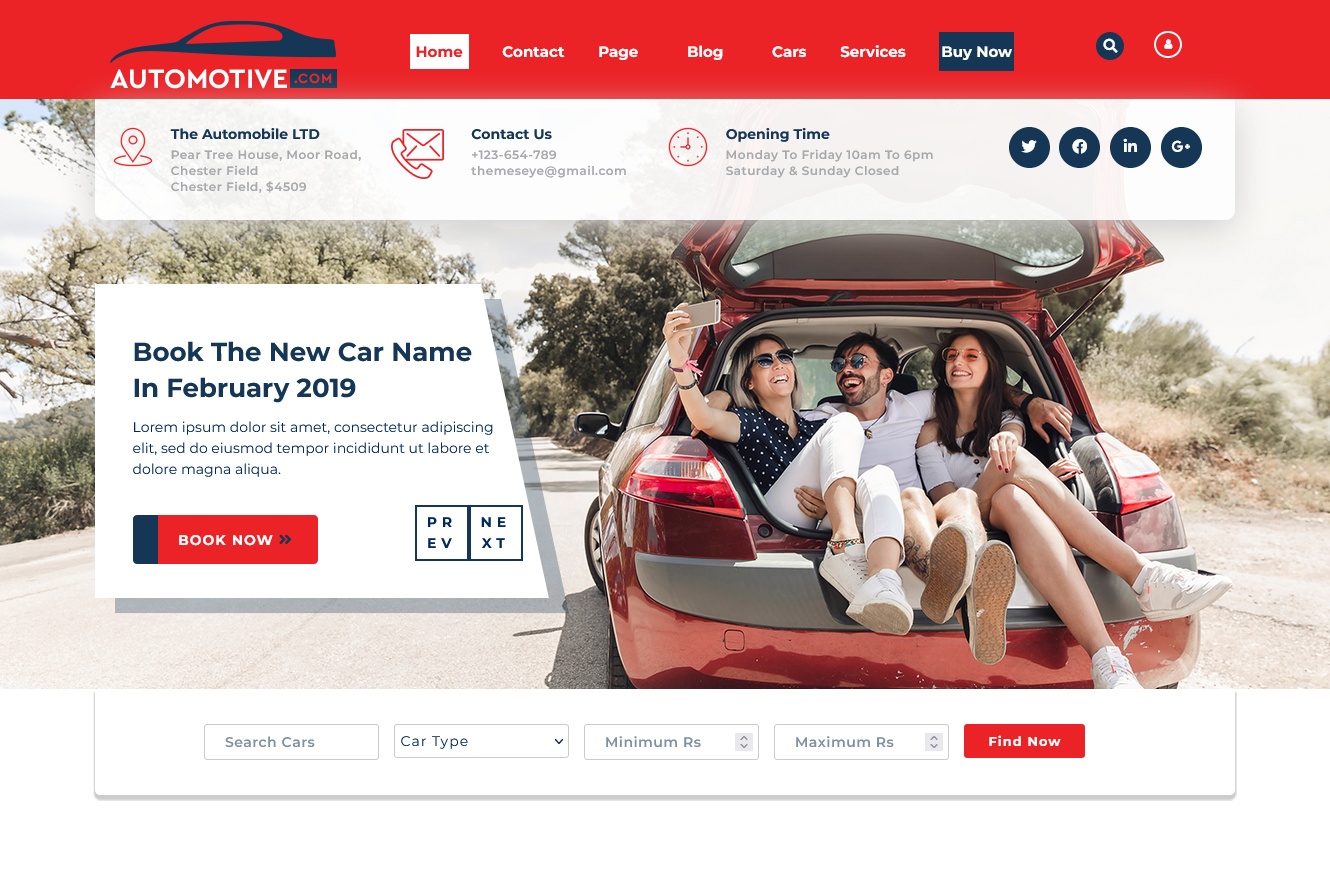 Sayara Automotive is a WordPress theme that is competent, versatile, well-structured, and powerful for car dealers. Creative vehicle designers and makers can use it as a portfolio and blog, and it also has a cohesive layout. Sayara Automotive is adaptable to changing device screen sizes and has undergone cross-browser compatibility testing. Full support for RTL languages is available for translating it into many different languages. The background is easy to comprehend and can be used by anyone with no coding knowledge based on WordPress standards and a recently launched WordPress version for a bug-free website.
Auto Car Dealership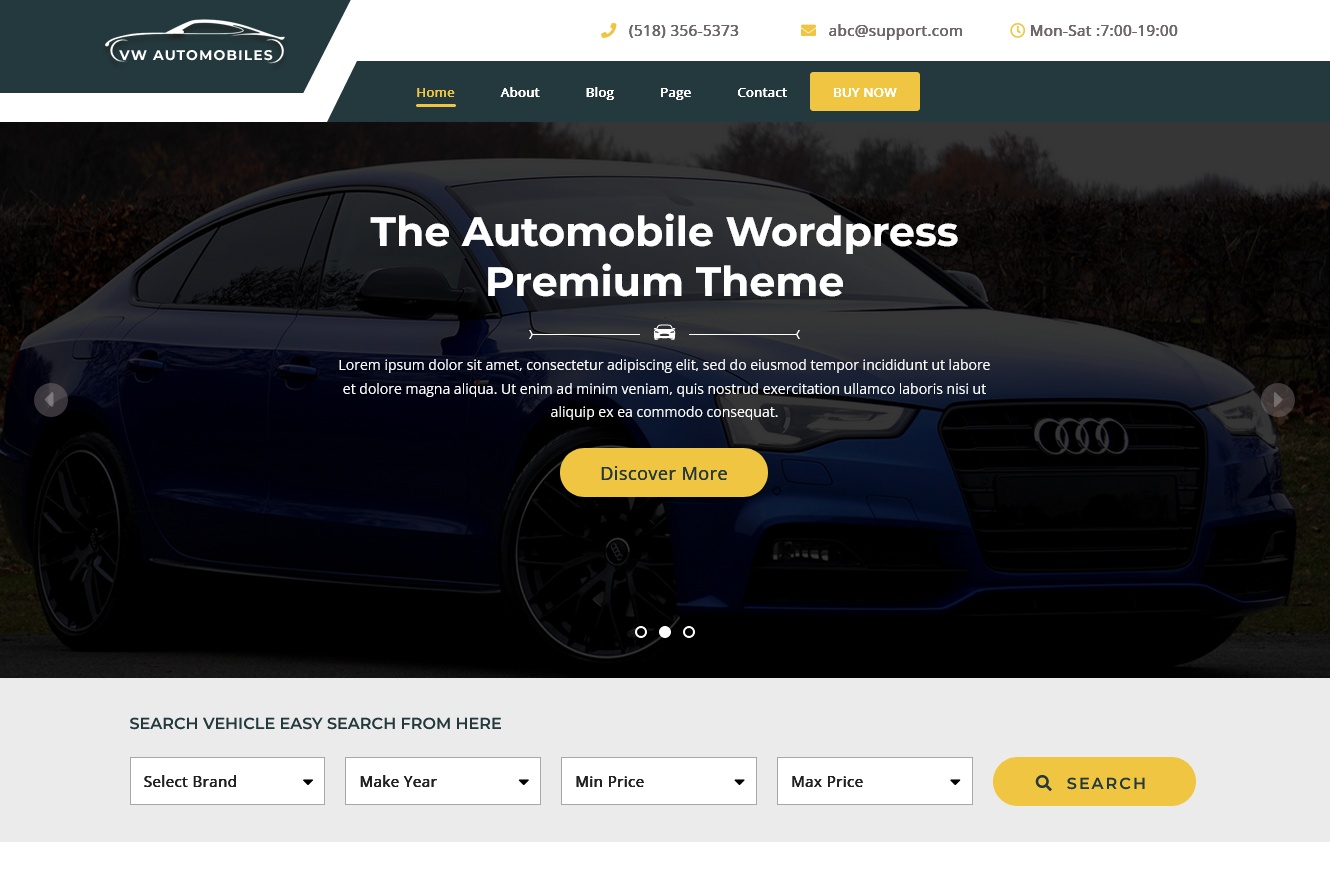 Auto Car Dealership is a stunning block-based theme that can be used on websites designed for businesses that deal with cars and automobiles, including car rentals and bike rentals. This theme is designed by WordPress experts and features full site editing features, block patterns, block editor patterns, and much more. It is optimized to give you a faster page load speed. A banner that is beautifully designed and has multiple sections for displaying information about your team, showcasing client testimonials, and plenty of customization options available to design and add your own flavor. Your website can benefit from numerous social media options and the theme is translation-ready to support multiple languages.
Washing Center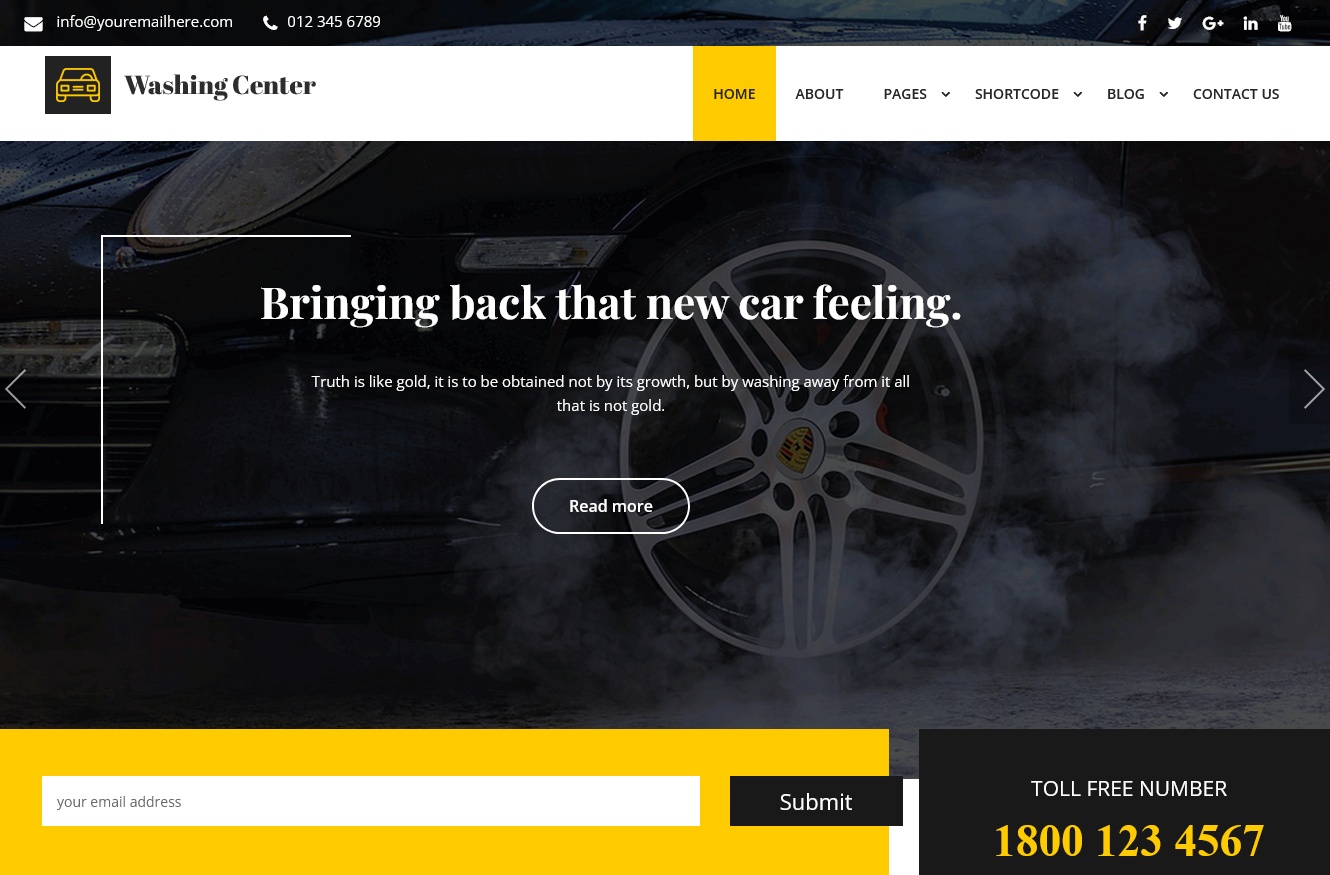 Washing center, a premium WordPress theme, is highly beneficial for anyone who is into the business of car washing or any other type of automobile washing. An AMC-themed car with advanced features for servicing and washing is a good choice. In addition to these features, it is minimalist, elegant, and sophisticated. It is also easy to use, with the Bootstrap framework, and accompanied by the CTA button. The theme is suitable for any small business, including car rental, auto glass, handyman, serviceman, or skilled workers such as a car dealer, motorcycle mechanic, or automotive technician.
Driving School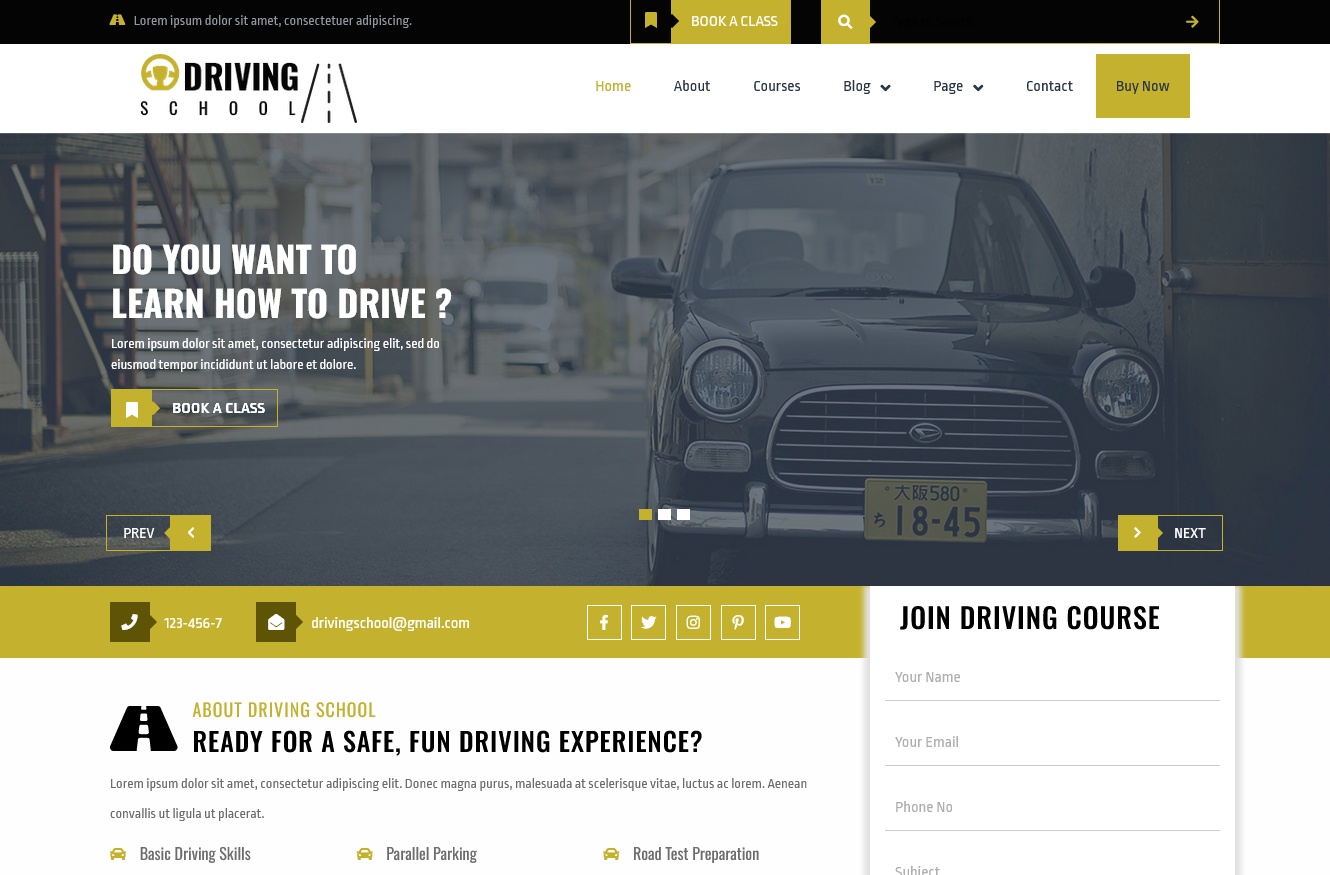 VW Driving School is a WordPress theme that is packed with features, dynamic, stunning, and intuitive for driving schools. The theme is customizable to fit any coaching and training institute. This website features a responsive layout, blog page options, theme options, Translation Ready full-width template, blog page options, and compatibility with multiple browsers. You won't need to worry about any malware threat because its code is clean and bug-free. Additionally, it has well-used call-to-action buttons to motivate customers to do what you want them to do. Market your website by using social media icons, which are built on the Bootstrap framework and provide customization options at your fingertips.
Mechanic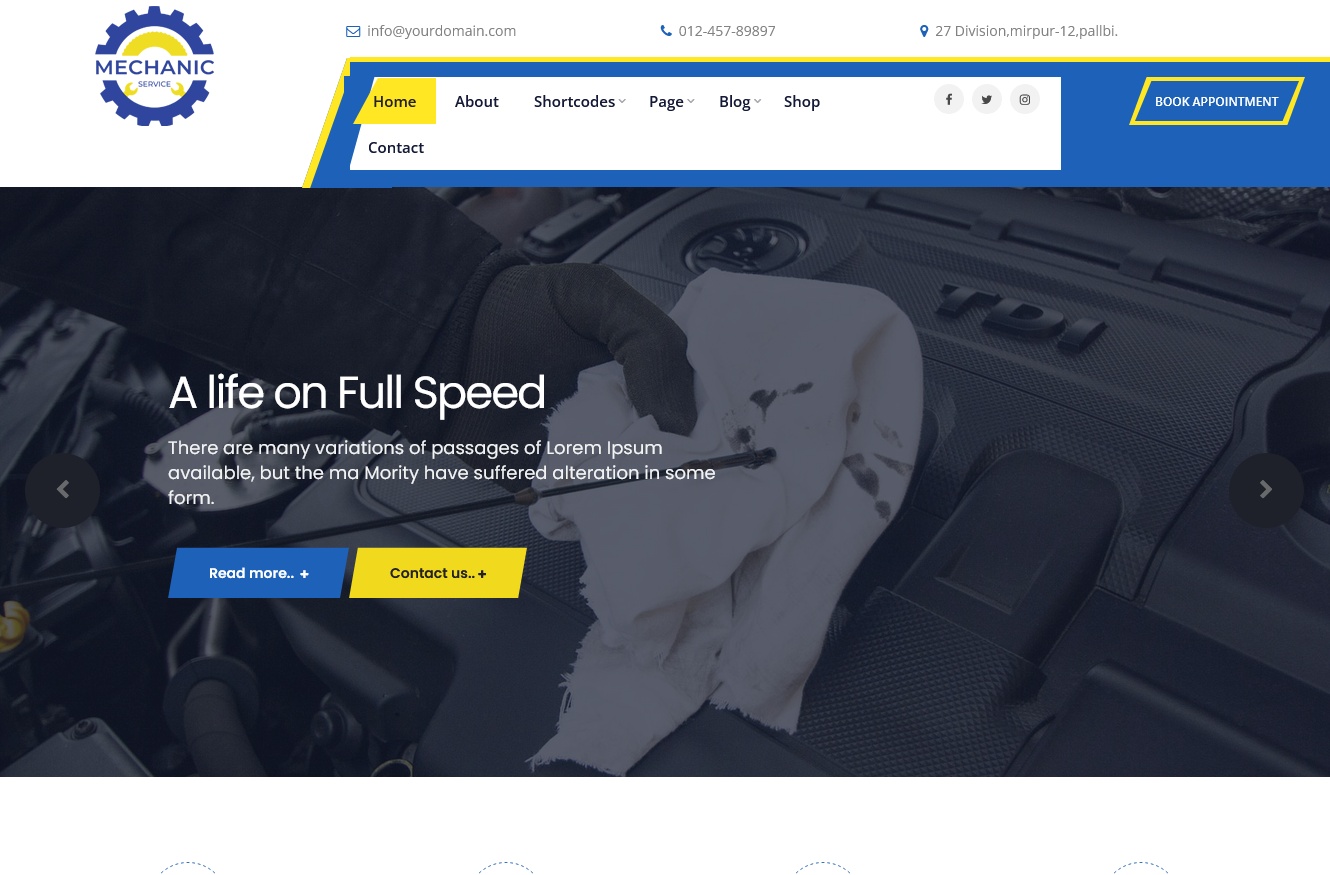 Expert Mechanic is a WordPress theme that is resourceful and designed to meet the needs of websites related to the auto industry. The site was designed to meet the needs of automobile service providers and features interactive pages that give it a stunning appearance. The themed personalization options can help you meet your branding and visual needs, while also speeding up your website loading time. The animated effects elevate your website to a whole new level. Your business can be displayed through different sections, including information about your staff and services offered.
Car Fix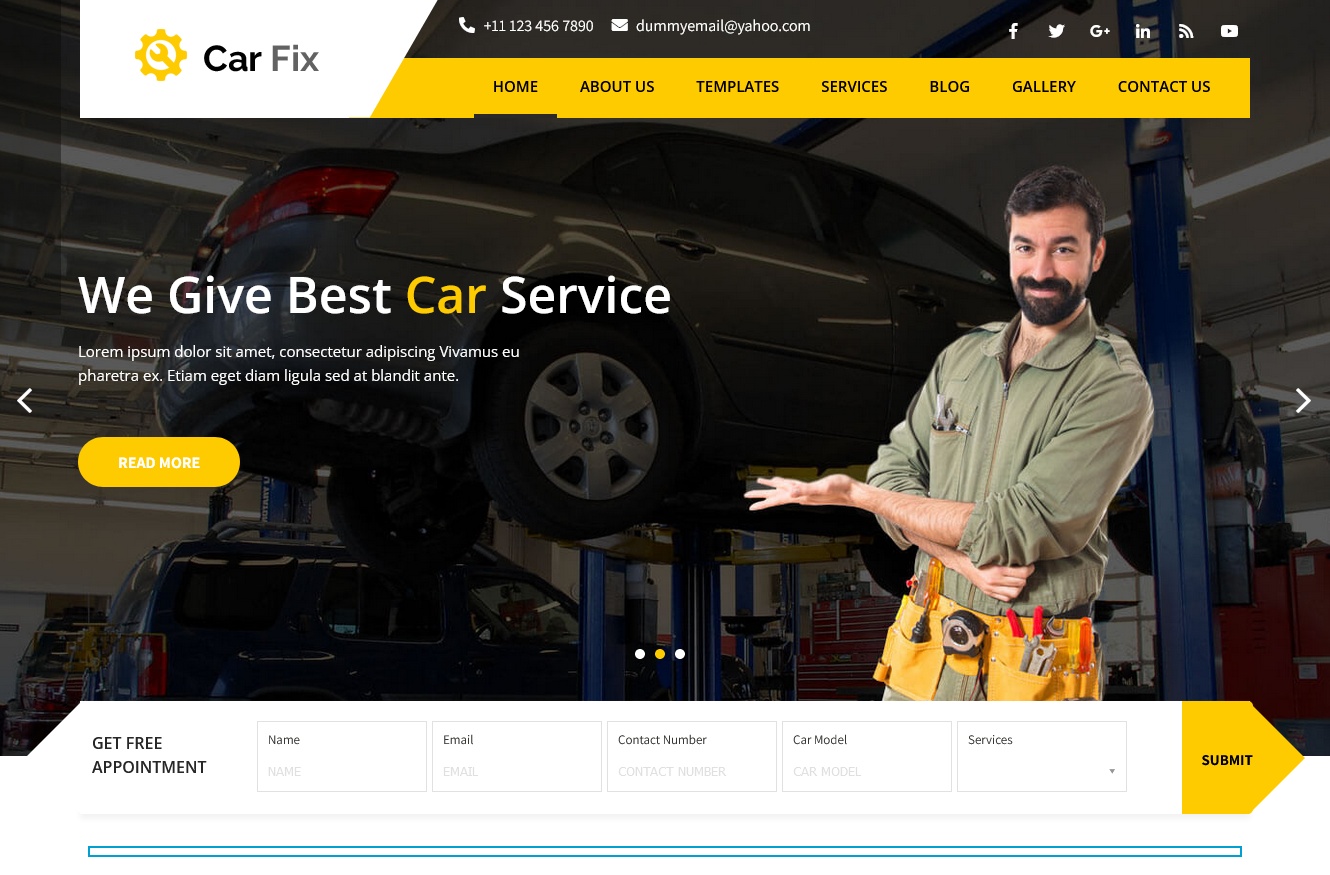 Car Fix Lite is a WordPress theme that provides visual refreshment, youthful and vibrant, intuitive and modern, purposeful and deliberate, extensively designed and carefully crafted, clean and clutter-free, for car repair. This theme is specifically created to meet the needs of a wide range of auto service providers and provide effective and professional websites for your automobile business.
Driving School Lite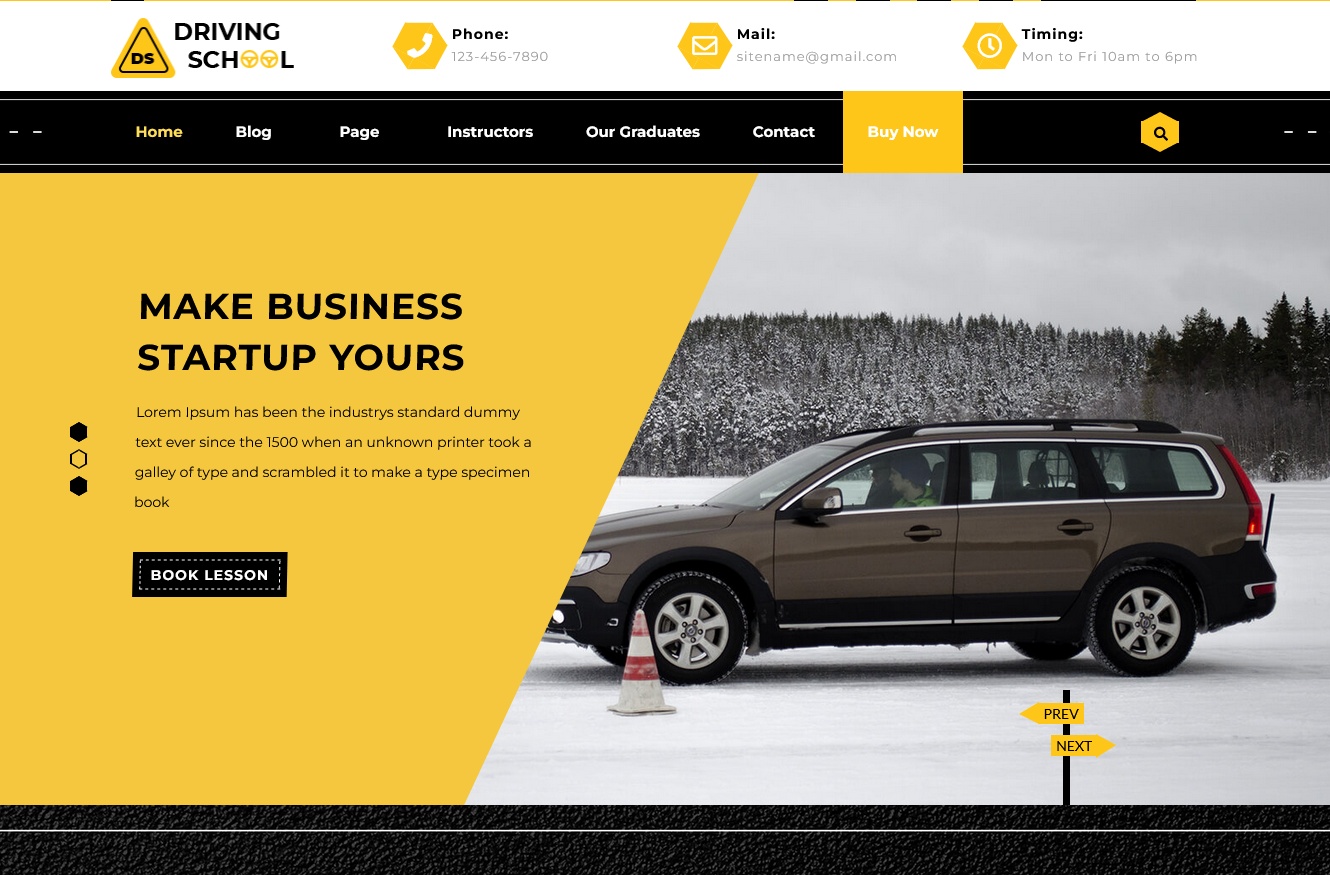 Driving School Lite is a WordPress theme for Driving School that is polished, eye-catching, feature-rich, and versatile. A purpose-oriented theme and necessary sections like galleries, testimonials, subscriber forms, latest news, etc. make this blog ideal for driving or road safety teaching. The Bootstrap framework powers the theme, which is embedded with social media icons to make your content shareable on various networking sites. It has multiple content post types and is lightweight to load. It is coded with clean and secure code to ensure a bug-free website.